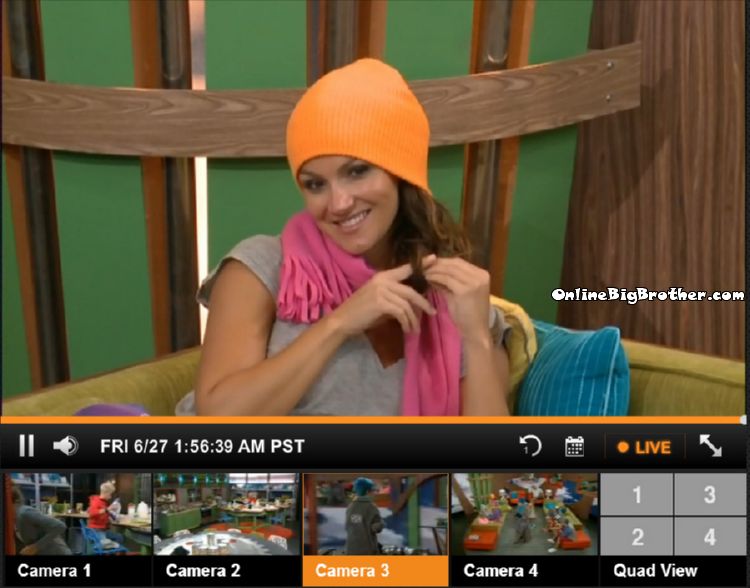 1:55AM Living Room 
Nothing much going on. Brittany says she wishes the have nots got Eggs so she can make pickled eggs.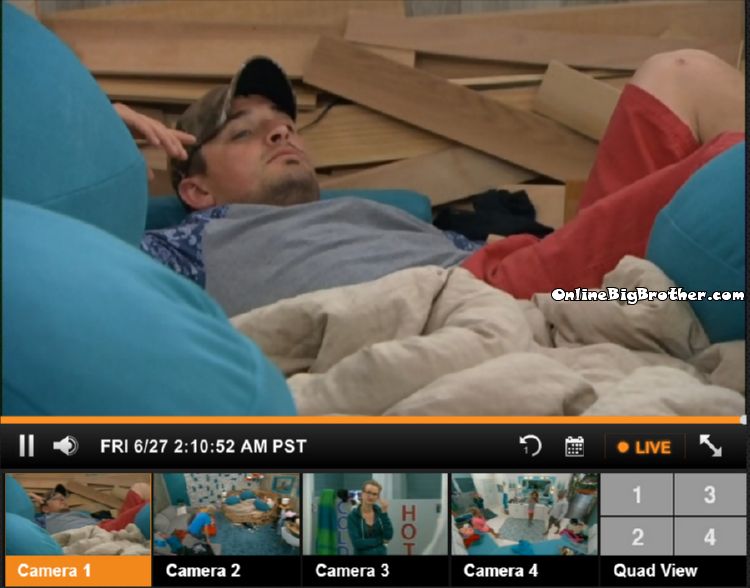 2:07Am Caleb and Frankie HOH 
Caleb talking about his conversation with POW POW where he said the one girl he would want to have a relationship with in the house is Amber. POW POW then told him her and Amber are best friends. Earlier in the day Amber reached around and grabbed Caleb's leg so he's thinking POW POW went out and  told Amber he's interested in her. Frankie points out how Brittany was really working it today going around cleaning up, making food and talking to people. Caleb says Brittany is hot, Frankie agrees.
Cal;en wishes Amber was beside him right now where he could put his arm round her and talk. Caleb wonders if Amber is into Devin. Frankie doesn't think Amber is into anyone in the house. They start talking about how much food Devin eats. Caleb thinks Devin eats 2000 calories a day. Frankie thinks it's much more than 2000.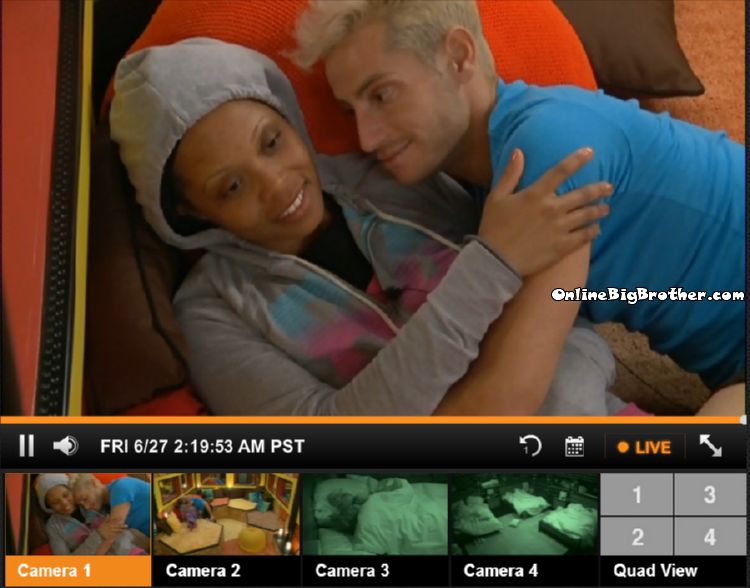 2:20AM Jocasta and Frankie Lounge
Jocasta saying she's thinking of her kinds. Frankie says it's his sisters birthday today, She's 21. They say they haven't been given any real alcohol since they've been in the house. They were given a bit of Champagne last night and day one. Frankie says they never really "Got Into" the Alcohol.
2:34am Brittany joins them. Frankie tells them if they vote for "Harmony" get POW POW out but for Strategy they should vote out Donny. They talk about how smart Donny is. Devin rolls in says he's pissed off about how selfish people are.  Devin – "It just blow my mind"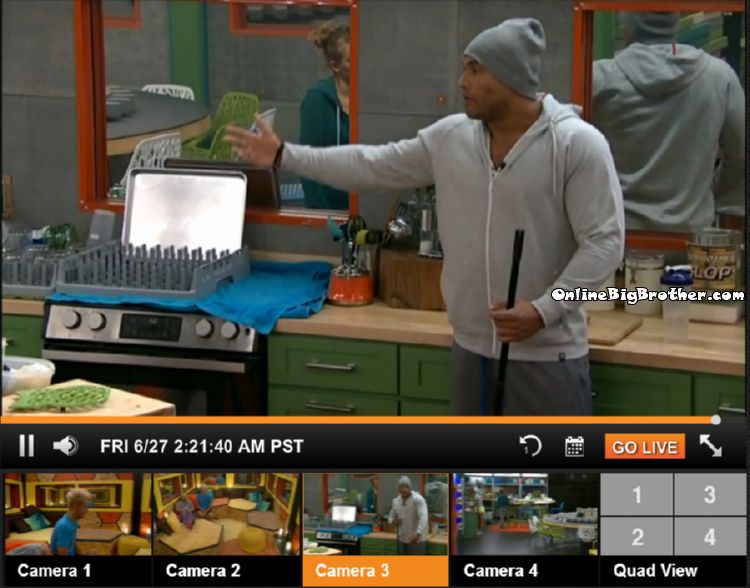 2:21am Kitchen Christine, Amber and Devin
Devin saying something that happened was "Unbelievably rude.. I made sure all the guys had left that room (So the girls could sleep together).. The girls can have their own bed.. I give away my sweatshirt and my sweats to anybody that asks.. All I ask for is a sheet and you said the comforter they give you itches"
Christine explains herself but it's hard to hear. Devin say it's cool now, "I'm just frustrated because nobody cleans up after themselves" Sounds like Devin is mad because the girls used up all the sheets. Christine leaves to the fire room to chat with Nicole and tell her what happened. Christine – "I hope they  show how condescending he is"  (Didn't catch the whole thing Christine talks very fast and quiet.)

 3:02AM Lounge Brittany, Frankie and Jocasta
Brittany and Frankie are talking about Devin being bipolar.
Jocasta – "do you know for a fact"
Frankie – "I do not know for a fact"
Brittany – "He has highs and lows.. he's stirring the pot with every other person" Brittany adds that Devin was talking about Donny and going on about not trusting Caleb because he's ex military.
Brittany is scared of Devin thinks he's getting really creepy she's worried he's going to lose it on them all.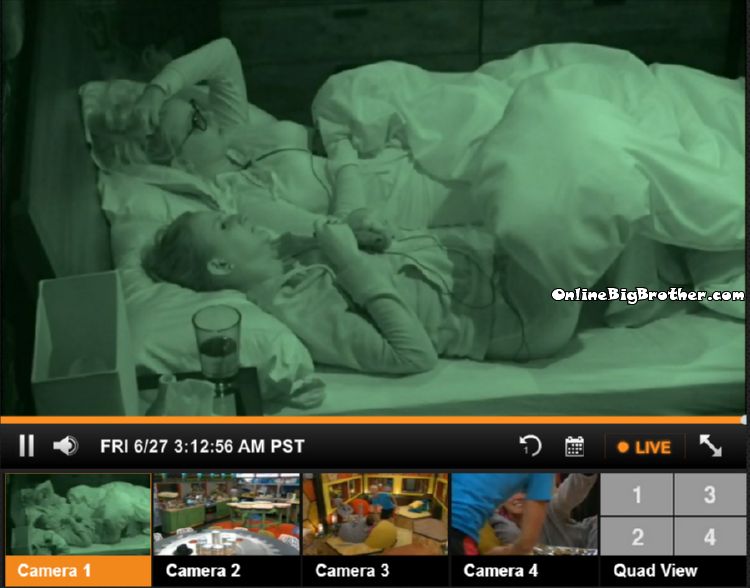 3:13am Nicole and Christine
Nicole wants to eat something, ":I'm not tired now"
Christine – "I'm Shaking I'm so upset"
Nicole "I have very very very sensitive skin
Christine – "I feel bad that you are uncomfortable now"
Christine says she hopes they portray Devin how rude he is.
Nicole leave to get food She tells Frankie and Amber about her rash from using the blanket.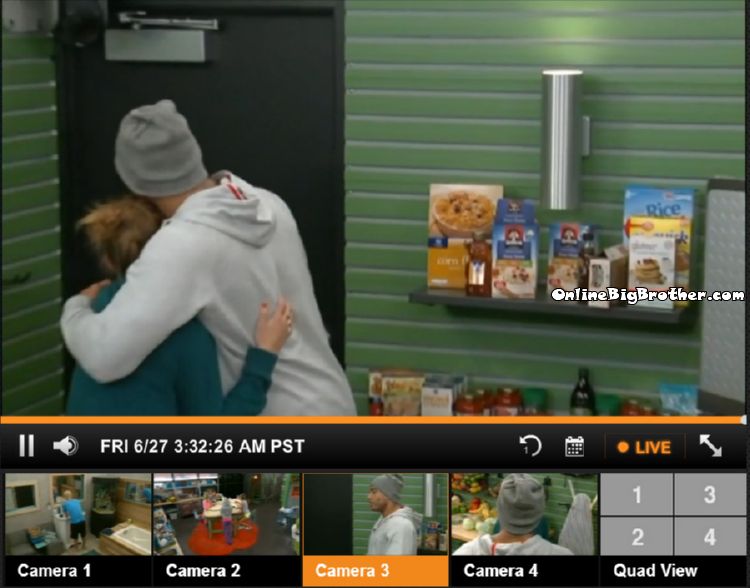 3:30am Storage Room Devin and Christine
Devine smoothing things over with Christine. He says he's just getting frustrated with how things are looking in the house he's not getting mad at her. "There's going to be days we're all in different moods"
Devin – "Sometimes I get frustrated with Victoria.. about stuff"
Christine – "I'm so sorry I promise I didn't mean it.. "
Devin – "I know I know I know I didn't want you to think anything of it.. I'm more frustrated that we don't have any sheets for the beds""
Devin says the guys move out of the room to make sure the girls felt comfortable and they knew Victoria can't sleep with guys.
Devin says they all got to stay tight because the stress hits him hard. Devin say they have a HUGE alliance 8 people he thinks they are onto something huge they can get all 8 of their member to the jury house. "it will be amazing and at the same time i'm stress cause when you have 8 people"
Christine – "You feel like you are doing a lot" (For this unknown 8 person alliance)
Devin – "Ya ya it's all on my shoulders kinda"
Christine – "really"
She offers him help whenever he needs it. They hug.
[polldaddy poll=8136415]