POV Holder:
?
Next POV
June 27th
POV Used
?
POV Ceremony
?
HOH Winner Team 1:
Frankie
HOH Winner Team 2:
Caleb
Battle of the Block Winner
?
Next HOH/ Next BOB
?
Original Nominations:
Donny,  Paola
Current Nominations:
?
Have Nots
Cody, Hayden, Joey, Brittany
POV Players
Donny, Paola, Cody, Zach, Caleb, Victoria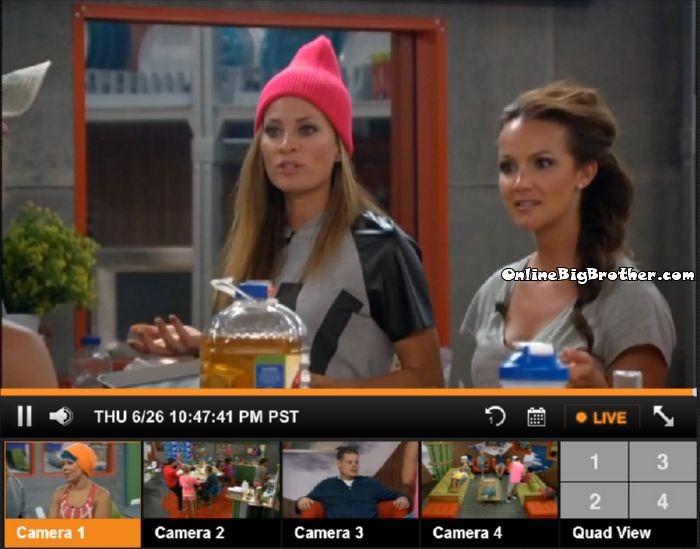 10:48pm Kitchen
Amber and Brittany are making slop balls and other slop concoctions. lots of random chit chat..
Storage room is still closed. Donny making Cricket sounds in the background (Sounds real I thought it was the return of the saboteur BB12)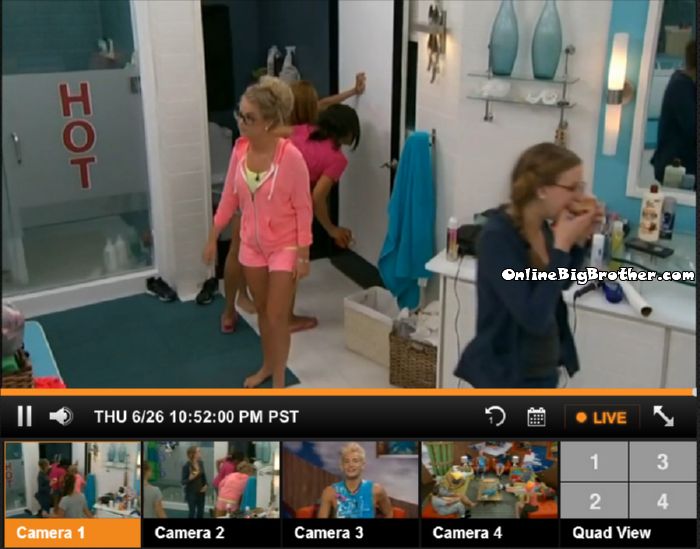 10:52pm Bathroom
Paola see's some graffiti written in the bathroom stall. Jocasta and Nicole race inside to find out what it is.  Paola – "Jessie K Loves U.. or whatever" (
BB15 Jessie K
)
Big Brother 16 Live Feeds are now ON! if you don't have them yet what are you waiting for! Try It Free! Subscribe now to the official BB16 Live Feeds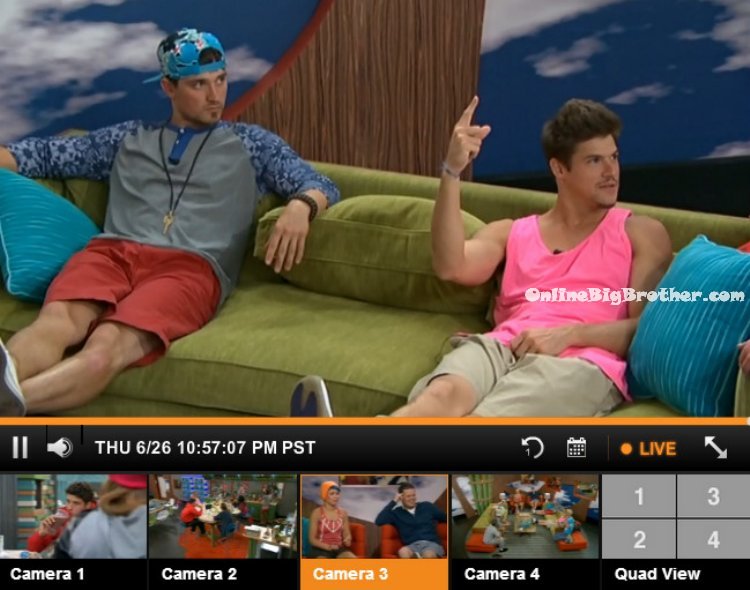 10:45pm – 11pm Camera 3 &4  In the living room. Zach says that he gave his mom his ipad so that she could watch him on the live feeds. Zach leaves. Frankie asks Derrick how good it went earlier today. Derrick says so good. Victoria joins them and Frankie starts making faces. Victoria says she hope they get money 
tomorrow
. She stops and says I mean the unitard. Caleb comes out of the diary room and says who wants to see my HOH room… Frankie asks really?! Caleb holds up the key on his neck and says no.. just kidding it's the same one I've always had. They ask him if he gets his letter. Caleb says no, the next HOH gets that. They start playing a word guessing games.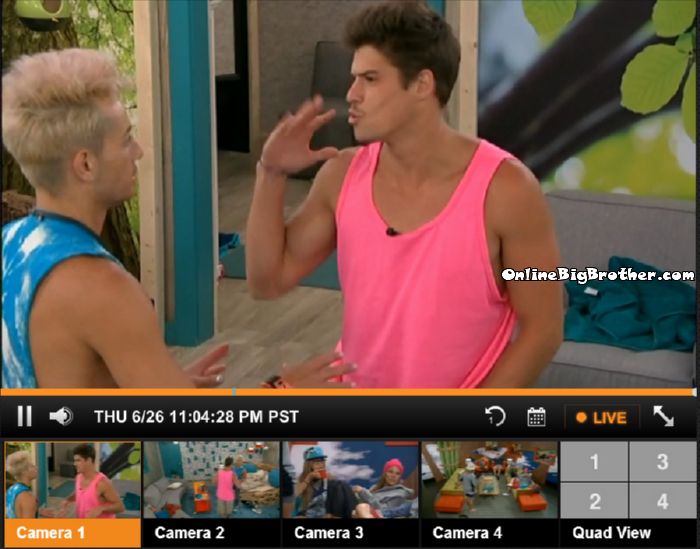 11:03pm HOH Zach and Frankie 
Frankie says he would rather Cody or Zach to win he's worried Devin will win POV and go crazy again. Zach and Frankie are talking about final 2 and making up side alliance. It's the standard divide and conquer. Frankie says he approached Christine already for a side alliance. Zach says he's approached Derrick already "Me Cody, Derrick there will be the final 3 we'll figure out a name that is my alliance." Frankie is going to do the same thing with Christine and one other houseguest.
They both laugh Frankie "theres like 7000 alliances"
They both agree that Devin has "lost it.. Lost his mind" Zach and Frankie agree Cody hates Devin.  Zach is certain Devin and Caleb are working together.
They agree Caleb will self destruct
Zach – "Caleb and Devin are the top two target right now"
Frankie agrees. They bring up the 8 person alliance that Devin wanted to form. Zach – "Who wants to be in a 8 person alliance, how does that work"
Frankie – "I think we should stick with the plan"
Zach – "Backd**r Joey"
Frankie – "no that was never a plan that was the rantings of a mad man"
Zach – "that was Devin's plan"
They laugh.
Frankie – "I would feel more comfortable with POW going home"
Zach – "POW will self destruct" (POW = paola)
Zach says Nicole and Christine are very close.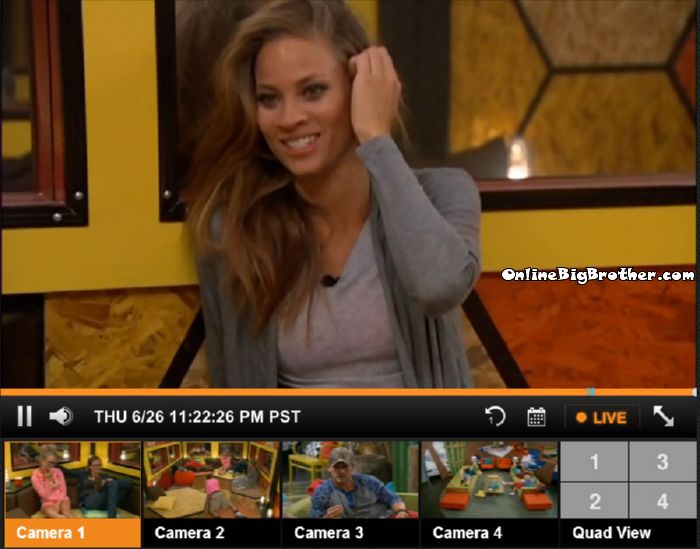 11:19pm Lounge Christine, cody, Nicole and Christine
Random chit chat.. Amber joins them they start talking about how much they miss loved ones back home. Amber misses her sister Christine misses her husband. Derrick rolls in with Brittany behind. Cody complains that the protein shakes are giving him gut pain. Hayden rolls in says he had two scoops and is feeling bad as well. Jocasta and Frankie join them.. just chit chat.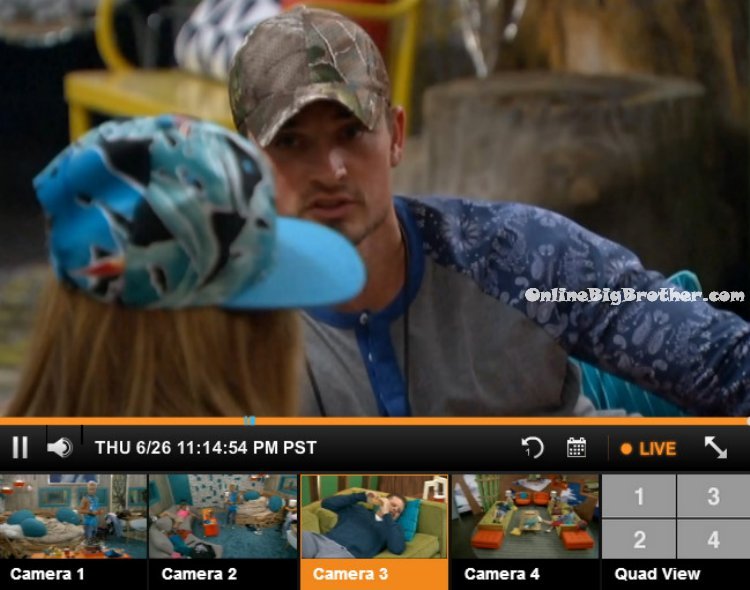 11pm – 11:30pm Camera 3 &4  In the living room. Paola, Amber, Caleb, Devin, Derrick and Joey are in the living room talking about random things. Caleb says that after 5 minutes in the havenot room he starts feeling it. He says that the havenots can use his HOH robe because he won't use it. Amber talks about how much she misses her family. Devin is snoring on the couch. He wakes up and heads to bed. He asks was I knocked out? Derrick says yeah, you were snoring. Caleb says to Paola that Amber didn't want to think we were in here for a showmance. Caleb says that everyone in here keeps asking him what's up with you and Amber? Caleb says we're both from the same place, we're both 26 and have the same background. Caleb says that he really likes her. He says that he doesn't want just a showmance. He would want it to be…. Paola asks would you move here for her? Caleb says I would move anywhere. Paoola says awe. Caleb says I am a real romantic person. I have tattoos and stuff but that's just my shell. Paola says you're like a book with a cover. Caleb says everyone thinks Amber and I have a thing. Derrick says you two are good friends and outside of here it might be different. Paola says maybe more to the middle. Caleb says that he hopes to call her up in the HOH room to just talk with her. He says just to tell her he likes her. I think you're beautiful not just on the outside but on the inside and everything… Caleb says that Amber doesn't want people to think we're anything. He says that he just wants to talk with her and get to know her better outside of the house.I want to get to know you on that level. Caleb says Hayden and Nicole are obvious about liking each other. Caleb says that Amber told Frankie that she doesn't like muscle guys but that he told her I wasn't like that. Paola says that she wants to see it before she leaves. Caleb says that he doesn't want to do it out in front of other people. Paola comments on how Caleb put her (Paola) on the block. Paola says just don't tell Amber that you've been in fights, she doesn't like that. Caleb says yeah I know that. Caleb says that he catches Amber looking at him. She is always sitting next to me. Paola says that Amber is one of the people she is closest to in the house and see that she likes him. Caleb says that she is the first person he's meet in the last 4 years that he would actually take home to meet his parents.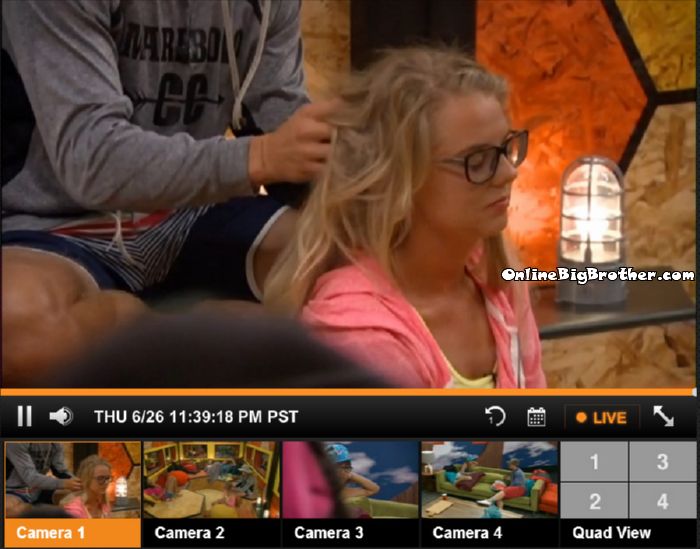 11:40pm Lounge house guests coming in and out mostly chit chat
More chit chat going on. Hayden rubbing Nicoles hair.  We've heard other house guests comment on these two getting close.