POV Holder:
?
Next POV
June 27th
POV Used
?
POV Ceremony
?
HOH Winner Team 1:
Frankie
HOH Winner Team 2:
Caleb
Battle of the Block Winner
Brittany, Victoria
Next HOH/ Next BOB
?
Original Nominations:
Caleb noms (Donny, Paola) Frankie noms (Brittany, Victoria)
Current Nominations:
?
Have Nots
Cody, Hayden, Joey, Brittany
POV Players
Donny, Paola, Cody, Zach, Caleb, Victoria (HOST = Jocasta)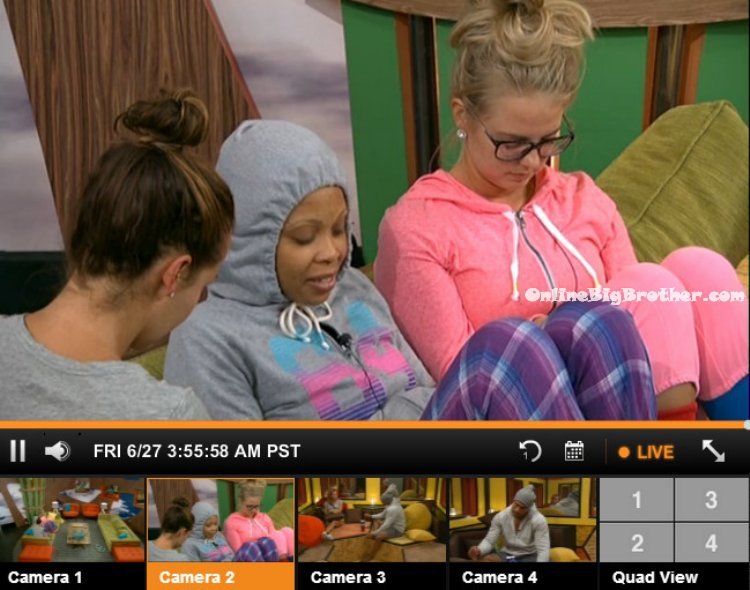 3:50am Up in the HOH room – Frankie gets ready for bed and climbs in to the "birds nest" with Caleb. They turn on the spy screen and flip through the 3 camera views. Frankie tells Caleb about how Amber was cleaning alone in the kitchen for an hour and a half.
4am Camera 1 & 2 In the living room – Nicole, Jocasta and Brittany are praying. Jocasta is leading the prayer and asking god for protection over the people in the house. After praying they chat about random things for a bit and then head to bed.
4am – 4:50am Camera 3 & 4 In the hive room – Devin is talking to Amber about how bad he feels about how Donny will likely be the one going home. Devin says it hit him hard when Donny said that he fell in love with the love he's gotten in the house because he doesn't get that at home. Devin says that really got to me. Devin says part of me hopes Donny wins the veto tomorrow. Devin says that he doesn't want to send Paola home because she's a weak player. Did you see how fast she gave up. I want to back door Joey. Devin says you send Paola home ..then no one will care but it will make it harder because she's a weak player. We keep her here we can put her up week after, week after week. Devin says Donny would have to go home eventually too, unless there's a jury of 9 then he could come too. I think he has your back and my back too.
Devin says the only logical thing I can do is to backdoor Joey and send her home. Why are we sending Donny home? Because we think he is dangerous but we don't know for sure or not and we won't know until we go home and watch. Joey tried to start an all girls alliance. Amber says what worries me is that she came out and said that but what if there was really a girls alliance. Devin says don't say anything ..lets just wait and see how the POV plays out. Then after maybe the three of us go up there and talk. Amber says that obviously everyone has to go home, its just a matter of when. Devin says you don't think I know I am playing too hard and too fast… but I am doing it because we have strength in numbers. Devin stops and says you know what after talking to you .. I know in my heart what I need to do. I want to send Donny home because he is another male and he is a warrior. We want weak players here. Devin says if we win the POV and have the ability to pull Donny or Paola off and back door Joey. Then we go to Donny and say if we save your a$$ this week then you can't put up any of the 8 of us. (The Bomb Squad Alliance) Because if you do win HOH and put up any of the 8 then we will dethrone you and send your a$$ home.
Devin talks to Amber about not having feelings for anyone in the house. He says this is just business, I have a two year old daughter that I am doing this for. Amber thinks that sending people home will get easier. Devin says it won't get easier, it will get harder. Devin and Amber hug and leave the hive room.
Try the Live Feeds for FREE – 48 Hour TRIAL!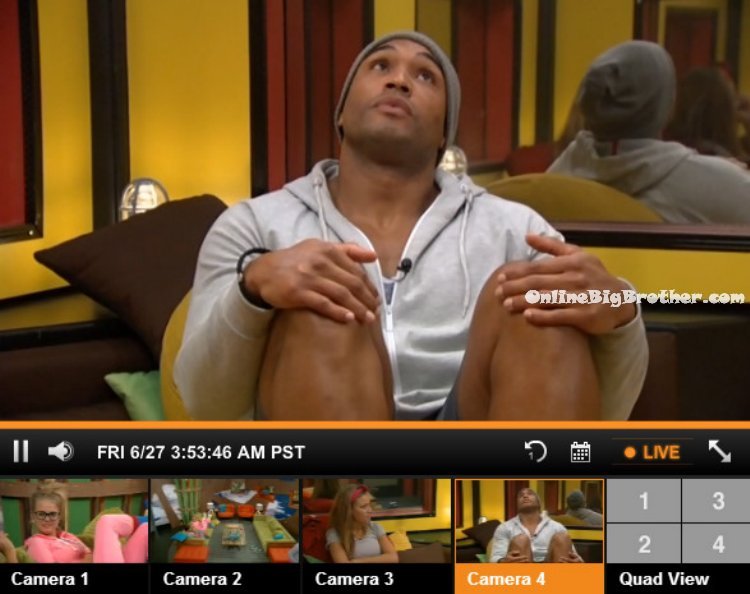 4:10am – 4:50am Camera 1 & 2 Brittany and Nicole get up and head to the bathroom. They talk about how they can't sleep and think about taking a shower. Brittany decides to put on a pot of coffee. She then starts cleaning the bathroom. Devin and Amber join them. Devin says he's going to lay down in the havenot room. (He's not a havenot but thinks the other sheets are too dirty and refuses to sleep on the other beds.)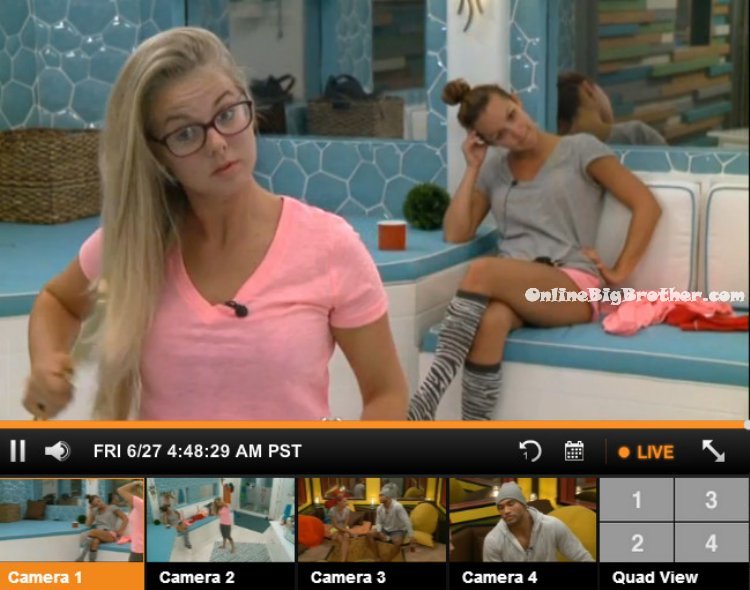 5:20am – 5:50am Cameras 1 & 2 Nicole, Amber and Brittany talk about how they can't sleep. Nicole says that she wants to sit in the living room. Amber and Brittany follow. Amber tells them she's going to bed. Nicole complains about being stuck in "the dungeon". I'm going to be stuck there the whole time. Brittany asks do you know how you're going to vote? Nicole says no. Brittany says its hard you know. Paolo asked me if I would vote for her. I love her but… Nicole suggests they go into the bee room to talk and do their makeup. They head into the hive room. Brittany says I feel so bad for Pao. It's a crappy feeling. It totally sucks. And then I felt bad for Donny too. Nicole says I know me too. Brittany says there something about him, something mysterious.. I don't know what it is. Brittany says I don't want to have to go in the havenot room now with that monster (Devin). Nicole says no he's not. Brittany asks what's that one movie The Green Mile. Nicole asks Fried Green Tomatoes? Brittany laughs and says no… Its that movie that takes place in jail. They laugh. They start talking and laughing about the crinkling blankets. Nicole comments on how she thinks Donny slept right through it. Brittany says she doesn't think Donny will be going home.

Try It Free! Subscribe now to the official BB16 Live Feeds