POV Holder:
Shane
Next POV:
July 28 (Saturday)
POV Used
?
POV Ceremony
July 23rd (Monday)
HOH Winner:
Frank
Next HOH:
July 26 (Thurs)
Original Nominations:
Current Nominations:
JOJO and Shane
Have Nots /Slop
Willie, Shane, JOJO, Ian
Coach Competition Winner
Janelle
Next Coaches Competition
July 27 (Friday)
Last Evicted Houseguest
Kara, Willie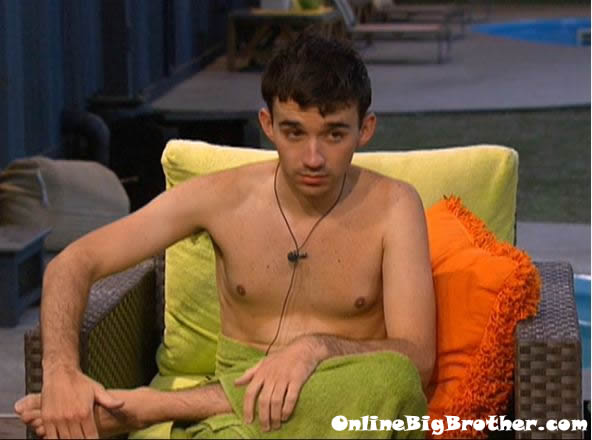 12am Ian, Britney, Jenn, and Ashley are out on the backyard couches talking. They talk about how Jojo felt like she was excluded from the dance routine. Ashley says it was spontaneous. Britney says that Jojo and Shane are paying for the Willie situation. Danielle joins them. Britney says that it sucks for Danielle too she's in a bad situation. Danielle starts talking about her team and says that Jodi had told people that she thought she was safe because she was the token black girl. Ian says what the fu*k she really said that. Danielle says that she didn't say that to me but she said it to others. They talk about how it's hard being in a position of power to the complete opposite.
Re-Watch ALL THE DRAMA on FlashBack: Big Brother 14 Live Feeds – 3 Day Trial!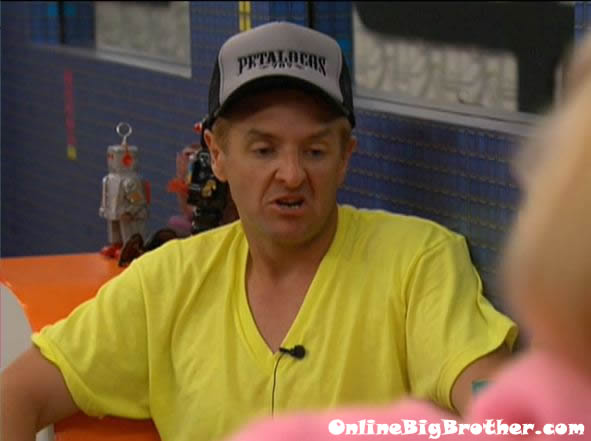 In the bathroom, Mike, Janelle and Wil are talking. Wil asks Mike if Danielle is going up on the block. Mike says yeah and that they will just have to decide as a group what's best for everybody. No other plan than her. Janelle says that it would have been nice getting Shane out this week if someone might be coming back. Mike says it might be better getting him out next week when there isn't a possibility of someone coming back. Mike says there is going to be some day that will drag now. Janelle says tomorrow we have the meeting. They talk about how Willie blew it, he had the POV to fight for and he could have grabbed a couple people if he was nice and apologetic. Mike says he could have had another 12 or 13 days in here.



Danielle & Dan in hammock, she's giving her a rundown of her day. He says he's so proud of how she handled herself today. Danielle tells Dan that Wil told her he was fighting for her. She says Wil hates Jojo. Danielle says Janelle is two-faced, she goes where the power is and she'll stab you in the back in this game. Danielle says Jojo wants to be the only girl in this house. Dan says girls play this game so different from guys.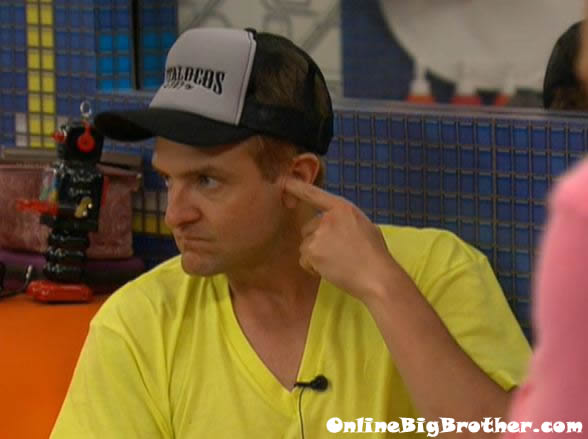 12:25am Boogie, Wil, Ian and Janelle are talking. They talk about how Willie is going to have to pull a lot of loads with his tug boat to make up for the money he lost. Ian says it's okay I'm sure Russell can help him out, he got a lot of money from survivor. They discuss the prize money for survivor. Then Janelle tells them that she wants to be on survivor. She talks about how much she loves the show. She says that she can start a fire. Janelle tells them how she was a juvenile delinquent and got into a lot of trouble after her parents' divorce. She says that she ran away from home, was on probation, had problems after parents' divorce, and went to boot camp. She says that all the girls there for serious crimes and she was there for skipping school. She says that they had hike up a mountain for like 15 days. She adds that she also had to camp alone.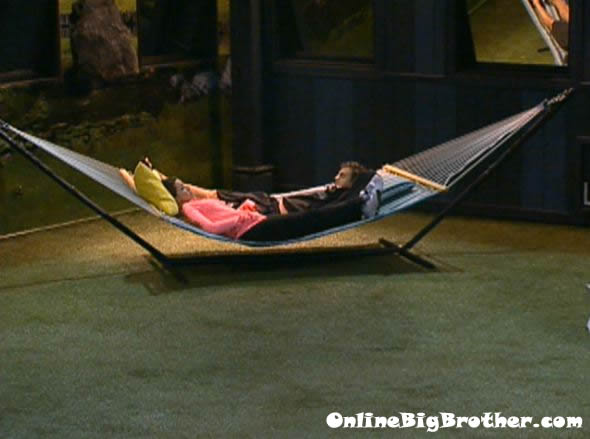 Danielle and Dan are in the hammock talking. Danielle says she was sort of mad at Dan for telling her earlier in the day that it was graduation day and that she was on her own. She laughs and says it's okay, it really lit a fire under her. Says she still loves Dan and trusts him. Danielle says Ashley is genius and that half-closed eye look is all an act. She says Ashley has brilliant ideas about game strategies and she was shocked the first time she heard Ashley really talk game. She says Ashley is a lot smarter than anyone thinks. Danielle tells Dan about her nursing job and how she is responsible for 60 people on her shift. She says that because she is so high up in the medical field, if someone around her dies and she doesn't help she could get a malpractice suit. Danielle says that the way Ashley pops Advil's and the way she was the other night … Danielle says I shouldn't say.. Dan says yeah don't say it. She says that she can name every element in the periodic table and if Ian knew that he wouldn't like it because he thinks he is the smartest person in the house. She says that he mom works for NASA and that most of her family are in Mensa. Joe joins them and he talks about being a chef.
Big Brother Live Feeds: 3 Day Trial!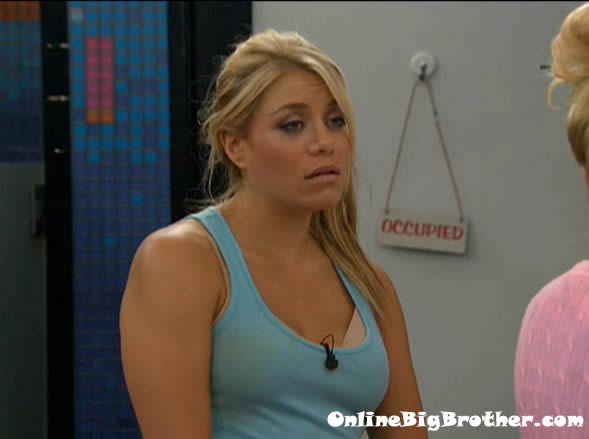 1:10am Ashley and Britney are in bathroom talking about how they wish they had done more to help Willie, and they feel like they're not allowed to say anything good about Willie in front of the other house guests. They both say he was nothing but good to them. Ashley brings up that the other day all Willie wanted was to go into the diary room to calm down. Ashley says that Joe was talking at dinner about how he hopes Willie gets some help …he only was saying that because he was feeling guilty about how he treated Willie. Ashley says that it was Joe's fault what happened that if they had just let Willie calm down everything would have been fine. They talk about how they are not happy with how things are going. Ashley says that they are all so mean! Ashley says that Janelle hangs with whoever's the flavor of the day. Britney said that everything Janelle does is about the game. Ashley tells Britney that Janelle told her that Wil doesn't have her back. She says that Jojo is getting screwed because Jojo is being loyal to someone? Britney says that the house is just like high school. Ashley starts to defend Willie and say that the newbies only meeting was not a bad thing. Ashley brings up how the HOH power has gone to Franks head ..that he is calling himself the white knight.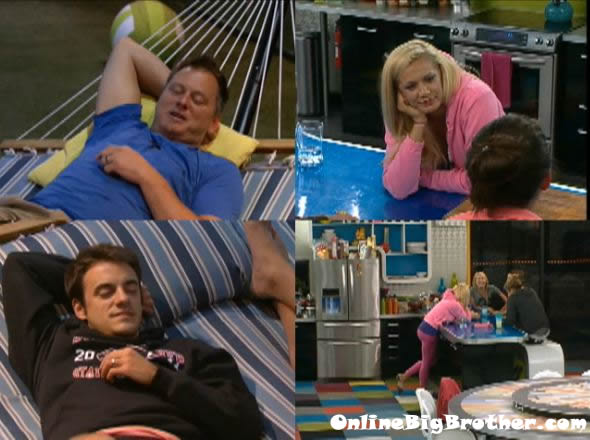 1:30am In the bathroom, Janelle and Ashley are talking in bathroom area. Janelle tells Ashley that they should cut a deal with Jojo and hang with her and ignore Danielle to make Jojo into a bigger target for this week. Ashley says oh yeah. Janelle says that her only trepidation is Joe wanting Jojo out so bad and that it concerns her since she doesn't really know why. Ashley says that she doesn't think the coaches will enter the game. Janelle agrees and said, if it happens it would be a competition to see who would get to enter. Janelle says that it will be awkward to hang with Jojo this week but that she thought they could do it. Janelle says that Boogie wants Dan out, which makes her want to keep Danielle. Ashley says that if she won HOH she would nominate Shane and Frank. Janelle suggested Shane and Danielle instead with Danielle as the pawn. Ashley says that she thinks it's a mistake having Shane and Frank in the game longer. They talk about maybe back dooring Frank with Shane, Danielle scenario. They think Shane would be easier to manipulate than Frank. Janelle says that maybe not to put Danielle up since they need her vote and to instead put Shane and Jenn up on the block. Ashley says that everyone thinks I'm terrible, but I'm just as smart as them all. Ashley says that she wants HOH to get a Drake CD. They say that they are working this week for next week and that their best case scenario would be Jojo out this week and Ashley winning HOH.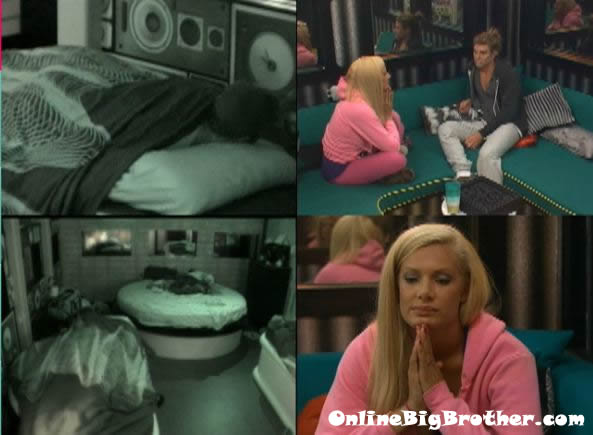 2:30am – 3:25am
Wil, Ashley, Janelle, and Danielle are talking in the kitchen. They are talking trash about Jojo. Danielle starts talking about why she thought Jojo needed to go this week. Wil says that Kara made a big mistake not coming up to their team trying to work with them to stay in the house. Janelle and Wil head into the arcade room. Janelle tells him about her conversation with Ashley about hanging out with Jojo trying to make her look like a bigger target. Ashley and Ian join them. They talk about how Franks HOH power is going to his head. Ian says that he didn't like how Frank yelled at him and that the HOHs have gone on power trips. Janelle says that Boogie wanting Dan out so bad made her want to keep Dan in the game by keeping Danielle this week. Janelle pushes for Jojo to go this week and that it would be best for them. Wil agrees. They talk about how they should not tell Joe any of this since they figure he will tell Frank. They think that they should be able to get Joe to vote their way because he's so amped about playing Big Brother and making moves. They talk about working with Shane if they can get Frank out next week. Ashley says that we are not going to tell him a lot. Janelle brings up how Shane won two POV's and is now talking smack. Wil is worried that Shane might agree to work with them and then flip. Janelle, Wil and Ashley head to bed.
9:30am Big Brother is letting the house guests sleep in this morning. All of the house guests are still sleeping. Britney got up and headed out into the backyard, she did a couple laps in her flip flops and then curled up on the hammock.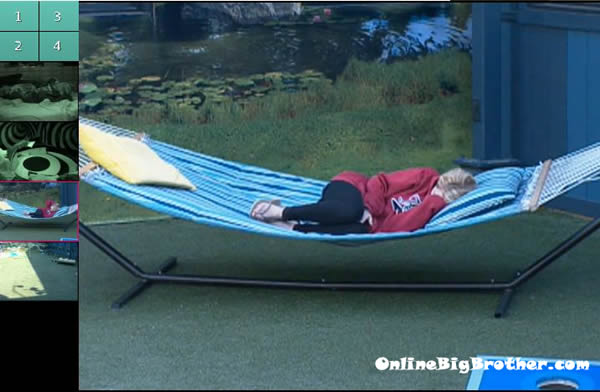 Share it YO!
Tweet