POV Holder:
?
Next POV
June 27
POV Used
?
POV Ceremony
?
HOH Winner:
McRae
Next HOH:
Wed July 3rd
MVP:
?
Original Nominations:
Current Nominations:
Jessie and Candace
Last Evicted Houseguest
?
Have Nots
Andy, Elissa, Jessie, Howard, Helen
10:15am
In the kitchen – Candice is making omelets for a bunch of the house guests. Jessie is doing the dishes. (Both trying to suck up before the veto ceremony.) Meanwhile in the living room – McCrae, David, Amanda, Andy and Spencer are talking and joking around. Big Brother tells Jessie to stop singing again. The living room group talk about Big Brother getting after them. McCrae says that he wishes people would get punished for breaking the rules. Gina joins them. Andy asks her how she's doing? Gina groans. Andy jokes that she is out this week, I've been working all week to get you out. Andy asks did you wake up on the wrong side of the cl!t piercing today? David tells the others that he accidently
farted when a girl was giving him a blow job. He says that she thought it got in her eye.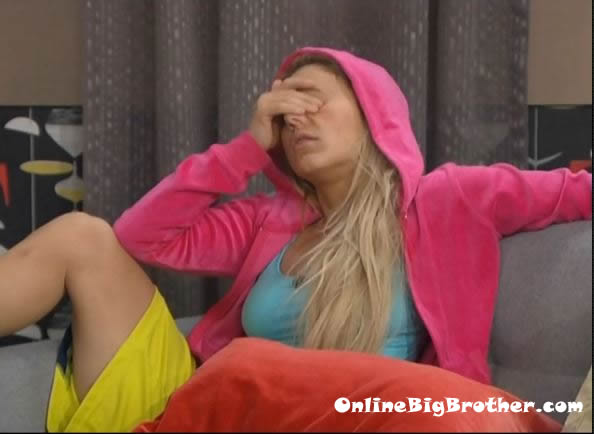 10:30am – 10:50am In the havenot room Howard and Judd are talking. Howard tells Judd that he needs to watch what he is doing.. Just to give you the heads up, people think you are going around the house talking to different people and snitching. You're all right, you just need to watch it. Judd says okay, thanks. Judd asks do you think Nick said something? Howard says no, it's more the girls. It's not a problem, I am just letting you know. Judd says the girls that are the problem are Aaryn and Kaitlin. Judd says after it happens (veto/eviction) there might be a war. Howard agrees. They break up their conversation and leave the room. Judd passes Spencer while he is taking his empty plate back to the kitchen and says what you aren't going to give me your crumbs? They all laugh. The living room crew are still talking and joking around. Spencer says that if he saw Howard walking down the street with a pit bull he would turn around and run the other way. Spencer and Jeremy talk about joking around and putting saran wrap on the HOH toilet "for when Amanda takes a big'ol man dump." They all laugh.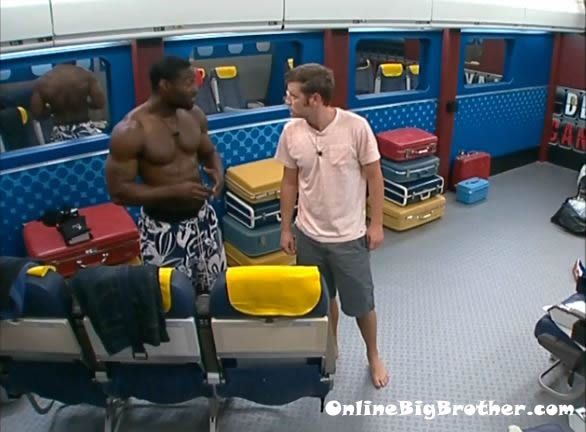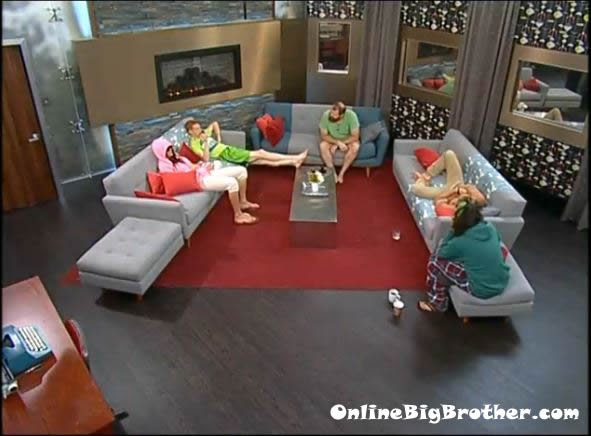 10:50am Out on the backyard couch – Andy, Helen, Amanda Judd, Jessie and McCrae are talking about random things. McCrae heads up to play chess. Andy, Jeremy, Jessie and Judd are talking about the veto. Jessie tells them that McCrae told her he was taking off Candice. Jeremy says he better put up Elissa. And if I get HOH next week I am going to put her up again. I want to be here with competitors not people just floating around. Jessie says you fu*kers better not put me up again next week. Andy tells her that if he got HOH he wouldn't put Jessie up. Jessie says yeah and I believe you because you've been honest with me. Jeremy leaves. Jessie says that if she won HOH she would just be honest with whoever she was putting up. They agree that if Jeremy was nominated he woulg go crazy. Jessie says that she would be too scared to put him up. Jessie and Andy comment how Nick scares them because they have no idea what he is thinking.
11:05am Spencer and Amanda have a talk in the storage room. Amanda tells Spencer that Judd is paranoid about him and Nick. They agree that Judd is the one in their group that is going to mess things up. He is too paranoid and shaddy. Spencer brings up how he was talking to Nick last night and Judd was peering out the window. Spencer says that he waved at him to come out but he didn't. Amanda tells Spencer to reassure Judd. They break up the conversation and leave the storage room. Amanda heads out to the backyard. The couch crew start talking game with her and she tells them she doesn't want to talk any game. She tells Jessie that she is fine, she has nothing to worry about. Amanda goes to get in the pool. Judd tells Jessie that if he hears her name he will tell her. Jessie says yeah same.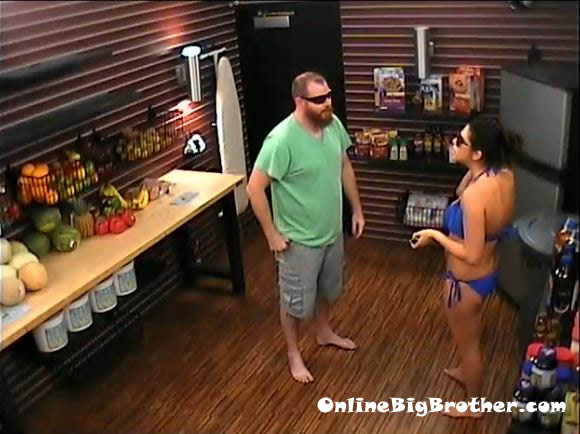 11:15am McCrae, Helen and Howard play chess outside the HOH room.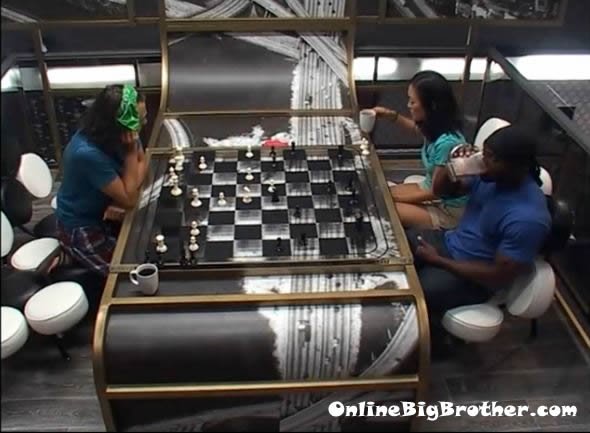 11:20am Amanda and Elissa are laying on the hammock talking. Amanda asks Elissa if she could use the MVP power (each week if she got it) to put up HG's outside the ones that vote to keep her. Elissa says I don't know. Amanda tells Elissa we're saving you, can you do what we ask? Do you not want to stay? Elissa says I don't know, I am just tired of it all. (Elissa doesn't want to work with McCrae and Amanda because McCrae promised her he wouldn't put her up and now he is saying he is going to. She's told him that she won't work with him or trust him if he does that.) Elissa is silent. Amanda asks her wants wrong, are you okay? Elissa doesn't say anything gets up and leaves. Jeremy comes over and Amanda says I think she is bi-polar. Jeremy asks is she campaigning? Amanda says no she's not even saying anything. Amanda heads upstairs.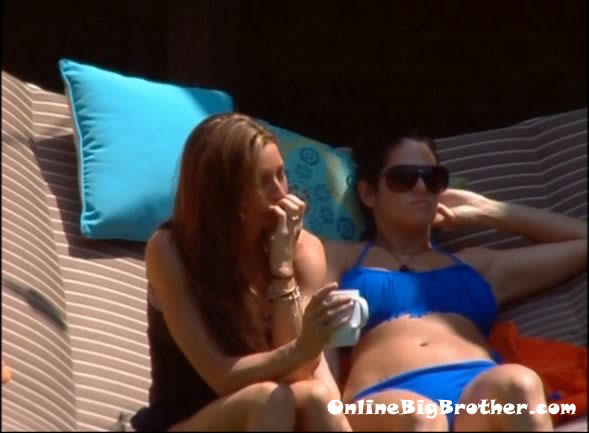 11:25am Jeremy and David are working out in the backyard. They talk about how weird Elissa is being. Jeremy says I think she is bi-polar. Jeremy says you should have seen Elissa last night. I could have made the bit*h cry. Jeremy tells David that he shouldn't be sleeping all the time because late at night is when all the sh*t talking goes down. David asks like when. Jeremy says every night dude. I was up there in the HOH at 3am last night just listening to all the sh*t talking. Jessie asks Jeremy so what are you not taking your girlfriend to the end? Jeremy says I don't have a girlfriend. Jessie says yeah you do you have a girl that's a friend in the house. Jessie says well you better not be talking game with her. Jeremy says what make you think I haven't already. Jessie comments that all the guys in the house are hot. Jessie says even you're hot McCrae, I wish you would deliver to my house. McCrae says yeah I wish I would have some stories to tell ..that's why I got into that. Jeremy says the night before he got here he slept with his friends mom. Jessie asks why?! Jeremy says because she was hot. Jeremy says when I was 13 I slept with a 48 year old. Jessie asks what?! WHY?! Jeremy says because I wanted to, it was fun. Jessie says you know all old ladies have herpes
.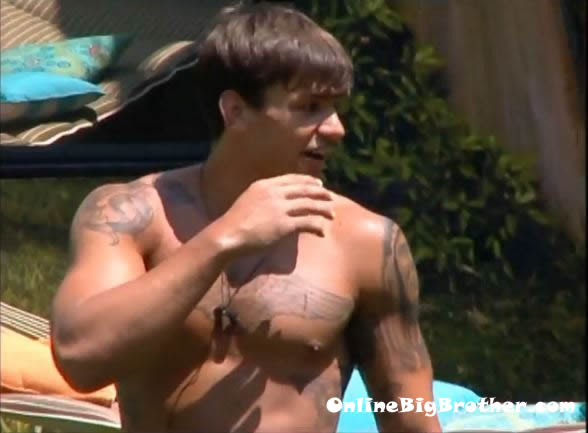 11:40am – 11:50amMcCrae and Jessie talk on the backyard couch. He tells her that she is fine, she has nothing to worry about .. there is no way you will go home. Jessie tells McCrae that he is making a great move getting Rachel's sister out. kaitlin joins them and they talk about music.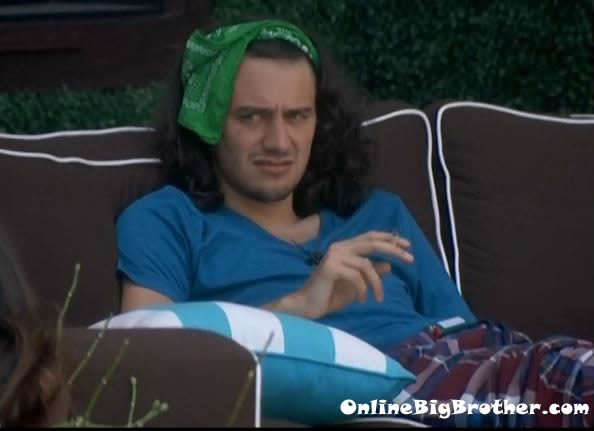 11:55am Kaitlin, David and Jeremy are in the pool talking about the veto ceremony. Kaitlin comments that its smart of McCrae to tell Jessie that she is safe. Jeremy says this is how it could be just us. Kaitlin laughs and says and Judd… Just kidding.
12pm Amanda and McCrae are up in the HOH room talking. They talk about how they think David and Aaryn will be coming after them. Amanda asks do you think they would put us both up? McCrae says yeah. They are fu*king dumb and irrational. To be honest it would be a good idea to put me up. Amanda and McCrae talk about how Jessie called him hot. Big Brother calls McCrae to the diary room. McCrae says uh oh ..this could be it! (Veto Ceremony).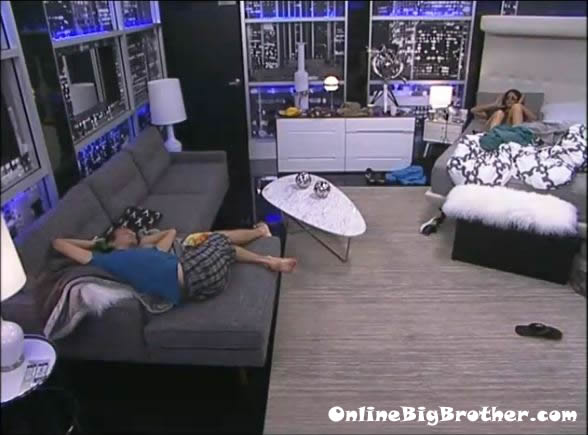 12:25pm Amanda comes out into the backyard and comments to Jeremy, David and Kaitlin that Jessie was hitting on McCrae. Amanda says why would you drive a toyota when you could drive a Porsche. Fu*king bit*h is acting like a wh*re! Kaitlin tells Jeremy that he better not go near Jessie again. Jeremy says he is staying away from her. Amanda heads inside and talks to Elissa alone in the storage room. Amanda explains to Elissa that they need her and want her to work with them. She reassures her that she is safe. Elissa says that she doesn't know about McCrae. Elissa says that McCrae just gets nervous. Amanda says I swear on all things that are holy that this is the plan. I wouldn't do that to you, America and all of Rachel's fans. Elissa says that it's just hard for me to believe its real because McCrae has lied to me so many times. Amanda says just think of it this way when we all make it to Jury we will be making like 13g's because we are getting paid a $1000 a week. Amanda says this is the plan we will protect you because we need you! You are a very valuable person. We want everyone to be surprised when it happens. Amanda says that we will show you we can be a team by saving you. It will be us against those 5 and the floaters. Think of it, this can be fun. Elissa says yeah, yeah okay. Elissa leaves. Amanda says to herself I hope I can trust her.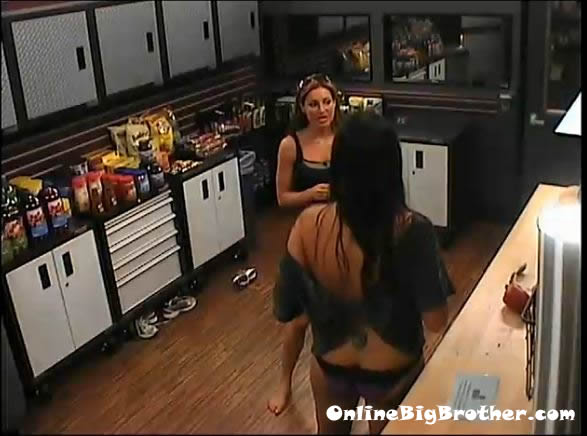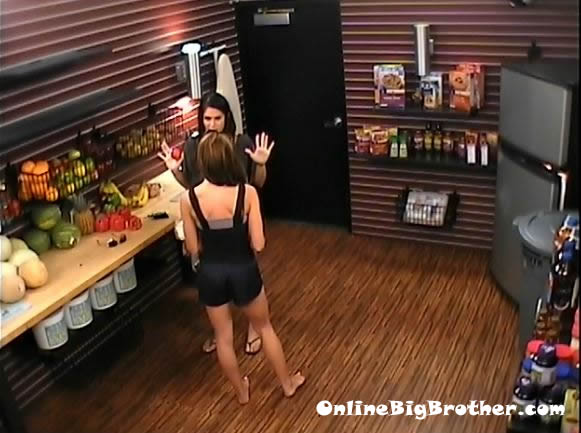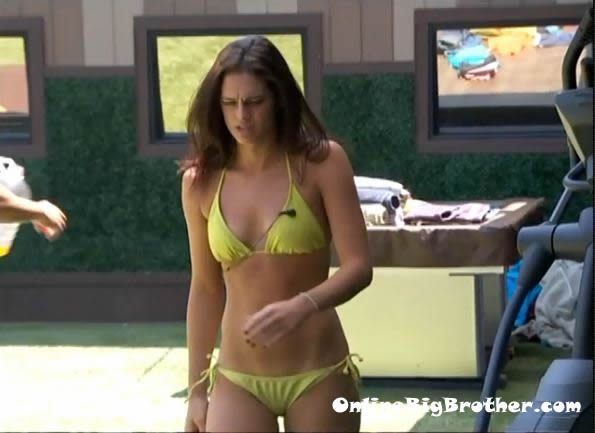 Stay connected and interact with other Big Brother Fans on our Facebook page.
And Follow: @BigBspoilers and @Dawgsbigbrother on Twitter for the most up to date spoilers.
Share it YO!!
Tweet