POV Holder:
Spencer
Next POV
Aug 3rd
POV Used
?
POV Ceremony
Aug 5th
HOH Winner:
Aaryn
Next HOH:
Aug 1
MVP:
AMERICA
Original Nominations:
Spencer, Howard, AMANDA (MVP nom)
Current Nominations:
Candice, Howard, AMANDA (MVP nom)
Last Evicted Houseguest
David, Nick, Jeremy, Kaitlin
Have Nots
Judd, Amanda, Candice, GinaMarie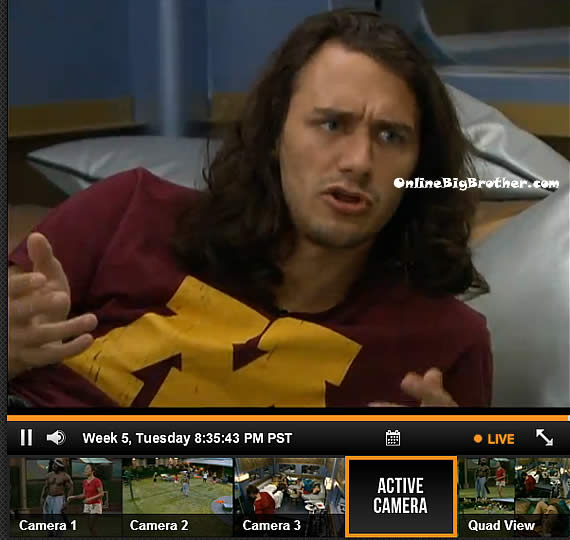 8:34pm Cockpit Andy, Amanda and MC
MC is thinking Aaryn might be working with JUDD so if Aaryn comes in here wanting Candice out before Spencer they have to throw her a bone. They shouldn't give her definate answers. He thinks they need to not be so forceful with Aaryn because it's scaring her. Amanda isn't happy with being told what to do. Amanda now says maybe Aaryn wants Candice gone before jury because she doesn't think she'll get Candice's vote and she thinks she'll get Spencers. MC: 'Or she could be pushing JUDD's agenda"
MC: 'She helped us out so much"
Amanda: 'We help her out to"
Andy: 'No way she's working with JUDD"
Andy now is worried that Aaryn knows they want JUDD out
Amanda storms out mad at MC telling her to not be so pushy with Aaryn "I can't stand you right now"
(Paranoia with these three big time)
McCrae tells Andy he trusts Aaryn 100% but is worried that Amanda is pushing her agenda too strong and it's freaking people out getting them to seek out allies in other places.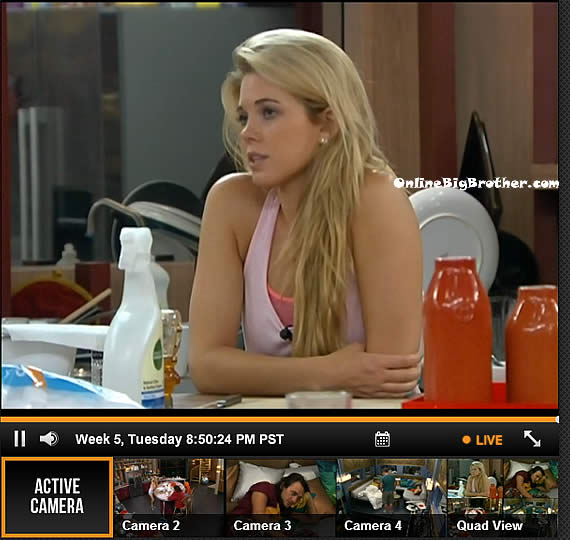 8:50pm kitchen Amanda and Aaryn
Aaryn is worried she wasted her HOH getting out someone that isn't targeting her. Aaryn points out that Candice is in good with Elissa and Helen and Helen is giving her dirty looks now. Aaryn knows Candice is targeting her, she also suspects Elissa and Helen would put her up. Amanda say if Aaryn wants Candice gone next week then they can get her out.
Andy joins them says the nominations next week depend on who wins HOH but he's pretty confident Candice will go up.
Aaryn says with Spencer everyone who wins HOH will put him up but with Candice it's only a select few. She thinks Spencer and her will be nominated next week unless Amanda, McCrae and andy win HOH
Andy tells them Helen is going to put up Candice 100% Andy knows Helen better than anyone else in the game and she's a team player.
9:02pm Helen, Amanda, Andy just talking in circles about how much they dislike JUDD. Helen saying "JUDD he's so selfish he makes me want to punch him.. I can't wait to f**** blindside his eviction"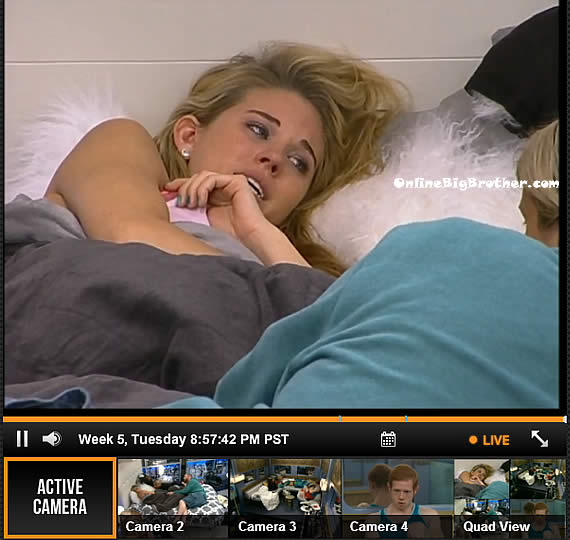 8:58pm HOH Aaryn, Spencer and GM
Aaryn crying.. You can re-watch ever second on the feeds using their flashback feature.. It's just like a DVR and is super easy to use. click this link for a Free Trial —> Subscribe to the Big Brother Live Feeds
Aaryn says she cannot believe that Candice can get away with doing what she's doing she sh!ts on people and now she's back in the good books.
Aaryn says that apparently she was up here for too long with Spencer that is why Andy came up to see what they were doing. Spencer offers to leave if it's going to cause Aaryn trouble.
Aaryn: 'She's on the block and it's my HOH she should be going home"
GM: 'Lets get her out"
Aaryn: "I can't do that"
GM: 'We have 2 right here we can get 2 more"
S: "there's no 2 more to get… guaranteed"
GM: "I don't want HOward to go home"
S: "He is"
A: "I'm not going to lie after Howard's speech I don't care. I just don't want Candice here"
S: "After his speech today he has no chance.. he would have been in better shape"
Aaryn agrees says there was a chance for Howard to stay but after the speech he's got no chance. She thinks they may have been able to get 2 votes.
GM: "Maybe he needs another speech" (another speech to correct it)
S: "No no he doesn't need anymore speeches"
Aaryn points out how Candice is talking around smiling and getting close to everyone.
A: "NOW.. you know Spencer she is not going on the block you and me are"
S: "I know"
A: "Everybody wanted her out.. even Helen.. and now Helen is giving me dirty looks"
S: "Me to"
A: "People are stupid"
S: "I hate her f*** attitude"
A: "How can you do that to someone and not be upset with yourself.. I've never been called a racist in my life… IN MY LIFE.. Shouldn't that have been the icing on the cake that all she does is attack people to make herself look like the victim… she turned the f**** tables how is that possible… That's more dangerous than Howard that's more dangerous than you"
Aaryn doesn't see Howard as big of a threat not after he proved to everyone he can't save himself. She points out that Candice is now close to the everyone even after she Threatened Helen and Threatened ELISSA "THREATENED"
Aaryn brings up Spencer saying he wanted Amanda to die but he never meant it. She says this is one example of Candice blowing it out of proportion. Spencer says it's no surprise that he doesn't like Amanda but that doesn't mean he wants to see her get assassinated.
Aaryn: 'We also know that i'm southern and I sometimes make jokes that are unacceptable.. but that doesn't mean I'm racist and it doesn't mean you want to kill Amanda"
Aaryn says Candice will pick a person and make them a monster and find something to label them as so they get evicted. She says if it was Ginamarie then Candice would find on thing about her and exploit it. (Wait this sounds like Amanda not Candice)
Aaryn cannot understand why the other side is so threatened by Spencer he all alone. Spencer: "Me and my army".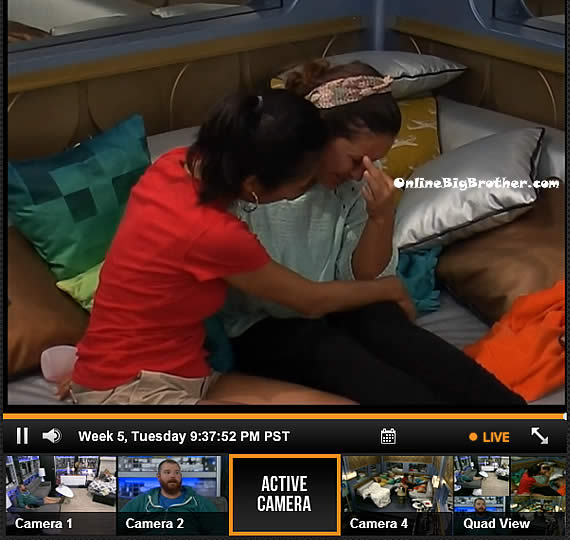 9:40pm Jessie crying in the cockpit with Helen
Jessie is feeling down because the game is getting really boring and long. Helen: "OK I never want you to feel alone OK.. OK you have me OK"
Jessie is worried about JUDD she says that sometimes she thinks JUDD likes GM, "She loves to pick on him and he loves to pick on her.. They have more of a connection than me and him have" Jessie adds that her and JUDD really are not that close.
Jessie: "He loves her I think" Jessie points out that JUDD and GM always make plays for each others attention.
Helen says she loves GM to and notices them teasing around she doesn't think it looks like JUDD is interested in GM. She points out that JUDD talks bad about GM all the time but never says anything bad about Jessie.
Jessie says JUDD just thinks I'm a really beautiful girl that he likes to hang around on TV, "Wouldn't be the first time.. well on TV it would be" She really plays down their "Showmance" says they are free sprites in the game and just friends. Helen asks her if JUDD told her what he was doing last week during the HOH. Jessie says he told her nothing all she knew was she was going to be safe., "He would come to me when he was worried.. but it was things that everybody knew"
Helen tells her she isn't alone in this game she has Andy, McCrea, Elissa, Amanda and Helen, "You know all the people that have been close for 4 or 5 weeks.. OK"
Jessie: "I don't feel alone.. I have JUDD"s back 100% it's just that we don't gel"
H: "I always thought you were cute together"
Helen starts telling her nobody deserves to feel bad in this game the only time they should feel bad is when thy lose a competitions and then it's feeling bad for themselves.
Helen now saying she really feels bad for Spencer and if he wasn't hiding out in HOH all the time she would tell him that. (She claiming to feel bad because of the house meeting and the things Candice said to him)
Helen: "I wanted to cry for him because he's my close friend"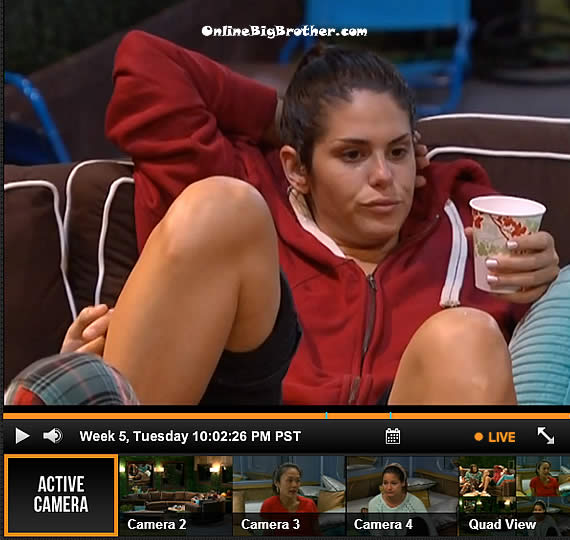 9:44pm Amanda and McCrae backyard couch
MC tells her they still have a full day left. Amanda does think anything will change after what happened in the house today.
Amanda: 'What human being is going to go work with Spencer and Howard.. no one"
MC: "Why would GM say she wants to get Candice out"
A: "because she has a personal vendetta against Candice because she f*** hates her.. we all do it's fine"
A: "Doesn't matter nobody is flipping against me"
Amanda says she's tired, dirty hungry and missing her family.. she starts to cry. They head over to the hammock..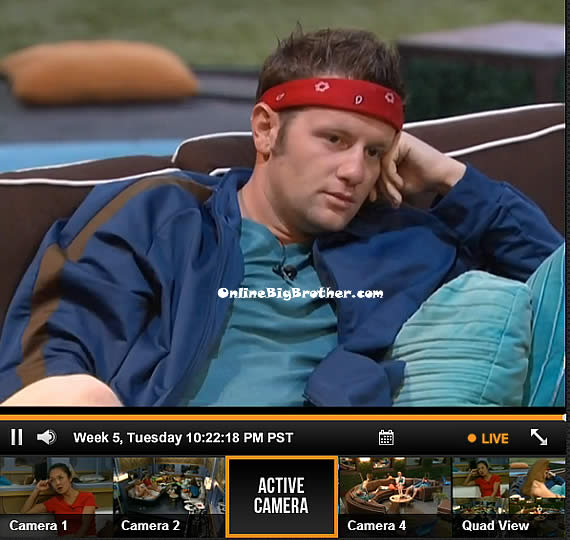 10:20pm Backyard couch JUDD, Spencer and Andy JUDD says after that meeting he'll never want to talk to Howard outside the house.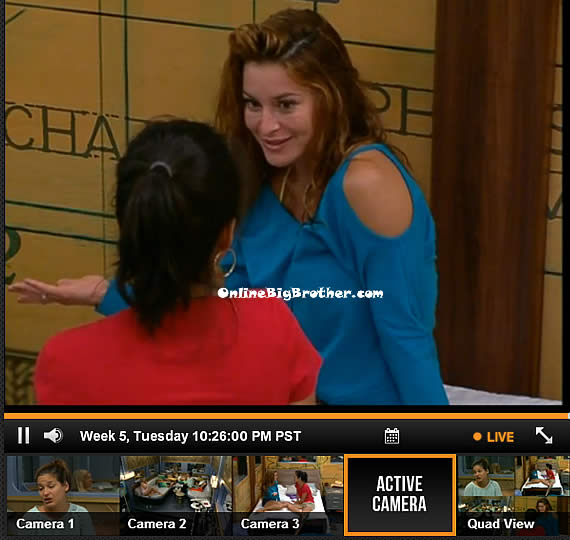 10:27pm Elissa and Helen Elissa wants Spencer, Ginamarie and Aaryn gone before Candice. Helen wants Candice in the jury. They agree that Aaryn is a liar
Helen tells her once they get to final 5 Andy, Elissa, and Helen will go after Amanda and McCrae but until then they have to stick with the plan and get everyone out. (Superfriends final 5)
Helen whispers Amanda, McCrae and Andy want JUDD to go..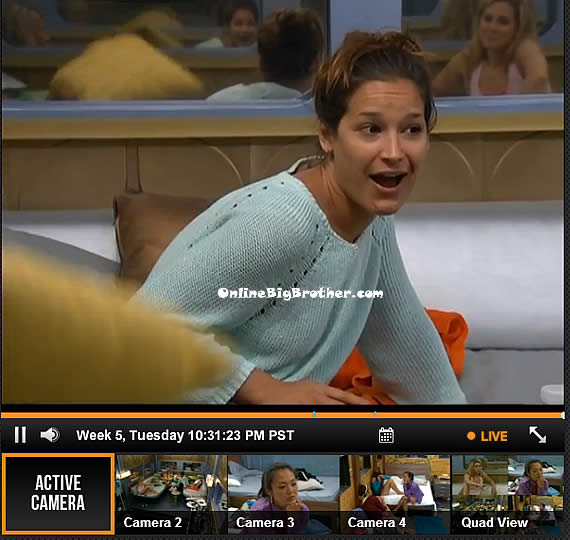 10:30pm Cockpit Aaryn, Jessie and Ginamarie
Aaryn selling the idea to Jessie of getting Candice out. She says they need JUDD and Jessie's vote. Aaryn points out that Howard and Spencer are not targeting them three but Candice is.
Aaryn: 'It's so tempting.. but everyone in the house will be after me"
GM: "I wouldn't"
Jessie: "I wouldn't either"
Jessie is worried that Candice will go off on her like she did with Spencer she is very much interested in getting out Candice. Jessie also doesn't like how Elissa and Helen are now very close to Candice. Aaryn points out that Amanda will be too preoccupied to get Howard out the following week the house will be in chaos.
Jessie thinks Amanda
Aaryn: "They would freak out if they knew we were talking"
GM: 'Why do they always get what they want"
GM: "They wanted David out they got him.. they wanted Nick out they got him.. they wanted Jeremy out they got him.. they wanted Kaitlin out they got em well F*** that 4 strikes your out"
Jessie: "I'm getting a girl boner just thinking about it"
(WOW looks like Jessie is on board to get out Candice)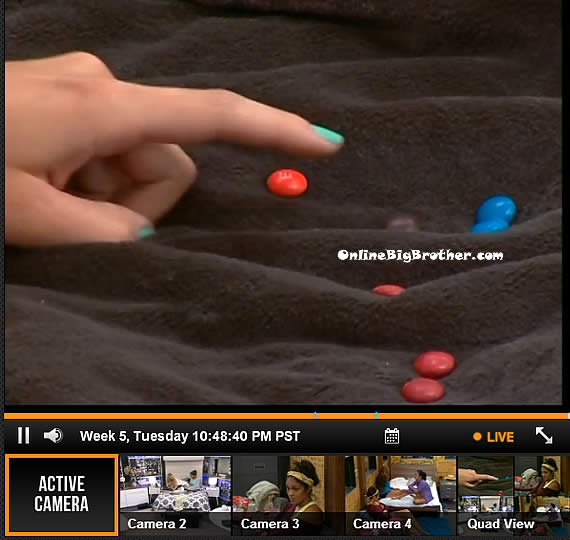 10:50pm HOH Aaryn and Jessie
Talking about long term game strategy and going through scenarios using M&Ms
GM comes up. Aaryn tells her Howard is going this week they don't have the votes but it's not all bad news..
Aaryn show her the how the game is shaping tells them the real totem pole is 1) Amanda 2) McCrae 3) Helen 4)Andy 5-6) Jessie/JUDD
Aaryn: "Jessie you agree"
Jessie: 'Totally"
Aaryn adds after JUDD and Jessie it's Elissa, Aaryn and GM
GM still want to get Candice out tells her to pass the M&Ms over so she can show them her strategy (The cams switch to the storage room)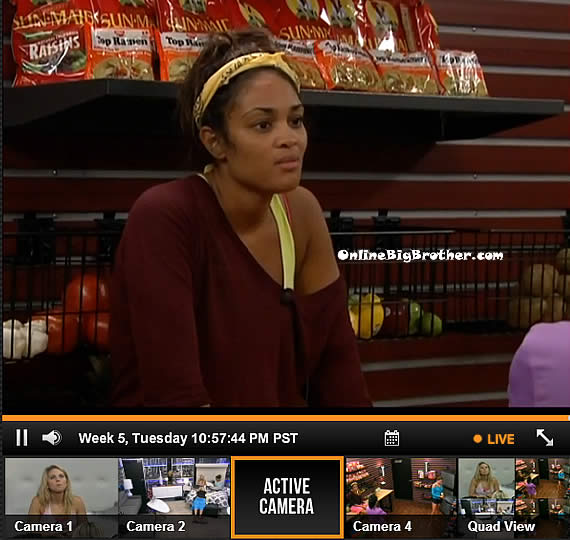 10:56pm Storage room Candice, Elissa and Helen
Candice says the vote is going to be 4 /4 and Aaryn is going to send her home. Helen doesn't think that is happening. Candice says yes it is she knows what is going on JUDD, Jessie, GM and Spencer are voting out Candice.
Helen: 'WHO TOLD YOU THIS"
Candice says she's a smart person and knows that.
Helen wants to assure her it's not going to happen she'll make certain of it
Helen says Jessie told her she's not playing with JUDD which is bullshit
Helen races out says she needs to go talk to Amanda and Andy "I'm going to save you" She marches out to the hammock to get Andy visible to everyone that she's pissed.
11:06pm Cockpit Helen and Andy Helen is freaking out that the house is flipping and they are going to vote out Candice. Candice just told her this in the storage room that hte vote is going to be 4/4 and Aaryn will break the tie. Andy: 'It's a lie.. GM is more solid than that" Andy really thinks it's just Candice stirring up sh!t
Amanda joins them. Helen wants them all to go up to HOH and confront Aaryn about this. Amanda wants to do it alone. Andy just thinks it's a bunch of bullsh!t, 'how would Candice know this"
11:22pm Cockpit Elissa, Helen, Candice, Amanda and Anda Amanda really doesn't think that Aaryn would publicly vote to keep Howard. Candice thinks she will because she wants to be famous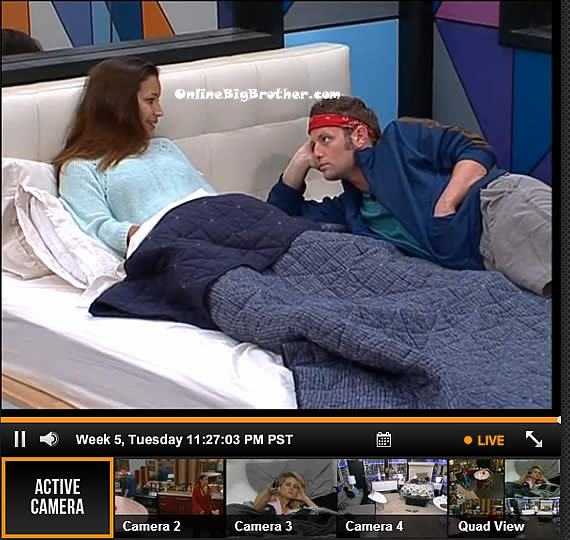 11:26pm Bedroom JUDD and Jessie aka JEJU
Jessie: "Obvi Howard is leaving this week"
Jessie says that she talked to Helen trying to throw her for a loop.
Jessie says Amanda/McCrae and Helen/McCrea are two strong groups with Andy in the middle. THey are on the bottom of that stack
JUDD says that Helen is pissed right now march around on a rampage she thinks the house is flipping. He wants to know if she is sure she didn't say anything to Candice. Jessie swears she never said a thing. Jessie says they needs to get Candice out sooner than later. Jessie: 'I'm so annoyed at Candice right now"
JUDD: "She's a b!tch"
Jessie says that Helen has just showed her cards to everyone she will bend over backwards to keep Candice in the game.
JUDD tells her they still need to stick with Amanda/McCrae/Helen/Elissa.
Andy joins them.. tells them Candice is starting some crazy conspiracy theory saying she's going home…
Andy says once Candice leaves Helen we'll pull her aside and tell her the house isn't flipping it's a ll BS.
JUDD: "It all could be orchestrated by Harold to" (FYI Howard's new name is Harold according to JUDD)
11:49pm HOH Aaryn, GM and Amanda Amanda says that Candice has a conspiracy theory that the vote is going to be 4/4. Aaryn and GM deny it say they would never be that stupid. Aaryn mentions why would they want to side with Howard and Spencer the two biggest liars.
Andy joins them.. "I just talked to JUDD and Jessie and they are 100% solid"
GM goes on a rampage how Candice goes around the house spreading lies and string up sh!t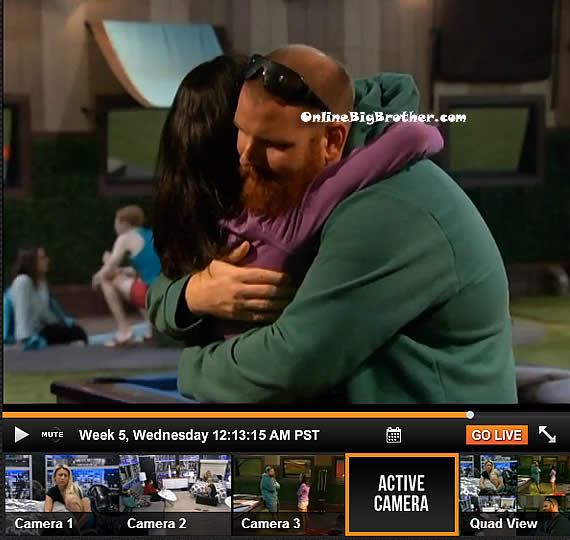 12:00AM Helen crying to Spencer she feels bad for what Candice did to Spencer earlier today during the house meeting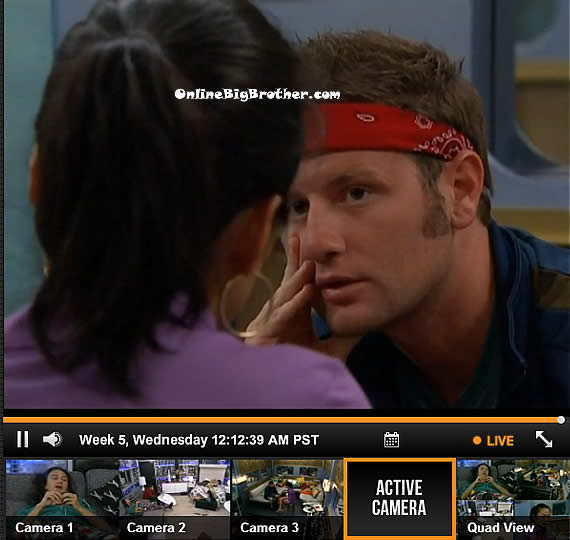 12:15AM JUDD and Helen Cockpit
JUDD is stressing that he's voting out Howard isn't working with Spencer. JUDD is worried about Jessie because because she's playing her own game and dragging his name into it. Jessie has been throwing scenarios around when chatting with people and she never tells them to JUDD.
12:21AM HOH GM, MC, JUDD, Helen, Aaryn and Amanda
They are talking about Candice's theory that the vote will be split 4/4 and Aaryn is going to vote her out. Everyone starts to debunk the conspiracy theory. Doesn't seem like anyone is takign it all that seriously anymore.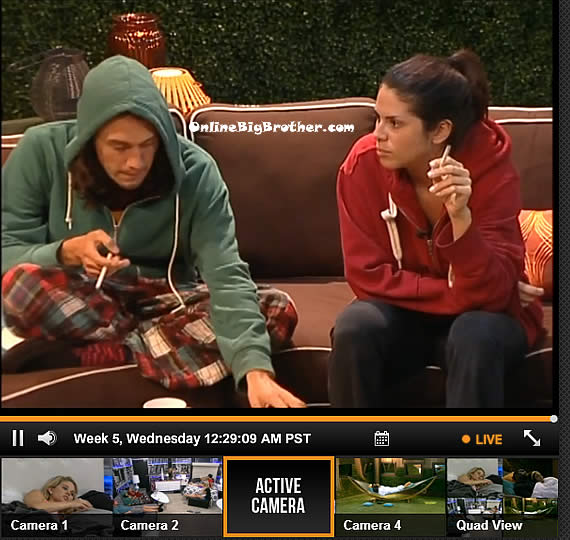 12:29AM Backyard Amanda, JUDD and MC
Amanda tells JUDD Jessie is messing up his game right now because she's in the cockpit with GM and Aaryn talking about how much they hate Candice.
JUDD says If he gets HOH it will be in my best interests to put up Jessie as the pawn. MC thinks that is a goo idea.
JUDD: "She's sabotaging my game and not even knowing it"
Amanda thinks JUDD should try and get Candice to target Jessie. JUDD: "Ya… "