POV Holder:
Spencer
Next POV
Aug 3rd
POV Used
?
POV Ceremony
July 29
HOH Winner:
Aaryn
Next HOH:
Aug 1
MVP:
AMERICA
Original Nominations:
Spencer, Howard, AMANDA (MVP nom)
Current Nominations:
Candice, Howard, AMANDA (MVP nom)
Last Evicted Houseguest
David, Nick, Jeremy, Kaitlin
Have Nots
Judd, Amanda, Candice, GinaMarie
4:25pm Backyard Elissa, Amanda and McCrae
McCrae telling her that sometimes making a scene and "Piping Up" is really bad for their game
Amanda: "How can Howard not go home now… there's no light " Amanda and McCrae think they should have a fake fight because after this week them being so close will make them a big target. Amanda doesn't want to do it while they are on the block. She thinks they should wait to see who the HOH is next week then hatch the plan then.
Amanda: 'Spencer told me to choke on my spit and die.. That's like Insane.. I've never had to deal with someone like that before"
Elissa: "He's got like 30 different personalities"
McCrea :"Are you a child.. like who speaks like that.. people sure want to ally with you when you talk like that"
4:39pm Andy, JUDD, McCrae and Jessie
Talking about how boring it is around the house. Talk goes to the Pandora's box how they think one might be coming soon.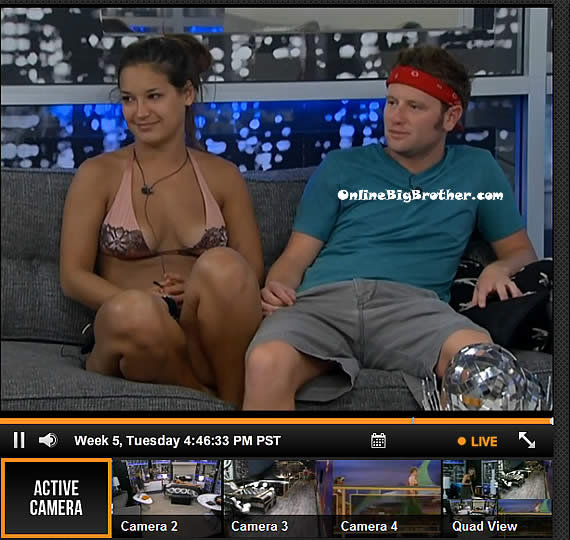 4:43pm HOH Amanda and Aaryn
Amanda saying how perfect Candice's house meeting was.. She thinks it puts her in a much better spot than last night. Amanda thinks the target is now firmly places on Candice and Spencer, She adds that nobody in the house will join up with Spencer and Candice so the next two weeks should be easy getting them out.
Amanda: "It's not over yet until the votes.. we still have to me on people"
Aaryn: "If you think Howard will stay over you you're bat sh!t crazy"
Amanda: "I really think JUDD wanted me to go"
Aaryn: "I do to"
Jessie, Andy, GM and JUDD join them.. Chit chatting..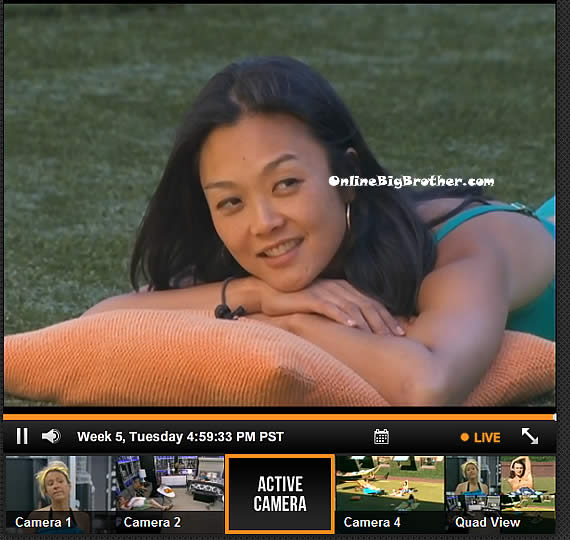 4:48pm Backyard Elissa, McCrae and Helen
Talking about the week one vote and how Spencer was lying to Helen. Helen says it was awesome that Candice called Spencer out today, "Makes Amanda and Candice look great"
McCrae was a bit worried how it was perceived in the house. Helen tells him not to worry.
Helen: "Anyone in this game that votes to keep Howard or Spencer will go home next"
McCrae says Aaryn is 'Super Solid" with them. He mentions how there will be a time when she comes after them but not right now.
Helen: "Elissa.. she is not coming after us right now"
Helen mentions how Elissa came into this game with the biggest target on her back and now she's almost made it to jury. Elissa says it will suck if she's the first person to go to jury, she would rather just quit and go home.
McCrae thinks there may be a 9 person jury this year points out if that is the case then next week is the first jury member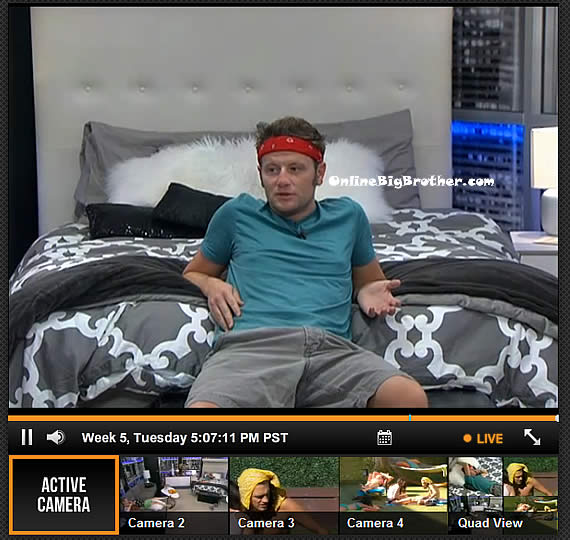 5:10pm HOH Andy, JUDD and Aaryn Talking about what Howard said during the house meeting. Aaryn thinks he said that because of his pride.
5:11pm Kitchen Andy, Amanda and JUDD
Amanda: 'He said when we're both out of here i'm going to f*** the sh!t out of you because you are so f**** hot.. "
JUDD: 'Huh he said that to you"
Amanda: "I swear to god on my life.. that just creeped me out"
(she's claiming it was Howard that said this. These comments were not heard on the feeds we're only going by what Amanda is saying. After Amanda told the superfriends this she went to the Diary room where she apparently telling them)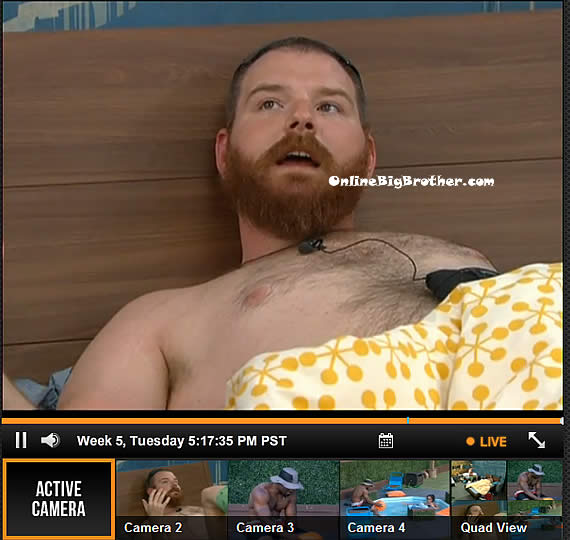 5:16pm Spencer and Andy
Spencer says the plan to keep Howard was f***d. They agree that Howard is toast. Spencer tells him he wants to get to Jury just as bad as everyone else but he's not going to chase people around kissing a$$ for just a chance to be in jury.
Spencer: "My fear I will be tarnished to the point where you and JUDD will not talk to me"
Andy: "You're my friend I don't care"
S: "Candice should not have done that.. if she wins HOH she'll put me up I don't give a sh!t"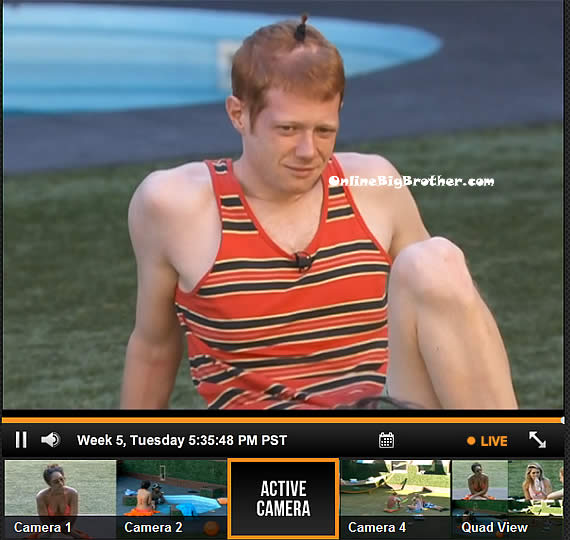 5:30pm Backyard Andy, JUDD, Aaryn, McCrae and Helen
They're chatting about what Howard supposedly said to Amanda about f**** her when they get out of the house because she's so hot. Sound like they are believing Amanda. JUDD tells McCrae not to worry about it because Howard is just trying to start a fight.
Aaryn saying that Candice was going around telling people she was saying racial slurs when she never once said anything racist.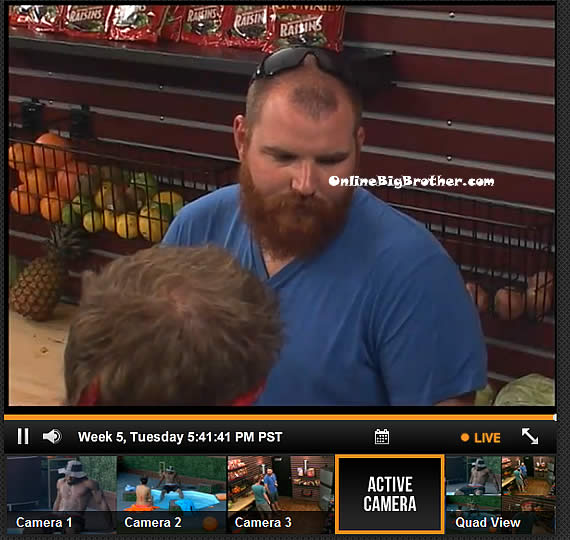 5:38pm Spencer and JUDD JUDD tells Spencer he cannot work with Howard anymore after what has gone on in the house. Sounds like Howard got mad at JUDD and said things during the house meeting highlighting JUDD talking to certain people in the house.
Spencer: "It's all good I didn't think Howard handled it correctly" JUDD adds that he's tried to work with Howard 3 times and every time he finds out Howard is whispering to someone else making side deals.
Spencer: 'He's played a f*-** up game.. "
JUDD: "He didn't have to though.. every week he's scrambling more than the people on the block"
Spencer says he's not sour he knows he needs to win the HOH or POV next week or he's going home.
5:52pm JUDD and Spencer at the backyard couch. Spencer is worried the other side will throw a vote onto Amanda and blame it on him. JUDD doens't think that will happen everyone is too scared to play games like that.
5:55pm HOH Andy, McCrae, GM and Aaryn
They are talking about the things Amanda is accusing Howard of saying.
McCrae thinks it's his way to get him to freak out and put the target on him.
Aaryn doesn't think it's game related she says it doesn't make sense that Howard would say those things to Amanda and it be for game.
McCrae: "He just wants to bang Amanda"
Aaryn: "Ya" FEEDS switch to the backyard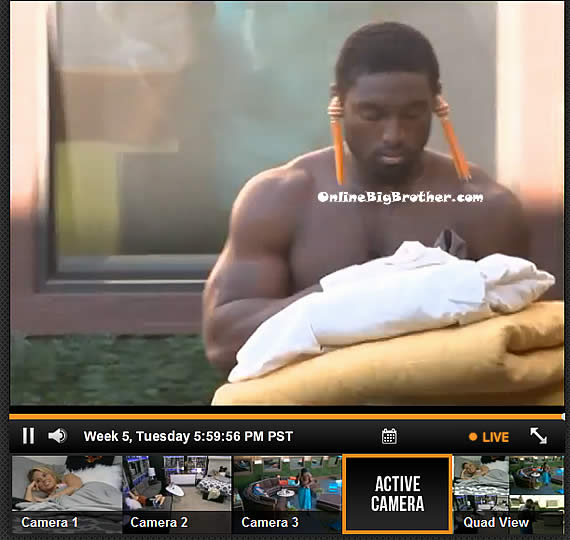 6:00pm Howard's new look