POV Holder:
Spencer
Next POV
Aug 3rd
POV Used
YES
POV Ceremony
July 29
HOH Winner:
Aaryn
Next HOH:
Aug 1
MVP:
AMERICA
Original Nominations:
Spencer, Howard, AMANDA (MVP nom)
Current Nominations:
Howard, Candice, Amanda (MVP nom)
Last Evicted Houseguest
David, Nick, Jeremy, Kaitlin
Have Nots
Judd, Amanda, Candice, GinaMarie
Judd holds Amanda's leg and says your legs are hairier than mine. I am going to call you butch! #bb15 @bigbspoilers pic.twitter.com/7JUiBH991g

— Dawg (@DawgsBigBrother) July 30, 2013
1:45pm – 2:20pm In the lounge – Judd holds up Amanda's leg and says your legs are hairier than mine. I am going to call you butch! Judd leaves the room. Andy tells Helen and Amanda that this morning Judd freaked out on him. Andy explains how Judd doesn't want me to tell Spencer that we aren't with his plan to vote out Amanda. Amanda says that if it takes any heat off you I will tell Spencer that it was Judd and not you. Andy says he doesn't understand why Judd doesn't want to tell him. Amanda says because Judd wants to flip the house and he is scared because it's not working. Candice joins them and Helen tells her to be careful of Spencer. He was outside throwing your name under the bus saying he wants you to go. Helen and Andy reassure her that she is staying. Candice says I can't control that and if people cast their votes against me that's fine. Helen says whatever Howard told him isn't working because he wants out out. Candice says I am not going to stalk people for votes because people have lied to my face before. Everyone leaves but Helen and Candice and Helen reiterates the entire Spencer/Amanda conversation to her.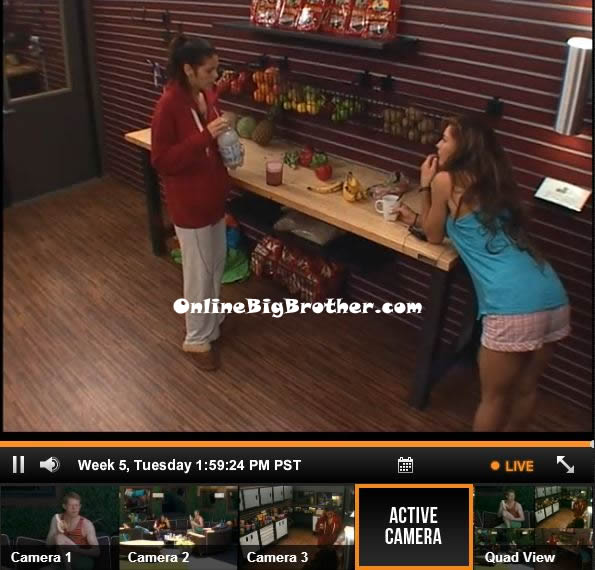 2pm – 2:15pm In the storage room – Amanda tells Elissa about Howard and Spencers plan to flip the house. Amanda says she thinks they plan to blame the votes on you or Helen if it doesn't work. Amanda says that it doesn't matter any ways because Howard is going. Elissa says that our plan is working to move the moving company on out. Meanwhile out in the backyard – Andy is talking to McCrae about how Judd flipped out on him. Amanda joins them and tells Andy that if it did happen she would make it clear to Spencer that it was Judd. Amanda says that the whole point of the conversation out here with Spencer was to shut that plan down. Ginamarie joins them and Amanda fills her in on the conversation with Spencer. Ginamarie tells Amanda that Spencer thinks I am voting you out and it is hilarious. Andy says same with me. Ginamarie says I never shook on anything. Amanda says when I stay if Spencer wins HOH I want him to put me up with someone else (Because even if he was HOH she thinks she would still have the majority.) Amanda says I told Spencer if there are no votes against me I wouldn't put him up BUT I still will. McCrae says I wouldn't mind Spencer going father in the game. Amanda says he will put you and I up if he wins. McCrae says yeah I know.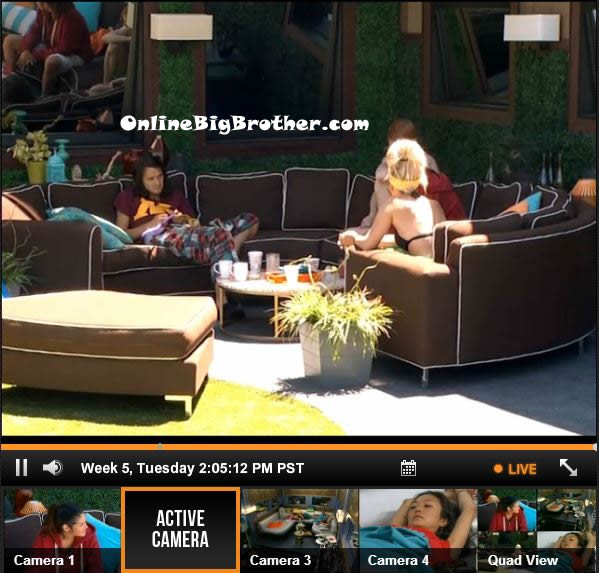 2:15pm – 2:20pm Andy, McCrae and Ginamarie talk about whether or not they will get a Pandora's Box soon. McCrae says that they'll get it and it will be a bunch of cleaning supplies in it – Telling us to get to cleaning motherf**kers. Ginamarie agrees that the house is really messy. Ginamarie keeps burping. Judd, Amanda and Jessie join them.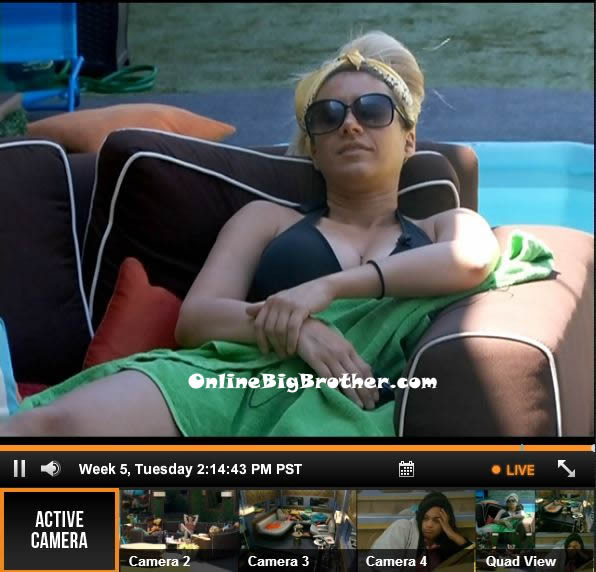 2:25pm Amanda asks Jessie alone on the backyard couch if she thinks something is going on with Judd. Jessie says no. Amanda tells Jessie that it all comes down to you again, you are the game changer again. Jessie asks again. Amanda says that she is the most valuable person and people didn't appreciate her before. McCrae joins them and agrees with Jessie being a valuable part of their side. Amanda says my how plan with the conversation today was to keep the target on me and off of you. Jessie says thank you. Amanda says I will always protect you. Jessie says thank you. Andy joins them.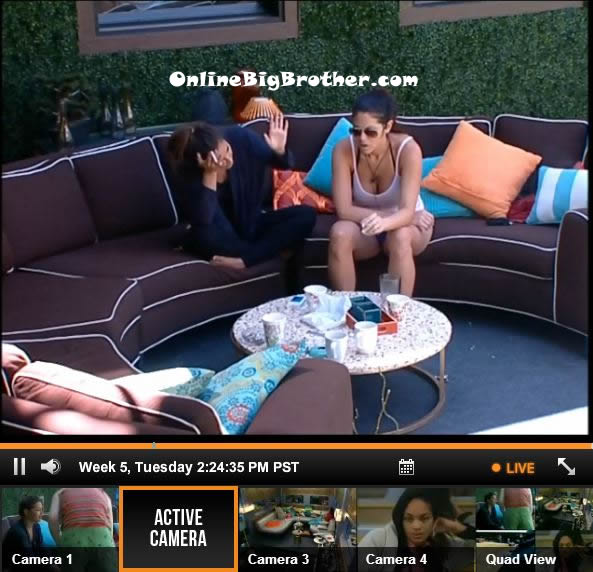 2:35pm – 2:45pm Helen tells Candice that I know you are going to be sad with Howard leaving. I am going to be one of the reasons why he leaves and I am sorry for that but I think your game will be better with him gone. I know its ironic but I will be here for you when he leaves. Candice says its a consensus and if he goes he goes. I have a great life outside of here and I am not going to campaign to people who will just lie to me. There may be another Candi moment if people are still throwing my name out there but I am a very rational person. Candice says I care for Howard in a friend way ..not in a romantic way. That is how all my relation ships start but I have to see how things are outside the house. I don't have time to waste however my womb is screaming for babies! helen says that she hopes Candice wins HOH. If it comes down to me and you I will drop.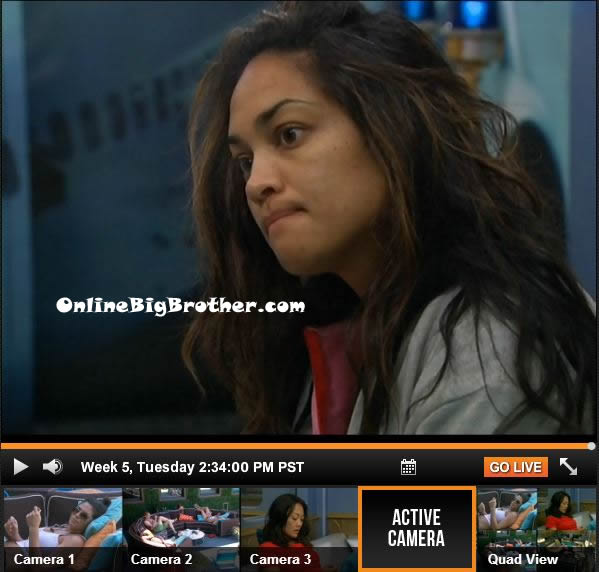 2:45pm
Aaryn comes out and says that BB gave her an underwater camera for her HOH shots. Andy says you can get some crotch shots of Amanda underwater now! Aaryn starts taking photos.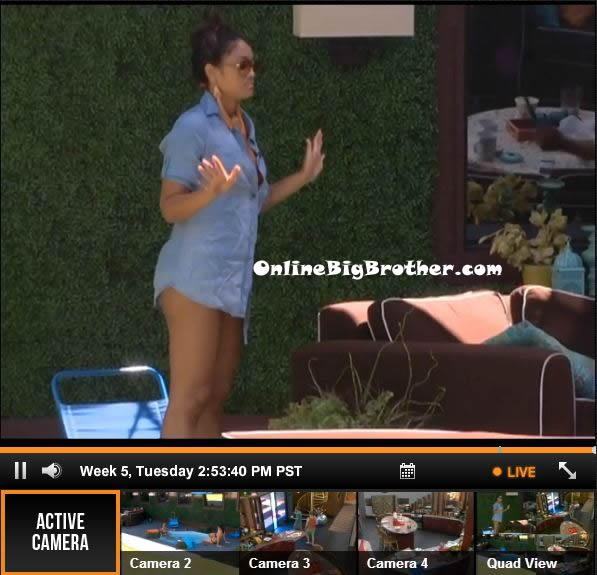 Meanwhile in the kitchen – Candice says she wants to call a house meeting. She goes out side and tells everyone she wants to call everyone over for a house meeting. Candice says this is not to fight with anyone this is just to clear the air. Amanda says house meeting always go really well. Aaryn asks if it is going to be a long meeting. Candice says no its going to be really short. Candice says that she woke up and was bombarded with people telling her that Spencer wants me gone instead of Amanda who you had a plan for her to go. Candice says I wish you would keep my name out of your damn mouth. I wish to god that you were on the block. You said to me just last night that you wished for Amanda to choke on her own saliva and for her boob to fall out. Spencer says this is a really Christian approach. Candice says so help me god I want you to go home next week and I will do whatever it take to take you out. Spencer saying he is not campaigning against her. He says to be honest I would rather Howard be gone than you. Candice says she wants people to vote with their heart. Howard then adds his two cents about how he would rather go home than play with people that are lying and backstabbing people. I would rather Amanda and Candice stay than me. Amanda then says since we are all being honest and bringing up stuff to the whole house. You told us just the other night that Candice was cancer on your game. Howard says that her and I discussed and talked about this already and we decided to play separate games. Amanda says again that he called Candice cancer on his game. Howard says that he didn't say that. Amanda then brings up how he and Spencer both have a plan to vote me out and yet you are lying to everyone telling us that your would rather leave. Amanda says and that is keeping it with Candi. Candice then says and that is keeping it with Candi. Candice tells Spencer he better keep her name out of his mouth and that he better pray to god that she isn't still here because she is going to hang on for dear life to win HOH just to get him out. They end the house meeting. Amanda tells Candice that she respects her for doing that. Candice says thank you, if you are with me you are with me and if your not your against me.
WATCH the House meeting on FLASHBACK: FREE 2 DAY TRIAL
3:10pm – 3:20pm Aaryn talks to Helen over by the pool about how this is a game and your are supposed to lie, backstab and make deals. This isn't kumbaya were we all came to make friends. Helen agrees. Aaryn says that he thinks I was puppeteered and I wasn't I did what was best for my game. Aaryn says that this is a game and we are not selling ourselves short for $500,000. Meanwhile over on the backyard couch – Amanda tells Candice that she will make sure Spencer is on the block next week if I stay. Amanda asks Candice if she is okay. Candice says that she is just tired of waking up and hearing that her name is coming out of Spencer' mouth. Keep my damn name out of your red beard mouth.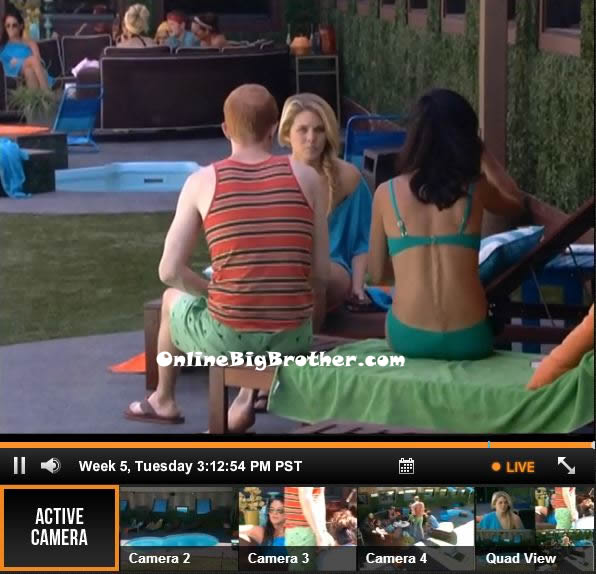 In the kitchen – Amanda tells Aaryn, Gina and Jessie that, that was awesome! Amanda says that she doesn't get why Aaryn doesn't think that was good for us. Amanda asks Gina what she thought about all that. Gina says I just think that she should have confronted him first before calling a house meeting. Amanda says that it was good for us her doing that. Gina says she gets that, I just wouldn't call someone out like that without talking to them first. Amanda says it's because Spencer has been lying to all of us. Amanda repeats what Candice said about her – I hope you choke on your own spit and die. Aaryn says that the only reason he is saying he wants to go home is because he knows he is going home so he is trying to save his pride. Amanda whispers to Andy in the kitchen that this is great because Howard is going and Candice and Spencer might have bonded but now there is not chance of that happening.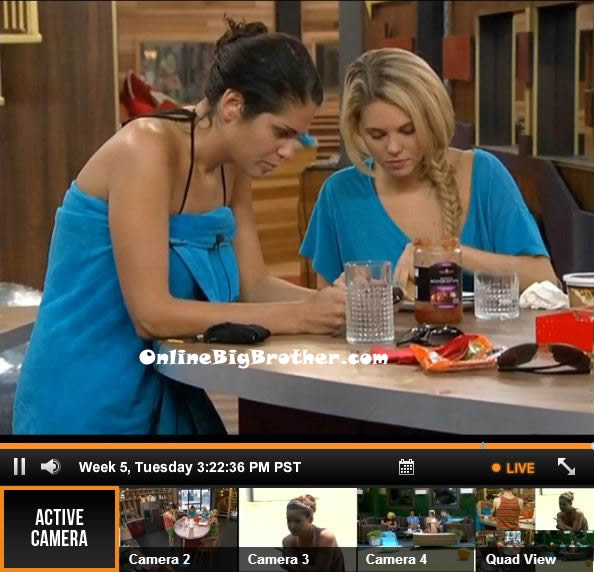 3:30pm Candice is lying by the pool with Helen and says that I speak my mind and I am not afraid of anyone. If I go home, then I go home. Only one person will win the $500,000. They start talking about the moving company.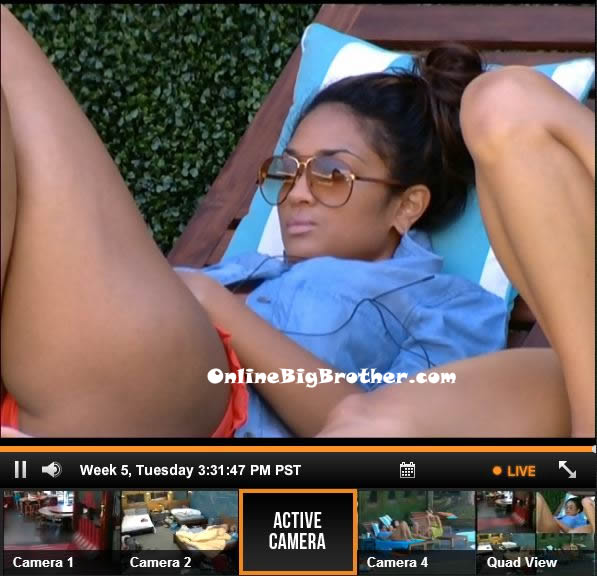 3:30pm – 3:55pm Meanwhile over at the backyard couch – Judd says if I had to tell someone something I wouldn't need to call a house meeting. Judd says that he is tired of people saying they are scared of people not wanting to say peoples names. Look at me, why are you looking at the ground. Is there someone on the ground that I don't see. Amanda talks about how Spencer wanted her to choke on her own spit. Elissa joins them and says that Spencer is a liar. Andy jokes that he is going to call a house meeting about Elissa. She says she will call a house meeting about him. Andy says I bet more people will come to my meeting than yours. Amanda talks about how McCrae is mad that I got involved in the house meeting but I just said what everyone is thinking. Andy says that he is annoyed about the secret alliance being called out because now he isn't going to trust me. Not that it matters. Amanda says I don't think that he knows who outed it, he has talked to half the house about it. Amanda says that what Candice doesn't realize is that by calling out Spencer she was also calling out Howard. And I don't think she realizes that. Amanda says Candice didn't think through what she just did because this is good for us. Now she will be going after Spencer and He will be going after her. Everyone leaves the couch but McCrae and Andy. McCrae wonders why Judd wasn't mad that Amanda called out the secret alliance. He thinks its fish. McCrae thinks that Judd already sold Andy out to Spencer. It's just weird it doeesn't make sense to me. McCrae says that there is just something I don't get. Andy says that he will just pull Spencer a side and say I am getting nervous because Candice doesn't seem as solid with you guys. McCrae says again that he thinks Judd sold Andy out to Spencer. Andy wonders if we are giving Judd too much credit. McCrae says I don't think so, he thought of the Kaitlin sh*t! That is smarter that something I could think of. Andy says if there is a double eviction I think we should cut Judd. I am serious. I feel like that would be the move I have been waiting to make, until now I have been biting my tongue.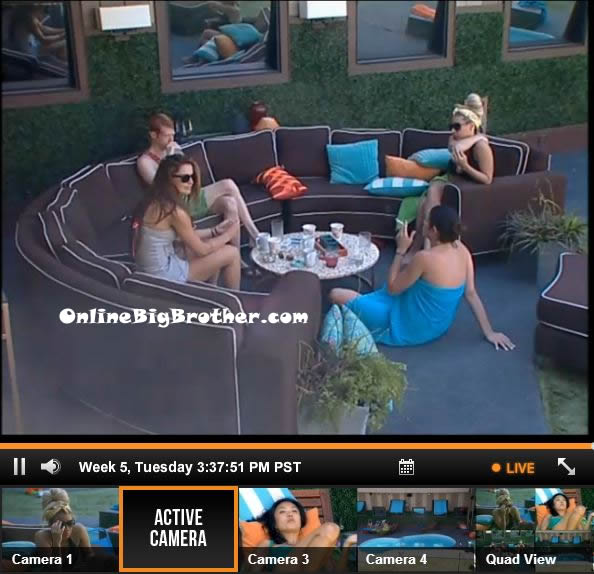 3:55pm In the kitchen – Judd comments that McCrae is drinking out of Elissa coffee cup. McCrae says yeah I'm doing it so I can leave it somewhere and people will blame it on her. The head out to the backyard couch. Gina is joking about accepting applications for a secret alliance. Judd jokes we should start a we're getting pandora's box alliance.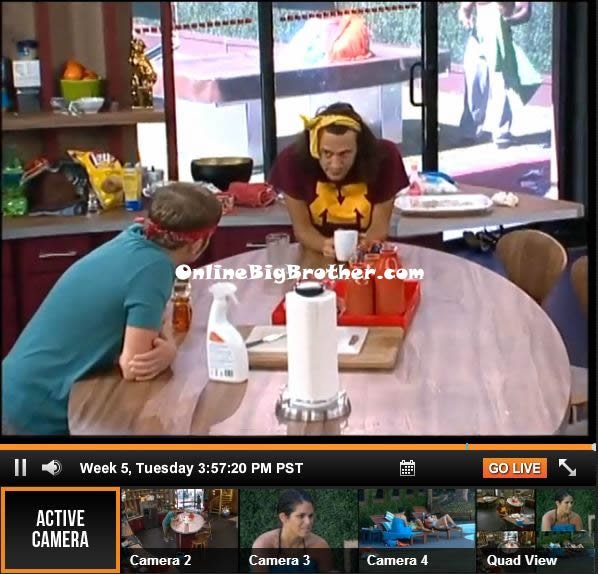 4pm – 4:10pm In the kitchen – Howard thanks Candice for being real. He tells her that he is proud of her. Howard and Candice head into the lounge room. Howard tells her that he thinks she is good, get back in peoples good graces. You've got Amanda on your side. People appreciate you talking straight. Howard says she did good. This game is helping me seeing you calling this out how they are and being honest. I'm a get mine. I am proud of you. Candice says I don't know why he kept fu*king with me, he knows I am crazy and that he must have known it was going to come out. Howard says that he thinks she is going to stay. Candice says even if I don't, I don't care I have a great life. Howard says she was his reality check. He says it doesn't matter if he leaves either, maybe I will win the lottery. Now I just want to chill and relax with you. Candice says that she thinks Howard isn't 100% in his purpose. She won't marry someone until they know their purpose or they are walking on their path to their purpose.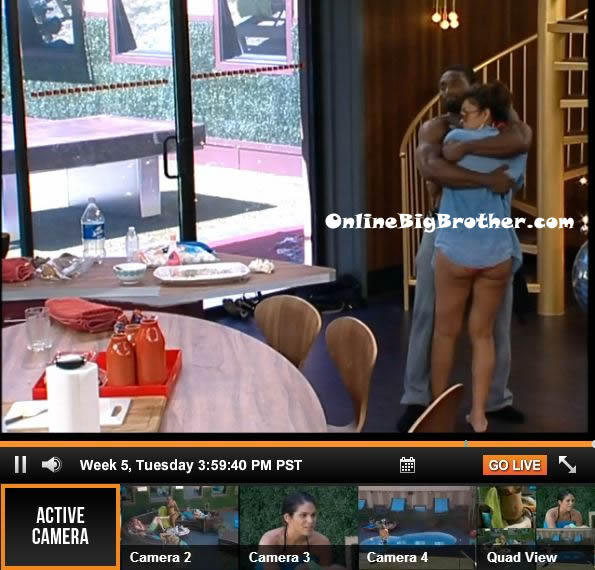 4:10pm Candice says I don't want Spencer to say one more thing to me for as long as his white a$$ points towards the ground.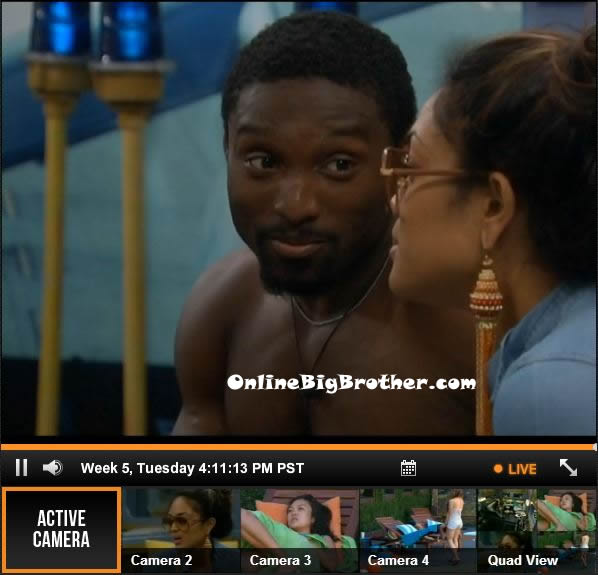 Use the Big Brother Live Feeds to FLASHBACK to SEE what they can't show you on TV: BB15 N!p Sl!ps / N*des