POV Holder:
Spencer
Next POV
Aug 3rd
POV Used
?
POV Ceremony
July 29
HOH Winner:
Aaryn
Next HOH:
Aug 1
MVP:
AMERICA
Original Nominations:
Spencer, Howard, AMANDA (MVP nom)
Current Nominations:
Candice, Howard, AMANDA (MVP nom)
Last Evicted Houseguest
David, Nick, Jeremy, Kaitlin
Have Nots
Judd, Amanda, Candice, GinaMarie
6:16pm HOH Aaryn, JUDD and GM 
Aaryn telling them that what Candice did was made her like Spencer More and "Hates" Howard and Candice more. (All 4 cams switch to the cockpit) 
6:16pm Cockpit Helen and Andy
Helen asks if he thinks that JUDD tried to flip the house. Andy isn't sure but he's skeptical about JUDD's loyalties. "I'm nervous about him for sure.. I feel like he's playing a selfish game and will cut anyone to get further and I don't like that.. he's on my high alert right now.. even if he was trying to he's back on board with us because he knows it won't work" 
Helen: 'What if he tried to backdoor one of us.. doesn't matter we have the votes to stay" 
Helen says at first she thought they needed to go after Amanda and MC but now she feels they need to get rid of JUDD
Andy: "If we get double eviction I will try and get rid of JUDD"
Helen agrees and says she will do the same. 
Andy says he's getting the same feeling about JUDD as he did with Nick, "Redflags" 
Andy adds that he was worried Helen was going to freak out when she found out JUDD was talking about getting her out. Helen isn't worried she claims to see everything that happens. 
Helen: "I don't think Elissa will make it too far.. she's going home early once we get to jury" Helen wants to work closely with Andy. They agree to have each others back. 
HELEN: "He will put up Me, Elissa and Amanda all on the block"
Andy agree they need to take out JUDD 100%. Helen mentions to him that JUDD has been scheming to her to get Amanda and McCrae out. She says he came to her this morning and said he was onboard to getting them out first when they hit jury. Helen: "What he doesn't know is I am going to flip it on him and get him out"
6:45pm HOH McCrea, GM, Spencer and Aaryn
McCrae is talking about this dip called "gook" he really likes it but hates the name. The dip is a family recipe of his friends it's made of sour cream, cream cheese and garlic salt.
GM says isn't a gook what you call a chinese person. McCrea says it's a slur against Vietnamese people.
Spencer: 'You're not supposed to say that"
GM says "ya.. I'm just saying that is what it means"
McCrae: 'A bad racial term"
7:10pm HOH Spencer and Aaryn
Spencer saying he thinks his game is f*** Aaryn tells him that she was thinking the same thing as him just a week ago but now she's in a much better spot.
Aaryn tells him that a lot of other names are being thrown out there other than Spencers. Aaryn says as soon as she's not HOH she'll be back on the outs. She wouldn't be surprised if she was nominated next week. Aaryn thinks the nominations will be any two of Spencer/Candice/Aaryn
Aaryn: "Now I want Howard to go but before I wanted Candice to go"
Spencer: "He's toast.. my only hope is I can lay low long enough and skip through another eviction and maybe be kept around as a vote"
Aaryn has already heard people mention that they want to keep Spencer until jury.
Aaryn says Jessie and Helen have been distancing themselves from her. It started yesterday. Aaryn thinks Jessie is mad because Aaryn is higher up on the totem pole than her and she's trying to claw her way back up.
Spencer: "I wish Howard came to play Big Brother Instead of whatever he came to play.. He's made several speeches these past week that don't make any sense and make him look terrible"
Aaryn: "He's just going to call people out and saws some stupid sh!t" Spencer expects on more big speech on Thursday.
Aaryn: "I hate Candice so much"
Spencer is pissed that Howard allowed Candice to do what she did. He wishes Howard would stick up for him. He wished Howard would have pulled Candice aside and told her to stop because Spencer has been really good to Howard this entire game. Aaryn isn't surprised by what Howard did she says Howard wanted to put a bit of the target on Spencer in case he was staying.
Aaryn says that right after the veto ceremony everyone changes in how they interact with the HOH. The only reason why she wasn't the target this week was because she won HOH. Spencer says he doesn't have very many places to drift to without getting a dirty look. He doesn't want her to think she has to stay up here and talk to him he will leave her alone to mingle with the other players. Aaryn doesn't mind their chat says she can't stand to look at Howard and Candice right now and wants to stay up in the HOH.
Gm joins them says Candice is buddy buddy with Helen, Elissa and Amanda now. GM mentions how the other side always say they are going to take out Candice next but she thinks it'll be them going up.
Aaryn: 'This is my HOH don't I get to decide who goes home.. it only takes four"
GM: "I want Candice gone.. You, me, Jess and JUDD"
Spencer says they don't have the votes it's not going to happen. He adds next week it only takes 4 people to evict whoever and those four will keep evicting people week after week. (Amanda, MC, Helen, Elissa)
GM: "We have to do something or we're all f**"
Spencer: 'They are all in bed together there isn't anything realistically we can do.. the only thing we can do is hold on long enough until there is a fracture and they need us for a vote"
GM: 'We're f***ed nobody is going against Amanda there's nothing we can do"
Aaryn: 'Thats not true"
GM: "She's (Candice) a trained rat she was like that from the beginning.. " She adds that Cadnice was the one that ran to Elissa right after they were talkin about her in the bathroom the night of Amanda was a dominatrix.
Spencer tells them again they just need to hang on there is nothing they can do because everyone downstairs is working with each other to some degree.
Aaryn: "Spencer don't write me off too soon I have a plan.. i'm not working with anybody.. I make it seem like I am but i'm not"
Aaryn says she's been sitting next to people and letting them talk.. she's piecing together what is going on. "You'll be amazed how much they tell you" (two nights ago Amanda, MC and Andy spilled their entire game to her when they were offering her final 4 because they were scared JUDD was flipping the house)
Aaryn tells them to not be discouraged about the other side's final 4 deal because 3 of them could be on the block next week. She adds they need 7 people to have the numbers to control the game.
Spencer: 'It seems like they have 7, JUDD, Jessie, Andy, Helen, Elissa, Amanda and MCCrae"
Aaryn: 'There's smart people in the game.. " she thinks someone out of that 7 will figure out they need to flip the house.
Andy joins them..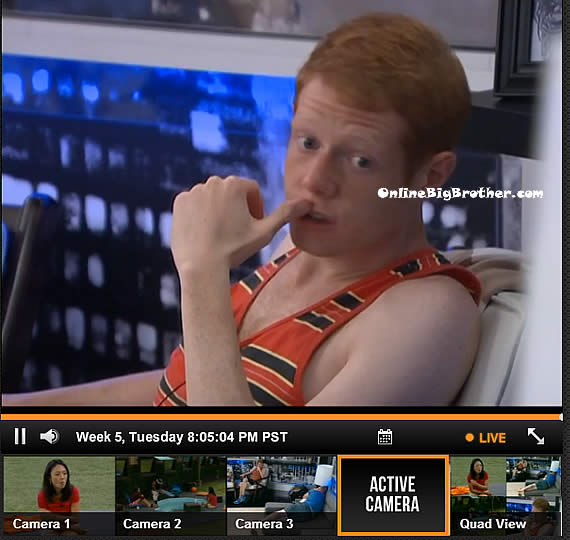 8:04pm HOH Spencer and Andy Andy tells him everything is not lost look at Aaryn she thought her game was in ruin less than a week ago.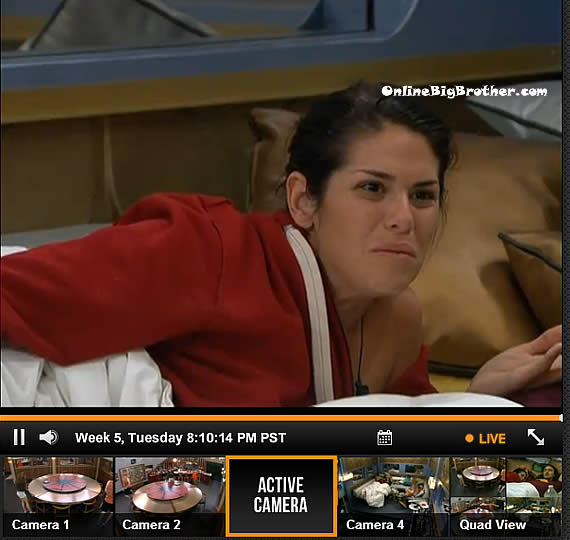 8:11pm Cockpit Aaryn, McCrae and Amanda They are grilling her what went on in the HOH. She really doesn't tell them much jsut says Spencer is feeling like his game is ruined and he's going home next week. Aaryn says the weird thing was that GM came up into the HOH and said "I want Candice out I want Candice out" Spencer right away shut it down but Aaryn feels like it was down in a way to make her think he knows it's a possibility. Aaryn is worried that Spencer is coming after her next week. Amanda gives her a funny look (See image above) "Spencer is going home"
Aaryn hates Candice says that the entire house meeting was her plan, Aaryn points out how Candice got dressed up had her earrings on and makeup. Amanda disagrees thinks it was all Spencer's idea and it backfired on him.
MC plans on staying close to Spencer. Amanda: "Andy is close to Spencer" MC: "No Andy is close to Candice now"
Andy joins them..
Aaryn tells them the problem she has with their plans is Howard and Spencer are not targeting her but Candice is. Amanda mentions how Spencer said the moving company was targeting Aaryn next.