POV Holder:
Spencer
Next POV
Aug 3rd
POV Used
YES
POV Ceremony
July 29
HOH Winner:
Aaryn
Next HOH:
Aug 1
MVP:
AMERICA
Original Nominations:
Spencer, Howard, AMANDA (MVP nom)
Current Nominations:
Howard, Candice, Amanda (MVP nom)
Last Evicted Houseguest
David, Nick, Jeremy, Kaitlin
Have Nots
Judd, Amanda, Candice, GinaMarie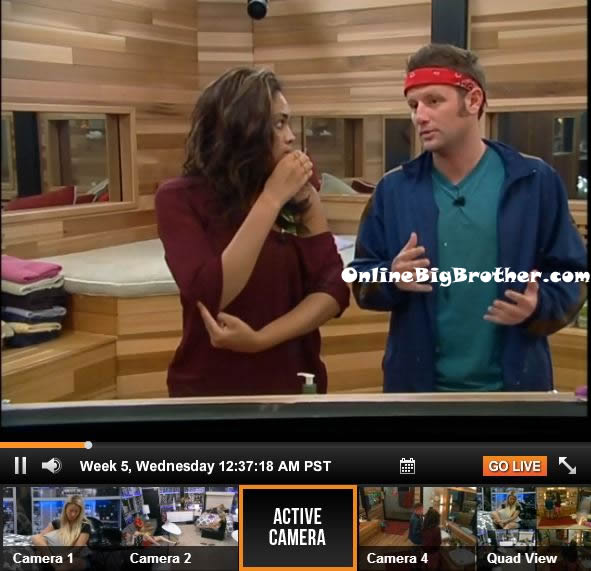 12:35am In the bathroom – Judd tells Candice that he heard that Jessie has been saying that she can control me. Judd tells Candice that is not the case, Jessie doesn't control my vote. She is hurting my game and we haven't even so much as kissed. Candice says okay, thanks for telling me.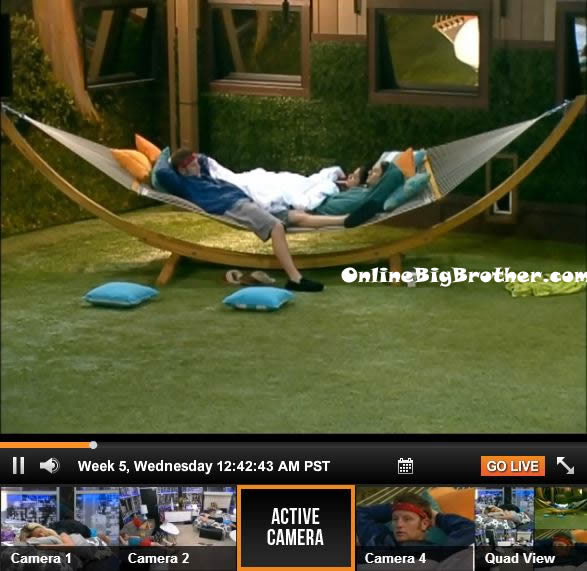 Judd heads out to the hammock and tells Amanda and McCrae what he just told Candice. He then says god Jessie, trying to be a power player all of a sudden. Judd says she is wanting to be the next Janelle. You don't just decide one night, I want to be the next Janelle. Is that what happened like she just thought I am going to make a big name for myself tonight. McCrae says take away Candice and Howard and you have two easy weeks. Judd says and here is Jessie trying to scramble like a moron. Amanda says why she has no need to. Judd says she came up to him in bed and said all this stuff about Helen. Judd says I will vote out Jessie in a hot second. McCrae says that she is in a perfect position she has to just do nothing. Judd says I need to tell Aaryn that I am down with her more than Jessie. Judd says that this happens every week the people on the block are all quiet and the people not on the block are scrambling. Amanda says that Jessie thinks she more safe with Howard then with Candice so she is trying to go against Candice. You can't try and make a power move like that when the whole house wants Howard out. Judd leaves and says that he is going to go tell Aaryn he is with her over Jessie. McCrae asks Amanda if Aaryn would have gone alone with it. Amanda says no she wouldn't go against you and me. Amanda says this secretly makes me want to keep Candice in the house longer. McCrae says exactly. Amanda says Candice will go after Jessie, Aaryn, Spencer, Judd and Ginamarie. Amanda says as long as she is here they will always put Candice up on the block and she will always put her up. McCrae says that he thinks the HOH competition will be the endurance wall. Amanda says I have really strong lets. McCrae says good, you will have to sit out there for ever. Amanda says which means there won't be a double eviction. McCrae comments that is why he likes Andy he is always on point. Amanda says if I won HOH I would probably put up Jessie and Spencer. McCrae says I won't Howard gone so bad.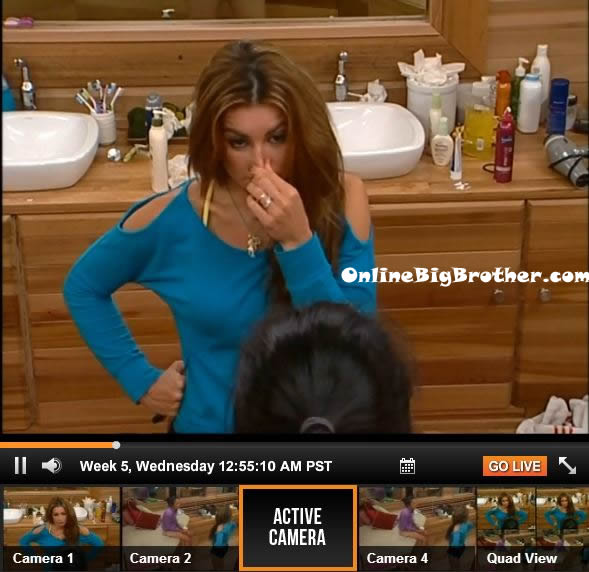 12:55am In the bathroom – Helen tells Elissa that the more the day progresses she feel more and more bad about how Spencer is continually blamed for the Moving Company. I was mad at Jeremy for bullying people and I don't think it's right that Spencer is continually blamed for something that happened so long ago. I as the oldest person in the house feel that I should have stood up and said something. I am not gunning for him anymore, I am done. Elissa says okay I respect that. Helen says I feel like he paid his price today after being be raided in front of everyone in the house. That will be shown on national tv and I feel like I am partially responsible for that. I am done. Elissa says I respect that. Elissa jokes I am going to put him up. Helen says she is going after Judd. I want him out next week or the one after that. Helen says don't tell anyone, we are going to surprise the house. Helen and Elissa high five.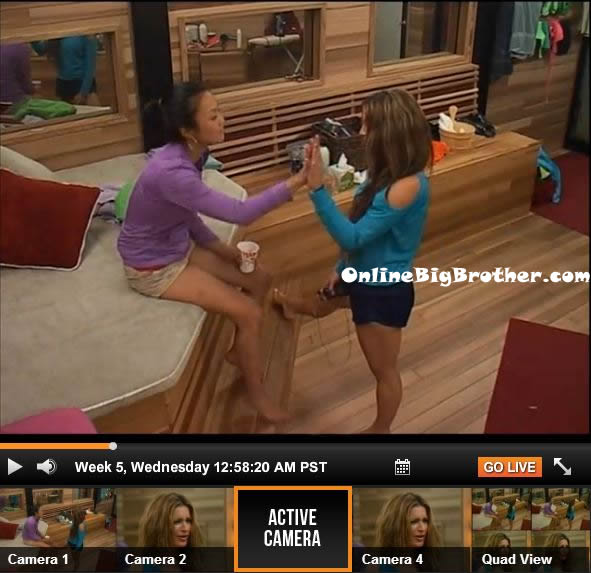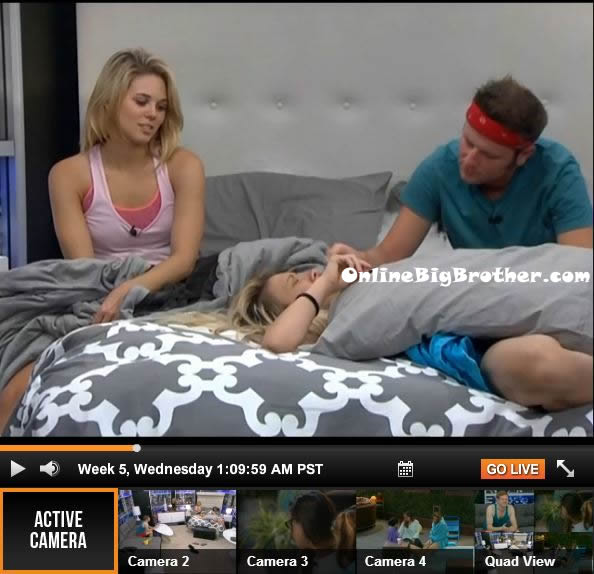 1:10am Up in the HOH room – Andy, Judd, Aaryn and Gina talking. Aaryn calls Gina out for touching Judd's penis while laying on the bed. Aaryn says that Gina is just frustrated because she hasn't had a guy in a while. Gina says I've had a guy. Aaryn says but you haven't hooked up with a guy. Gina says that Nick isn't going to know what hit him. Aaryn says he probably isn't going to do anything. Gina says fu*k yeah he will fu*k me. Gina and Aaryn bet on her and Nick having sex. Gina says what you want to bed $500,000?! Aaryn says that she bets $100 dollars that he won't have sex with Gina. They shake on it. Andy then asks what about me and Nick having sex. Gina says fu*k you! Aaryn says she would bet more money on that happening.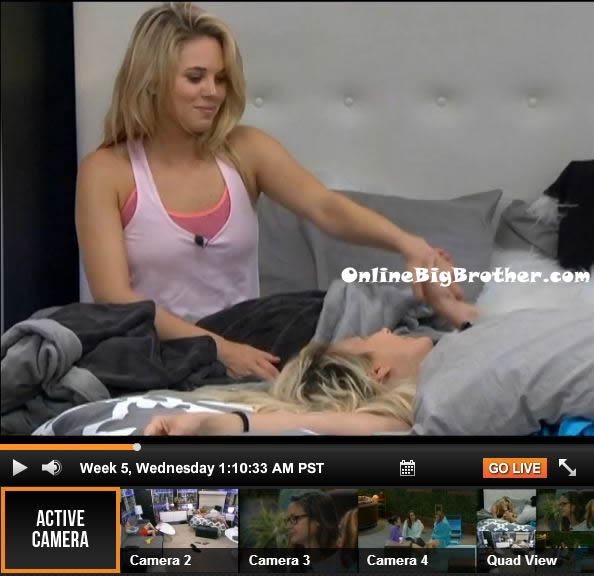 The conversation switches to talking game. Aaryn tells then that it was Jessie's idea to come up with the plan to evict Candice. Aaryn says that she said no to the idea. Judd says he has to cut ties with Jessie because she includes Judd's names in ideas without consulting with him first. Judd says that Jessie is trying to make a power move. Aaryn says that she tried to tell Jessie and show her that evicting Candice would be impossible through candy. Judd says that he has to break ties with Jessie because she's fu*king up his game. Aaryn says that Jessie is outside with Elissa and that when Aaryn went out, it got silent. Judd says that he doesn't like how Jessie is trying to make big moves all of a sudden. Judd said he flipped Jessie, she doesn't control my vote. Aaryn talks about how she showed Jessie with m&m's why it wasn't a good move. Andy says this isn't okay because Jessie lied to him when they talked earlier. Andy asks if Jessie was trying to flip the house on him, McCrae, Amanda, Helen, and Elissa. Aaryn says no it was just flipping the house on Candice. Andy says it would still have fu*ked me over if it had worked. Aaryn says it would have worked if Judd and I had been on board. Aaryn wonders how the plan to evict Candice got back to Candice. Aaryn jokes we'll evict Jessie so that Judd and I can be in a showmance. Judd heads downstairs and Amanda and McCrae join the HOH crew. They speculate on how Candice found out about the plan to evict her. (Candice actually guessed, no one told her.) Aaryn says that she thinks Jessie told Helen. Andy says that can't be because Helen was freaking out about it.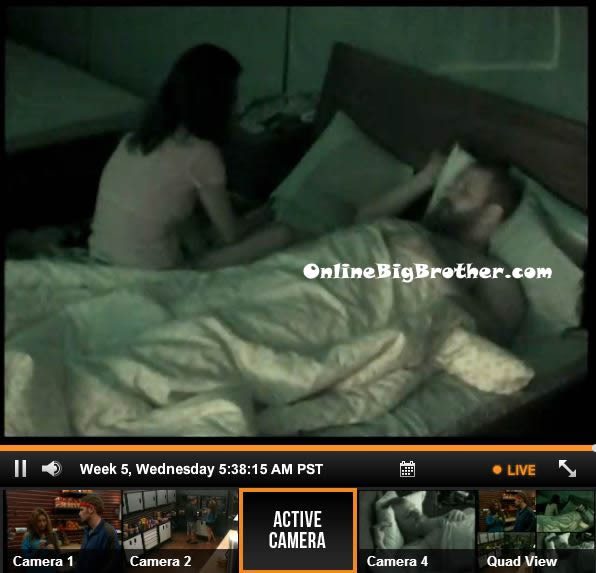 1:50am Helen talks to Spencer and wonders how she can get the house to keep him here. Spencer says that he think he has a few people here who he thinks he would be okay if they won HOH. Helen says that she will try and get Amanda and McCrae to like you. Spencer says she can probably get to Amanda through McCrae. Helen says that she will give McCrae her sob story about how she had dragged Spencer through the mud over the moving company and feels bad. Spencer thanks her. Helen says don't thank me yet until it works.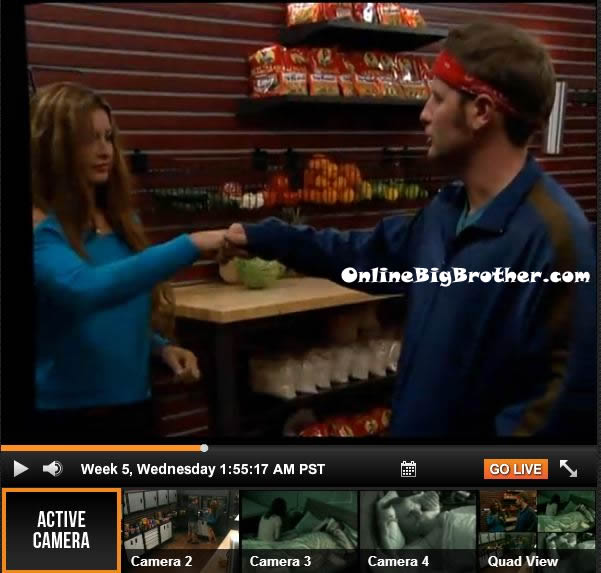 Meanwhile Elissa and Judd head into the storage room. Elissa jokes that Judd will be the eighth house guest evicted from the big brother house. Judd laughs and says so I have a few more weeks. Judd tells Elissa just so you know I am solid with out seven. Elissa asks are you solid with you and me final two? Judd says of course.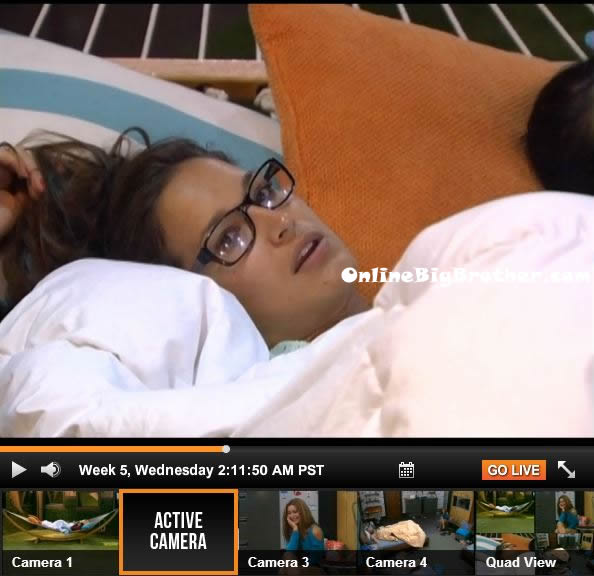 2am Out in the backyard on the hammock – Amanda, McCrae and Jessie are talking. Amanda says that she was in the kitchen and Howard came up to her a scary way. McCrae heads inside. Amanda says Howard said I like you. Amanda says she said no you don't you hate me. Amanda says that Howard then whispered in her ear "When I get out of here I am going to fu*k the sh*t out of you." But in a very creepy, scary kind of way. Amanda says the way he came up to me completely freaked me out and as he is whispering to me.. Big Brother cuts the feeds. (Time Stamp of when Howard whispered to Amanda in the kitchen. Audio isn't on them for the whispering only at the end when Amanda laughs and says thank you. July 30 , 5:10pm, camera 3 & 4) When the feeds come back on Jessie and Amanda. Jessie tells Amanda that the idea to evict Candice was her idea. Jessie says she doesn't know how Candice found out. Amanda tells Jessie not to stir up shit. Jessie says it had nothing to do with you though. Amanda says yes it does because we need Howard to go home. Amanda tells Jessie that she isn't even on Candice's radar but the more you talk about it you will be. Jessie says she's bored. Amanda asks her if she wants to get evicted because she's bored. Amanda asks Jessie if Judd kissed her. Jessie says they haven't. Jessie says Judd and her aren't on the same page.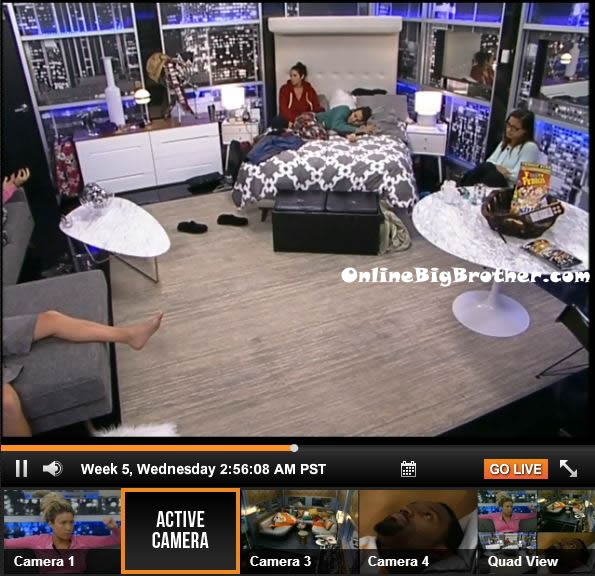 3am Up in the HOH room – Jessie, Judd, Ginamarie, Aaryn, McCrae and Amanda are talking. They wonder how Candice knows about the plan. They are confused how she knows. Amanda says that Candice knew specifics, who was in and who wasn't. Ginamarie says it is stupid to talk about something that will happen 5 weeks from now. Gina says I don't care how Candice knows she will be gone in a week. Andy says well I care somebody said something, I don't think anyone in this room is shady we will see when the votes come out. Gina says I don't care if you throw out scenario's. Aaryn says that there was no time for it to get around. Aaryn says Candice must have overheard. They figure that Candice came up with idea before they even talked about it. Aaryn says Spencer and Howard must have come up with it first and planted it. Andy says that it doesn't make sense. Amanda asks Jessie if she ever said that she could get Judd to vote her way. Jessie says no, I never said that. They continue to talk in circles. Jessie asks Judd why he didn't tell her all of this was going on. Judd says because he just found out and she was in bed. Jessie says it would have been nice to know. Judd says I am not waking you up to talk about nonsense. Jessie questions Judd. Judd tells her to calm down. Judd wonders if he is he is getting a conversation he had with Helen confused with Jesse confused. Judd says it must have not been you. Andy questions that someone is lying. Judd gets mad and says maybe we are on three different pages and asks are calling me out? Andy asked if he knew. Judd says I want Howard's a$$ out of here more than anyone. Judd says I am making it clear who I want out. Jessie says I want to get to the bottom of it! She says I don't want anyone to think I am lying. Andy says if he wins HOH he will put up Candice and Spencer. Andy says that he will vouch for Judd that he didn't tell her.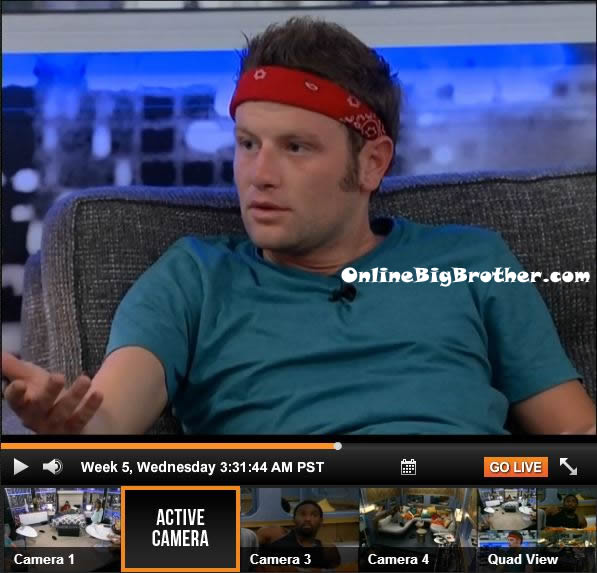 4am Up in the HOH room – Amanda, McCrae, Gina, Aaryn, Judd and Andy continue to talk. Aaryn says that she worried this will get down to Helen and Elissa. Andy says that he doesn't think so. He says that it's not something they need to worry about. Aaryn says that she just got herself out of a mess and is mad that she has to explain herself. Judd says this is why I got heated because I don't want to have to explain every single thing I do in this house. Judd tells Andy that he didn't mean to get mad at him. Aaryn says that she is frustrated with Jessie and can't call her out on anything. Andy tells Aaryn not to worry about Candice. Judd tells her not to worry about Jessie.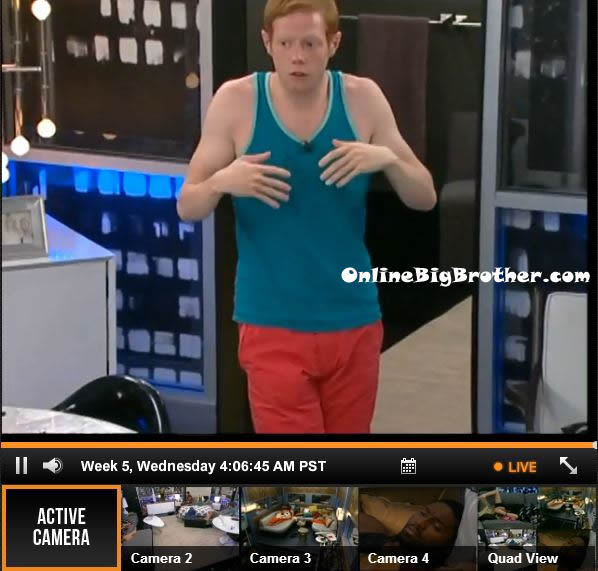 Amanda and Jessie head into the backyard to sit by the hot tub. Jessie says I see how stupid it was to even talk to them and that is what I told Judd that you have a stupid alliance and didn't tell me. Jessie tells Amanda that this might be a good thing. She says that Judd might be a shady fu*k we are not together. Jessie says maybe Spencer needs to go next week. McCrae joins them. Amanda says that is why it is scaring me, why did they have that conversation. Jessie says I know Candice has made Aaryn look bad, like a racist. Amanda says she was a target until she won HOH and then she will be in the rainbow room with us. Jessie says from this point on I am shutting up. Amanda tells Jessie that it is too early in the game to flip. Jessie asks Amanda if she should be concerned she doesn't have a final two deal with anyone. Amanda says no.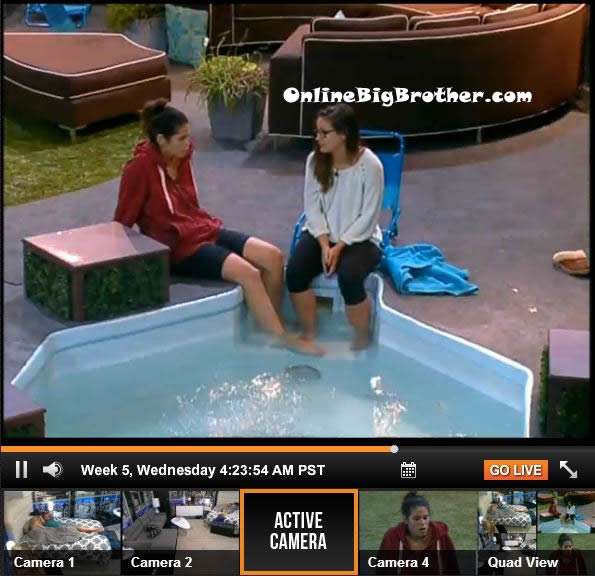 4:35am – 5am Judd and Jessie have a quick conversation on the backyard couch. Judd asks Jessie why she is mad. Jessie tells Judd that she needs to be prepared for things. Judd says that he doesn't want to throw that stress on her. He tells her that he is looking out for her when she doesn't know it. Judd says that he feels like Andy was interrogating him up in the HOH room. Judd asks if he was being snappy to him. Jessie tells Judd to apologize tomorrow. Judd says that he doesn't have to explain every little thing to Andy but says that everybody was listening and I didn't want to look shady. Jessie grabs her pack of smokes and puts it on Judd's lips and then she kissed the pack of smokes.

7:15am All the house guests are still sleeping..
9:30am – 10:50am Big Brother wakes up the house guests. When the feeds return, Amanda and Judd are in the bathroom. She is washing her hair in the sink. Judd leaves and says he is going to go back to bed.. then says Na, I'm going to eat. Helen is doing her morning run from the living room to the bathroom. Judd then tells Helen he is going back to bed and asks her to wake him up if he isn't up by 2pm. Amanda also heads back to bed. Up in the HOH room – Aaryn is called to the diary room. She wakes up and gets ready in the bathroom. Aaryn then heads downstairs to the diary room. All the house guests are sleeping except for Helen and Aaryn.