POV Holder:
Elissa
Next POV
July 27th
POV Used
?
POV Ceremony
July 22
HOH Winner:
JUDD
Next HOH:
July 25
MVP:
?
Original Nominations:
Aaryn, Kaitlin, ELISSA (MVP – America)
Current Nominations:
Last Evicted Houseguest
David, Nick, Jeremy
Have Nots
Jessie, Candice, Andy, Spencer
8:30pm HOH Amanda and McCrae
They are going over the day conversations.. THey don't trust Spencer, Howard, Kaitlin. Sounds like they are still onboard with the superfriends and Beleive there is a Howard, Candice, Kaitlin and Spencer aliance.
McCrae is looking at the HOH TV screen "Mother f****er what is that" they get up and take a closer look.
McCrea: "This sucks can't read it.. I think it says will you be my Big Brother Wife"
Amanda: "Is that what is says"
He gets down on one knee and proposes give her the ring
Amanda: "This is so cute.. YES"
The wedding will be later in the week..
You can re-watch ever second on the feeds using their flashback feature.. It's super easy to use click this link for a free trial —> Subscribe to the Big Brother Live Feeds
9:13pm Mc and JUDD
MC: "Anything new"
JUDD: 'I think GinaMaria is jealous" (Of Amanda's ring lol)
JUDD says the joke is McCrae has had the best week, 5 grand, a birthday and a wedding.
Andy comes in "Hey gents"
Andy asks him if he heard anything interesting when he was solitary confinement.
JUDD says he's worried to say anything he doesn't want to be the target next week. Andy: "JUDD IT'S ME"
JUDD says he heard Kaitlin talking to another girl and she said Helen is the next to go.
Andy says their number one goal should be to help Amanda get the target off her Because right now everyone is talking about her being a schemer.
MC tells them that Spencer and Howard are pushing for Aaryn to go.
Andy thinks Kaitlin was talking to Candice when JUDD overheard it.
Andy says Candice is a open book and it's hard to deny that Candice hate Aaryn and Kaitlin.
Andy: "If the house rallies to backdoor Amanda we don't have the numbers"
JUDD: "Elissa is really freaking me out.. I thought we were tight but now I don't know"
McCrae says that Howard is picking up all the pieces gaining numbers slowly.
Andy and McCrae are saying Howard and his growing army is the real threat to them.
Elissa joins them. to use the shower
9:34pm McCrae says that Spencer is super dangerous. Andy agrees. They talk about how good of a liar he is.
9:25pm Hammock Spencer and Jessie
S: "I got your back girl.. but it's tough sometimes because you're sassy.. "
J: 'I'm not that tough"
S: 'I like it… I'm just teasing girl.. I got your back"
Spencer asks her if Kaitlin goes next week followed by GM who does She want gone next.
Jessie is scared to say. Spencer understands swears he won't tell anybody.
Spencer says there is a lot of talk about her going up.. he wouldn't mind that happening says he would consider voting Amanda out until
Jessie says Amanda and Spencer agrees. Spencer says that Amanda has been doing too much scheming and plotting. Jessie mentions how she has everyone under her thumb. Spencer: 'She thinks she does.. she don't"
Jessie says she's intimidated by Amanda. Spencer warns her if you cross Amanda she will spread sh!t throughout the house about you
Spencer tells her there is a lot of talk going around the house that Amanda might be the 3rd nominee. He wouldn't be upset about that happening. He says keeping the status quo is the best plan but he can't say he wouldn't consider voting out Amanda. Once she goes McCrea will be loyal to me. Jessie wouldn't mind seeing Elissa go before jury points out that Elissa has been telling people she doesn't want to make it to Jury. Spencer has heard Elissa has final 4 deals with people.
9:31pm Howie and Candice
Howard is going over his talks with Kaitlin and GM.
Howard tells her the girls don't like her because she is close with Elissa.. I tell them I can control you and your vote. I told them we have no game connection we just like to "Kick it a lot"
Howard says Gina can't get over her personal stuff with Candice and Kaitlin says she never had a problem with Candice to begin with.
Howard: "I know Kaitlin is in cahoots with Amanda but I think it's severing now"
Howard told GM and Kaitlin that he knew what Amanda and McCrae were up to "We need to kinda.. go against it"
H: "That was 2 nights ago and ever since then she's been tripping"
old them I know what Amanda and McCrae are up to and we got to go against it.. every since then she's been tripping.
Howard thinks the biggest thing that Kaitlin has against Candice is her connection with Elissa, Elissa got Jeremy out.
H: "I told them you are cool and have my back but they don't know you are cool with Jessie, JUDD, and Spencer"
Howard says he doesn't care about anyone else but Spencer and her.
Howard's boot list is Candice, Spencer, JUDD, Jessie,Andy
Candice wants Helen after Jessie. Howard doesn't know "she's coming around.. I really don't count her yet"
Candice tells him she is worried about what he's doing because the other side of the house will think she is disposable. Howard doesn't want her to worry can't go in there and tell them they have a final 2 deal. Candice points out that the only person on Helen's side of the house that is keeping her safe is Elissa.
10:05pm Hammock GM and Spencer
Spencer says that his belief is that Elissa has the MVP and she nominated herself because she wants to frame Howard. Spencer mentions how Elissa is saying Howard is a professional Football player. Spencer points out that the NFL is in training this time of year Howard wouldn't sacrifice a NFL salary to be on Big Brother.
Spencer adds that Elissa and Helen are very close you would think that whoever used the MVP on Elissa would then nominate her closest ally Helen. Helen is as cool as a cucumber not stressed one bit.
Spencer hints that there is a lot of talk around the house that Amanda is going up. GM wonders if Amanda goes up do we have enough votes to get her out
The votes to evict Amanda – Candice, Howard, GM, Jessie, Spencer
The votes to evict Aaryn/Kaitlin McCrae, Helen, Elissa, Andy
GM isn't sure that they have Jessie.
GM: "I told Howard he better check his girl.." GM says that Candice is going around saying they've been talking shit about Elissa. GM tols Howard how can we be on the same team when Candice is screwing them, 'I can't help you if i'm not in the house"
Spencer agrees that Candice is a wildcard Howard needs to get her under control. Spencer hints that maybe at one point when Candice is nominated they'll have to tell Howard we gotta let her go.
Spencer is worried about Kaitlin is talking to Amanda about them.
Gm says kaitlin won't rat them out she had the chance to and never did.
Howard joins them after chatting to Candice for an hour. GM jokes, She asks if his ears need a reat first.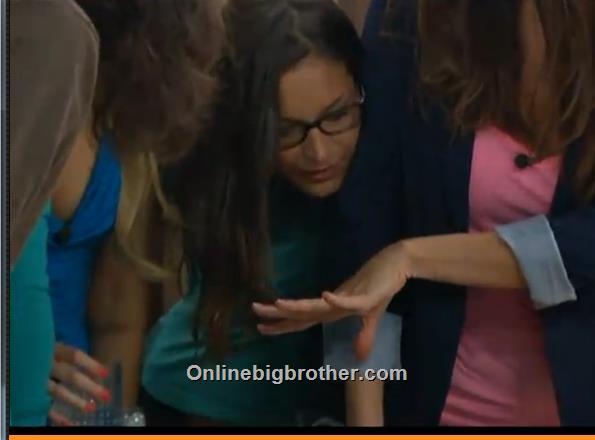 10:30pm HOH Elissa, Jessie and Candice Jessie thinks the MVP replacement nominee should be someone that people like so it guarantees they get out Aaryn this week. She thinks if Howard or Spencer go up Aaryn or Kailtin have a chance to stay.
Elissa leaves
Candice says JUDD is a great guy and she likes the fact he was trying really hard in the Power of Veto competition.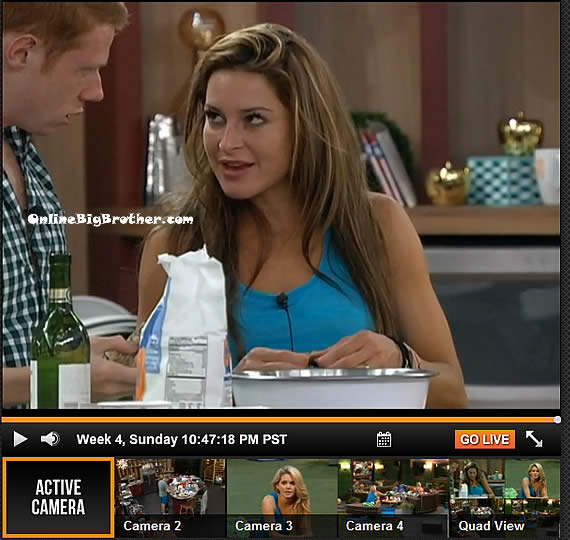 10:44pm Elissa and Andy
Elissa talking about Jeremy, Aaryn and Kaitlin. She doesn't miss Jeremy
She whispers "Is the mutual consensus to vote Aaryn out"
Andy think that is the plan. Elissa: 'Do you think it was weird that they were asking how loyal people are to me. . like Amanda"
Andy: "I dunno.. I don't know what to make of anything. I feel like there are people here I can trust like you and Helen"
Elissa says she feels like they were the only people that would not put each other up until the end. (Superfriends never turn on each other)
11:02pm JUDD and Elissa
JUDD says when he was in solitary confinement he heard Kaitlin tell another girl Helen is next
Elsisa: "Aaryn still needs to go.. she was trying to start the fight between Amanda and I"
Elissa: "I was being so nice to Aryan last night"
JUDD: "She was saying that you were being nice last night.. she said you are a whole different person"
Elissa: "I've never had a conversation with her since week one"
Elissa says that Aaryn started the fight between her and Amanda.
JUDD says Jessie has been walking in on her conversations and lingers around even after she is asked to give him privacy . Elissa warns JUDD about Jessie says that Jessie's has JUDD wrapped around her finger.
JUDD says I'm the one that got her to flip I control her. He asks her if she's been saying she control him. Elissa say no she just doesn't want JEssie top mess up his game.
JUDD tells her if Kaitlin is coming after Helen she's coming after Elissa. Elissa isn't worried because without Aaryn Kaitlin doesn't have any votes. JUDD points out that Kaitlin has a good personality she will have no problem making friends.
11:28pm Cockpit JUDD and Aaryn JUDD tells her to ki$$ Elissa's A$$ if she wants to stay
11:34pm Backyard Amanda, McCrae, Spencer, Jessie, Aaryn Chit chat
They are talking about when they first knew about sex. Howard says he was and had just seen boy in the hood.
Spencer: 'I was kinda a pervert" everyone laughs "NOO NOOOO"
Spencer says he use to try and watch red shoe diaries with David Duchovny. He also liked to watch Dream on because you were always guaranteed to see some T!t!es on that show.
Spencer: "I wasn't aware of the mechanics exactly.. I was allways really interested in naked women"
Spencer: "If I was a girl I would be more nervous s*cking my first d!ck then getting f*ck*d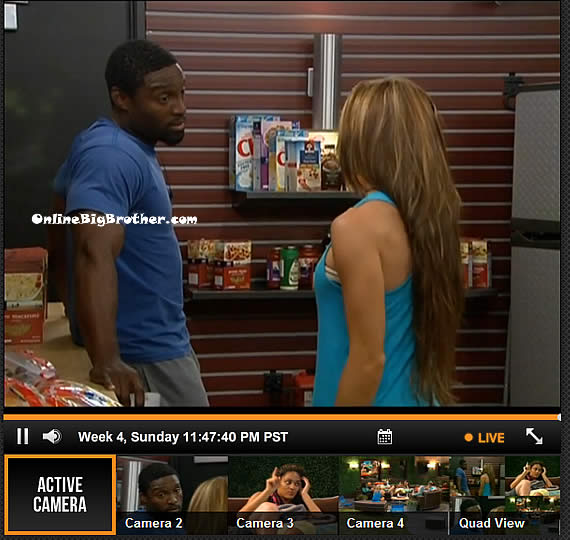 11:45pm Storage room Howard and
Howard says he appreciates her no putting him up last week. He wanted to tell her straight up that he's not MVP and he didn't put her up.
He says all the times he was called into the Diary room were mostly about Candice.. Feeds cut
Howard tells her it's not Spencer or Candice they would have told him if they had it.
Elissa: "maybe JUDD "
Howard: "I don't know about JUDD.. I know is isn't Spencer I know it isn't Candice"
Elissa: "I knew I was going up… umm hmm I had gut feeling I knew something was changing umm hmmm .. I felt betrayed.. I felt that I made connections with these people and it sucks i'm on the block"
Howard tells her even if she did win veto she wasn't' going home.
Eliisa thinks it was a evicted houseguest that was given MVP she think because she was responsible for evicting David, Nick and Jeremy that they would target her. Elissa tells him that last week they all wanted him up but she wouldn't do it because she always thought they had some kinda common ground.
Howard says he would never come after her if he was in power. Elissa says she'll let him know if he's in danger.
Howard tells her to give Spencer a chance and talk to him. She says she will.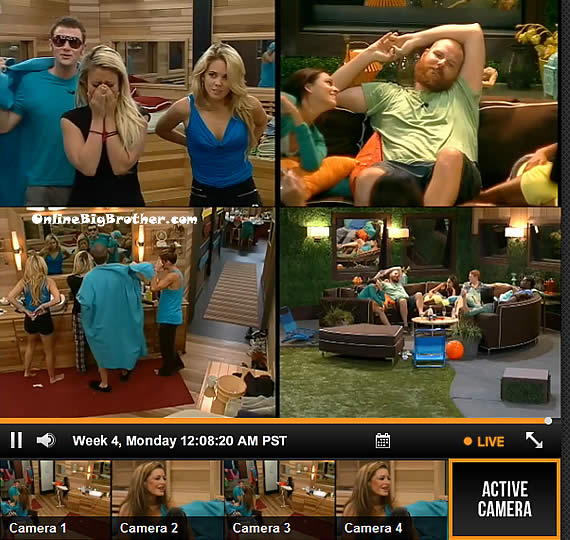 12:10AM LOL JUDD put on Nicks towel and hat and is walking around the house. Elissa "Thought" it was Nick and started yelling "GinaMArie Nick is in the house.. NICK is the tiwst" JUDD goes up to give her a hug. Ginamarie starts to cry.. She after says it was funny but she continues to cry. She really thought it was Nick
JUDD feels bad says he's sorry. Ginamarie says when JUDD went to hug her it really looked like Nick.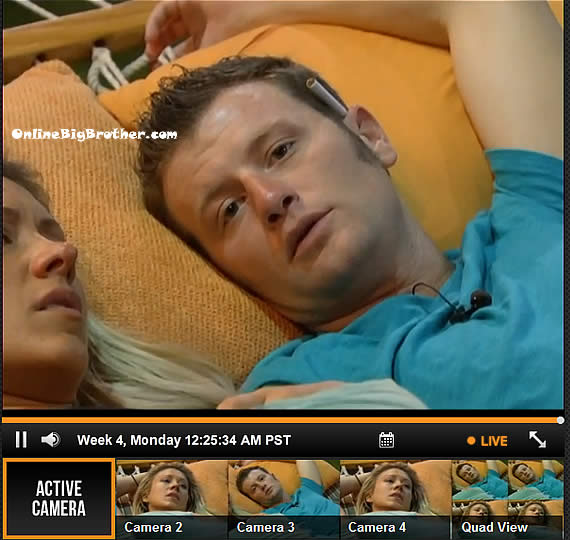 12:22am Hammock JUDD and GM
JUDD apologizes again for dressing up as Nick.
JUDD trusts Spencer and Howard but he's not sure about Kaitlin and Aaryn. He mentions that Aaryn twists words. GM says he wasn't getting along with Aaryn today.
GM brings up being mad during the Big brother engagement. She was pissed because everyone gave her a hard time about Nick and everyone gave Kaitlin a hard time. She points out that McCrae and Amanda had a freaking Engagement and everyone was joining in having fun. Wonder why nobody sees a couple that strong as a threat.
JUDD says he didn't get along with Nick at first because he felt Nick thought he was smarter than everybody else. JUDD: "The first 4 days he didn't talk to me" JUDD adds that near the end Nick and him spent a lot of time together.
They hear candice screaming something from the couch.
GM talks into her microphone: "Big Brother can you drop a house on candice and kill her please.. I would rather be in solitary confinement than having to listen to that b!tches voice all day long"
Feeds cut
GM "All she talks about is sucking d!ck and getting f**ed in the a$$.. she thinks it turns Howard on".
JUDD: "Makes her look trashy"
GM: 'She is trashy"
12:21AM Amanda Mooning at the Engagement party