POV Holder:
Elissa
Next POV
July 20th
POV Used
?
POV Ceremony
July 22
HOH Winner:
JUDD
Next HOH:
July 25
MVP:
?
Original Nominations:
Aaryn, Kaitlin, ELISSA (MVP – America)
Current Nominations:
Last Evicted Houseguest
David, Nick, Jeremy
Have Nots
Jessie, Candice, Andy, Spencer
2am Amanda and Andy are in the lounge room talking. Andy says that he would much rather Howard or Kaitlin go home than Aaryn. They are much more dangerous. Andy and Amanda talk about how Howard and Kaitlin have deals with everyone in the house.
Amanda and McCrae are in the lounge talking. McCrae is whispering. Amanda asks why he's whispering. McCrae says because when this door is closed, shaddy sh*t is going down and I don't want you a part of shaddy sh*t anymore. Amanda and McCrae head into the kitchen. Kaitlin asks them how their date went to night. McCrae says that it was magical. Amanda says it was amazing. Amanda says McCrae was super nervous. McCrae says because he knew what was happening and it made me nervous. Kaitlin talks about how she used hydrogen peroxide and baking soda on her teeth last night to whiten them but had flossed right before and now the skin on the gums lifted up.
Up in the HOH room – Aaryn asks Judd if he is sad that he doesn't have a snuggle buddy. Judd says that if she (Jessie) really wanted it she would have won it. Andy asks if anyone is in the color room now? Gina ask what are you calling it, the colored room now? Get it, colored? Aaryn says watch what you say, Andy. It can and will be used against you.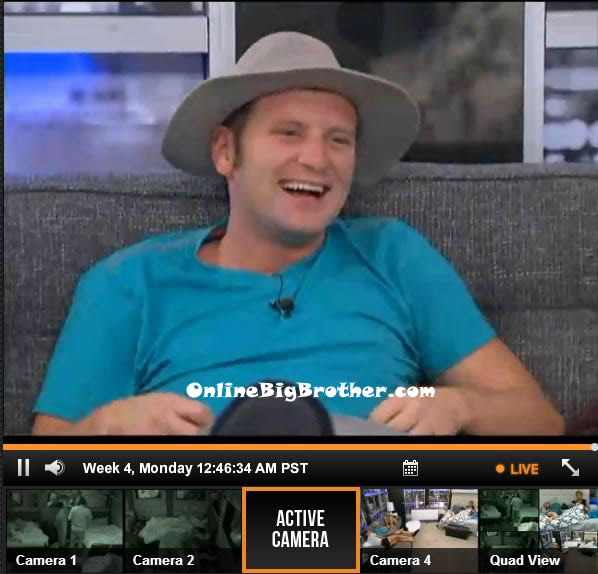 2:40am In the havenot room – Howard and Candice are talking. Candice is telling him that she is upset with him because he told her to walk upstairs behind Spencer. She says that she doesn't understand. Howard apologizes and says that he didn't join in because he didn't want people to think they were going around in a group. Candice brings up how Howard dismissed her earlier too when he was playing pool with Kaitlin. Howard apologizes again. Candice says that she doesn't like to be dismissed. Howard says he wasn't trying to do that because that's disrespectful and her friend Elissa did that to her. Candice says he thinks he's worried about what everyone thinks. Howard says I'll never leave a room without her again. Candice tells him not to be sarcastic. Howard saying it won't happen again.

Up in the HOH room – Spencer, Gina, Judd, Aaryn and Kaitlin are talking about random things. Gina is pissed about how everything that Amanda talks about is sexual. Gina says do you want me to shove a plunger up your a$$ and get it over with. The conversation turns to talking about veto competition. Kaitlin comments that if you (Aaryn) or I had taken the $5000, then we would be going home for sure. Aaryn says that she would have put it in the discard pile. Kaitlin says that would have been hard to not take it. Aaryn says it would have been hard and I would have cried but I would be going home for sure. Judd says that he told them all to go for prizes because he thought he won the Veto. Kaitlin says that she is mad because she thought she was so close again and almost won it. Gina is really pissed about how Amanda and McCrae took over his HOH room without asking. Gina says that they came up here used his room and ate his food. It was really disrespectful of them to do it. Gina says show a little class and manners. Gina says that she blames Amanda for it.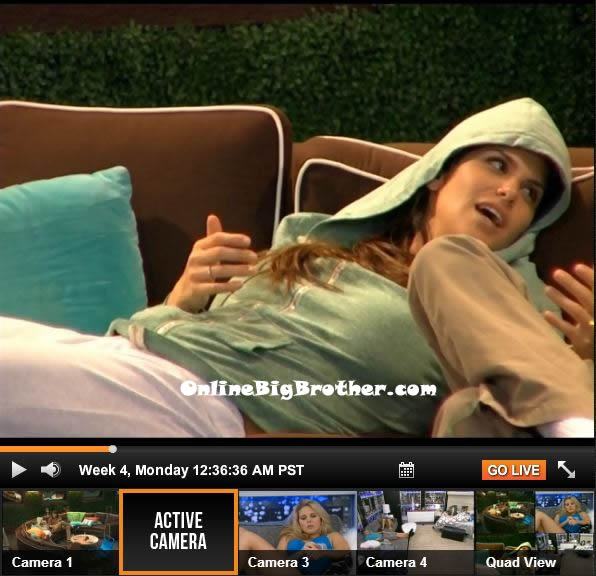 Meanwhile out in the backyard – Amanda, McCrae and Andy are talking. McCrae says that he didn't like that Elissa acted hurt by how Amanda was with her yesterday. McCrae says that he wants Elissa gone soon. Andy says that he feels like he's playing a game with Howard where they both know they want each other out. McCrae and Amanda agree. Andy heads to bed. Amanda says that she wants to know who the new nominee is. McCrae says that if Amanda is the nominee, he will be like what the fu*k. Amanda tells McCrae not to look at her if she is nominated. She tells him to watch people's reactions. McCrae asks who. Amanda says watch Elissa first. McCrae says he will.
McCrae says he regrets "making our heavily with Amanda last night:
Amanda asks McCrae if he had fun last night. McCrae shrugs and Amanda asks what was that?! McCrae says yeah I did but, I dunno. I did. Are you sleepy? Amanda says yeah. Amanda asks why didn't you have fun last night? Do you regret it? McCrae says Ah I don't know, I had fun for sure but with a grain of salt. Amanda asks what do you mean a grain of salt? McCrae says I don't want to talk about it. What, that was super fun. McCrae says a grain of salt is that I can't believe you dressed up a dominatrix and Elissa ruined it all. Amanda says I wasn't talking about that. McCrae laughs and says that's what I was talking about. Amanda says we were not talking about the same thing. I meant about after everyone left! McCrae says when you said you loved me, that was nice. Amanda says after that, when we "made out heavily". Amanda asks is that what you meant when you said you regret it, kind of? McCrae says yeah. Amanda asks why? McCrae says I don't want to talk about it. Amanda asks you weren't ready to make out like that, is that why you weren't ready? McCrae says no, but I don't know. Amanda asks what did you think it was obvious we were making out? McCrae says yup, yeah, absolutely. McCrae says I wants to go brush my teeth. They head to the bathroom to get ready for bed.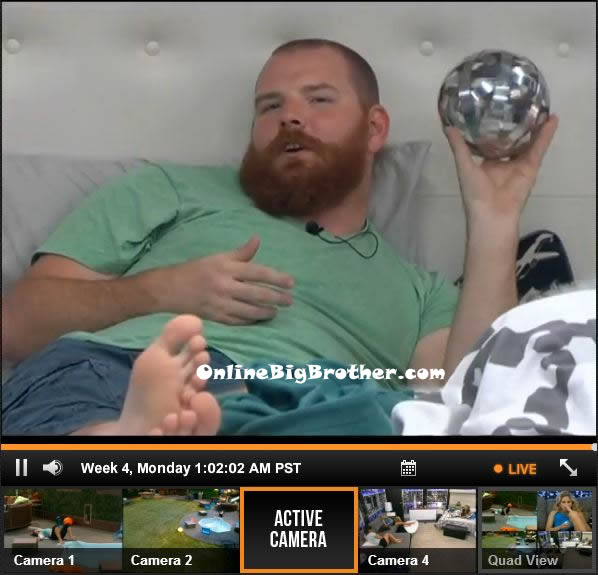 3:10am Up in the HOH room – Spencer, Gina, Kaitlin, Judd and Aaryn are talking. Spencer says that it is pretty brazen of Amanda and McCrae to write their names on the bathroom door when all of the other couples have been broken up and been sent out the door. The conversation turns to talking about the MVP. Aaryn says if I had gotten it I would have told you guys because they people would have respected me. Kaitlin comments that she thinks Elissa is the MVP and says that putting herself up was a brilliant move. Kaitlin says that if Howard goes up we know for sure it was her. Kaitlin says she thinks Elissa got a power for nominating herself and that is why she took the punishment to not play in the next POV. They talk about how Elissa said to Howard that he better think of a replacement. Aaryn says if Howard is MVP, he would never have nominated himself for first or second nominee because that's fu*king retar*ed.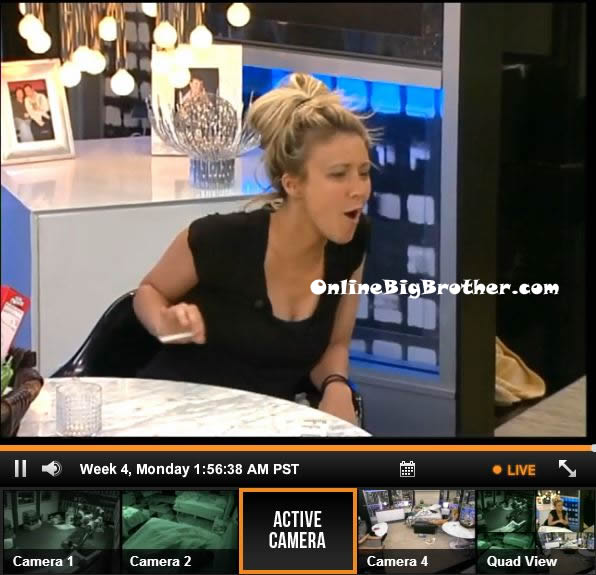 Gina starts going off about how she wishes we had all gotten Elissa out first or second week. Aaryn says that Elissa is demonic. Aaryn asks why Elissa is trying to make everyone hate her. Judd says that Elissa is trying to be like Rachel because she knows how lame she's been. Spencer thinks Elissa got the Coup d'état and says its good for two weeks. He thinks no one will want to nominate her because they won't want to risk her messing up the noms during the live show. They discuss whether or not someone will be coming back and if there will be a double evict. They think if there's a double eviction it will happen after the MVP twist ends. The conversation turns to talking about how McCrae was 21 when he lost his virginity. Spencer says he was 21 too. Judd says he was 15. Kaitlin says she was 17. Gina says 16. Aaryn says she didn't even really know what was happened and says that she was really talked into it.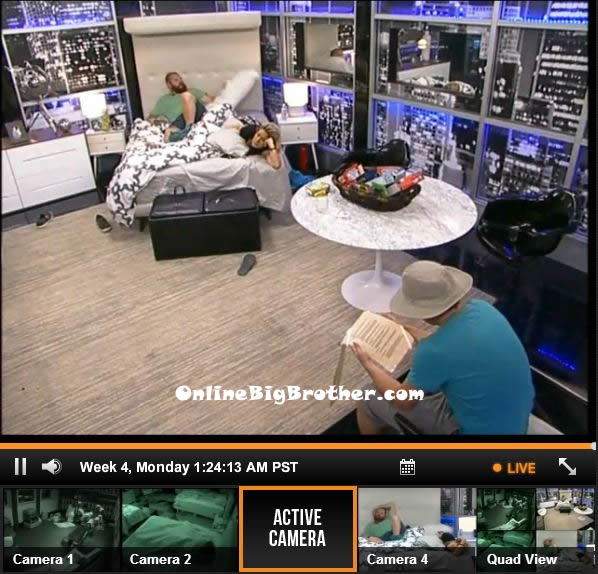 4am Spencer says that he hopes his girlfriend's parents don't like him and hopes they start liking him now. He says that they won't even let him in there house and now I will be in there house 3 nights a week. Aaryn says if they don't like you they won't want to watch you. Spencer says he thinks they will want to watch to see why he would be cast for a tv show, there must be something about him. The conversation turns to talking about Brendon/Rachel and Elissa. Gina teases Kaitlin that she will marry Jeremy. Kaitlin says Amanda, McCrea, and Candice wouldn't be invited to her wedding. Gina says that Candice could be the freaking valet. Gina says mark my words I will marry Nick. Kaitlin says I hope we can all be friends after all of this. Gina says I don't want to be friends with Candice, I hate that bit*h! They talk about the things they've said about each other in the dairy room. Gina says that she's said some funny stuff about Judd. Big Brother tells them not to talk about their diary room sessions. Aaryn tells them that she isn't and says stop fu*king up my game. Aaryn then throw the toilet paper that was sitting on table on to the floor. Aaryn heads down stairs to go to bed. Spencer asks Aaryn to look in the kitchen at what time it is and show the camera. Aaryn goes down and shows them on the spy tv that its 4am.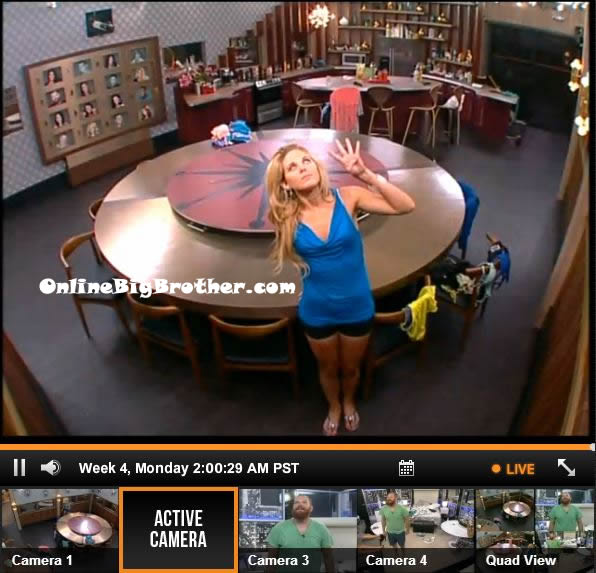 Judd, Spencer, Gina and Kaitlin are talking about who they think the MVP nomination will be. They think it will either be Amanda or Howard. Kaitlin wonders who would be the best person to put up to knock a let out from Elissa. Gina says Amanda and McCrae. Kaitlin says that they need to put up two people and say that they're both pawns. She says that she knows that Howard is their biggest target right now. Kaitlin says that she heard Howard is a target of theirs and I don't want to lose Howard. Gina, Judd and Spencer agree that they don't want to lose Howard. Kaitlin says that if she won HOH she would want to put up Amanda but she would freak out on me. Kaitlin thinks Gina would be better to put Amanda up because she could handle it better. Gina says she would do it. They talk about how Amanda wouldn't be able to win the veto because she sucks at the competitions. Kaitlin says that she wonders if taking Helen away from Elissa would be their best bet. Spencer says you could tell Helen she's the pawn against Amanda like how she uses you as a pawn. Kaitlin says that they have to win the next HOH. She says that she thinks Howard will come out the woodwork and scare everyone by winning. Spencer says that Howard will be a beast in competitions. They talk about the competitions that Howard hasn't been good at. Kaitlin says that the only reason that Elissa won the Veto is because it was set up for her to win. Gina agrees. Kaitlin says Elissa isn't that great. Gina says that she doesn't like that people are walking around the house like they ain't shook, I am about to shake the sh*t out of this house! The conversation turns to talking about the POV competition and how all the big numbers were over on Elissa's side. They're talking about it was set up in Elissa's favor to win. Spencer tells Judd you know all the big numbers were on her side right? Judd says yeah. Big Brother then switches the cameras to the downstairs bedrooms where the others are sleeping.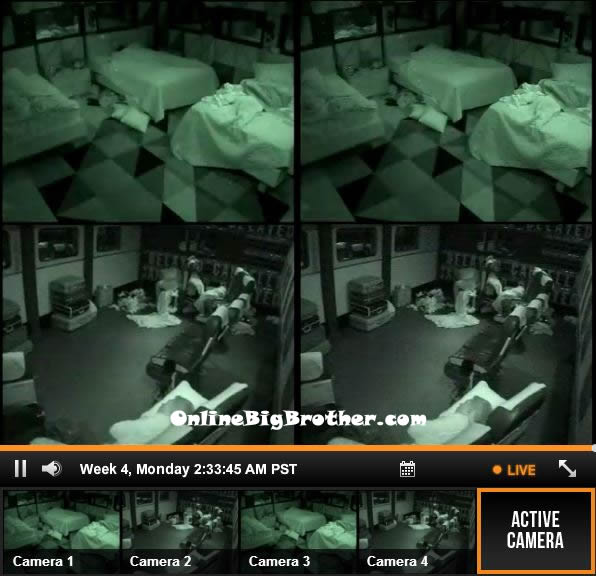 5am – 5:15am When the feeds return to the HOH room – Gina, Kaitlin, Judd and Spencer are talking about Amanada. Spencer says that he asked Amanda how much her and boyfriend had to make a year to keep up their life style. Spencer says that she said $200,000 a year. Spencer says that he watched McCrae's face when she said that and his face dropped. There is no way a pizza boy can keep up with her. Spencer brings up how Amanda talked about suing people back home. They end their conversation and plan to head to bed. They all agree to stick together and to be loyal to each other. Judd brings up how Howard doesn't want to be associated with Candice. Kaitlin wonders if Candice would vote against the other side. Spencer says that she isn't happy with the other side they asked her to leave the room when they were having a conversation and that pissed her off. Gina says that Candice is nothing more than a rat that runs around and talks shit. Kaitlin says if Amanda is up, we have to get her out! Kaitlin, Gina and Spencer all head downstairs to go to bed. In the bathroom Kaitlin says we would have the 6 votes to vote out Amanda! They head into the kitchen and Gina kisses Nick's memory wall photo. She then starts making farting noises and talking wanting to fart on people so bad. Spencer says you are dirty!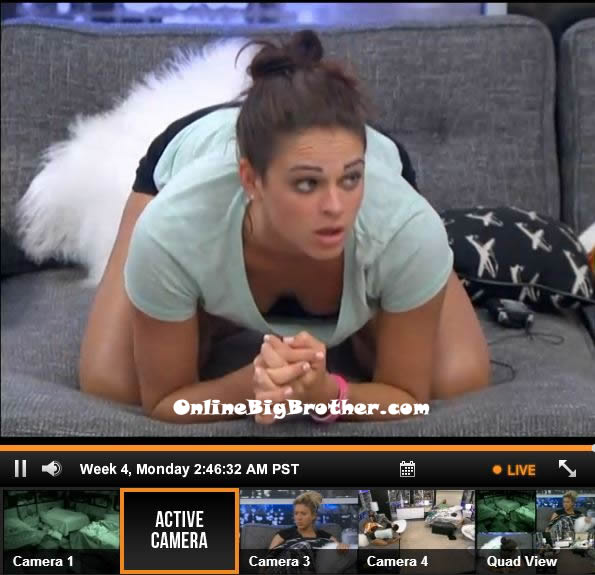 6am All the house guests are still sleeping..