POV Holder:
Elissa
Next POV
July 27th
POV Used
?
POV Ceremony
July 22
HOH Winner:
JUDD
Next HOH:
July 25
MVP:
?
Original Nominations:
Aaryn, Kaitlin, ELISSA (MVP – America)
Current Nominations:
Last Evicted Houseguest
David, Nick, Jeremy
Have Nots
Jessie, Candice, Andy, Spencer
6:26pm HOH Spencer and JUDD
JUDD Candice is doing some scheming. Spencer knows that he's not sure about what though.
JUDD explains that when he was in solitary he heard Candice have a conversation with another girl in the bathroom. "I heard her say HElen next"
Spencer thinks there is some deal in the works to save Aaryn already and get Kaitlin out.. OR the third nominee. .
Spencer: 'This is what I think is going on.. I think ELissa put herself with no fear because Aaryn is such a HUGE target"
Spencer says from the whispers he's heard Elissa is trying to get the MVP target off her back and place it on Howard. Spencer suspects that Amanda may be the next person nominated.
Spencer: "This is pure speculation.. because what she is saying is Howard is a NFL player with a huge fan base"
Spencer: "Kaitlin is in a position that she is scrambling and making deals"
Spencer and Andy agree that neither them nor McCrae/Amanda trust Kaitlin.
Spencer: 'Does Amanda ever bring my name up honestly.. today"
JUDD she does.. she's just a little worried about you.. she thinks Elissa is MVP"
Spencer says that Amanda has a deal with Elissa and now Elissa wants out of it he thinks she's trying to target Amanda.
Spencer thinks there are a lot of people targeting HElen right now. JUDD says if Candice is talking so loosely he's not sure he wants to ally with her. Spencer agrees says he wished Howard hadn't started talking to Candice about things.

6:50pm HOH McCrae and Spencer
Spencer says he's been working Kaitlin, Aaryn and GM a little bit just incase the twist involves them so they can be safe.
Spencer tells him that a lot of people are saying AManda or Elissa are MVP. He wants McCrae to go to Amanda and make sure she knows that the four of them are all cool (Spencer, Howard, MC, Aman)
Spencer says they are at the bottom of it right now they just have to make sure that this twist doesn't f*** them. Spencer: "We're totally on board with y'all no doubt" Spencer thinks that Elissa is trying to shed the MVP so people will not make her a target. THat is why she nominated herself, "They are going after you or Amanda" Spencer adds that they will probably make a deal with Aaryn because nobody will suspect it.
Spencer: "Dude that's all my thinking.. I never heard people say that"
Spencer: 'I'm waiting for Helen or Elissa to approached me with the idea to vote out someone other than Aaryn"
6:58pm HOH Spencer and Amanda
Spencer tells her that Howard is not the MVP. Spencer says he the lowest on the totem poll right now so he's been working
Amanda says the only person that has thrown his name out is Elissa.
She's kinda heavy handed if she doesn't like you she hates you. Spencer tell her that the two people the house really wants gone is Elissa and Amanda.
Amanda: "OK"
Spencer: 'That is just from a scheming standpoint.. they see you and MC scheming all the time"
Amanda: "who says that"
S: "everybody"
Spencer says They think this and it's partly true you made a bunch tiny protection alliances and everyone is comparing notes and finding out they all have the same deal with you.
Amanda asks why she is getting all the heat and Mc isn't Spencer says that McCrae is seen as tagging along with you.
Amanda: 'If you are not going to tell me who is saying this specifically it loses it's luster.. I'm supposed to trust you "
Spencer: "Kaitlin, Gm.. pretty much everybody"
Spencer says that Elissa is trying to shed the MVP he believes that she nominated herself.
McCrae joins them.
Spencer asks her if they have a deal with Helen. Amanda says none. Spencer doesn't sound like he believes them.
You can re-watch ever second on the feeds using their flashback feature.. It's super easy to use click this link for a free trial —> Subscribe to the Big Brother Live Feeds
7:02pm Storage room McCrea and Amanda
Mc is telling her that Spencer thinks Elissa is after them. MC says that he's heard from a couple people that Amanda is becoming a target they see her as a big time schemer. He tells her she needs to play very very carefully and stop whispering in people's ears.
MC: "Andy and JUDD said it to not just Spencer.. we are always together and you are always whispering and scheming"
Amanda mentions that JUDD heard Kaitlin say that Helen needs to go next, 'She was talking to another girl"
MC goes on and on that Amanda's scheming is ruining her game she needs to lay low. Mc :'This week we should be fine.. but next week you have to be careful we're both in danger.. you have to stop talking game.. I really mean it"
Amanda: "I feel that Elissa will not put me up"
MC: "I don't think either.. she talked to me at the photo booth.." Elissa said to McCrea that she feel really hurt by Amanda. MC: "DUDE are f**** kidding me.. she's f**** nuts.. she's looney in the head"
MC: 'DUDE she doesn't get it.. she doesn't get it.. she tells me she never talks about Aaryn but that is all she talks about"
Amanda: "I know"
MC says they need to keep Elissa on their good side. He doesn't trust Spencer or Howard but at the same time he can trust they are going to be shady mother f*** . He can't trust anything about Elissa.
Amanda says she trusts Aaryn more than howard and spencer. "Aaryn tells me everything"
They agree that Howard, Kaitlin, Specner and candice are working together.
MC: "We cannot have Elissa flip to that side. they will clean house"
MC: "We have to be super careful now because if you go up you are in danger "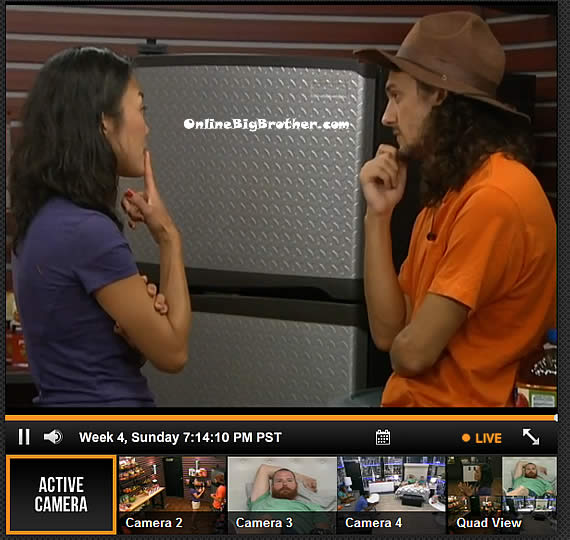 Helen joins them
McCrae says that Amanda's name is coming up as a target. He's worried about next week
Helen says as long as the superfriends stick together they can get to jury without any problems.
Helen tells him that Elissa is still with the plan.
Helen thinks the MVP is Howard because he was in the Diary room for 45 minutes. She does not think Anyone in their alliance has the MVP.
Amanda: 'I promise to you and swear to you i'm 100% loyal to you" Helen says as long as they stick together and stay "Team Elissa" they will get to jury.
Amanda leaves,
Helen thinks it was good that Elissa and Amanda were fighting last night because it make it look like they are not together.
McCrae agrees
He says that he's 100% loyal to the superfriends. Helen says they need to get Aaryn, Kaitlin, GM, Howard, then either spencer or Candice out. Helen is worried that Candice is getting hot and heavy with Howard so if that becomes a problem she may have to go early.
(Superfriends = Andy, JUDD, Jessie, Helen, Elissa, McCrae, Amanda )
8:08pm HOH McCrae and JUDD
Chatting about the benefits of getting Kaitlin out this week. Out of Kaitlin and Aaryn Kaitlin will be able to integrate herself better into the house whereas Aaryn will just be the number one target next week.
MC tells him they are down with whatever he wants to do.
MC asks him is Elissa has talked to him about a power. JUDD says all she does is smile and stuff she told him she didn't have a power. JUDD: "I told her that may be funny to you but it's not funny for the rest of the house"
MC says that Elissa was mentioning she got in trouble from production about the conversation she had with JUDD.
JUDD: "Oh probably because she keeps asking me about me DR sessions.. she asked me like 20times"
JUDD: "You know when you are HOH you have to go to the DR a lot"
MC says when Elissa and him were in the HOH she was timing how long JUDD would take when he went into the DR. She was using the HOH TV.
Big Brother comes over the speakers JUDD McCrae you are not allowed to talk about production.
JUDD: "IS ELISSA F*****ing PRODUCTION.. that's what we're talking about"
JUDD: "I feel like she's after me dude.. Elissa.. what do you think"
MC doesn't know, "She was fighting with Amanda last night"
JUDD: "Production gets too involved in what we do"
MC says that Elissa is going crazy because she has too much power now.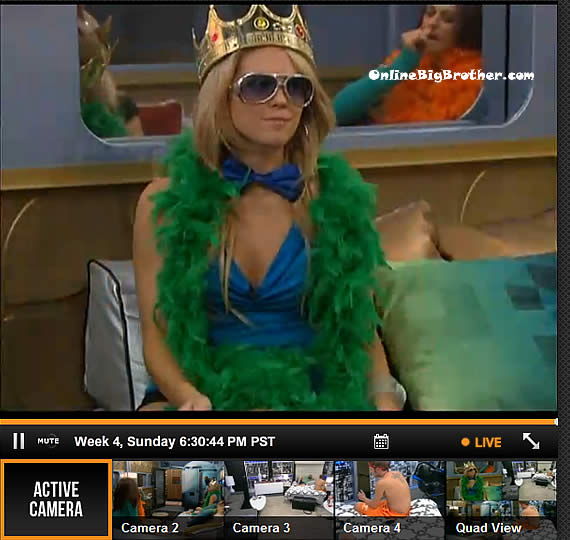 Missed these Photo Booth images on the last post
More are here on tumblr
8:19pm McCrae's bday party