2:30am In the bedroom - Jason says we're the plan B! Day says I don't trust no one up in this bit*h! Nobody! Jason and Day believe everyone knew what was happening. Jason says no one is going to send Johnny Mac or Steve home over me and you. Day says she told me I was going up right before. Jason asks did she tell you .. you were going up against me? Day says no. James joins them. Jason says we're the targets. Day says this girl (Audrey) was proved to be a liar ... and you don't trust me!! Jason says we're the B plan .. if they can't get Audrey out, they're going to get one of us out. Day says we're going to kill this BOB and then get off and get that a$$!
-Post has been updated--Post has been updated-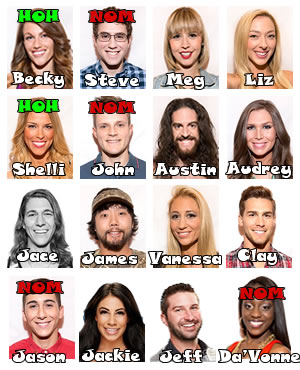 Big Brother Links
Bitchy Big Brother Blog
Big Brother attwx
Hamster Watch
Quirkydudes Archives
Big Brother Archive
Big Brother Gossip
OnlineBigBrother Forum
I Love Reality TV
Big Brother Junkies
IHateBigBrother!
Big Brother 2009
Big Brother Network
Big Brother Insider
The Big Brother Forum
yakkityyaks