1am Jace talks to Austin. Jace says it sucks when the whole house is against you. That and I've found out they've been making fun of my the whole time. Has that ever happened so fast before? Austin says yeah, I think but I forget the context. I don't think the first week before though. Austin heads the living room. Austin tells Clay if he gets Audrey they could just count the 7 people and know it was us. I don't think he's going to do it. It puts me in to big of a target spot. It's just too risky. Clay agrees. Austin says if he goes I don't blend in but it makes it a bit easier to blend in.
-Post has been updated--Post has been updated-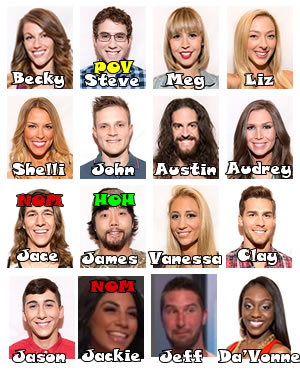 Big Brother Links
Bitchy Big Brother Blog
Big Brother attwx
Hamster Watch
Quirkydudes Archives
Big Brother Archive
Big Brother Gossip
OnlineBigBrother Forum
I Love Reality TV
Big Brother Junkies
IHateBigBrother!
Big Brother 2009
Big Brother Network
Big Brother Insider
The Big Brother Forum
yakkityyaks