9:10am - 10:30am Backyard - Clay says only a couple more days of being havenots. Shelli says that she's not sick of the popcorn yet. Clay jokes about how he was up early thinking about their barnyard wedding. They talk about watching the season together when they get out. Shelli says that she likes how the season has been very divided getting out boys and girls. She says she likes that. They start talking about all the fast food they love. Johnny Mac joins hem. Shelli asks if he shared a bed with Becky. John says no we don't do that. Clay and Shelli head inside to eat slop/popcorn. Steve says that he was freaking out a bit because he hadn't eaten.
-Post has been updated--Post has been updated-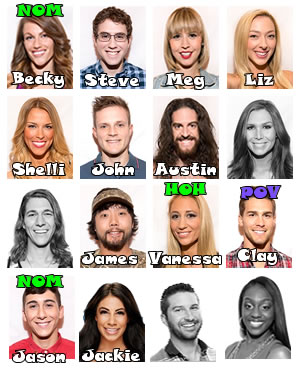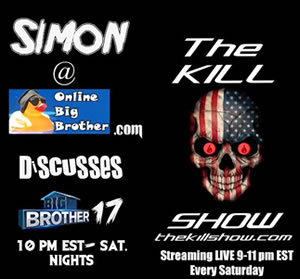 Simon from Onlinebigbrother on THE KILL show Saturdays @ 10pm
http://thekillshow.com
9-11pm
Big Brother Links
Bitchy Big Brother Blog
Big Brother attwx
Hamster Watch
Quirkydudes Archives
Big Brother Archive
Big Brother Gossip
OnlineBigBrother Forum
I Love Reality TV
Big Brother Junkies
IHateBigBrother!
Big Brother 2009
Big Brother Network
Big Brother Insider
The Big Brother Forum
yakkityyaks