-Post has been updated-
3pm All the house guests are sitting around the living room chatting. Willow heads up to the HOH room to listen to the music. Bobby joins and tells her the plan to put up Godfrey and a pawn. Maybe Johnny or Kevin. Willow says you could just do the first two people to drop out. Bobby says yeah that's what Zach and I talked about. I just don't want blood on my hands. Willow brings up how Graig gets paranoid and was questioning if Zach was with us. Zach reassured him.
-Post has been updated--Post has been updated--Post has been updated-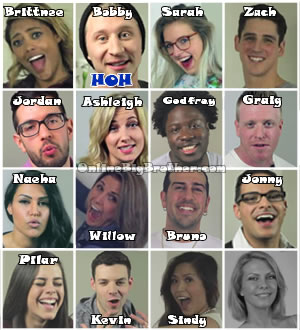 Big Brother Links
Bitchy Big Brother Blog
Big Brother attwx
Hamster Watch
Quirkydudes Archives
Big Brother Archive
Big Brother Gossip
OnlineBigBrother Forum
I Love Reality TV
Big Brother Junkies
The Reality Junkies
Big Brother Fans Blog
IHateBigBrother!
Big Brother 2009
Big Brother Network
Big Brother Insider
The Big Brother Forum
Because You're Addicted
yakkityyaks