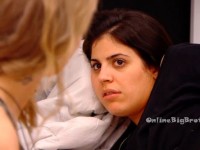 9:45pm Living Room Sabrina and Sarah
Sabrina says she's not sure if she likes him or it's a big brother thinkg, "Our Characters get along"
Sarah – Totally I agree
Sabrina says that Kenny is identical to her boyfriend, Body shape, Body size, pimples, Tattoos, hair the body type. Sabrina – "he's nicer you can tell he wouldn't call me a f*** b1tch"
Sarah – "Ya maybe.. I don't think we've seen the worst of Kenny yet"
Sabrina – You think he could be evil
Sarah No I don't think he'll call you a stupid b1tch
Sabrina – "I'm crushing.. "
Sarah – WOW.. I totally see why you would.. But the only thing for me I get what you are saying but literally my husband is unreal so I don't look at them that way.