-Post has been updated--Post has been updated-
9:20am - 9:30am Big Brother wakes up the house guests. Steve says it creeped them out on the "spaceship" (sequester) about how much he knew about big brother. Vanessa and Steve say they couldn't sleep last night. Vanessa says she had anxiety dreams. Steve says he'll tell them his dream when the go upstairs. Steve jokes about Liz dreaming about camping over and over again. Liz says there will be camping after tonight. I am not even afraid of saying it. Vanessa jokes about Austin's pony beard. Liz says I want that ponytail beard gone my nah nah is going to be like what the heck is that?! Liz heads to the kitchen to make breakfast Steve tells Vanessa that his mom is going to attack him like nobodies business.
-Post has been updated--Post has been updated--Post has been updated-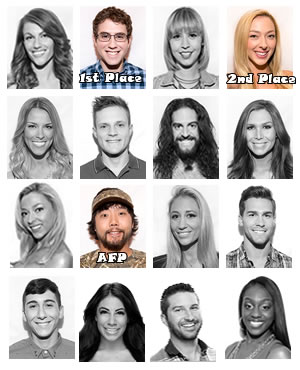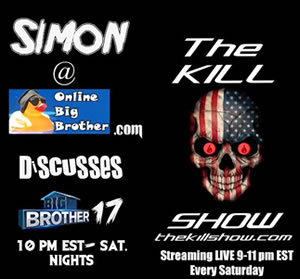 Simon from Onlinebigbrother on THE KILL show Saturdays @ 10pm
http://thekillshow.com
9-11pm
Big Brother Links
Bitchy Big Brother Blog
Big Brother attwx
Hamster Watch
Quirkydudes Archives
Big Brother Archive
Big Brother Gossip
OnlineBigBrother Forum
I Love Reality TV
Big Brother Junkies
IHateBigBrother!
Big Brother 2009
Big Brother Network
Big Brother Insider
The Big Brother Forum
yakkityyaks