-Post has been updated-
12:20pm - 12:40pmThe live feeds return from being blocked for the HOH lockdown. Steve, Vanessa and Austin are the last ones moving out of the HOH room. James and Meg are in the kitchen making / eating slop. In the bedroom - Julia asks if people are going to question her not coming in till day two. (Julia references being in the house for the total amount of days since they started) Liz says no one is going to question that. Julia leaves. Austin curls up with Liz. They comment on Steve being worried. Austin says he thinks he's covering him self for next week. Austin says maybe James promised him safety.
-Post has been updated--Post has been updated--Post has been updated-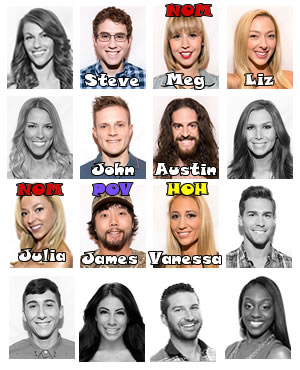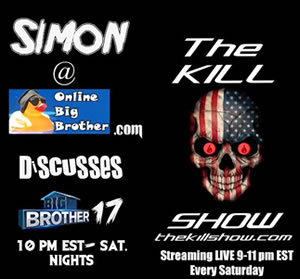 Simon from Onlinebigbrother on THE KILL show Saturdays @ 10pm
http://thekillshow.com
9-11pm
Big Brother Links
Bitchy Big Brother Blog
Big Brother attwx
Hamster Watch
Quirkydudes Archives
Big Brother Archive
Big Brother Gossip
OnlineBigBrother Forum
I Love Reality TV
Big Brother Junkies
IHateBigBrother!
Big Brother 2009
Big Brother Network
Big Brother Insider
The Big Brother Forum
yakkityyaks