12am Hammock Steve, Shelli and Clay. Steve tells them he thinks there will be one more eviction and then jury will start. 11 people left = 9 person jury with 2 finalists. After this week there will be 12 people left. The first person to go home during the double eviction will not go to jury and the next person will. Steve says there will be one more eviction to survive before jury. Shelli says which it will be the one you win. Meg comes out and says they got alcohol. Shelli says the havenot's are over here avoiding the alcohol. Meg says we decided whoever's havenots next when they get alcohol gets to hide it throughout the house and everyone has to go find it. Steve leaves.
-Post has been updated--Post has been updated-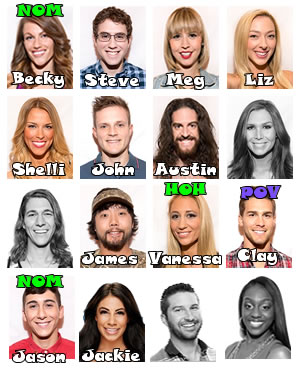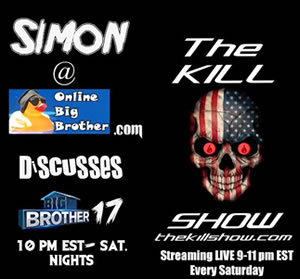 Simon from Onlinebigbrother on THE KILL show Saturdays @ 10pm
http://thekillshow.com
9-11pm
Big Brother Links
Bitchy Big Brother Blog
Big Brother attwx
Hamster Watch
Quirkydudes Archives
Big Brother Archive
Big Brother Gossip
OnlineBigBrother Forum
I Love Reality TV
Big Brother Junkies
IHateBigBrother!
Big Brother 2009
Big Brother Network
Big Brother Insider
The Big Brother Forum
yakkityyaks