-Post has been updated-
The Finale of Big Brother Canada 4 is finally here! On tonight's 2 hour episode we will find out the results of how the final 3 house guests did in Part 1 and Part 2 of the HOH competition. Then the we'll watch live as Part 3 unfolds and the winner of the final HOH decides who is the final jury member and who they take to the final 2. The jury members will ask the final 2 house guests questions and then they'll vote on who they want to win the grand prize! The winner of Big Brother Canada 4 will receive $100,000, a $25,000 gift card from The Brick, and an OxiClean prize pack valued at $10,000.
-Post has been updated-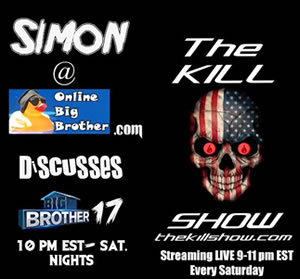 Simon from Onlinebigbrother on THE KILL show Saturdays @ 10pm
http://thekillshow.com
9-11pm
Big Brother Links
Bitchy Big Brother Blog
Big Brother attwx
Hamster Watch
Quirkydudes Archives
Big Brother Archive
Big Brother Gossip
OnlineBigBrother Forum
I Love Reality TV
Big Brother Junkies
IHateBigBrother!
Big Brother 2009
Big Brother Network
Big Brother Insider
The Big Brother Forum
yakkityyaks