9:15am Big Brother begins waking up the house guests by turning on the lights. Soon after they live feeds are blocked. At 10am the live feeds return. In the kitchen Jordan and Kevin are talking. Jordan comments that at first being a havenot wasn't so bad but then it got worse. They head out to the hot tub room. Kevin says its been a successful week but that it was scary. Kevin asks about when Jordan informed him he was the target in the bathroom. Jordan says these guys are so stupid. Kevin says so stupid.
-Post has been updated--Post has been updated-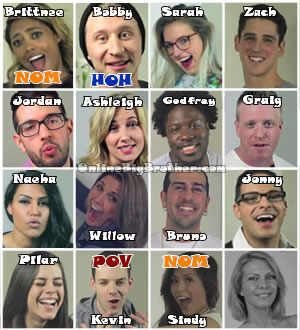 Big Brother Links
Bitchy Big Brother Blog
Big Brother attwx
Hamster Watch
Quirkydudes Archives
Big Brother Archive
Big Brother Gossip
OnlineBigBrother Forum
I Love Reality TV
Big Brother Junkies
The Reality Junkies
Big Brother Fans Blog
IHateBigBrother!
Big Brother 2009
Big Brother Network
Big Brother Insider
The Big Brother Forum
Because You're Addicted
yakkityyaks