-Post has been updated--Post has been updated-
10:55am - 1:10pm Big Brother blocked the live feeds for the usual Thursday HOH lock down. When the feeds return - The house guests are all leaving the HOH room. Johnny Mac heads to the comic bedroom to pack his suit case. In the other bedroom James and Meg are whispering. James says we can't ride on Austin's coattails much longer. Meg asks so do you want to flip the votes? James says I don't know. James says Steve is coming after us. He is due to win. Meg says but if someone comes in and is with us we can flip it on them. James says the thing is now Vanessa knows we were thinking about it. James asks what should we say to Vanessa?
-Post has been updated-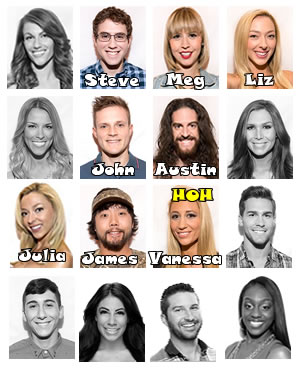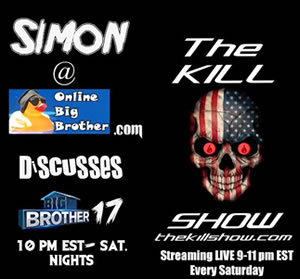 Simon from Onlinebigbrother on THE KILL show Saturdays @ 10pm
http://thekillshow.com
9-11pm
Big Brother Links
Bitchy Big Brother Blog
Big Brother attwx
Hamster Watch
Quirkydudes Archives
Big Brother Archive
Big Brother Gossip
OnlineBigBrother Forum
I Love Reality TV
Big Brother Junkies
IHateBigBrother!
Big Brother 2009
Big Brother Network
Big Brother Insider
The Big Brother Forum
yakkityyaks