11:20am Clay returns from the diary room. Shelli asks how are you not tired? We've had 3 hours sleep. You'll crash. Clay gets Shelli come chocolate. Shelli says thank you for nutritious breakfast. Clay says that's my plan for you. Get you all fattened up so other guys will be like EHHHH what is that. Clay gets in bed and says chubs McChubs! Shelli says no I have so many chubs right now. Clay says I have chubs right now too. Clay says he's really touchy feely. Shelli says she's the opposite. She is if she likes really someone but when that changes she's not.
-Post has been updated-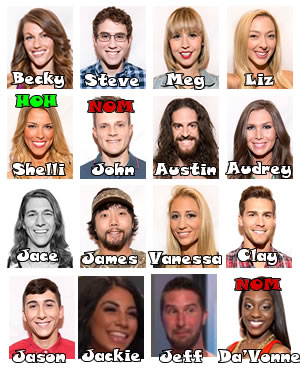 Big Brother Links
Bitchy Big Brother Blog
Big Brother attwx
Hamster Watch
Quirkydudes Archives
Big Brother Archive
Big Brother Gossip
OnlineBigBrother Forum
I Love Reality TV
Big Brother Junkies
IHateBigBrother!
Big Brother 2009
Big Brother Network
Big Brother Insider
The Big Brother Forum
yakkityyaks