-Post has been updated-
10:30am In the havenot room. James got house guest choice and is in the havenot room apologizing to Austin for not picking him. James says I wanted to pick you but Clay was going to pick you and if I did it would look a little obvious. Austin says yeah I thought that too. Okay that's fine. Either way I was going to keep it the same. James tells Vanessa you just win and do what you do! Vanessa says if its a physical one I'll just do what I do and lose. James tells Austin they're still going to come to you for votes but if I had picked you they would have come to you for votes. Whatever happens, happens. We have a good team out there. Jackie's physical and Vanessa is a brain.
-Post has been updated--Post has been updated--Post has been updated--Post has been updated-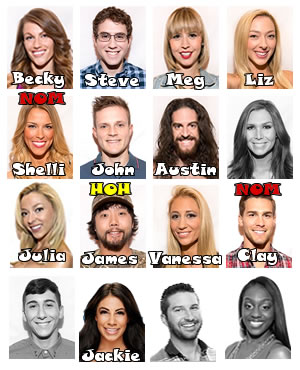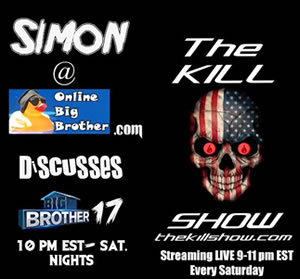 Simon from Onlinebigbrother on THE KILL show Saturdays @ 10pm
http://thekillshow.com
9-11pm
Big Brother Links
Bitchy Big Brother Blog
Big Brother attwx
Hamster Watch
Quirkydudes Archives
Big Brother Archive
Big Brother Gossip
OnlineBigBrother Forum
I Love Reality TV
Big Brother Junkies
IHateBigBrother!
Big Brother 2009
Big Brother Network
Big Brother Insider
The Big Brother Forum
yakkityyaks