In the kitchen - When the feeds return - Zach is in the kitchen wearing a red one-piece body suit with antenna. He has the Veto around his neck. Sarah is also wearing a bug costume. The talk about the veto competition. Sarah says I can't believe I came in second in a power of veto competition! Cindy is back in the house.
Up in the HOH room. Zach and Ashleigh are up in the HOH room. Zach says we just have to keep playing on peoples emotions. You keep playing Bobby. The best thing is she won't go after you. All the competitions before this I've been just dog f**king around. I didn't care or try at all. I didn't give a sh*t. I am so happy I won that. Think if Godfrey had won it.
-Post has been updated--Post has been updated--Post has been updated--Post has been updated-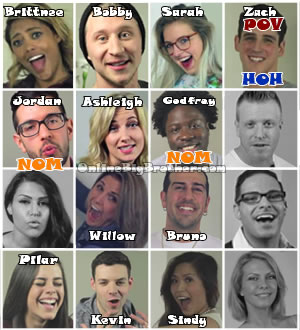 Big Brother Links
Bitchy Big Brother Blog
Big Brother attwx
Hamster Watch
Quirkydudes Archives
Big Brother Archive
Big Brother Gossip
OnlineBigBrother Forum
I Love Reality TV
Big Brother Junkies
The Reality Junkies
Big Brother Fans Blog
IHateBigBrother!
Big Brother 2009
Big Brother Network
Big Brother Insider
The Big Brother Forum
Because You're Addicted
yakkityyaks