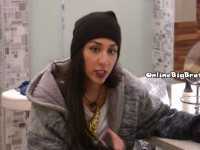 8:17pm Jon and Neda Bathroom
Jon says they have to stop telling Sabs they are not going to throw the HOH.
Neda – "I talked to her and told her"
Jon – "AHHH you went without ME "
Neda – "I told her I want to win HOH because i'm scared of the twist"
Neda says she hasn't told Sabrina it's Heather they want to get out not Adel.
Neda – "I'm not throwing this.. I Want to win it it's stupid if we throw it.. it's at that point in the game where we can't throw competition anymore"
Neda – "If it ends up being that we piss off Adel and Heather f** it we have to do it because that's only 2 votes in jury right.. we already pissed everyone else off" Neda thinks the risks outweigh the rewards if they throw the HOH, If they need to get Heather or Adel out they will do it themselves.