-Post has been updated--Post has been updated-
4pm In the bedroom - Brittnee talking to Sindy about being told she is going up as the replacement. Brittnee says Canada this is what happens when you put pu$$ies in the house and they win HOH. Brittnee says she told Pilar Do you think that for one moment they wouldn't hesitate to put you up as a pawn? When I get HOH I make big moves ...not only for my game but for other peoples game! I can't even be mad because honestly I love this game and want to play but its frustrating to play this game with people that honestly don't even know how to play. These people are here for 100K and are willing to do anything for it...
-Post has been updated-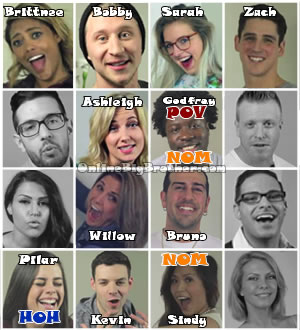 Big Brother Links
Bitchy Big Brother Blog
Big Brother attwx
Hamster Watch
Quirkydudes Archives
Big Brother Archive
Big Brother Gossip
OnlineBigBrother Forum
I Love Reality TV
Big Brother Junkies
The Reality Junkies
Big Brother Fans Blog
IHateBigBrother!
Big Brother 2009
Big Brother Network
Big Brother Insider
The Big Brother Forum
Because You're Addicted
yakkityyaks