10am Big Brother wakes up the house guests. Shelli heads up to the HOH room. Vanessa asks do you think its weird how Austin and Liz are being? Liz is completely flirting with him again. Did they sleep in the same bed. Shelli says she's all over him. She's in love with him. Vanessa asks wait seriously!? Shelli says well no I'm just making that assessment. Vanessa says when she thought he was going home she slept up here and the second he wasn't going home any more she is sleeping down there again. Last night they were sitting in the hammock and her legs were draped over him. I thought she said she didn't like him.
-Post has been updated-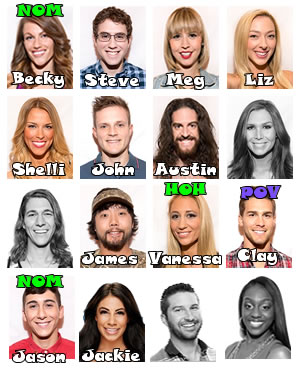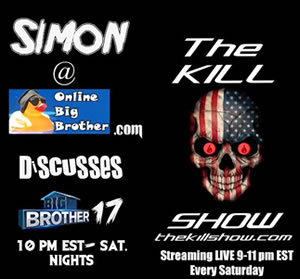 Simon from Onlinebigbrother on THE KILL show Saturdays @ 10pm
http://thekillshow.com
9-11pm
Big Brother Links
Bitchy Big Brother Blog
Big Brother attwx
Hamster Watch
Quirkydudes Archives
Big Brother Archive
Big Brother Gossip
OnlineBigBrother Forum
I Love Reality TV
Big Brother Junkies
IHateBigBrother!
Big Brother 2009
Big Brother Network
Big Brother Insider
The Big Brother Forum
yakkityyaks