9:30am Big Brother wakes up the house guests. Brittnee says I had a weird s*x dream about Sindy. Willow says me too! She pushed herself up on me and I was like you're into Sarah not me! Willow asks what was yours? Brittnee says We were all in the house and I just remember waking up and seeing Sindy having s*x with Kevin. Willow says I would take every other person in the world before Sindy with an S. Godfrey joins them. He asks Willow about her ring. Willow says its a university ring. Godfrey says I didn't know they did that. I hope I get a ring when I go to university.
-Post has been updated--Post has been updated--Post has been updated-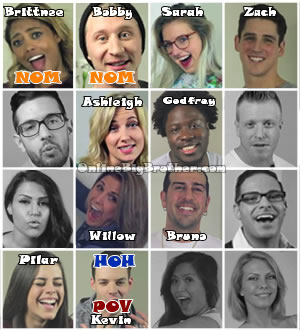 Big Brother Links
Bitchy Big Brother Blog
Big Brother attwx
Hamster Watch
Quirkydudes Archives
Big Brother Archive
Big Brother Gossip
OnlineBigBrother Forum
I Love Reality TV
Big Brother Junkies
The Reality Junkies
Big Brother Fans Blog
IHateBigBrother!
Big Brother 2009
Big Brother Network
Big Brother Insider
The Big Brother Forum
Because You're Addicted
yakkityyaks