-Post has been updated--Post has been updated-
10:55am Big Brother wakes up the house guests. The live feeds return to Johnny Mac still out on the backyard hammock. Vanessa is in the kitchen having the breakfast of champions - chips and dip. Johnny Mac and Steve join her in the kitchen. Vanessa says Johnny Mac has been upping his hair gel game. Steve says I have not even attempted to get in the hair gel game. Vanessa contemplates going back to bed. Austin and Liz are up and in the bathroom getting ready for the day. Johnny Mac and Steve head outside. Steve says I think we're doing well. Just to double check you figured it out but not from me directly. I also mentioned that you would be okay voting out Meg. Johnnny says MmmmhHmm. Steve says if she put a pawn up. That was my way of covering our a$$. Which is true.
-Post has been updated-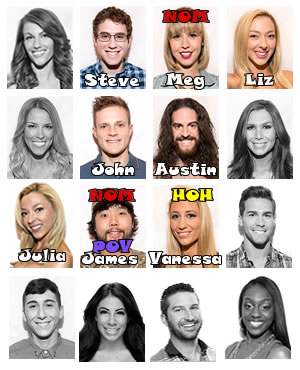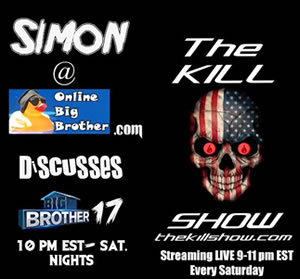 Simon from Onlinebigbrother on THE KILL show Saturdays @ 10pm
http://thekillshow.com
9-11pm
Big Brother Links
Bitchy Big Brother Blog
Big Brother attwx
Hamster Watch
Quirkydudes Archives
Big Brother Archive
Big Brother Gossip
OnlineBigBrother Forum
I Love Reality TV
Big Brother Junkies
IHateBigBrother!
Big Brother 2009
Big Brother Network
Big Brother Insider
The Big Brother Forum
yakkityyaks