-Post has been updated-
12:15pm Backyard lock down - Austin says it will probably just be a short lock down. James says the doors might open and there might be something crazy in there. James asks would any of you resign your contract to stay in here for 5 years for 5 million dollars. Vanessa says that's a really good question. Meg says she wouldn't, what if you died in here. Julia says she would do it. You would never have to work again. Austin says he would blow through that in a day.
12:25pm Big Brother blocks the feeds and when the feeds return the house guests talk about how there's a surprise in the storage room.
-Post has been updated--Post has been updated-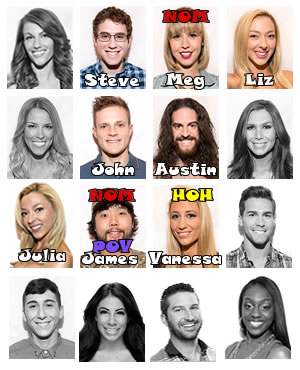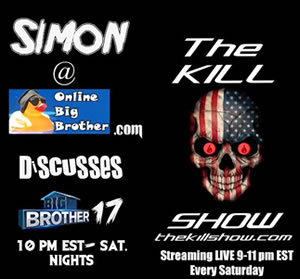 Simon from Onlinebigbrother on THE KILL show Saturdays @ 10pm
http://thekillshow.com
9-11pm
Big Brother Links
Bitchy Big Brother Blog
Big Brother attwx
Hamster Watch
Quirkydudes Archives
Big Brother Archive
Big Brother Gossip
OnlineBigBrother Forum
I Love Reality TV
Big Brother Junkies
IHateBigBrother!
Big Brother 2009
Big Brother Network
Big Brother Insider
The Big Brother Forum
yakkityyaks