Quick Big Brother Spoilers
Head of Household: Bowie
Nominees: Felicia & Matt
POV Players: everyone
POV Winner: Jag
Veto Ceremony: Doesn't matter
Havenots: No more havenots
Lock your ranks in before midnight
The Situation: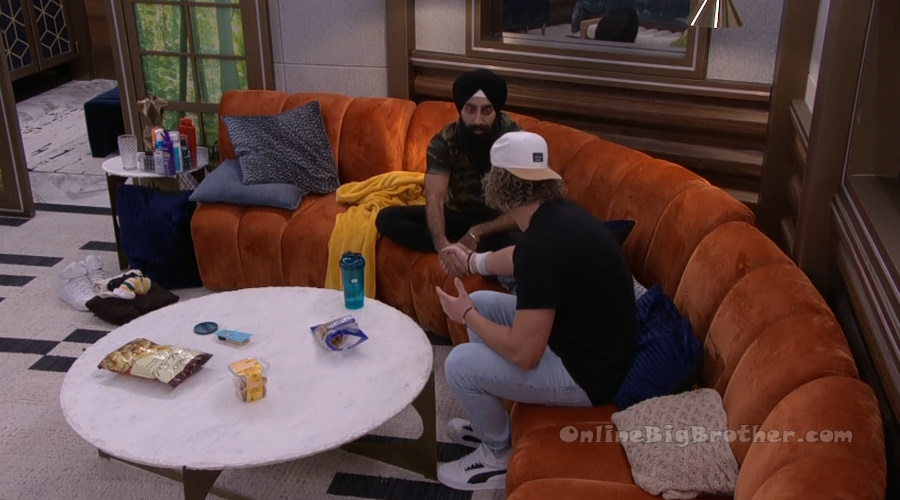 2:06pm The feeds return to Matt and Jag in the HOH room.
Jag – we got to pull out the wins. Matt – one of us has to win twice. Jag – I know… but if both of us win once we made it. Matt – oh yeah you're right. I don't know how much I have to campaign. Jag – dude you don't got to campaign. Matt – you know I am going to f**king take you with me. Jag – I know but you don't got to. Matt – there is no other option I would do. Jag – I know. Matt – Day 1, ended day 30 renewed. All the way. We literally survived with targets on our backs. Jag – I know its wild. Matt – we were supposed to get picked off hella! Jag – and I know you've been nervous and stuff.. Matt – I don't want to be so cocky.. Matt – I know like Jag would never … I am not trying to be like… Jag – but I would never ..I can tell when you're a little nervous and stuff.. Matt – Its my first time on the block which is weird. Jag – I am not saying it as a bad thing or whatever .. but I want you to know like you are totally good. Like BRO I am saying you're good. There is nothing Felicia could ever say. Because like for me dude we have stuck together this whole f**King game and like honestly for me its like this is the least I could do as well. Like the week four.. BB blocks the feeds. Matt – lets just go at it and see who wins the last won. Jag – because it literally won't matter. Matt – because I am 110% taking you. There is no other option. You know I love you bro! We were supposed to get cooked and we made it to day 100! I don't want to be cocky.. I am going to be nervous and I know I don't need to be but you know how it is. Jag – but I am just telling you from me personally.. you are going to be here for 100 days. We've rocked together since day 1, but especially week four the moment you saved me that was my promise that I made to you and to myself, no matter what in this game I am playing it for two. I am playing to protect me and you. Like BRO we are making it to day 100! There is nothing she could say. I know how stressful it is to be on the block and we're so close to the end .. but I am telling you, you are 100% good. Focus on studying. Matt – you just have to prepare for everything. Jag – I am nervous too.. but about the comp.. and I want you to be nervous but not about tonight.. I want you to be nervous about the comp. Matt – yeah we need to win this comp. Its funny, like we've got this far.. we brought them purposefully this far and now we're like holy sh*t they could win the game… BB Blocks the feeds.
2:20pm Jag brings all the stuff down from the HOH room. Its Bowie's last day in the HOH room.
2:40pm Jag studying in the scary bedroom.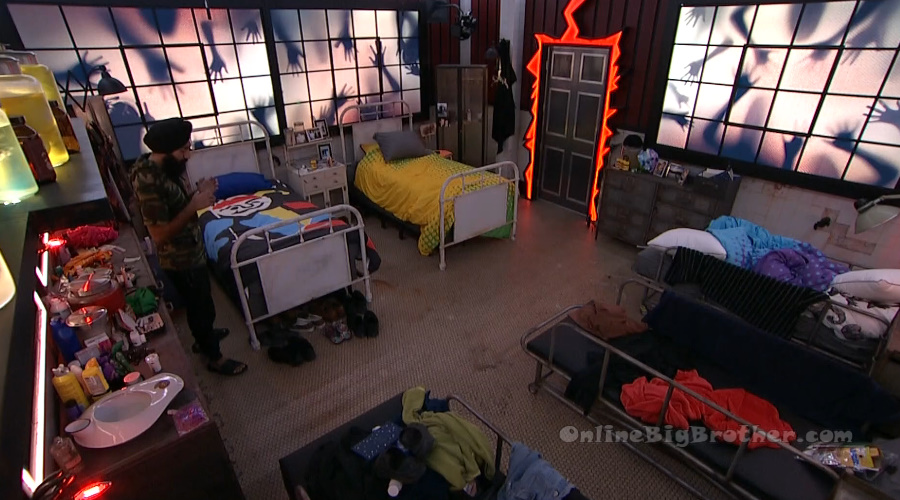 2:50pm Matt starts taking his photos down off the wall. Jag – you're going to take everything down now? Matt – yeah so I don't have to worry about anything the last second.. have everything packed and study. Jag – I need to pack everything too. You'll have everything done. Matt – this is the last thing. Jag – are you not going to want that up? Leave it up. Leave it up man. Matt – alright. Jag – you're good! I wouldn't do that to you. Matt – or you could just bring it to me on day 100! Jag – I am not going to do that to you. Leave it up.
3:10pm Kitchen – Matt, Jag and Felicia chatting about the past house guests at the kitchen table.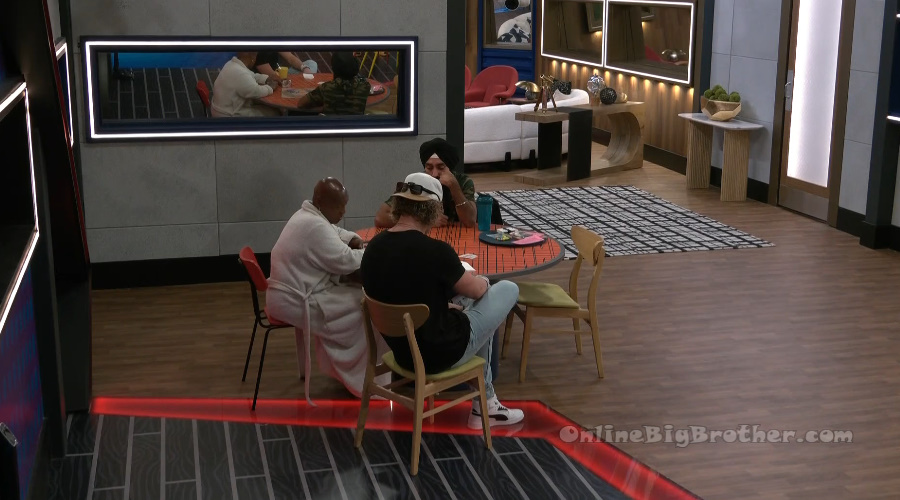 3:15pm – 3:30pm Bowie studying…

3:50pm – 4:22pm Kitchen – Jag, Matt, Felicia and Bowie are talking about all the alliances during the season. Felicia mentions "The Bye Bye B***HES" Jag was surprised there was an alliance call the Bye Bye B***hes. I didn't know about that. Felicia – it was stressful trying to keep up with who you can talk to about what. Jag – it wasn't stressful for me I only had one. They continue to reminisce about past events of the season.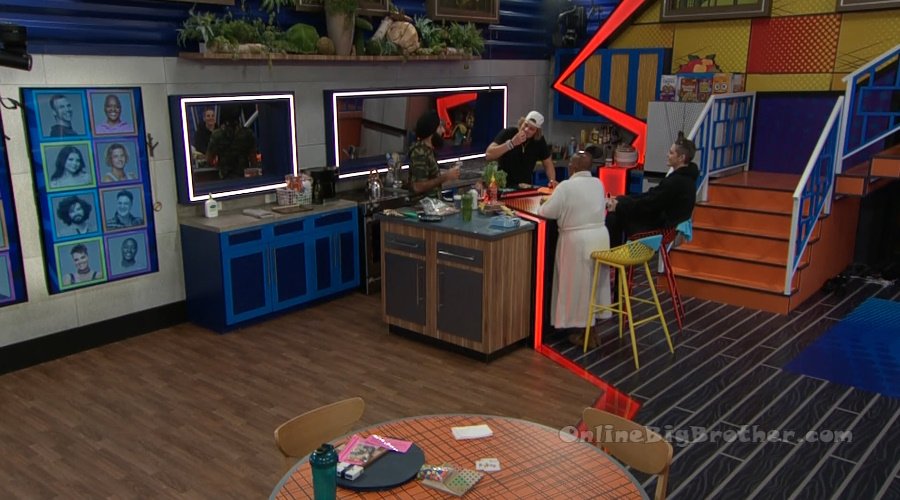 4:25pm The feeds turn to the pound..
What to leave a TIP? Any amount is greatly appreciated! Tips go directly to pay the site costs associated with running this site.