Quick Big Brother Spoilers
HOH Part 1: Bowie, Jag, Matt
Part 1 Winner: Matt
HOH Part 2: Jag vs Bowie
Part 2 Winner: ?
HOH Part 3 ?
Part 3 Winner: ?
Lock your ranks in before midnight
The Situation: Matt wins part one of the final HOH. Jag and Bowie will now compete in part 2. The winner of Part 2 competes against Matt in in Part 3. The winner of Part 3 is the final HOH and gets to decide who they will take to the finale.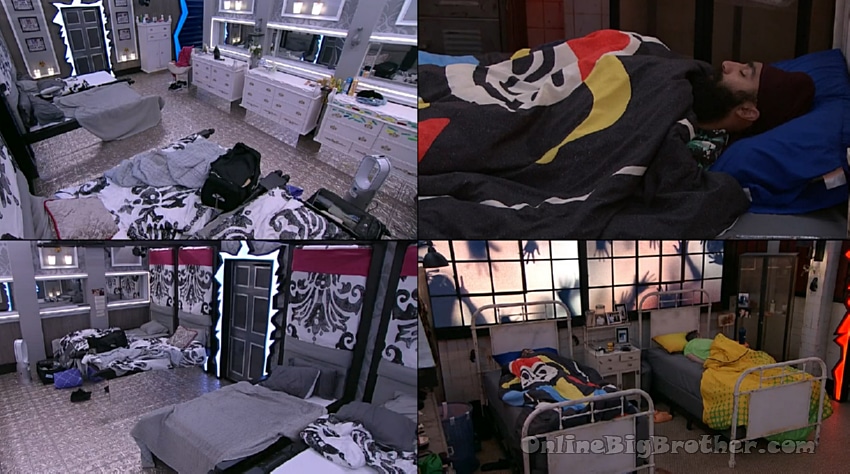 5:00 am Zzzzz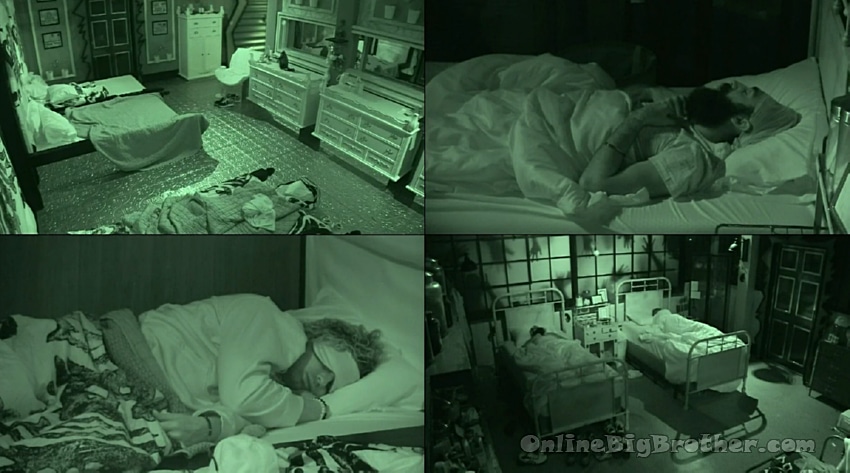 9:20 am Feeds cut to pound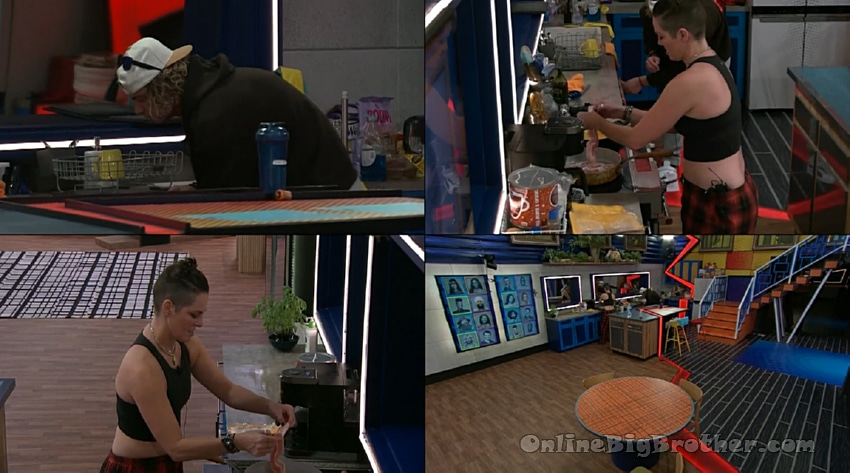 2:39 pm Feeds return. They didn't play part 2 final HOH yet.
Feeds return showing Matt and Bowie making food.
Matt – we were in there for awhile.
Bowie – 3 and a half hours
Matt – Four
2:41 pm Feeds cut to pound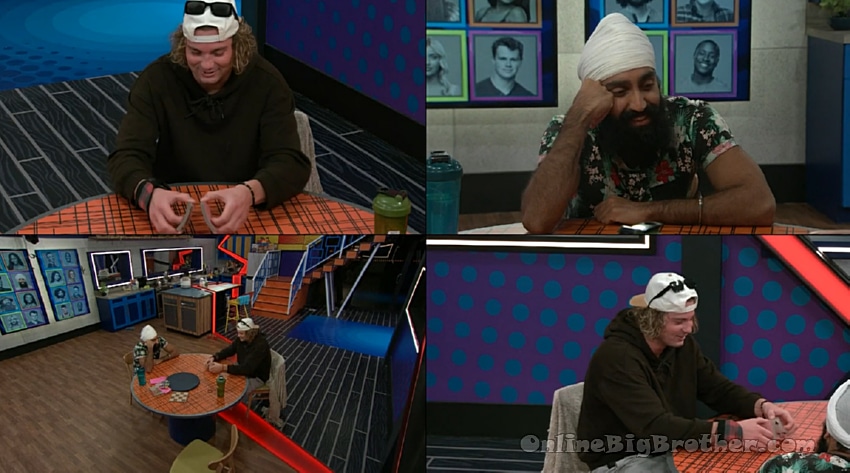 3:15 pm Feeds return to cards and Chit chat.
Jag to Matt – if it's the final comp and just me and you that's crazy!
Jag – I don't give a f***
They agree neither of them cared who was going win last night.
Jag – the goal was to beat her.
Jag feels like he has a solid shot at part 2.
Matt – you do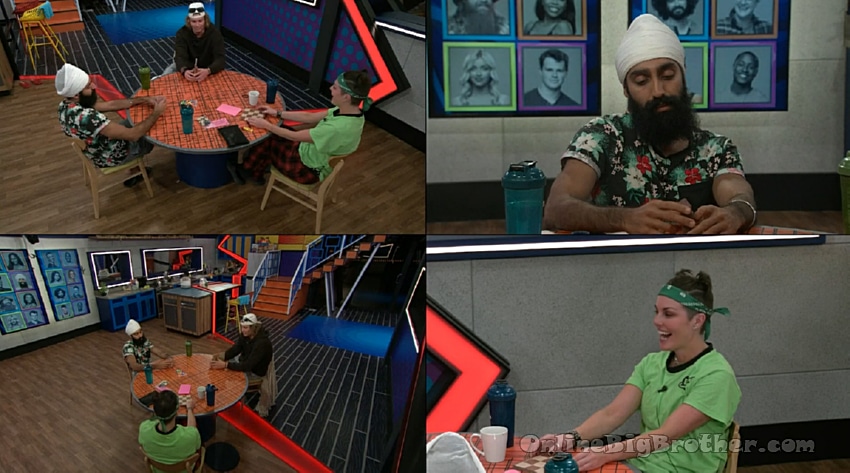 4:30 pm Cards and chit chat. They're talking about who has higher alcohol tolerance Jag, Bowie or Matt.
Jag – what's the point in having one drink?
Bowie – calories for no reason and it does nothing
Jag – Exactly
Matt – YEah
Bowie – I would rather have 5 drinks (Bowie for the win 😉 )
Jag – 4 is the minimum.. 4 to get out the door
Matt – 10 is minimum
Matt says he breaks records when he's drunk and hungover, "My last world record was when I was hungover"
Jag – I'll never forget I beat a Olympian at a water sport
Matt – yeah you did..
Matt bring sup Felicia telling him "Jag was making fun of you he was bragging about how he beat a Olympian he was doing it in front of your face and you didn't even know that"
Matt – I was like… He f***ing did.. I was hyping him up for it.
Bowie – that's crazy
Jag – WOW
Feeds cut.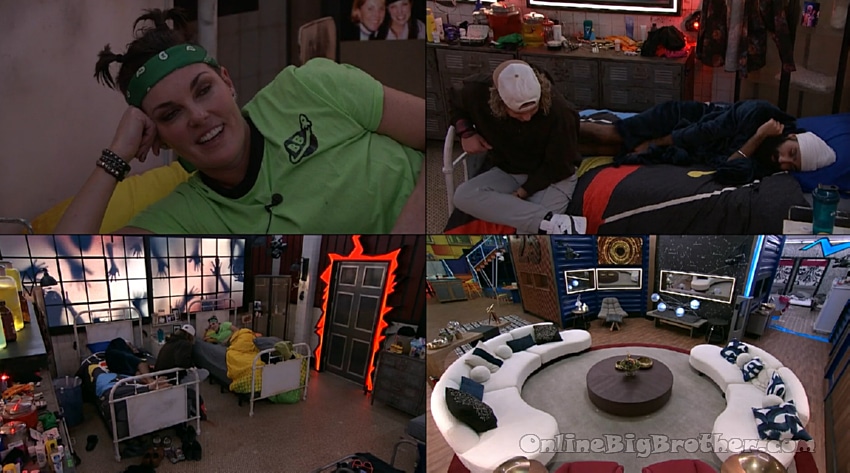 5:45 pm Chit chats and feed blocks.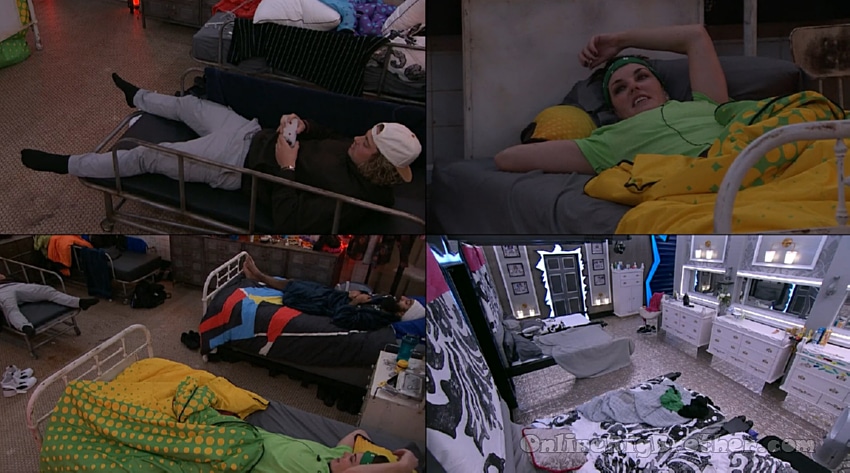 5:32 pm
They're wondering what they should have for dinner.
Matt – mac and Cheese
Bowie – we need a plan.
Matt – damn we really need momma Fe.. that is why we kept her till the last second.. I don't think other seasons they had someone cooking all season long.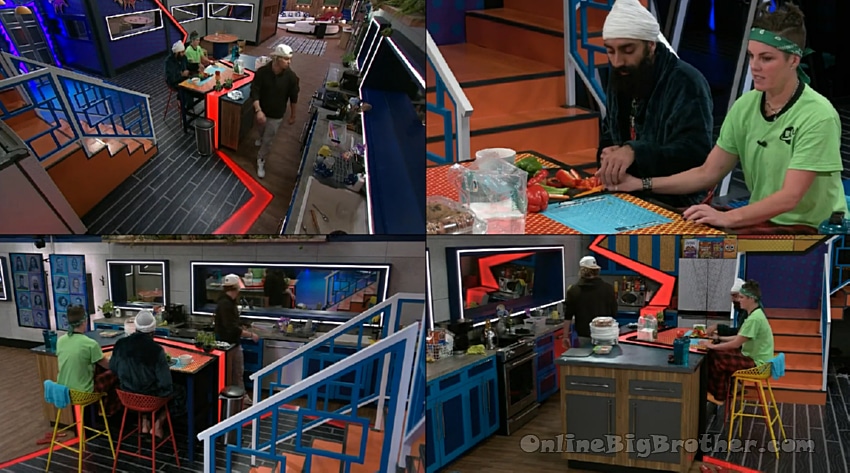 6:53 pm Stumbling around making Dinner
7:56pm – 8:30pm Bowie and Jag playing max power bumper pool.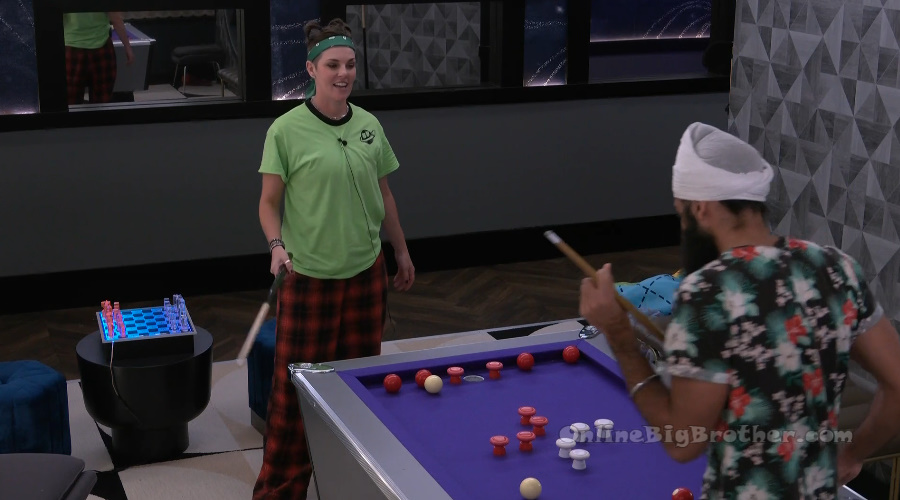 8:34pm – 8:44pm Big Brother blocks the feeds.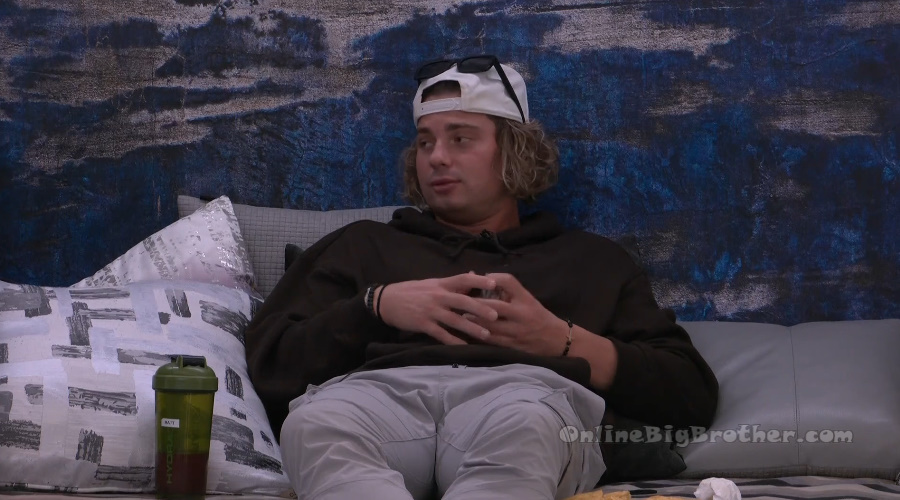 8:45pm Games Room – Matt, Jag and Bowie.
Matt – I was really happy when Cory and America both left because she said f**k them. She said f**k Cory and America. And it took us that long to get them out. Reilly's justice! Jag – we had to do it our way. Matt – we had to do it slowly. We couldn't do it right away and I am sure she was happy about it. I mean she knows the truth of what happened the first week with the votes… who really flipped. Jag – she knew that Cirie was never going to vote for Reilly. Bowie – Cirie was never going to vote for Reilly. Jag – why did she even play that game? She literally could have been like I am down if we have the votes but I really don't think we do. Or she could have just been like we don't have the votes to keep her. BB blocks the feeds.. Matt – for me the most hyped was the double evictions. Jag – the first double was when we first made a move and we were like we don't give a f**k.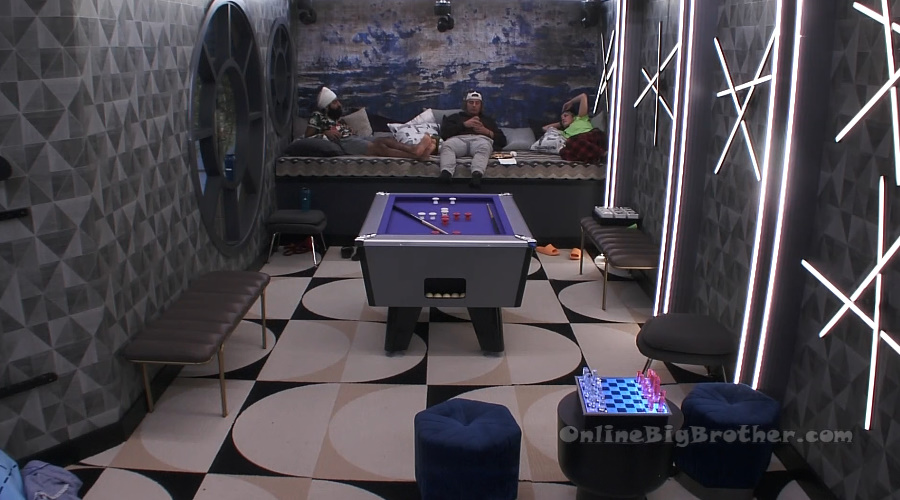 9:02pm – 9:20pm Big Brother blocks the feeds.
9:30pm – 9:48pm Bowie and Matt laughing and reminiscing about past events of the season. Bowie – I'm going to get us t-shirts made up. Mafia BB25. Matt – with the "M". Bowie – yeah and BB25.
Matt – I wonder what inspired Cory to grow is mustache out? Maybe to looks older for America because he is 21 and she is 27. Bowie – yeah.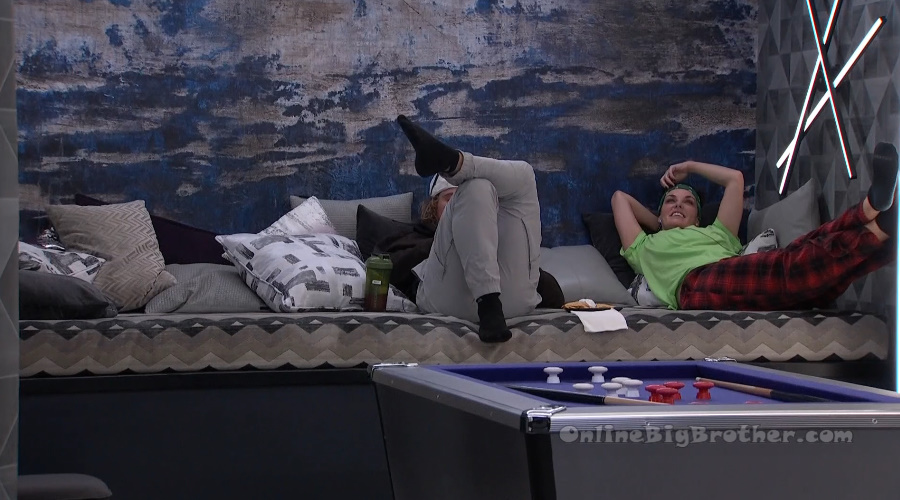 10:40pm – 10:53pm Matt, Jag and Bowie head to bed. Jag to Bowie – good luck tomorrow, you're going to need it. Bowie – yeah. Jag – it could be mental it could be anything. Bowie – I know. its a catch 22. I am going to try and win but if I win then I am worried. Jag – what do you mean you're worried? Bowie – you put your best teammate out .. do you know what I mean? But at this stage of the game its too scary to do anything like that. Jag – because I feel confident regardless of what the comp is to go against Matt but I would feel a lot of pressure. And I wouldn't ask you to .. Bowie – no, and deep down I know that's the smarter decision. Jag – I don't care what the comp is.. whatever it is I know I have to beat him. I know that's what needs to happen so I am going to beat him. I feel confident in mental. If its a mix, perfect. I am not even worried about what the comp is.

10:55pm The final 3 are sleeping.