Quick Big Brother Spoilers
Head of Household: Bowie
Nominees: Felicia & Matt
POV Players: everyone
POV Winner: Jag
Veto Ceremony: Doesn't matter
Havenots: No more havenots
Lock your ranks in before midnight
The Situation: Jag will be evicting Felicia leaving Matt, Bowie and Jag in the final 3.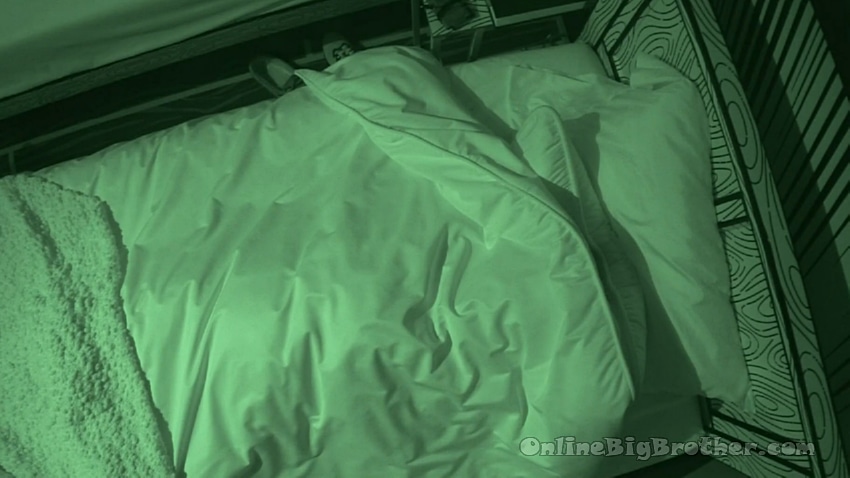 10:55 am Felicia Zzzzz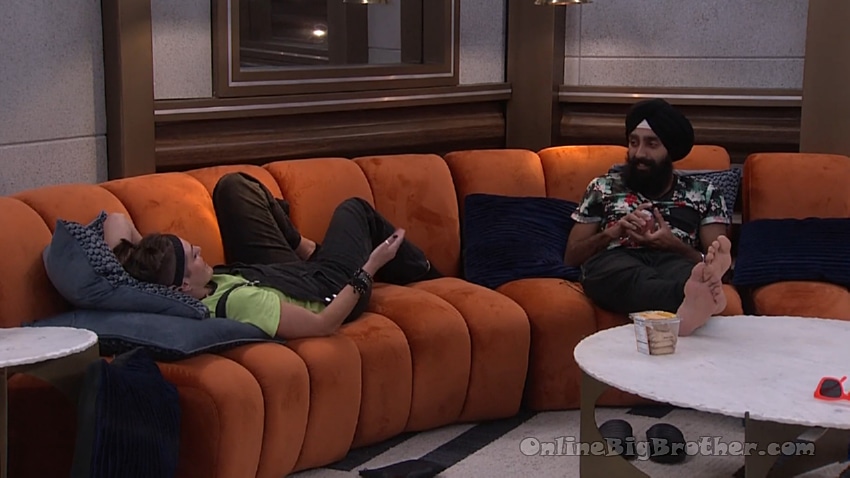 11:00 am Bowie and Jag
Bowie talking about Byron Bay in Australia.
Jag – how cool is it that you won HOH and I won Veto we secured are place in the final 3.
Bowie – it's really good.. I was really happy you won.
Jag – me and you have to make it to the final HOH.
Bowie – AHH the final HOH yeah yeah
Jag – if one of us makes it to the final HOH both of us are there
Bowie – YEAH YEAH
Jag – if Both of us are in the final HOH then we've locked that in.
Bowie – we have a good chance
Jag – I know
Bowie – if it's a time thing I'm going to be POO
they talk about veto today and Jag's strategy.
Bowie – Great win..
Jag – I was like I need to not touch this block. If I touch this block it's going to be dangerous for me no matter what. I trust myself to do it I trust you.
Bowie – I can't be talked into anything
Jag – I knew if you got it you were going to keep it the same, I trust you FULLY
Bowie – FULLY
Jag – I trust Matt but I feel like everything is a risk in this game. If Matt wins and I'm on the block against momma FE. it's tempting
Bowie – It's tempting for HIM
Jag – it's scary..
Bowie – It's not tempting for me at all
Bowie – if Momma FE had won she would have chosen you to go.
Jag – She knows he would win She's not dumb. The only thing I have at this point are these veto wins. LOWKEY my game was really sloppy especially the first half of the season. I was almost cooked. Momma FE is in this game but not from herself because people chose to save her.
Bowie – YEAH
Jag – people saved her it's not like she mastminded something and stayed. Lowkey that's the same argument for me. Yeah I'm here right now and I've recently done well with veto comps but I'm not here because I masterminded something in the beginning of the season.
Bowie – but neither has Matt, If Matt Would win it's because everybody likes him.
Jag – and he managed to be safe the whole time while being a BIG target. He managed the target on his back. He's played it really well. He's winning in must win situations. MAN what a game he's played. He's won a lot but he can also say I didn't need to win everything cause I had such good relationships other people can win for me. I knew Jag and Bowie would protect me.
Bowie – will people appreciate that or be pissed?
Jag – they'll appreciate it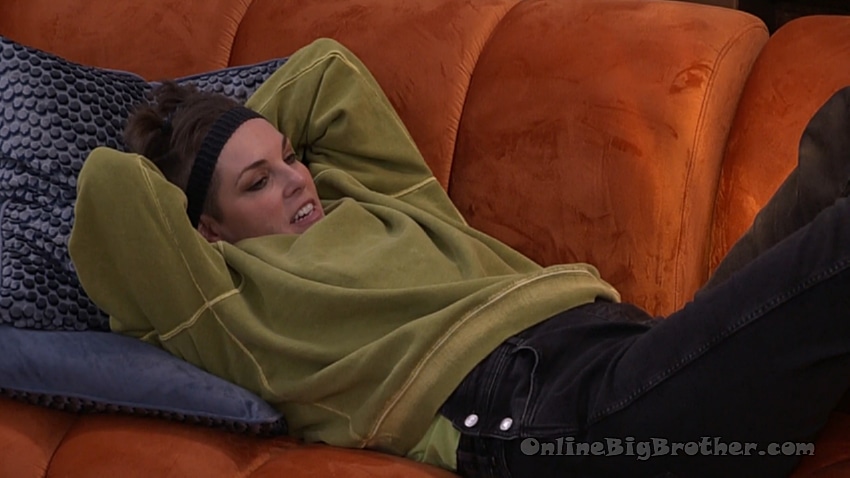 Bowie – I really don't see a path for me to get jury votes. Not enough. I don't care I'm pleased I came this far. Of course I want to get to the final 2 and I'm really pleased with my efforts to get that far
Jag thinks the endurance part of the finale HOH will be Sunday "It's start's live"
Bowie says that Matt is good at "Short explosive comps"
They go on speculating the types of competitions they could have.
Jag – if both of us make it to the final comp I don't care what that comp is. I fully trust you it doesn't matter.
Bowie – do you have a final two with Matt or was that ages ago?
Jag – we've been working together for so long. He's going to be.. I mean I'll just lose a Jury vote. I will definitely lose his jury vote. SICK.. the jury vote matters less more so on a friendship level it's going to suck. I'm going to do it.
Bowie – not If I win. I don't think it's a problem if I win. You will get his jury vote.
Jag – at this point I'm not trying to secure his jury vote I'm not playing that game.
Bowie – for the friendship level all this discussion will be out there anyways.
Jag – I hope if I have to make that decision that he would understand
Jag – at this point of the game I've done so much to protect him. I've protected him so much. I really have every step of the way I've done so much to protect him. I've had opportunities to do whatever and not once have I.
They wonder if Matt will COOK Jag if he wins the final HOH.
Jag – maybe i'm thinking into it too much. I haven't even played a long with the idea of getting Matt out. Not to Momma FE not to Cirie not to BLUE.. ever I never played around with the idea of that but he has. Why are they believing it?
Jag says Momma fe says a lot of lies but a lot of it wasn't a lie.
Bowie – he said it but he feels he's saying it but not going to do it.
Jag – I never even played with the idea. I know he has.
Jag – he's said I'm my own player and Jag's his own player. it almost separates us so someone could take a shot at me.
Jag says he's never thrown Matt under the bus.
Jag adds that Matt has said stuff about getting Jag out to other players and told Jag about it.
Jag "Why do we even need to say that"
Jag goes back to rehashing the conversation with Momma FE earlier today. "he (Matt) was in an alliance with Cirie, Jared and Blue but he never told me about that. there's only one reason you wouldn't tell someone about an alliance you want to keep that in your back pocket"
Bowie – these are all just in case scenarios for him.
Jag – going against Felicia next week vs going against Matt is a very big difference. That's just me considering everything it's not to say I'm going to do it.
Jag – After what Felicia said.. Okay let me think through everything you said. I'm not going to blindy do anything. The first half I was blindly doing things and trusting people
Jag – Felicia was saying Matt talked to Cirie and said we have to get Jag out eventually. Matt was saying that to Cirie
Bowie – when?
Jag – I don't know when at some point. A few weeks ago.
Bowie – that should never come out of his mouth
Jag – exactly
Jag – Cirie mentioned that to Felicia and was like Matt is sorta onboard we can make this move. Felicia came running up. (To HOH to tell him)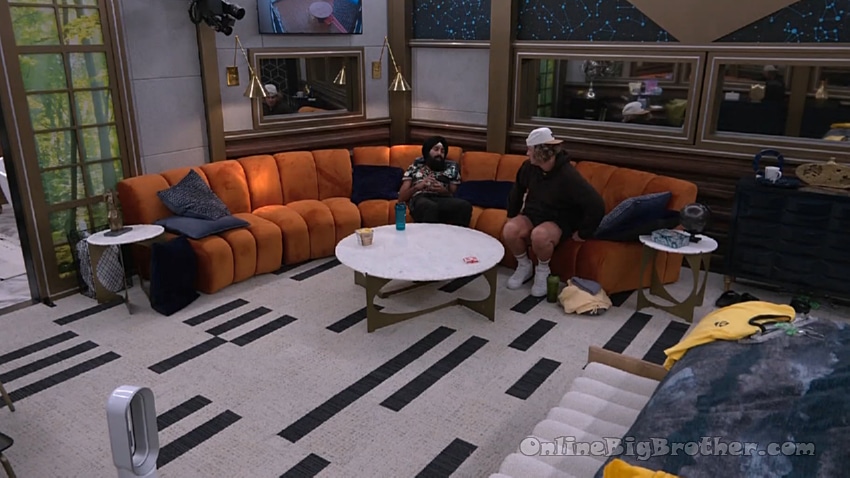 Matt joins them. Chit chat and solitaire.
12:35 am they start getting ready for bed.
Make the bed set the space heater.
Get the Reilly letter and picture up.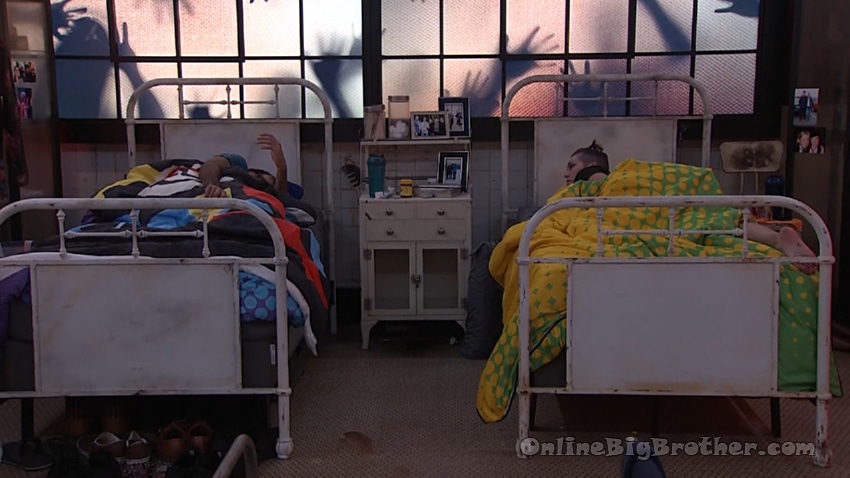 12:50 am Bowie and Jag
They continue their Chat.
Jag – Matt told Cirie at some point they have to get me out. Felicia could have easily lied or Cirie could have easily lied or if Matt did say that maybe he wasn't serious about saying that. There's a lot of things around it. honestly Felicia is more likely to lie than matt is.
Jag says he's 99% voting Felicia out he just is the type of person that needs to talk about all the possibilities.
Bowie – if he said it and meant it would you still feel bad?
Jag – yeah, either way it'll be a tough decision no matter what.
Jag – if I win that final HOH and evict him it'll be tough. He is my friend and I do care about him. No matter what it's a real tough thing to do or say.
Jag – me, you and Matt deserve to be in the final three I feel that it something that is true.
Bowie – the guilt would be so bad it's not worth it. There's plenty of people in this game that would have zero guilt.
1:10 am – 9:00 am zzzzzz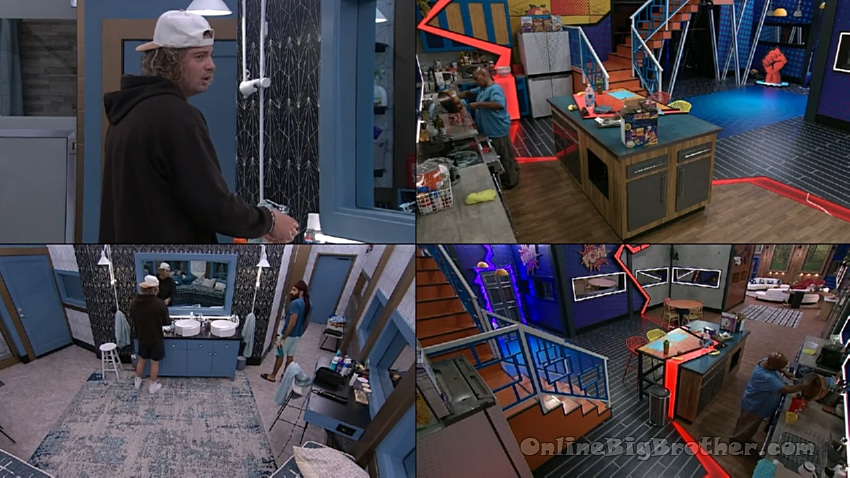 9:55 am Houseguests getting up for the day.
Sounds like they have a HOH lockdown for three hours today.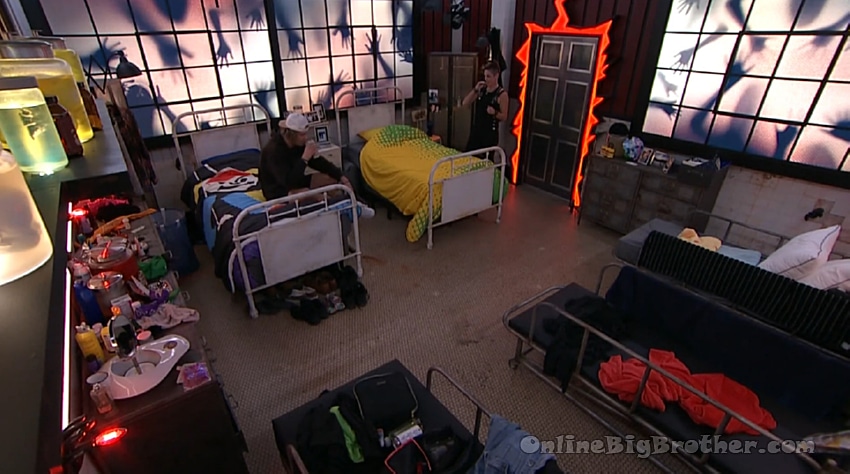 10:07 am Matt and Bowie
Matt says it's weird being around Felicia knowing she's been talking sh1t about him. "I'm not good that that"
Bowie – I am not good at that
Bowie says she's just happy she got this far she's not expecting to win this.
Matt – you'll get votes
Bowie – I can't think of one
Matt – nobody wants to vote for me and Jag for sending them all home.
Matt – I saw my suitcase in storage. You've never seen your suitcase that's awesome. I basically almost went without.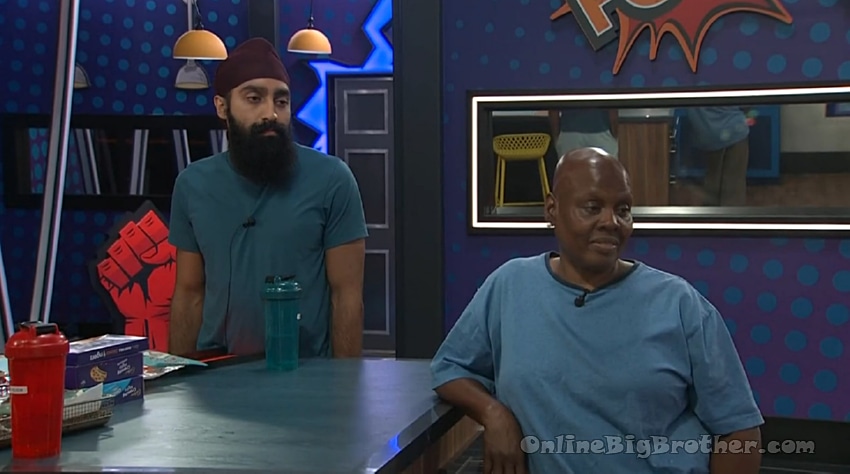 10:10 am Felicia and Jag
Felicia says she's "Being real" she doesn't think she can beat Jag or Matt she just wants to get to the end. "I want to send a message to Jaiere that's my message for this"
Jag – mmmhmmm
Felicia – If you chase a dream and believe in it you can at least go far in life.
Jag – yeah
Felicia – all you guys outplayed me.
Jag – I wouldn't say that I feel like it would be a toss up at the end.
Felicia – a you and a MAtt is Matt a you and a Bowie is a toss up. I think a you and a me is a you. I think America will hold a grudge.
Jag – Blue will hold a grudge to
Felicia – NO Blue will give you her vote.
Felicia starts kackling she says Cameron never liked her from the beginning she doesn't know why and doesn't care.
Felicia – I want to sit in the final 2 chairs with you. You get 4 I get 3. You'll get, Bowie, Matt, Cameron and Blue. I will get Cory, America and Cirie. (LOL)
Jag – mmmmmmmm
Felicia – that's my theories. my theories haven't been too far off all season (HAHAHAHAHAHHHA her theories are almost 100% wrong)
Jag – I won't get Matt's vote if… .
Felicia – he'll vote you over me. at some point people still realize it's a game. Matt's not a grudge holder.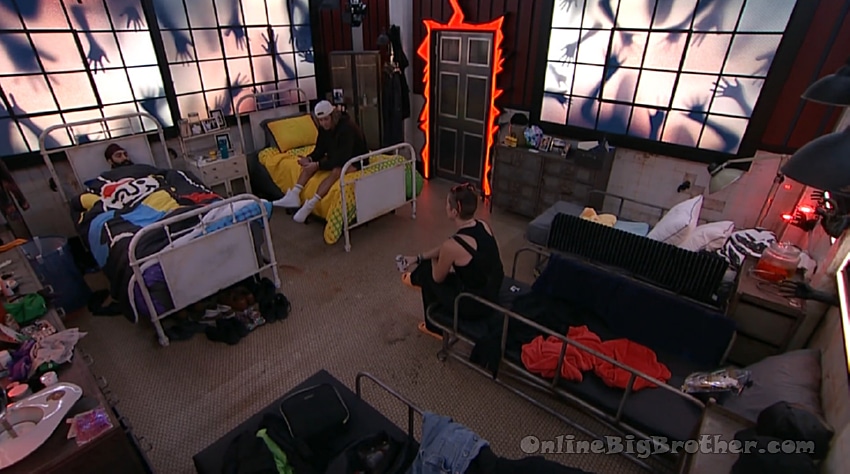 10:21 am Matt, Jag and Bowie
Jag says Felicia is still pestering him to take Matt out. He gives them a summary of his conversation with Felicia a moment ago.
Matt goes on about how hard it is for him to talk to Felicia.
Bowie mentions he packed a 20lb dumbbell but it didn't make it in the house.
They talk about how cocky Izz was telling America she didn't need her vote then she was evicted.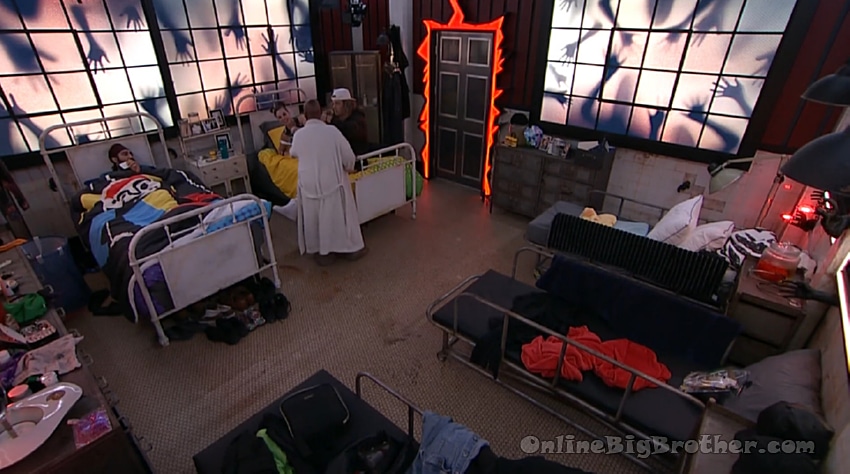 Felicia delivers them each a piece of bacon (I've never seen people eat as much bacon as these folks)
After Felicia leaves they go back to chit chat about the souvenirs around the house they want to take home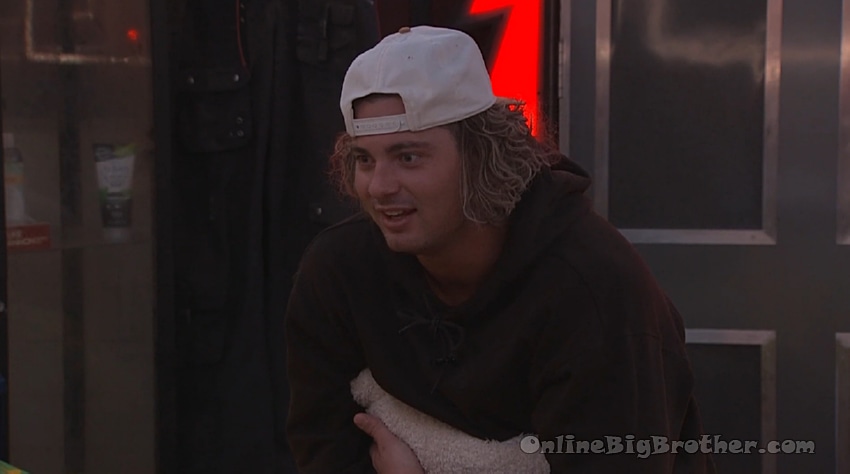 11:06 am Matt and Jag
Jag saying how stressful it is having to talk to Felicia when she's spewing sh1t.
Jag – it's annoying and stressful. I'm like BRO. She's saying sh1t
Matt – it's scary having someone actively campaign against you
Jag – she's saying all this sh1t I'm like bro what the f***. she said you know you aren't going to win at the end. I'm like OKAY I know that.
Matt – if she was in final three she doesn't choose you she takes Bowie
Jag – I know
Matt – she won't take the chance.
Jag – she's not choosing me bro.. I called her on that.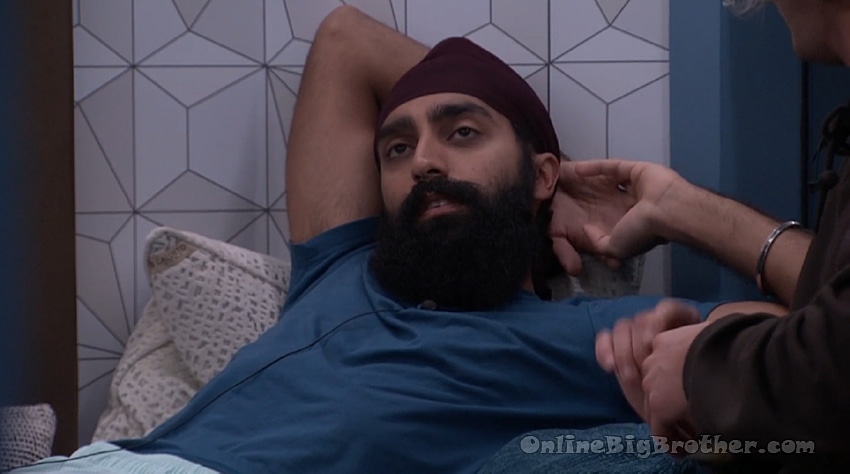 11:20 am Jag and Matt bathroom with Felicia and Bowie playing bumper pool upstairs.
The guys are wondering what Felicia has cooking up there. Matt thinks she's trying to get Bowie to convince Jag to take Matt out.
Jag goes on about how annoying Felicia is pestering him.
Matt points out if Jag listens to Felicia's scheme and take her to the final 2 she will turn that back on him in her final 2 speech "I just convinced Jag to flip on his best man I just got in their heads so well that they flipped on each other"
Jag – no. she better enjoy her last day so Annoying.
Matt impersonates Felicia's speech to Jag.
Jag says it'll be this "do what's best I'm holding on to my faith in a mustard seed.. that's usually her speech"
Matt – 30 seconds is quick (They were told they have 30 seconds for their speeches)
Jag – what has Bowie Jane been saying? anything about a final 2?
Matt – no, that's why I think she's saying that to you
Feeds cut when we're back.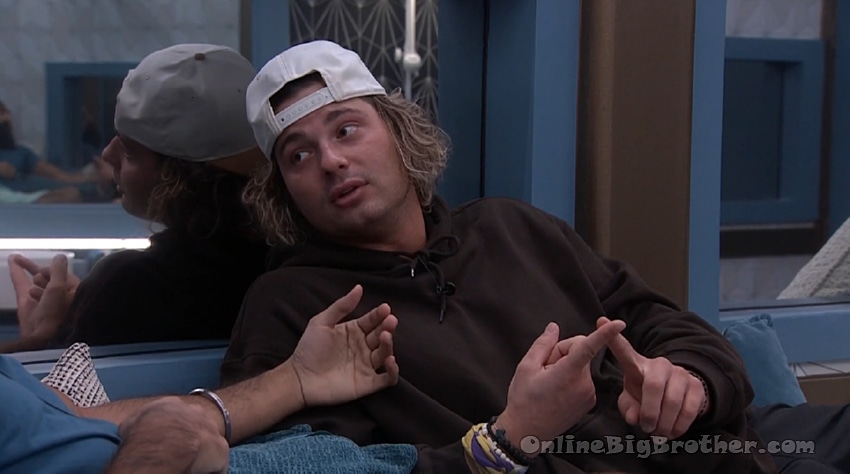 Jag – I think she's super excited about making it
matt – to be honest think about how her game was in the beginning she was always left out.
Jag – she's turned it up BRO she's turned up her game HELLA She's tied for the most HOH's now.
Matt – I think you broke the record for the most vetoes now..
Matt wonders if Jag beat the BB vetoes record.
Jag thinks it's 9 and there's no more vetoes left this season.
Jag – maybe Bowie doesn't care because she feels confident. Have you thought of that. If she wins the final HOH she just feels confident. at this point she has the most HOH wins and after this week she's the ONLY one that hasn't touched the block which is technically what they call a perfect game.
Matt – I know.. damn I almost had a perfect game.
Jag – she was blindsided and Bullies, People talked about her all the time and made fun of her. She still stuck with her social relationships, Pretended.. her whole thing, She evicted Cameron, she was the person that pretended to play the middle. The whole time she was feeding it back. She stayed loyal the whole time.
Jag – if she sits next to you she can say 'I've played a perfect game I've never touched the block, Have the most HOH wins, Was bullied, Blindsided and targeted'
Matt – took CAM out
Jag – I stayed loyal.. I took Cam out and wasn't afraid to make a bold move.
Matt says Cam and Cirie will vote for Bowie. He thinks Felicia will to because she wants a woman winning. Matt also thinks Cory will but Jag is unsure.
Matt says he's not going to mention the minutemen in his final 2 speech but if he wins the final HOH he's going to yell "F***Ing minutemen"
Jag isn't going to mention minutemen in his final 2 speech either.
Jag – till the last minute. We made a packed that we will be sitting in the final 2 till the last minute so I'm sorry Bowie… Bro whoever is the one that wins the final HOH and evicts Bowie, Bowie will be so mad.
Matt – NO..
Jag – you don't think so?
Matt – I don't think she'll be mad.. it's like BRO she knows knows clearly .. she knows she has to win the next two..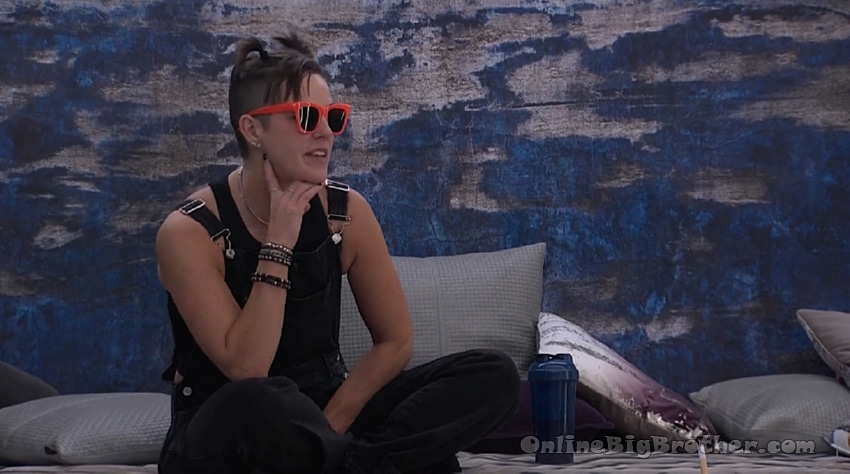 11:48 am Bowie and Felicia
rahasing the season..
What to leave a TIP? Any amount is greatly appreciated!
Tips go directly to pay the site costs associated with running this site.