Quick Big Brother Spoilers
HOH Part 1: Bowie, Jag, Matt
Part 1 Winner: Matt
HOH Part 2: Jag vs Bowie
Part 2 Winner: Jag
HOH Part 3 Jag Vs Matt
Part 3 Winner: ?
Lock your ranks in before midnight
The Situation: Matt won Part 1, Jag won Part 2. They will face off Thursday during the finale to compete in part 3. Winner of Part 3 is the final HOH and gets to decide who to take to the end. There's a lot of chit chat and a lot of feed blocks.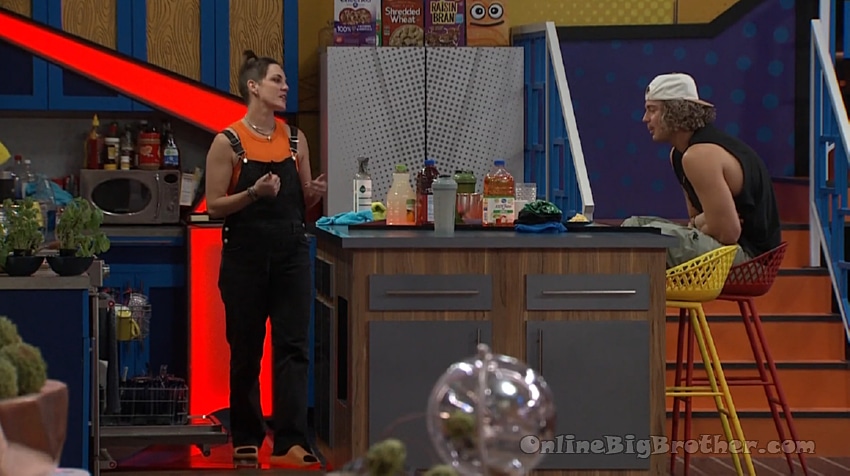 11:20 am Chit chat
Bowie – the money I haven't thought about that since I came in
Matt – My mom was like go for the win. I was like I just want to be on it and she was like but you want to win.. There's one in 16 mom. Of course everyone wants you to win. I'm going in for the representation and that kinda stuff… there's never been a deaf person I have to represent. Share my story.. I wasn't thinking about the money. I was like I hope I can make it to jury it would suck if I didn't make it to jury.
Bowie says she won't have any votes in the Jury. She's not thinking about winning.
Matt says whoever he's sitting next to he's not going to be Anti the other person he's going to be just PRO Matt. They talk about how some seasons people aren't like that.
Matt – I have nothing against you or Jag. That's not how I play. If it was me and Felicia yeah maybe.. the only thing she won was not a winner but by Luck.. she took Hisam out but everyone wanted him out. She knew she was never in danger. She played a good game but was sloppy with her secrets and sloppy with spreading rumours.. She had no idea what was going on in the house when she thought she did. She was so wrong.
Matt – at one point during OTEV she thought it was Cameron, Blue and Jag working together to get me out.
Bowie – Ahhhhhh
They bring back past weeks.. "We targeted Felicia and got out Cirie"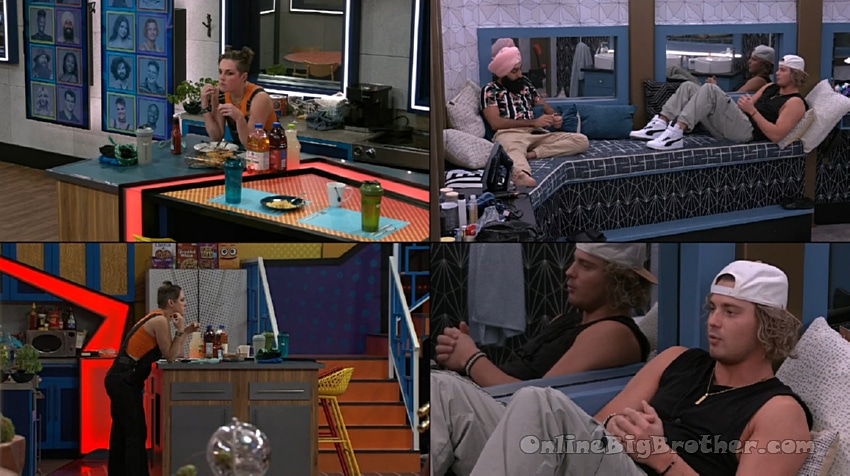 12:20 pm Chit chat..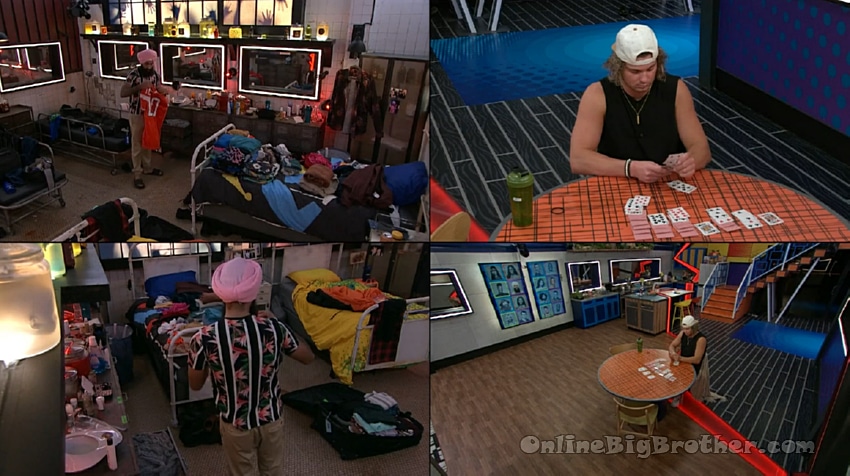 1:20 pm Jag cleaning out the scary room. Matt playing solitaire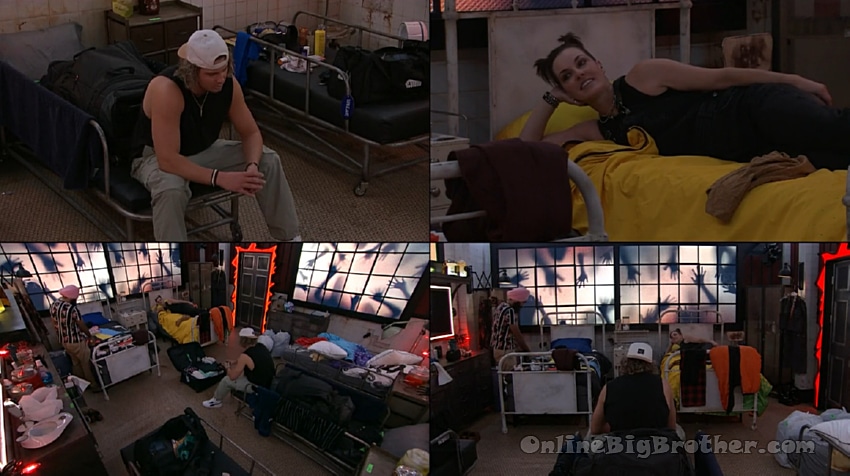 2:20 pm Jag packing. Some chit chat about Vegemite.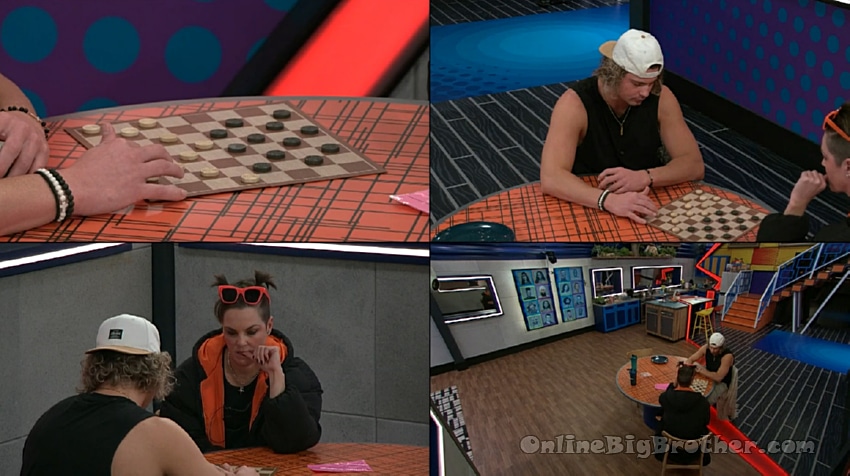 3:20 pm Checkers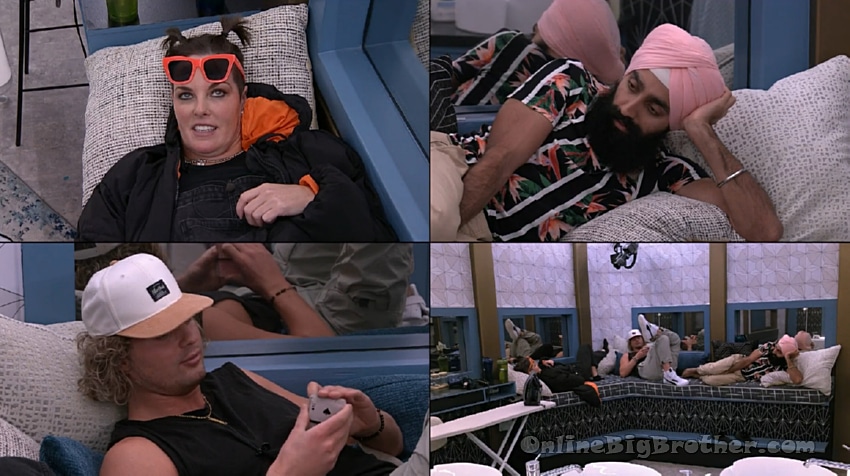 4:00 pm Final 3 Chit chat
Matt says he's excited to see Reilly. They talk about how Swaggy-P only knew Bailly for 20 days before purpossing.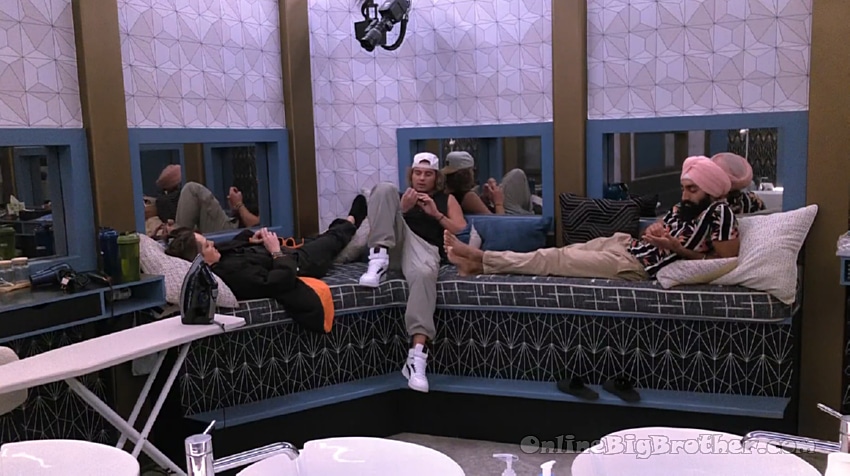 4:50 pm
Jag – I wonder why they did a 7 person jury.. the real reason..
Matt – it's classic
Bowie – THey didn't want to keep people for so long
Jag – I think so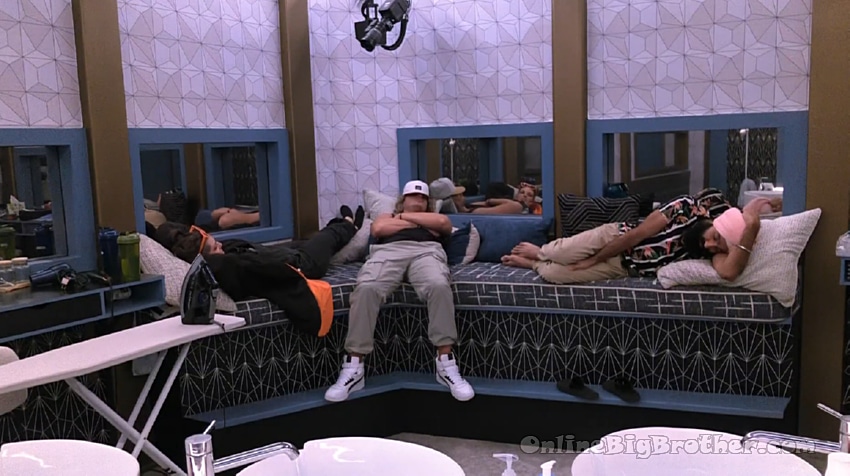 5:20 pm Everyone laying around.
Bowie says she's not sure she would do this show again it was too long. She would be up for the challenge or Amazing race.
Bowie – you said you would right?
Jag – yeah I would, It's been fun
Bowie – it's been fun yeah.

6:00 pm Jag and Matt
Jag – Tomorrow we make history
Matt – the comic room is so messy
Feeds cut. When we're back they are broing about being in final 2.
Jag – the whole season was the minute man season.
6:30 pm feeds are on pound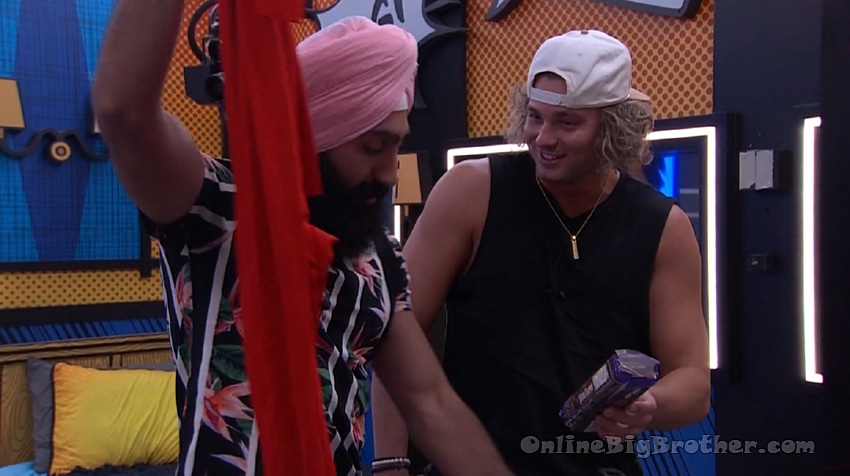 7:10 pm Matt and Jag cleaning up. They find Felicia's secret stash of Cookies and chocolate bars. Jag finds his red onesie from a competition. "Bro I shit you not this is my red one.. Felicia "
matt – Felicia stole your onesie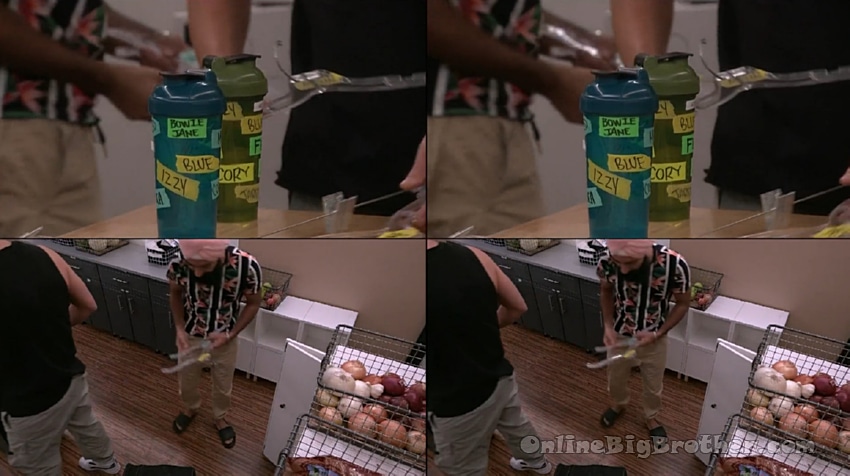 7:20pm – 7:50pm Collecting name tags from everyone's competition hangers.
7:50pm – 9pm
The final 3 nap…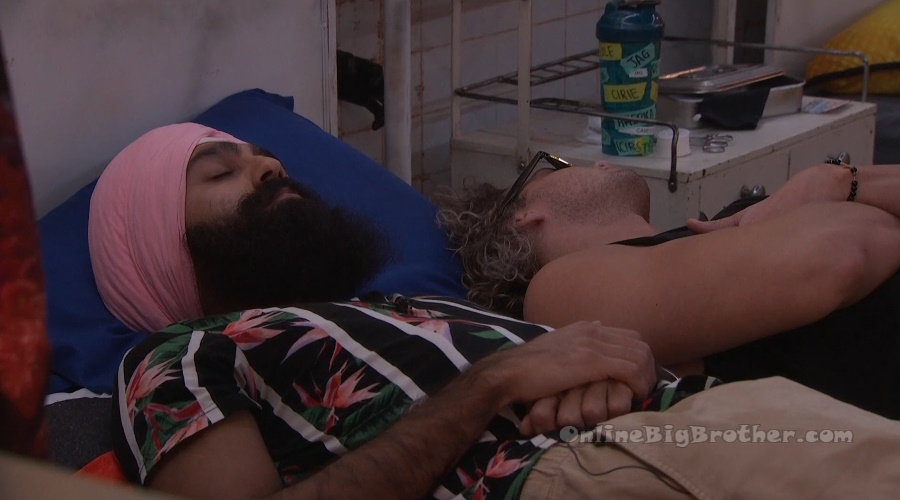 9pm
They start making dinner..
9:22pm – 10pm Kitchen – Bowie and Matt.
Matt – I just want to get tomorrow over with.. Bowie – yeah. Matt – nervous! Bowie – yeah I bet! At least its in your hands, you know what I mean? Matt – yeah. Bowie – Like I am like ..this is sh*t. Nothing I can do about it now. Matt – yeah I don't know what it is going to be.. I don't know what they're going to be asking that I can prepare for. Bowie – yeah. Matt – stuff that's happened over the season .. if I don't know it, I don't know it.. and if I know it, I know it. You know what I mean? Bowie – yeah. Yeah, you already know everything that you could possibly know. Matt – I feel like the jury already knows who they're going to vote for. Bowie – yeah. Matt – so I don't think a speech is going to change much. Bowie – I do not think the speech will do anything. I think they will be going into tomorrow knowing who they're going to vote for. Matt – yeah. They won't know who the two will be but probably yeah..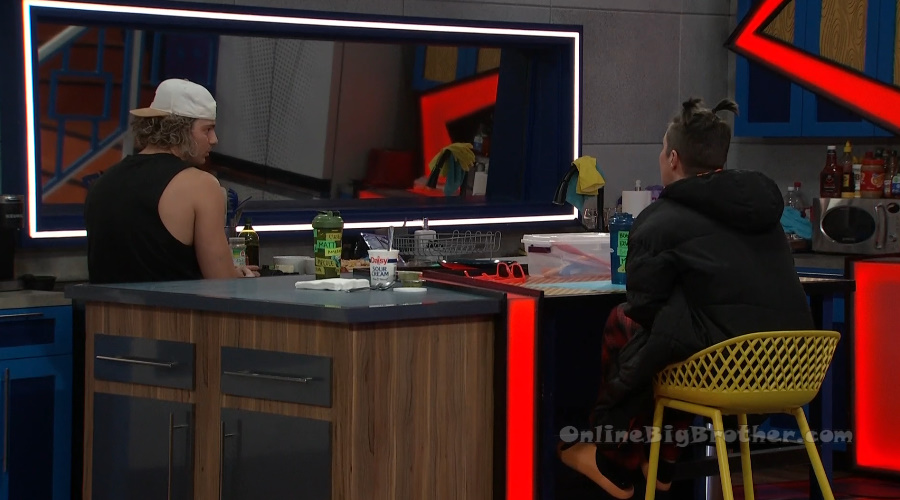 10:23pm – 10:30pm Bedroom – Bowie and Jag.
Bowie – I do think that I should do one pitch to you… even though I do believe that you'll take me … just so that I don't have any regets. Jag – yeah you can. Bowie – I totally trust you're going to do right. This is a lot of freaking money on the line. I don't think that you should feel guilty like you did from four to three. Because four to three was not giving him a chance to play. Three to two, you've given him a chance to play … if you win fair and square, you've won fair and square. By the way I just told him that I am not going to campaign to him. I am not doing this to him as well. If you take him you are essentially just handing it to him ..the 750K which is a million million dollars which it sets you up for life at 25, seriously. Big freaking deal. Which you're basically going cool mate here's the cheque. Which is fine but I think you would regret that. I don't think he is in the same position be cause he is probably going to win either way. If he was in your position, would he do it? Where he is not going to get the votes? Jag – because you're saying he is going to win either way. Bowie – so its not hard for him to make the decision. Whereas for you, you know you're basically handing 750K away. Jag – that actually is a good point, I didn't think about that.. I hadn't thought about that aspect. I didn't think about that one. You've been cooking up. Bowie – I was just thinking about how to make you feel better about it.. because I know your biggest issue is going to be feeling bad right. Jag – 750 is life changing. Bowie – I am not just saying it.. I think he will win. I genuinely don't think I would win and I want to get to the final 2 so I can come second. So I will be happy with second. Jag – yeah. Bowie – and he probably hasn't had to be in a position where he goes out on a limb for you right? Jag – he's been playing a different style of game. There were some things that I was like dude why would you say that. Bowie – which to some extent it damages your game. Bowie – I think you did the right thing going from 4 – 3 .. I just think its fair game now. Jag hugs Bowie.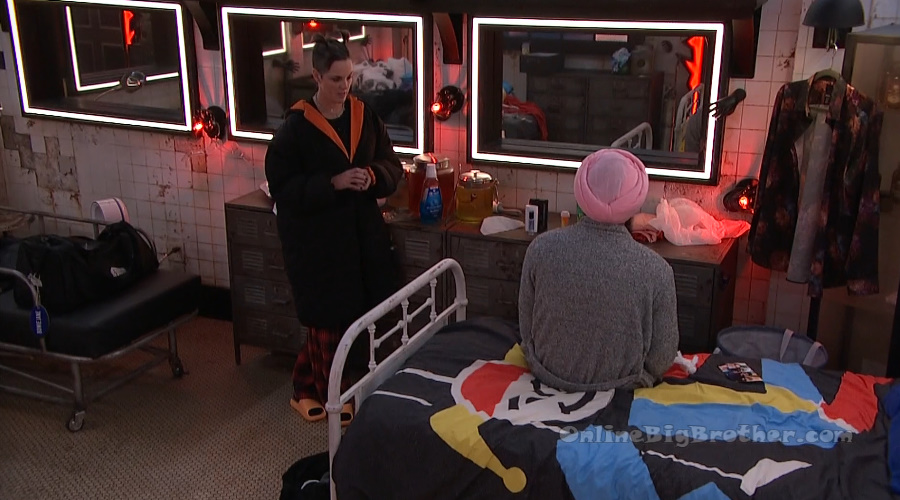 10:40pm – 11pm Bowie plays solitaire. Jag looking at his HOH photos.

11:11pm Bathroom – Jag and Matt.
Jag – Dude she was already pitching to me while you were in the shower. Matt – I shut her down. I feel bad. Jag – she came to me and was like .. Matt – she said I just want you to know that I am not campaigning but I am. I still want to get second. Jag – yeah but what was hers to you? Matt – She was like I don't want to really campaign against Jag. And I was like no that's how we all are we're not campaigning against each other. But I do want to go to the final two. She said it sucks, its out of my control. And then I said oh everyone wants to make final two of course. She knows I am picking you. Jag – when she came to me she was like I just have a really quick pitch. I would regret it if I didn't try. She was like I want to take second. She was like there is no way anyone would vote for me. Pretty much that if I take her she will take second. If I take you, I will take second. Matt – did she say that. Jag – no she didn't say that ..but she was pretty much.. But I am taking you. Matt – and I am taking you. They shake hands on taking each other.

11:32pm Jag and Matt set up the beds in the scramble bedroom so that they can all sleep together in the same room.