POV Holder:
Donny
Next POV
July 19th
POV Used
YES
POV Ceremony
July 14th
HOH Winner 1:
 Nicole
HOH Winner 2:
 Derrick
Battle of the Block Winner
Donny/Amber
Next HOH/ Next BOB
July 17/July 18
Original Nominations:
Derrick's Noms (Caleb & Jocasta) Nicole's Noms (Donny & Amber)
Final Nominations:
Caleb & Devin
Have Nots
Caleb, Amber, Devin, Hayden
POV Players
Derrick, Jocasta, Caleb, Christine, Devin, Donny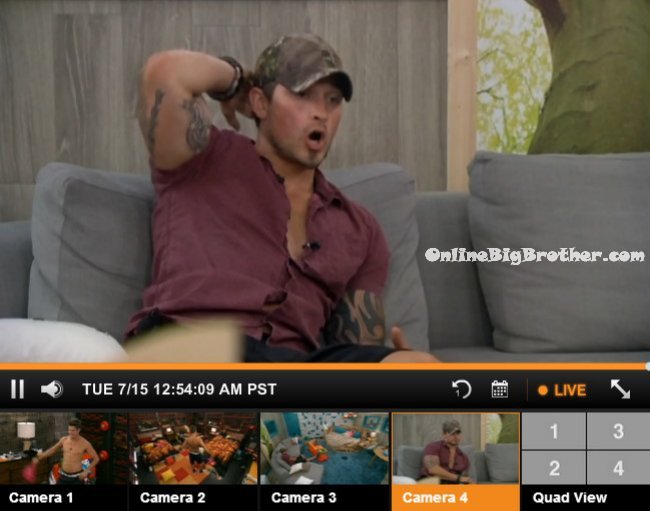 12:55am Up in the HOH room. Amber asks Caleb who do you think is the biggest target next? Caleb says that's close I would say Donny. Caleb says Donny's not beating me in an HOH! Not happening. Amber says you never know. Caleb says well unless its numbers. Amber says what about like the croquet one? Caleb says well yeah. He says it would be stupid for them to put up 4 strong players. If you give me 2 chances to pull myself off I will do it. Caleb says what would probably help would be to pray together. Amber says yeah any time anyone wants to pray I'm here. Amber says it sucks we're the strongest in the house. Caleb says well I wouldn't say you're the strongest, I would say you're an average girl that wants to win 500K. Caleb says I will tell you all those dudes will turn on us! Zach, Cody, etc. Amber says yeah Zach will. Caleb says Cody will too. Caleb says from here on out you and I hammock personal talk every week? Amber says do you have a lot of personal things to talk about? Caleb says yes. You and Me, Amber and Caleb get to know each other. Amber says I'm not saying yes, I know what you're doing. Amber says I don't know, maybe. Caleb says I don't like maybe, I'll take it but.. No, nope I'm not taking a maybe. Caleb says I bet your dad is thinking this guy lives so close to me I got to meet him. Amber says oh really!?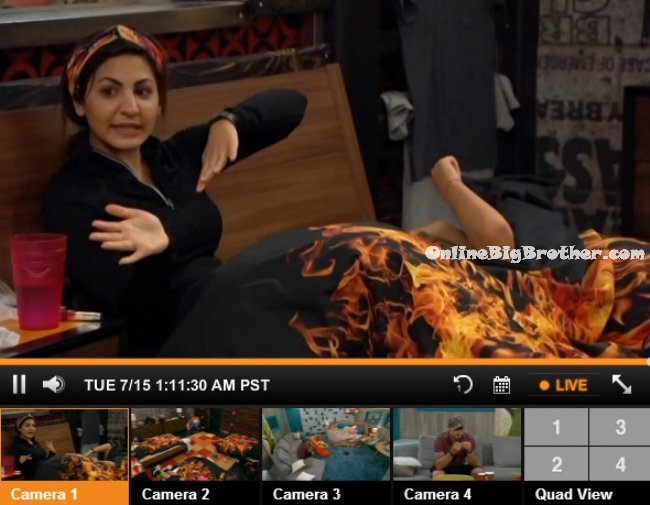 WATCH the next 48 hours for FREE – Big Brother 16 Live Feed TRIAL!
1:10pm In the fire room – Victoria talks about how she is deathly scared of birds because when she was younger a crow picked her up. Victoria says that she sued the city she lives in because she fell while roller blading. She says that the cement was uneven and the shadows from the tree shadow made it so she couldn't see. She says that she fell and broke her ankle. Everyone can't believe that she actually sued her city. Victoria says that they pay a lot to make their city perfect and my dad's friend is a lawyer. She says we sued for $6000. Christine says see that pisses me off! That makes me so mad stuff like that! America Sue happy. Chistine tells a story about someone trying to sue the Star Bucks she works at because they tripped on the umbrella. I can't believe you sued your city because you fell for $6000. Victoria says we sued for $6000 but I didn't really get that much. $2000 went to the lawyer and a $1000 went to medical. So I only really got $3000. Zach asks what did you do with the money? Victoria says I went India. Zach asks any more amazing stories like that? Because that story was amazing! Victoria says well someone tried to sue me because they ran into me with their car. Christine says see that's America sue happy.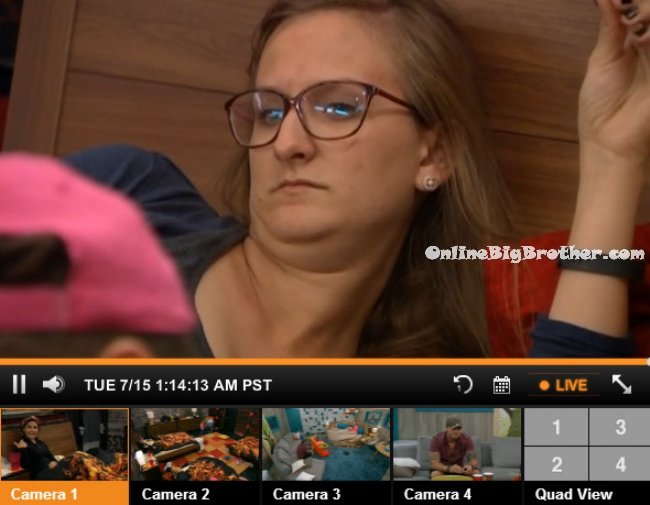 1:25am Zach and Derrick are playing pool in the backyard. Derrick and Zach talk about how Cody is sitting pretty. Derrick asks who told you that Victoria was questioning me? Zach says it was Frankie or Christine. Derrick says we'll I hope I don't go home at her hand. Derrick says Victoria doesn't know what's going on, she doesn't understand she's on a show called big brother. Derrick and Cody talk about Brittany. Derrick says that Brittany is playing the game and then forgets and shows her true colors. He is going up next week for sure. Cody asks really? Derrick says throw out two HOH's. Derrick says any one other than Jocasta and Donny as HOHs and Brittany will go up. Cody asks who's the next target? Derrick says I think Victoria will be. Zach comes out. Cody says I think if Donny wins HOH it could be good for us because then he would go after Caleb and take him out. Derrick says Donny isn't going for HOH. He already said he hopes he isn't coming off as a competitor. They talk about Brittany. Derrick says Brittany will do whatever she wants. She has the balls and then some to put us up. Whereas Victoria can be manipulated to do whatever we what. Zach says I want her out. Derrick says yeah and watch you send her home and then the next week Brittany put you up and you'll be wondering why did I get out Victoria because she will never put us up. Zach says maybe I just hate Victoria. Zach says we need a plan of action. First plan get Hayden down with us. Cody says he already is down with us. Zach says but we need to make it official. Zach says don't think I want to win this HOH because if I don't put up Donny, then Caleb would be mad. Cody says that doesn't even matter Caleb is like Devin he thinks he has that numbers when he really has none. Zach asks do people think we're as tight as we are? Derrick and Cody say no, they just think we play pool. Cody says that Celeb thinks that he will beat everyone in endurance. He's not beating anyone. Derrick continues to talk about how he doesn't trust Brittany. Derrick says she didn't come to us once to say thank you for saving me. Cody says I get it and don't trust her either but understand how you don't trust her ever more.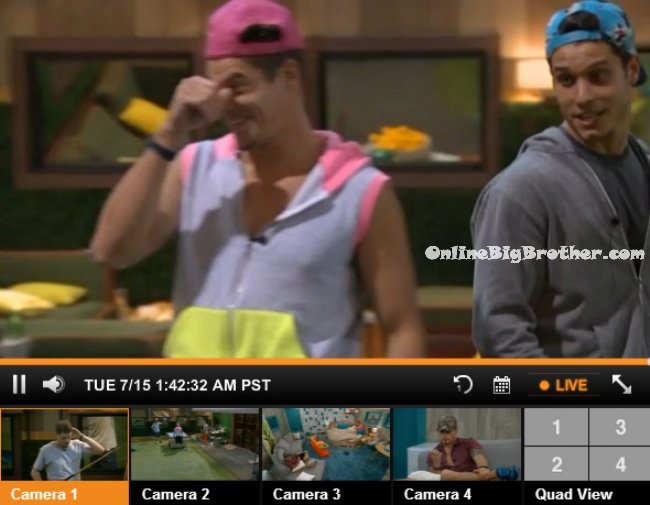 2:05am – 2:25am Caleb and Amber join them. Amber and Cody go inside to make food. Caleb tells Derrick and Zach how he just had another really great talk with Amber. Caleb starts talking about his mom and says Beast Mode Momma T! That woman is the rock for which I stand on.. Zach asks Caleb who are the last two HOH's you would want up? Caleb says Donny and Victoria because she would put up whoever anyone tells her to put up. She doesn't even know what game she's in, she thinks she's in summer camp. Caleb says it doesn't even matter because no one will put me up. If you're going to put me up you better backdoor me and if you do you better have the numbers because if you don't I am coming after you. Caleb says if Amber doesn't want to go out with me after ..what girl won't be lined up to meet me and date me. Zach says right!! Zach says I am the biggest a$$hole jerk and I am going to have b***hes lined up .. Oh OH I didn't mean that! I feel bad I used that b-word like that. Caleb says he didn't mean it.
Watch the ENTIRE SEASON of Big Brother 16 for ONLY $26.99 – TRY it For FREE!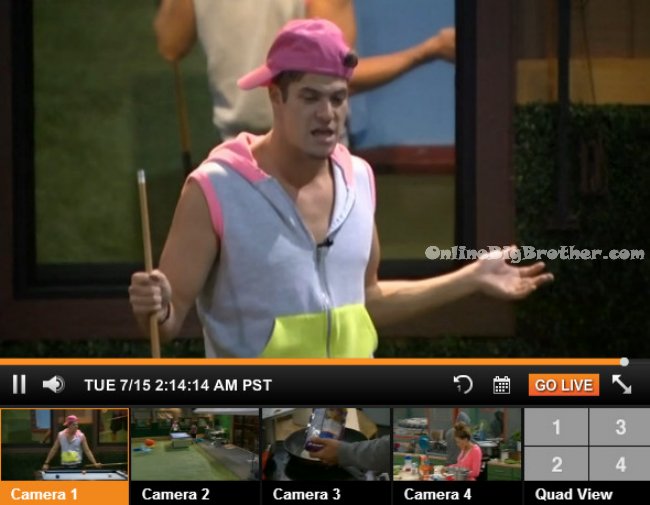 2:30am Amber, Cody, Zach, Christine and Caleb are sitting on the backyard couches. Cody asks why aren't you sleeping Christine? Christine says that Victoria, Frankie and are snoring in the fire room. Caleb says that Devin is worse than 4 people snoring together. They continue to talk about random things. Zach talks about how he's worried about what he said earlier being online typed up. Christine and Amber asks what he said. Caleb says he just called girls the b-word. Christine says I don't think its that bad if you're a horny guy talking about slicing women. Zach says I am just worried about it. Amber says I think if you just dance more and talk less you'll be fine. Dance more and sleep more. Zach says but I don't want to filter myself ..this is just me.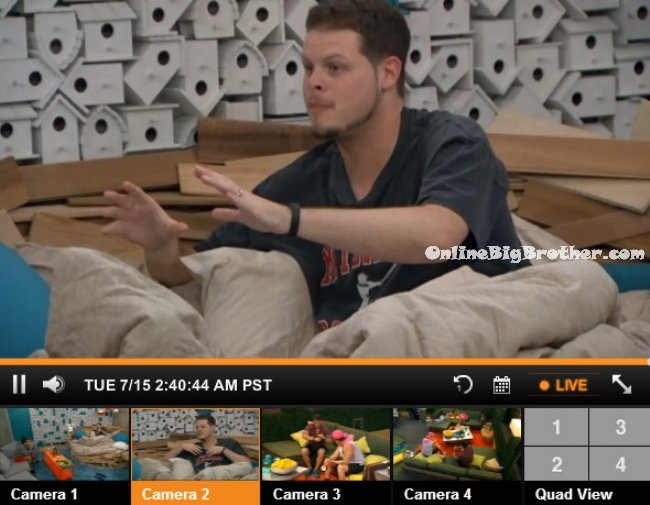 2:30am – 3am UP in the HOH room – Cody comes up to the HOH room and asks how Derrick is? Derrick says that Zach pissed me off with Zach. I am a realist, I understand, but don't tell the guy that just save you that you're going to throw the HOH this week. Derrick says I don't care if you're going to throw it but don't tell me after I just kept you safe that you're going to throw it. When I get out of here I am not going to be disloyal or look like a rat. Cody agrees. Derrick says that Zach just talks too much. Cody talks about how Zach brought up a plan to tell Victoria to make an alliance with Donny. I told him not to do it. Cody says first off anything that he does that is asinine reflects bad on me. Derrick says even if you're thinking of throwing a comp, you don't tell people that. AND he told me right after he was going to throw it that Donny would put me up if he wins it. Cody brings up how he was play pool with Zach the other day and he told me he would backstab anyone. Don't tell me when we're in an alliance together that you'll backstab anyone. I know what he meant but.. Derrick says I wanted to come in and be loyal to my boys to the end, kind of like the Brigade (Big Brother 12 alliance). The conversation turns to talking about Brittany and how they don't really trust her. Cody says I never have a conversation with her and say okay things are good. I definitely don't think she would put us up. Derrick agrees. Derrick says I am a little concerned about how you, Zach and Hayden talk about making an alliance. And I'm not worried about it because I understand you have to do what you have to do to tie up lose ends. I just don't like how Hayden hasn't mentioned it to me. So he isn't being completely honest with me. I am just voicing my concerns. Zach was pissing me off. Him telling me all week he's going to win this HOH and now telling me he's throwing it!? Derrick tells Cody I hope you know how f**king down I am with you. I think you and me are playing the two best games in the house.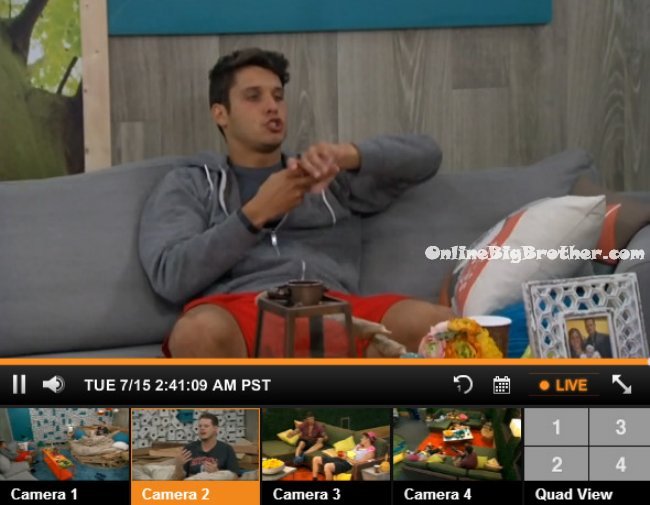 3:10am – 3:30am Cody says I want to get Caleb out sooner than later. Derrick says I am down! They talk about trying to get Caleb out once the battle of the block twist ends. Derrick brings up how Zach said it was either Frankie or Christine that said they don't trust me. How do you not know, we have nothing better to do.. Cody says it was Frankie because he would say if it was Christine. Derrick tells Cody I am taking you to the final two. I don't care if it screws me and I get the 50K, I am not going to be a rat or screw you. Derrick says I am Caleb's new Devin. If he tries to take a shot at you he'll tell me before the HOH and that's when we know we need to take him out. They bring up Victoria and Derrick says right now I am in good with her and I can get her to vote how we need her to vote. I get that later down the road she is a vote for me so we will need to get her out. I get that and I would even put her up in good faith to prove to you. Cody tells Derrick that he trusts him 100%. Derrick says I had a good feeling about you day two. They talk about how everyone of the best players have at least one person they could trust 100%. Cody says we need a name. Derrick says how about by Thursday live eviction we come up with a name? Cody says okay! I'm going down stairs to think about it.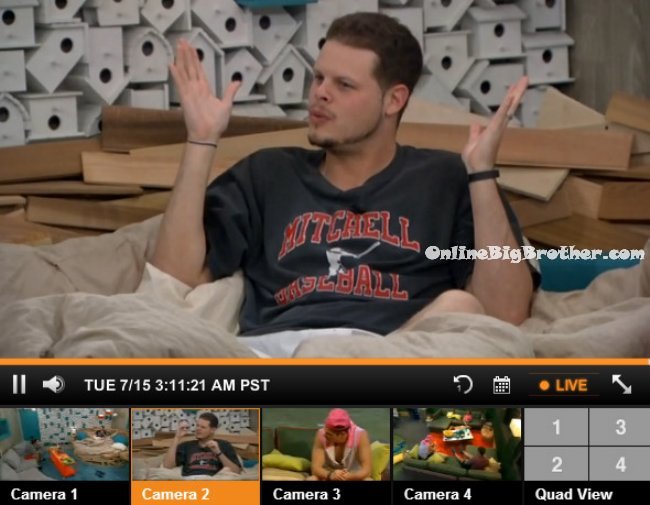 3:30am – 3:45am Caleb goes to take a cold shower. Amber is getting ready for bed. Caleb says its breath taking! It reminds me of basic training. Amber says I'll turn on the hot water to make it even colder. Amber and Caleb head to bed in the havenot room.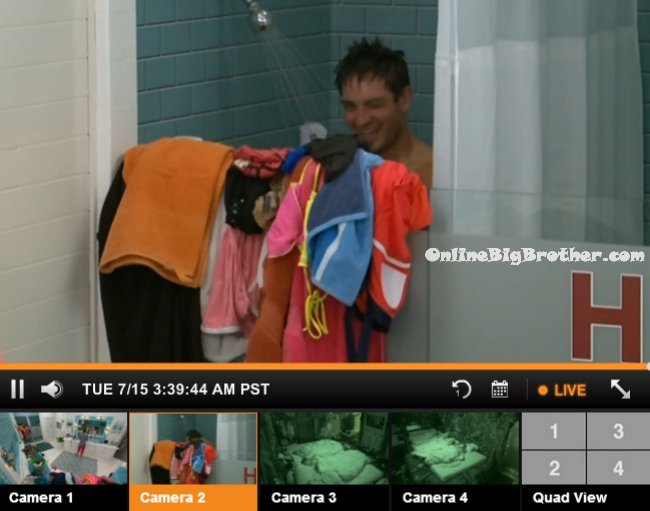 9:30am – 10:40am Big Brother wakes up the house guests. When the live feeds return – Brittany and Frankie are awake in the kitchen eating and putting away dishes. Donny's in the living room by himself in silence. Brittany heads to the bathroom and starts getting ready for the day with Victoria. Victoria tells her about her dream where she dreamt they were all fat and ugly on tv and in the challenges. Brittany says I think about that everyday.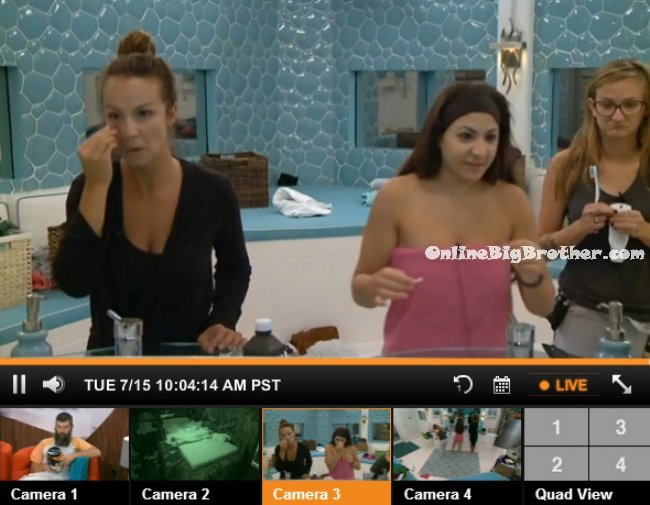 Hayden gets up and says that his whole reason for getting up was to go outside but can't because they're on a lock down. Hayden joins Donny in the living room. Devin wakes up and lays on the living room couch with them. Devin asks do you think they're already building the HOH comp? Hayden says I don't know. Devin says usually they tell us. I want to say they're fixing the hot tub because that sh*t don't look right.
Alliances (Some of these only a few of the members actually think the alliance is real the bombsquad is done but some people still think it's real)
Zankie = Frankie/Zach
Bomb squad = Caleb, Amber, Frankie, Derrick, Cody, Christine, Zach, Hayden
Team America = Donny, Derrick, Frankie
Nicotine = Christine/Nicole
Not a showmance= Hayden/Nicole
Los Tres Amigos = Derrick, Cody, Zach
Feed watchers = Derrick/Nicole
We hate Devin = Christine and Zach
Outsiders = Brittany, Victoria, Jocasta, Donny
Old timers = Jocasta/Donny
Stalker = Caleb/Amber
Quad Kings = Derrick, Zach, Cody and hayden (still being built)
Try It Free! Subscribe now to the official BB16 Live Feeds