POV Holder:
Donny
Next POV
July 19th
POV Used
YES
POV Ceremony
July 14th
HOH Winner 1:
 Nicole
HOH Winner 2:
 Derrick
Battle of the Block Winner
Donny/Amber
Next HOH/ Next BOB
July 17/July 18
Original Nominations:
Derrick's Noms (Caleb & Jocasta) Nicole's Noms (Donny & Amber)
Final Nominations:
Caleb & Devin
Have Nots
Caleb, Amber, Devin, Hayden
POV Players
Derrick, Jocasta, Caleb, Christine, Devin, Donny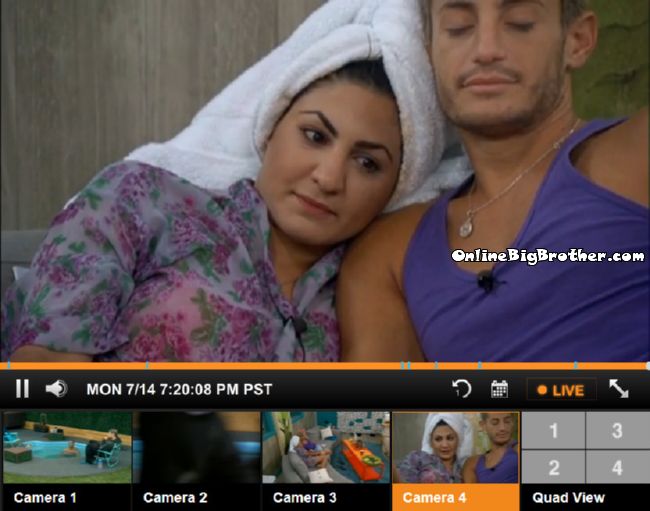 7:17pm HOH Frankie and Victoria
Doing a Jewish prayer. Frankie's kabbalah bracelet was taken away, he requested 3 times to get it back but was denied. He asked a third time and it was given to him. At some point Victoria was told her family would be watching she looks at the camera and blows a kiss says hi.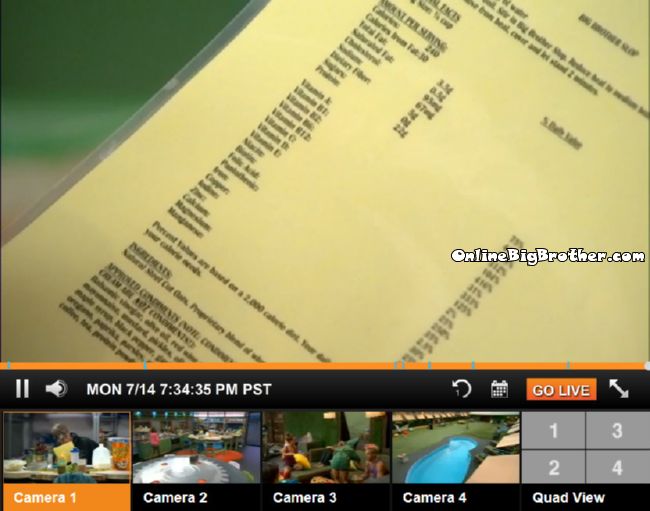 nutritional components of Slop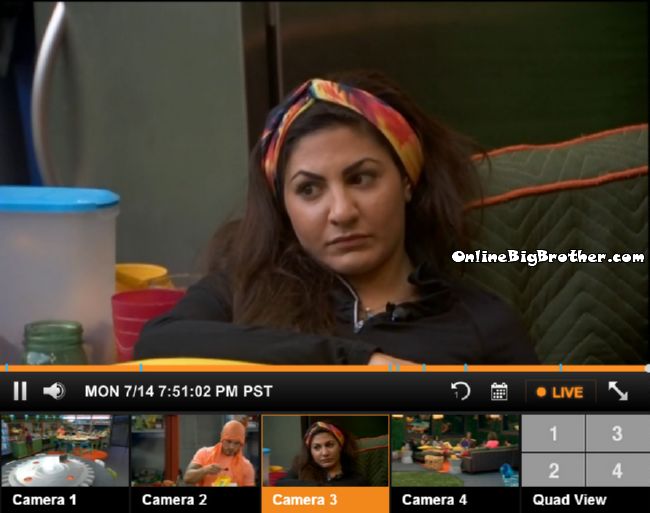 7:33pm brittany is making some BBQ chicken salad For Nicole and Frankie.. Frankie comments on how amazing it looks. she says presentation is very important. Nicole frankie and think she should write a book. Brittany 's friends always tell her she should start a blog about "budget cooking"
Victoria joins them. THey offer her some of the salada. She says she can't it's not kosher.
7:51pm Backyard couches.. A bunch of houseguest chit chat. Talking about reality shows they like. Frankie loves top model. Says Cody should go on it. Cody doesn't think he could the guys on that are very very thin. Amber joins them they ask her about modelling and where she stands based on heights. Amber tells them she's 5 feet 9 inches whichs is the minimum for runway. Camera zooms in on Victoria's glare.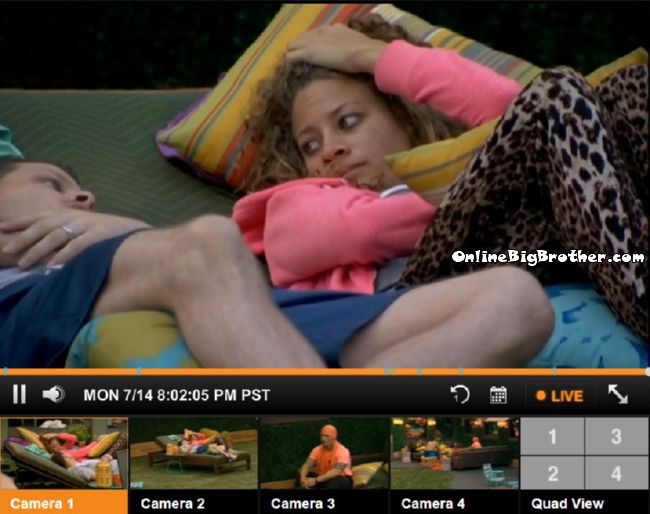 8:00pm Derrick and Amber
Amber thinks everyone is going to vote the right way. Derrick think it's going to go as planned "I've spoken to every single person .. everyone was candid on getting him out"
Amber says she's nervous about the people not in the bombsquad. Derrick says he is to he doesn't get to play they are all in danger. Derrick hopes this week is endurance because he's cool with most of them. Amber asks him who are the 9 people in the jury. Derrick dodges the questions says they have two more weeks, "It's either a 9 or a 7 I think it's 9" Amber doesn't think Devin deserves to be in jury.
Amber is worried about Victoria, Jocasta, Brittany and Donny.
Derrick doesn't know Victoria has been living in the HOH all week. Derrick tells her if Nicole and Christine win the HOH they might put her up you don't know what their plan is. Amber says she's good with Christine, Derrick – "Bad Example.. Victoria" Amber adds Brittany.
Amber thinks Caleb has made her a huge risk in the game.
Derrick says Devin's personality is ugly, "Don't be shocked on Thursdays if you hear some boos"
Derrick – As long as Caleb is in this house you will never be the target, "I don't think anyone has the b@lls to put Caleb up yet"
8:22pm Derrick says the fans want Devin out. If he was sitting on his couch watching the show he would being saying get that guy out.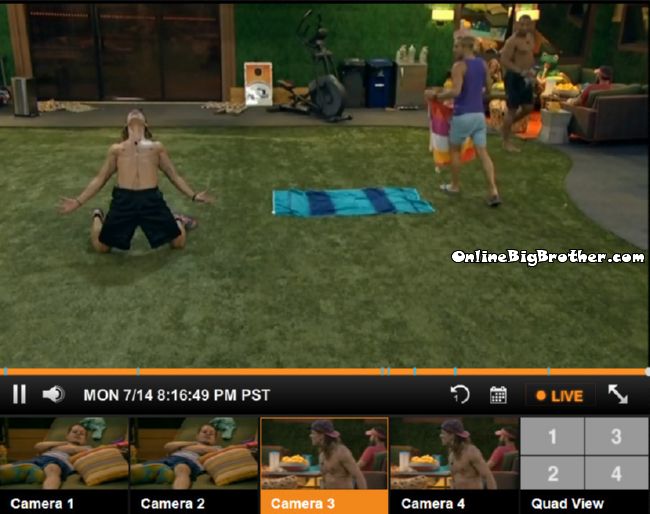 8:16pm Cody, Hayden and Frankie working out Frankie leading.. Cody stops half threw because of his shoulder. It's pretty brutal after they are finished Hayden raises his arms up wishes it would rain (See image) Hayden starts to scream says he feels like he's in a movie.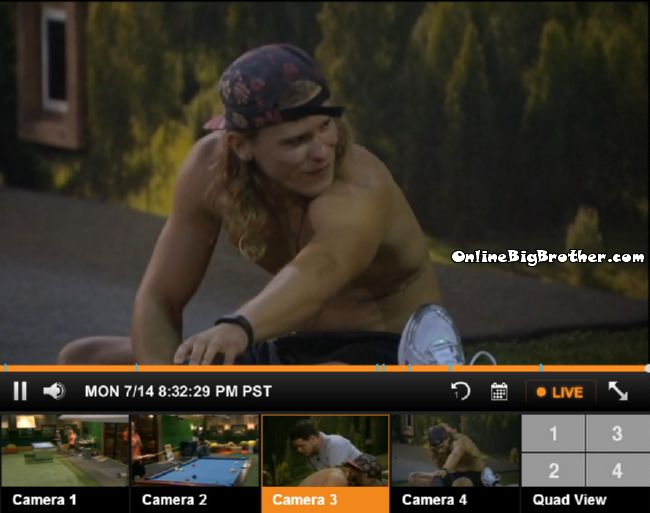 8:32pm Hayden and Derrick
THey are guessing they won't go up but Hayden would still want to win it.
Hayden says with Donny he's so back and forth, "He's a good guy most of the things said about him are rumours.. I think the majority of the things" Derrick says the only thing he knows for certain is Donny is playing the game. Derrick and Hayden agree that JOcasta and Victoria's are floaters but Donny is playing. Hayden says Donny likes them, Derrick – "He definitely likes you"
Derrick says you never know with Donny he might win the HOH this week and you and cody find yourself on the block because he thinks you are a threat. Hayden thinks Donny likes Cody, Zach and Derrick he's never said anything bad or good about them. Donny is good at mental and not bad at physical so he might be pretty strong player. Derrick wants Donny before jury. Hayden says this week is a no brainer it would make no sense to evict Caleb of DEvin.
(During their stretching/run they find a dead 'bug'? the ants are taking all over it. See images below)
8:51pm Storage room Derrick Caleb and hayden
Caleb laughing says tonight will be the night he tries to cuddle with Amber. Derrick laughs when he sees him with a hand print he'll know what happened.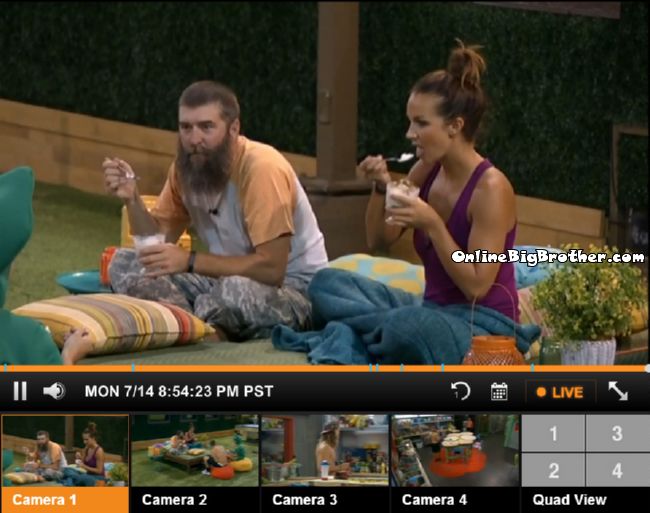 9:00pm Donny, Hayden and Brittany looking at stars and eating icecream. Brittany made something special for Hayden to eat. they
Donny asks them what their highs and lows were
Hayden mentions something about his run today.
Donny – "bad answer.. how about when the little froggy hopped over and gave you a hug was that better than a run"
Hayden – ya
Caleb joins them they asks his highs and lows were ?
Calebs lows are getting woken up and eating slop
Brittany – That was the same as Hayden"
Caleb's Highs was able to walk around talk to people and not game talk it was a day off.
(Before HAyden and caleb come by Donny, frog Brittany and Zach are talking. Zach asks Donny if Devin really did come to him and ask him about votes. Donny says Devin came up to him and Asked him if he can get the 6 votes. Donny told him no he doesn't see it happening)
Try It Free! Get 24/7 access to the house PLUS more for 48hrs before you decide!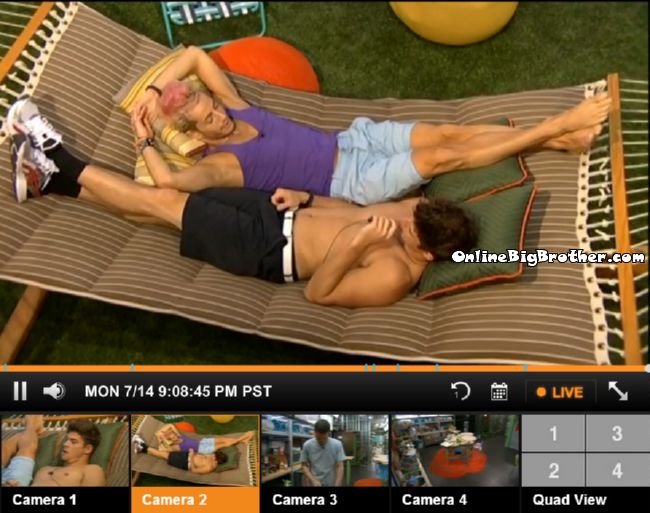 9:40pm Hammock Zankie
Frankie tells him about the conversation with Devin earlier today where he said "They" wanted him to campaign. Frankie tols Devin not to it'll only make him look worse.
Zach – "We won't have to fight for our life until week 8 "
Frankie asks him if Brittany and Jocasta were up on the block who would he vote for.
Zach – Jocasta" Zach explains he wouldn't vote for Brittany over Frankie, Derrick, Cody or Christine.
Zach adds that Brittany cleans and cooks she great to have around. Frankie thinks its a very smart strategy points out that Victoria and Jocasta do absolutely nothing.
Zach says all victoria does is change her clothes.
Frankie thinks that "Jocasta's Strategy is to convince everyone they would be sinning against god to put her up"
Zach – "Really.. that won't work on me"
Frankie adds he'll still put Jocasta up she's an amazing person but in the game she has to go. Zach – She's going up for sure next week.. for sure"
Frankie says Caleb hates Cody a lot.
Frankie is most worried if Jocasta and Brittany win the HOH because they have no idea what they are doing. Frankie thinks he would go up. Frankie says the 8 alliance is strong right now.
Zach thinks the targets within their alliance is Amber. Caleb, Cody and Christine. He's not seeing them go up. Zach and Frankie talk about their final 2 deal. Zach doesn't care if he wins it or not he just wants to get to the end. Frankie mentions what Zach did last week was huge, Caused all that drama called out Devin and still stayed in the house by a vote of 10-2.
Derrick and Frog join them..