POV Holder:
Donny
Next POV
July 19th
POV Used
YES
POV Ceremony
July 14th
HOH Winner 1:
 Nicole
HOH Winner 2:
 Derrick
Battle of the Block Winner
Donny/Amber
Next HOH/ Next BOB
July 17/July 18
Original Nominations:
Derrick's Noms (Caleb & Jocasta) Nicole's Noms (Donny & Amber)
Final Nominations:
Caleb & Devin
Have Nots
Caleb, Amber, Devin, Hayden
POV Players
Derrick, Jocasta, Caleb, Christine, Devin, Donny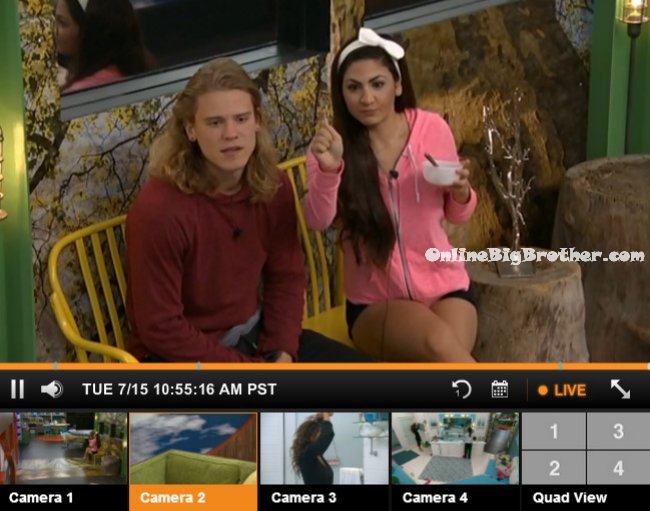 10:45am Victoria joins Hayden in the living room to eat her cereal. They move over to the bench by the front door and look at the memory wall. Victoria comments on how the last four that haven't been havenots yet are Jocasta, Donny, Frankie and Christine. Victoria asks if he thinks Joey and Pow Pow are watching? Hayden says yeah but not the Live Feeds
. Hayden then starts guessing their ages based on their memory wall photos.
10:45am – 11:15am In the bathroom – Brittany and Jocasta are getting ready for the day. Brittany wonders why the backyard is locked. She says maybe they're setting it up for us with an ice chest, margaritas and wine for the mommas. Jocasta says you're crazy. Brittany whispers to Jocasta that she and Cody were whispering in bed and Cody said he would put up Donny. Brittany says and Donny was right there, I know he wasn't sleeping. I feel like I need to say something or I'm going to end up on the block again. Jocasta says oh god. Brittany says I want to tell Donny that Cody only said his name because he's been up there a few times. Brittany comments that Donny has been acting differently towards her ever since. Brittany says that Cody keeps saying he's going to win HOH. I'm thinking its going to be a tough battle for you because this momma wants to see her kids.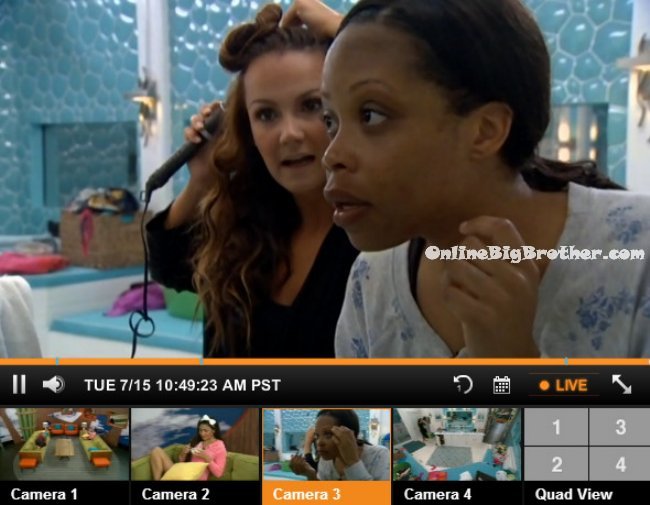 In the kitchen – Victoria whispers to Jocasta and then laughs (About Hayden and Nicole kissing last night). Jocasta says aww that's so sweet. Jocasta says love is in the air!! Victoria says they might be the next Jeff and Jordan! Jocasta says that would be nice. Victoria then heads to the storage room with Hayden. Victoria asks what he talked about in the diary room. Hayden says I said my goodbyes that's it.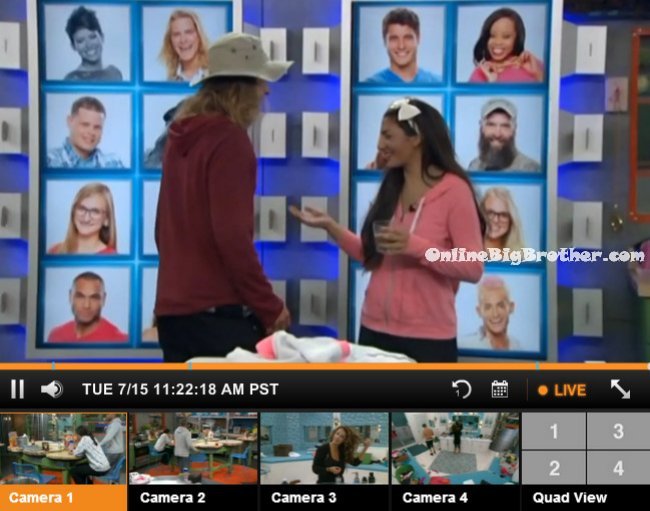 Devin comes up to Jocasta and does some quick campaigning. He tells her that Caleb being here isn't good for her game because he and Amber are votes for each other. In the bathroom Devin starts campaigning to Brittany. He tells her that for your own game if you and been up on the block and say it was you and Amber or Caleb… and if they win the veto they would use it on each other. And if I was here you know I would use it on you because I've already done that even when we were at our worst. Brittany says yeah but people are scared to vote. Devin says most of the competitions have been physical .. but more and more they're going to be mental and Caleb won't beat me in a mental comp. He still gets nervous before competitions. Even though their not a power couple they're dangerous. He would do anything for her and she uses that to her advantage. I don't even know what you would call their relationship. Brittany says fatal attraction.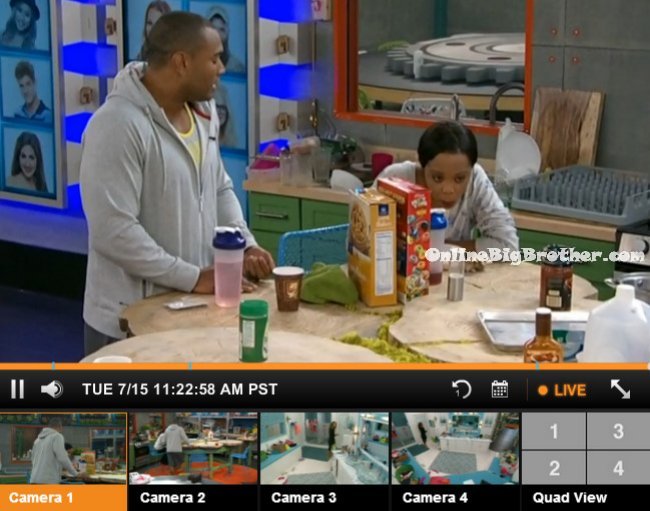 11:35am In the kitchen – Hayden and Victoria are looking at the memory wall commenting on the house guest photos. They point out the craziest house guests and who has the best eyes. BIG BROTHER tells Hayden & Victoria "NO CLIMBING!" They laugh. Hayden asks "this is climbing?! We're scaling the table!"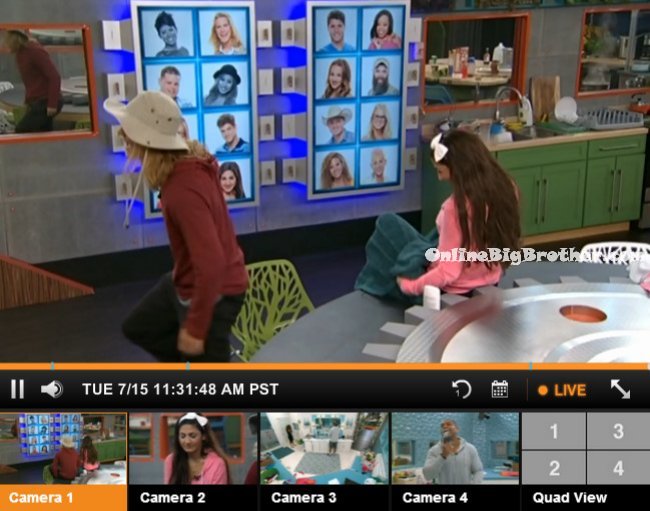 11:50am – 12:10pm In the bathroom – Victoria is curling Hayden's hair. Victoria says that Nicole isn't going to recognize you. Victoria tells Hayden that his hair is very thick on the bottom. It's balanced. Hayden says so are you! Hayden laughs. Hayden asks Donny am I right!? Donny and Hayden give each other a pound. Brittany comes and comments on how she love Victoria during the day but hates her at night. Victoria asks why? Brittany says because I want to go to sleep at night and you won't stop laughing. Victoria says that only happened twice. You make it sound like it happened every night of the 4 weeks we've been here. Hayden tells Victoria that he wants to give her a nickname. Eyebrows. Donny asks Victoria about how she got picked up by a crow when she was little. Victoria says she is so petrified of birds now that it makes her cry when she sees them.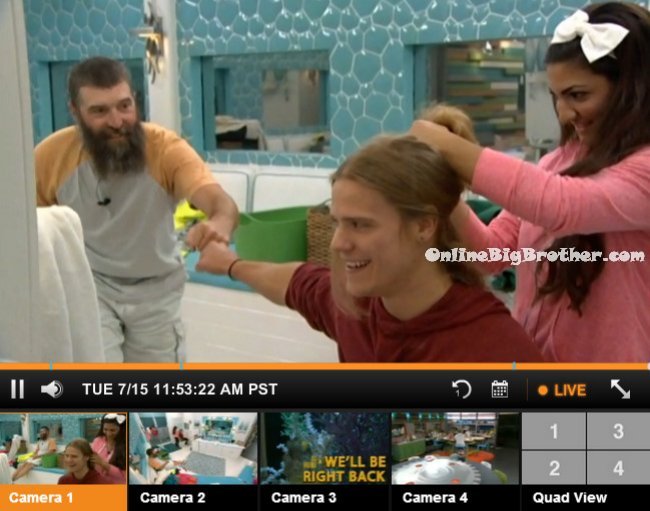 Devin asks Derrick can I talk to you up in the HOH room. They head upstairs. Devin says I know Caleb volunteered to go up on the block to save Amber. I know you have a lot of pull in the house but god for bid you ever got put up on the block with him or Amber. Big Brother blocks the feeds. When they come back – Derrick says we will have to see how the week plays out. I don't know how the votes are going and no one really does. Obviously I put you up and backdoored you because I want you out of this game. But I wouldn't be surprised if Caleb goes home to an 11-0 vote. Big Brother blocks the feeds again. When they come back – Devin asks if there is anything I you could do to help me stay I would appreciate it. Derrick says there is one thing I am not doing is I am not campaigning to get you out. If you hear that then tell me because then I will address it. I am not trying to convince any one how to vote because I have no more power. Devin tells Derrick if I stay I want to work with you later in the game. Derrick says my problem was you not coming to me in the beginning when you started to hear things. Devin says I couldn't keep Zach in this game due to the things he said about women and me having a daughter.. I just couldn't let that slide.

Victoria curls Hayden's hair. DONNY tells Hayden he looks like a 3 year old in a pageant @bigbspoilers #bb16 pic.twitter.com/PVvAJ8MZmI

— Dawg (@DawgsBigBrother) July 15, 2014
12:25pm Nicole walks through the kitchen and Hayden says I curled my hair do you like it!? She asks him who did it? Hayden says Victoria. Cody comes through the kitchen and tells Hayden he looks like a tool.
In the kitchen Devin tells Derrick about the patch he puts on the inside of his arm. It's to cover up a tattoo of an angel with his sobriety date under it. Devin says "I used to pop pills like they were tic tacs!" Devin heads outside to play pool with Cody. Devin starts campaigning to him. Devin says think of this .. you and Caleb on the block and Amber has the veto .. you know who she's using it on. Or if you're on the block with Amber .. Caleb's using the veto on her. Cody says I will be completely blunt .. with all the stuff that got stirred up it just makes me nervous. I think you're 80 times better player than he is. Cody tells Devin that he will think about it.
12:40pm – 1pm Out on the backyard couch – Brittany talks to Donny and tells him I think I'm going up on the block. Donny says I know I am too. We don't fit in their click.. we're outcasts. I haven't fit in since the beginning. Brittany says hopefully if you, me or Jocasta wins HOH to feel safe. Donny says one of us will definitely go up, we might not go home. Brittany tells Donny that the other night she didn't say anything bad about him. Donny tells Brittany that he didn't hear her and Cody's conversation last night. Brittany says I would never throw you under the bus. Donny tells Brittany I will protect you if I can. Brittany says thank you and says she will protect him too. Donny says we are alone but since we've been categorized we have been put together. Hayden comes over and asks Donny for a surfer nickname. Donny says Gnarly Nate.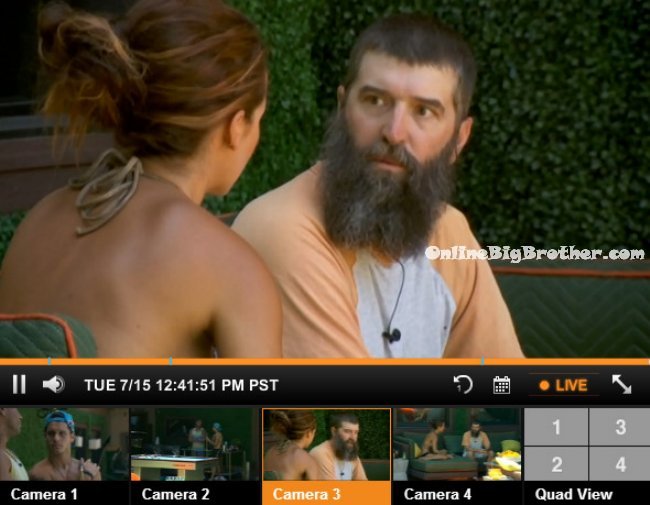 Alliances (Some of these only a few of the members actually think the alliance is real the bombsquad is done but some people still think it's real)
Zankie = Frankie/Zach
Bomb squad = Caleb, Amber, Frankie, Derrick, Cody, Christine, Zach, Hayden
Team America = Donny, Derrick, Frankie
Nicotine = Christine/Nicole
Not a showmance= Hayden/Nicole
Los Tres Amigos = Derrick, Cody, Zach
Feed watchers = Derrick/Nicole
We hate Devin = Christine and Zach
Outsiders = Brittany, Victoria, Jocasta, Donny
Old timers = Jocasta/Donny
Stalker = Caleb/Amber
Quad Kings = Derrick, Zach, Cody and hayden (still being built)
Unnamed Final 2 Deal – Cody & Derrick
Try It Free! Subscribe now to the official BB16 Live Feeds

[polldaddy poll=8185492]