9:24pm Devin packing un packing, packing un packing…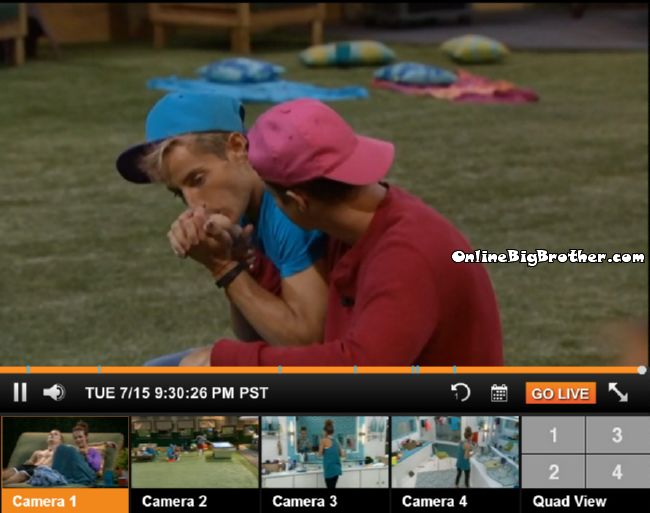 9:30pm Frankie and Zach Cuddling and tickling.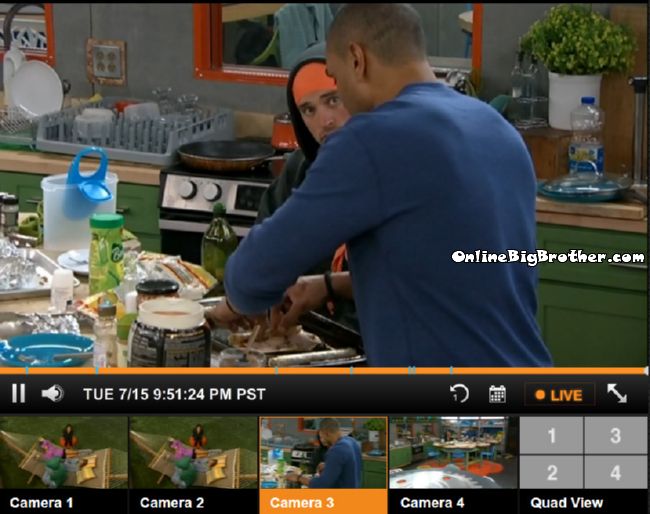 9:52pm Devin says he did a little campaigning he had to.I came this far and if you don't campaign why did you even come. Devin didn't say anything bad about Caleb. Devin didn't expect it to change anything. Caleb is cool about it he understands.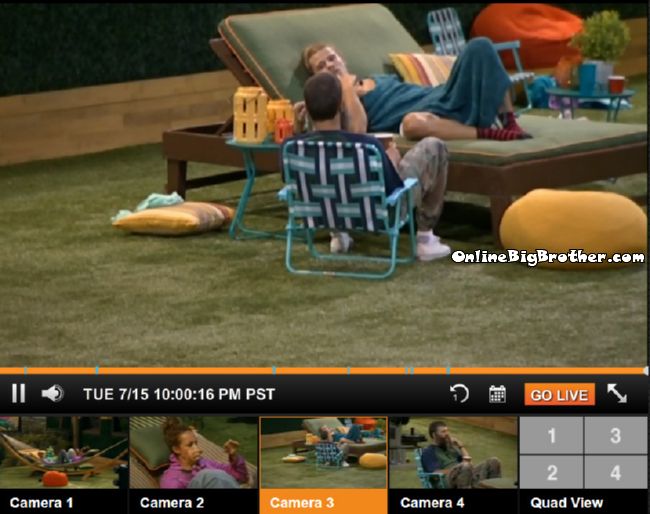 10:00pm hayden and Donny
Donny thinks she's closer to Frankie "But that could be my perception.. cause when they were making decisions those first few weeks she was always up there"
Hayden thinks they can trust her
Hayden – she talks to everyone
Donny – but me
Victoria joins them, Says none of her boyfriends have even seen her bedroom.
just chit chat.. Zach joins them chit chating…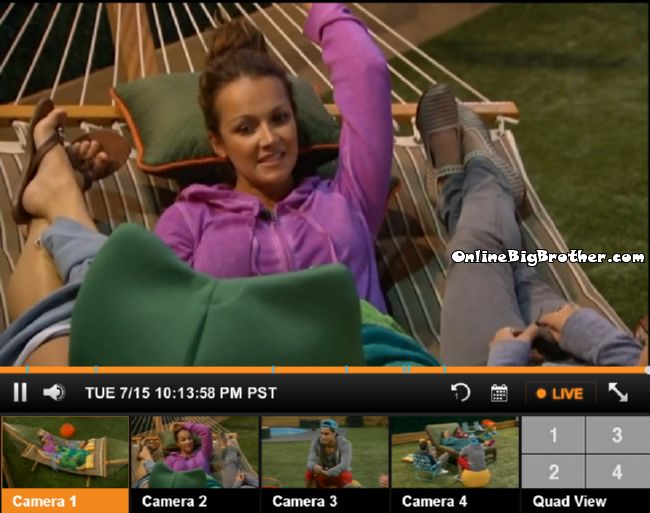 9:57pm Hammock Christine, Brittany and Nicole
Complaining about Amber and generally hating on her.. for wearing their clothes etc etc..
Nicole says her style is totally dressed down for Amber why does she always wear her stuff. Nicole "You know what she said to me.. you remind me of my sister she doesn't get ready at all"
Christine – "That is so rude"
Brittany says she feels bad for them ripping on her a bit
Christine thinks it's unhealthy to keep this in. Nicole would be venting to her friends back home.
Nicole likes Amber just thinks it's because they are in here 24/7
Brittany says she would die if JOcasta or victoria went home before them "She doesn't even know she's here"
CHristine – "She cries so much about everything she has no clue what is happening'
Brittany – " my 12 years old daughter is more independent." after some more bashing tehy decide to stop talking about it,
Brittany wants the girls to get HOH, Christine says imagine if they had two girls win HOH and four boys go up. Brittany and Nicole think that is a bad idea there would be 4 guys against her. Christine says she only has to worry about 3. They agree Victoria is the new POW. (I thought Jocasta was the new POW)
They start bashing Victoria again after a 2 minute break. Christine says the other day they basically called Victoria a floater in front of her.
Christine – "She so materialistic"
They agree this game is tough on "People like that" that live the "Lavish lifestyle" They start laughing about the prospects of Victoria having to wear a costume or a unitard.
Nicole leaves. .Brittany says the only reason they don't get alcohol is because Devin is nutty and he went to rehab.
Christine – "Did you hear he never talked about rehab only when he entered the house.. Thats disgusting.. he's so scary"
Brittany – When we do have something he downs them like the jello shots"
Christine – "he has a problem"
Brittany mentions she's just at fault when they do get Alcohol she's all over it.
10:30pm backyard Cody, Victoria, Cody, Brittany, hayden
Chit chat
Hayden – This is the best situation I could be in 2 girls and a frog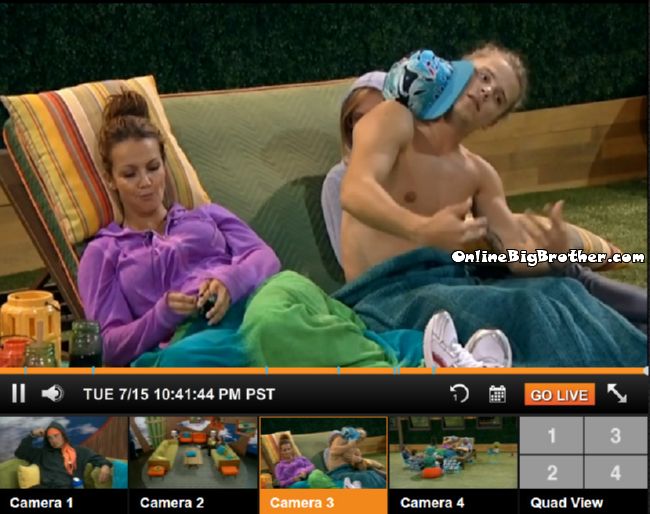 10:41pm Backyard collection of houseguests chit chat.
Brittany – "Whatever happened to the game"
Hayden – "The game is still in the game "
Brittany says she did one of his videos.
Hayden using Cody's hat and impersonates the game "Yeah this is the game right here whats up"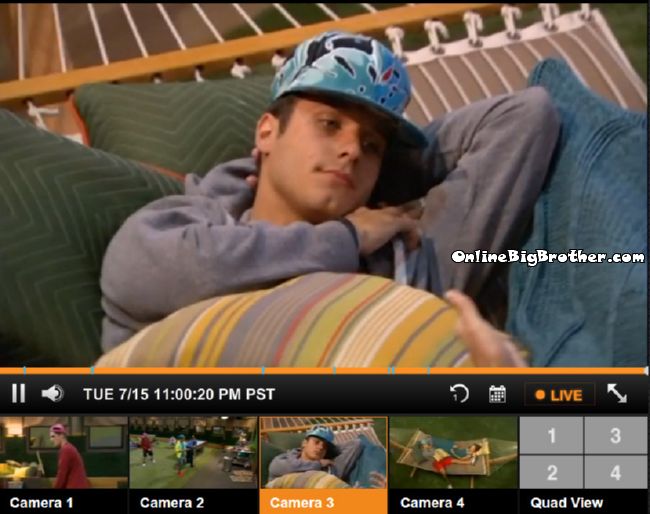 10:56pm – 11:40pm Hammock Amber and Cody
there was a rip in Ambers pants and he say her "whoo haaa" because she's not wearing any underwear
Amber says this house is driving her crazy he wants to know why she's mad at him.
Cody says people have been telling him that Amber talks the most sh!t about her
AMber thats a lie
Cody I know
cody says she's being guarded
Amber says he's her closest friend in her house she doesn't trust frankie anymore but trusts Christine.
Amber doesn't trust Caleb she can't even mention cody because he'll bite her head off.
"It's not me that created this.. it sucks I came into this. house not wanting a showmance or anything"
She feels like if she talks to other guys he gets upset. Cody thinks it's obvious caleb only had a problem with him. Frankie comes by
Cody – "says ohh god he always has to come over here"
Amber is thinking about pulling Caleb aside and telling him she's just been polite to him she doesn't want any sort of showmance.
Amber – "ohh .. I think I need to get HOH this week"
Amber wants to start building a side alliance she says she trusts Derrick and Cody. "I just want to make sure I have the numbers so I can get to Jury"
Amber wonders if she goes up against Frankie. Cody doesn't think anybody will nominate Frankie.
He tells her he's got her back, "Frankie wouldn't' be a bad person to be up against.. he's playing the entire house and people are catching on to it"
Amber says Brittany is working with Donny and Jocasta.
They agree the bombsquad getting outed hurt her more than the guys because all the guys were in the bomb squad already. Amber is really worried about the girls targeting her.
Cody tells her what she needs to get close to brittany.
Amber – "Cody to be honest you are the one person I'm not playing in this game i'm being honest with you" she adds that she knows where Derrick and Caleb are in the game but nobody else in the house.
Cody holds her hand and gives her "the squeeze" it something he does with his family means "I love you". She says one thing she use to do with the person she loved is wishing on a Jet. Instead of a star you wish on Jets day and night.
THey start talking about past relationships and the feeds clip.
(She's trying to distances herself from Caleb and Devin)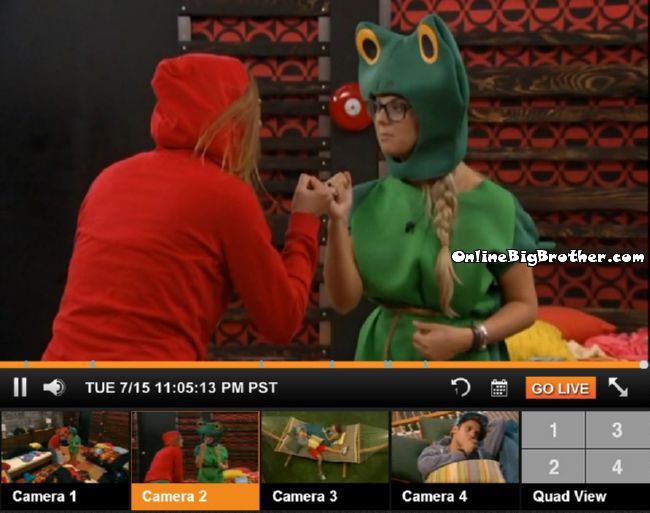 11:05pm Fireroom Christine and Frog
Christine – "this is something crazy i've been thinking about i'm only telling you"
Christine says they throw votes to Devin and blame Jocasta and Donny. or Donny and Brittany.
Nicole wants to do it she wants to think about who they should frame though.
They pinky swear
CHristine – THey will never ever think of us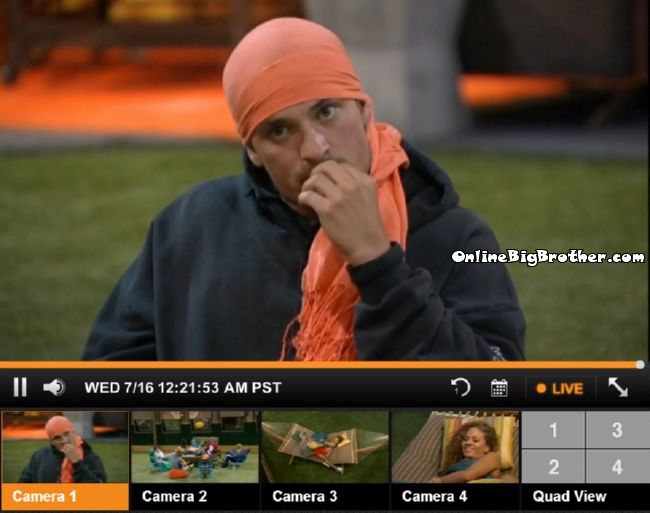 12:10AM Hammock Cody and Amber
Amber thinks keeping Calb into Jury is a good idea because he's got the largest target on his back
Cody isn't sure
Theres a lot of flirting and giggling about a hours worth.. the look on Caleb's face ..
12:27am pool table Derrick, Cody and Zach
Zach asks Derrick if he heard what he was saying to Victoria, Derrick says it was so much bullsh1t he fell asleep. Zach telling them about his conversation with Victoria. He told her he wouldn't put her up if he won HOH as long as she doesn't put him up. "She bought it it like it's the most valuable thing she's seen in her life." Zach adds that he got a lot of information out of Victoria. She told him she doesn't trust Christine and she doesn't trust Frankie
12:41am Amber and Cody cooking together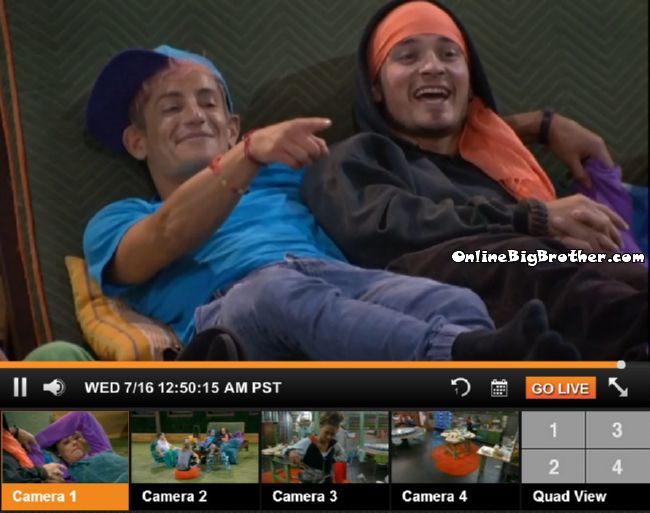 12:54AM backyard Derrick, Brittany, Caleb, Hayden, Frankie and Christine.
Feeds keep cutting in and out of this conversation. The one thing to note ios Caleb seems to be adjusting to Amber hanging out with Cody all night
1:00am Cody and Zach Storage room
Cody spilling the beans about his talk with Amber, 'She said I was the only person she trusts"
She told him who she wants out and whose she's worried about winning HOH.
Zach – "Dude Caleb was PISSED"
Cody – "really.. that's annoying.. like let go to dude"
Zach – "it's not in the cards"
They talk about Caleb fasting and how it's causing him to be in a bad mood.
Zach says he's throwing the HOH because he doesn't need it. Cody isn't going to throw it because he doesn't want to go on the block.
Cody says he would put up Victoria and Jocasta if he won the HOH. Zach thinks everyone wants to put up Jocasta he thinks they house start an alliance with Brittnay.
Cody says Brittany is an a$$ kisser that is why it's hard to trust her. They agree they won't be putting Brittany up. Zach is worried about Christine points out how good her social game is. . Cody mentions Derrick was saying the same thing. Zach wonders who he should put up, Jocasta and ??? Zach says he can't put up Donny or Victoria. Donny is his "Boy" and he made that deal with Victoria.
Cody wants them to take out Caleb. Zach – "Is it time"
Cody is concerned because they are playing the entire house right now and it's really early. Cody talks to Amber, Brittany gets pissed if he talks to Brittany,Amber gets pissed. Sooner or later people are going to talk.
Cody knows Amber wants to be Brittany's friend he's thinking it's Brittany is the one with the problem. Zach says he was responsible for the Amber/Brittany feud. Cody brings up he told Amber to not distance herself from Caleb because he'll help her if she gets into trouble. Zach doesn't think they have to win HOH let Caleb win it.
Zach points out after Devin leaves Cody is best friends with everyone left in the house he's going to have to "D1ck" someone every week. Zach – "You're in the worst spot dude"
Cody says Frankie is going to stick to Calb like glue and screw them. Cody mentions when several of them talk bad about Caleb Frankie is always like cmon guys.
The people Zach cares about the most are Hayden, Donny Derrick and Cody. he wants to seal up their Alliance with Hayden and Donny. Cody wonders if DOnny is "Playing them"
1:37AM Backyard Caleb, Devin and Hayden
Caleb talking about having 4% body fat….
1:40AM Kitchen COdy, Frankie, Derrick, Amber, Zach
Cody and Zach talking about Florida state having the hottest girls in the nation.
Try It Free! Subscribe now to the official BB16 Live Feeds
1:44AM Chrsitne and Nicole folding laundry whiel Devin plays pool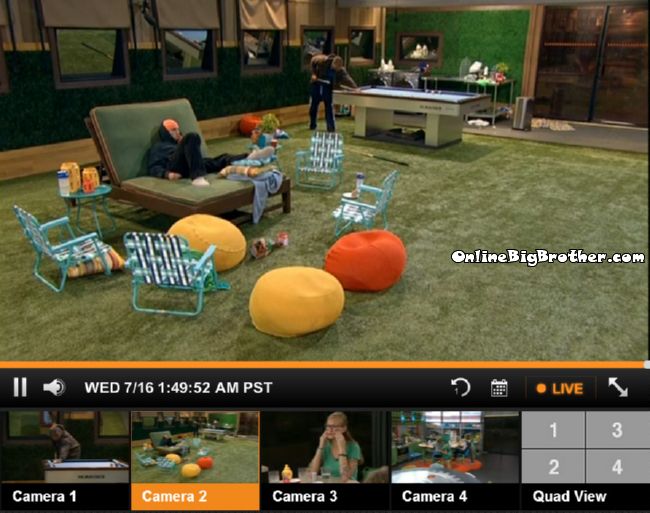 1:49AM Devin and Caleb by themselves in the backyard. Everyone else either in the kitchen laughing or sleeping.
Alliances (Some of these only a few of the members actually think the alliance is real the bombsquad is done but some people still think it's real)
Zankie = Frankie/Zach
Bomb squad = Caleb, Amber, Frankie, Derrick, Cody, Christine, Zach, Hayden
Team America = Donny, Derrick, Frankie
Nicotine = Christine/Nicole
Not a showmance= Hayden/Nicole
Los Tres Amigos = Derrick, Cody, Zach
Feed watchers = Derrick/Nicole
We hate Devin = Christine and Zach
Outsiders = Brittany, Victoria, Jocasta, Donny
Old timers = Jocasta/Donny
Stalker = Caleb/Amber
Quad Kings = Derrick, Zach, Cody and hayden (still being built)
Trilogy = Nicole, Christine & Hayden
[polldaddy poll=8185492]
[polldaddy poll=8179403]
Share it YO!
Tweet