POV Holder:
Donny
Next POV
July 19th
POV Used
YES
POV Ceremony
July 14th
HOH Winner 1:
 Nicole
HOH Winner 2:
 Derrick
Battle of the Block Winner
Donny/Amber
Next HOH/ Next BOB
July 17/July 18
Original Nominations:
Derrick's Noms (Caleb & Jocasta) Nicole's Noms (Donny & Amber)
Final Nominations:
Caleb & Devin
Have Nots
Caleb, Amber, Devin, Hayden
POV Players
Derrick, Jocasta, Caleb, Christine, Devin, Donny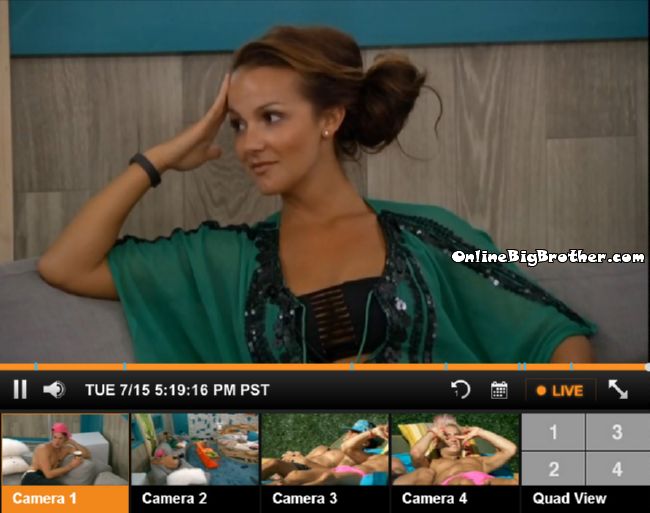 5:00pm HOH Brittany and Derrick
Derrick says Devin really likes Brittany for real , "He wants a piece of Brit.. I cut it back he wants a piece of Birt for real"

Derrick is surprised by Caleb's love for Amber. If he was single he wouldn't be like that, put someone in that kind of situation. .
Brittany says caleb's friends back home are probably laughing at him.
Derrick hopes not tells Caleb's "boys" that it's hard to read people in the house and they have no idea what Amber is telling Caleb behind closed doors.
Brittany thinks Amber is giving Caleb a little bit
Zach come sin says Devin is campaigning.. Zach told Devin if he can get more votes Zach will vote for him to stay. Derrick and Brittany groan they call him an a$$ because now Devin is going to be trying harder. Derrick told Devin straight up he didn't have the votes.
Brittany jokers Devin is re-applying his makeup right now saying to himself "I got this bro". They mention how he's always asking them if they can see he has makeup on.
Zach starts going off about Victoria says she has no idea what she';s doing doesn't even know she's in a game. Brittany chimes in that Victoria is just excited she's on TV she does her hair all day long and takes 30 minutes to get ready for her Diary Room Sessions.
Amber comes in. They talk about how they are just shootin the sh!t. Zach about him and Derrick "we haven't talked game once.. there's nothing to talk about"
Zach starts in on Victoria again says every morning Victora slams her dresser door and looks at herself for a hour every morning.
Derrick says when he had the HOH camera Victoria would follow him around so he took 15 pictures of her a$$. Brittany laughs says that is why she was always bending over she liked it.
Brittany leaves. Amber says she's most worried if Donny and HAyden won HOH. Zach is worried if Victoria wins the HOH he's going up. Derrick thinks Victoria has a real chance to win that last one she could have won but he doesn't think they'll have another crapshoot.
Derrick leaves.
Zach is saying after victoria he might want Donny out but Donny isn't after him so he's not sure. " It doesn't really matter anyone not in the bombsquad"
Amber says Brittany is dangerous "I don't know where she stands in the game"
Frankie joins them. The last two people he would want to win HOH are Jocasta and Brittany because he doesn't know what they will do.
Amber says Brittany and Donny are working together.
Derrick joins them. Amber leaves.
Zach and Derrick start talking about Amber and Brittany being in a battle together. Zach says Amber ran up to the HOH because she found out Brittany was up here.
Zach is going to have a talk with Victoria before the HOH because she might win it. Derrick thinks that's a good idea because you never know it might be on the ledge and nxtt thing you know it she's the last one holding on.
Frankie thinks him and Derrick can talk Victoria into doing whatever they want.
Derrick isn't sure says Victoria doesn't trust him he's picking it up now.
Zach says in three weeks if he wins HOH he'll want to take out Hayden. Derrick -"Really"
Zach – "Ya Hayden is a beast"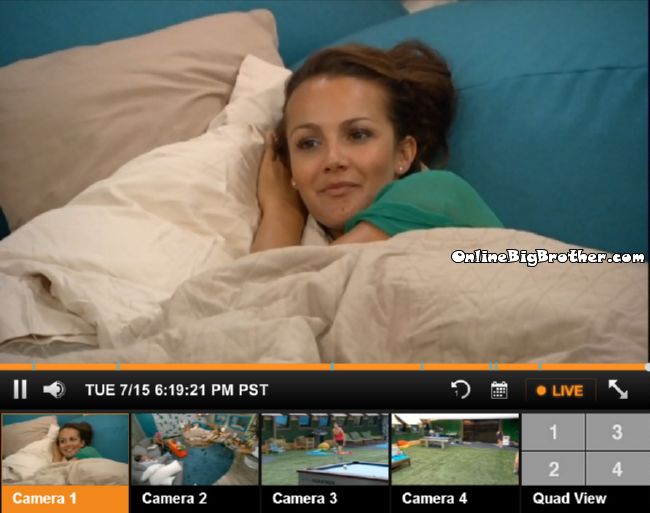 Brittany comes in.
Chit chat………..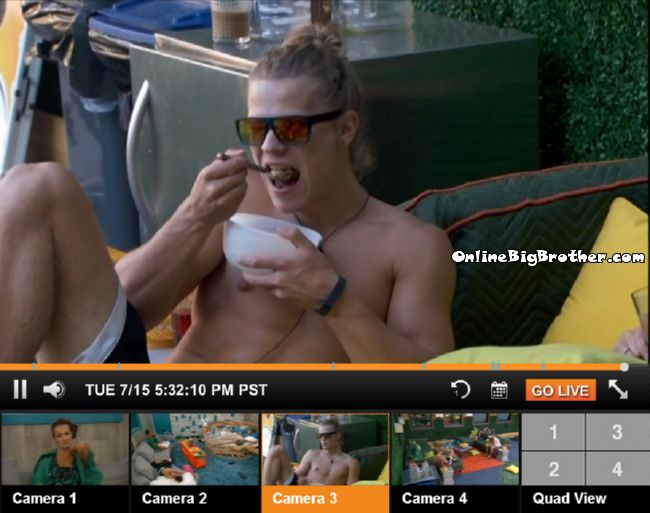 5:32pm Backyard couch Hayden, Donny, Christine and Nicole
Hayden says a have nots sucks but it's really simple and was much easier this time around. Hayden's secret ingredients are "Slop,syrup, Milk, Honey, little bit of cinnamon" For the have nots room he would wear as much clothes as you can.
Hayden hasn't had any headaches or gas from the slop and it's because he's been eating it straight with just a little bit of Syrup and honey. He thinks it's when you fry the slop up and add a bunch of condiments that is what makes you sick.
They start talking about the dental dams Hayden and Christine agree it's best to not to "do that" to a girl if you need a dental d@m.
Christine "Just put a c*nd*m on and st!ck it in"
Devin joins them he thinks Eliza was gorgeous. CHristine thought she had too much plastic surgery didn't look good. Nicole and hyden say they weren't fans.
Devin starts asking her questions about the live feeds. She tells him he can't re watch what has happened. Adding you can only watch what you have loaded on your computer. (This is wrong The live feeds have had a flashback feature that lets you watch everything from day 1. This feature has been around since at least Big Brother 13)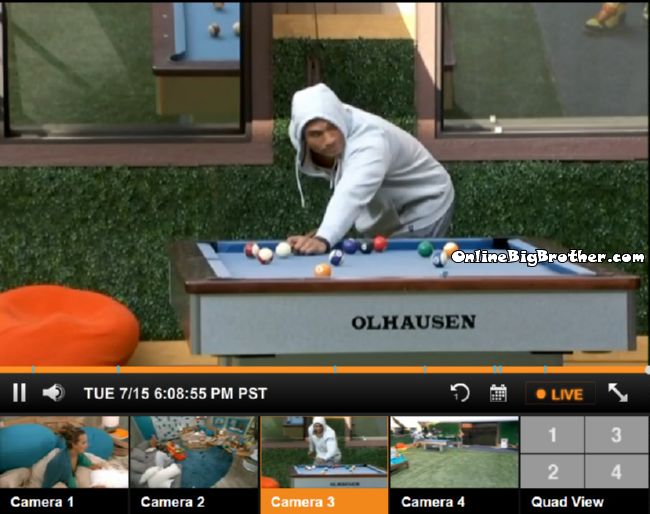 6:08pm Hayden and Devin playing pool
Devin – "Daughter"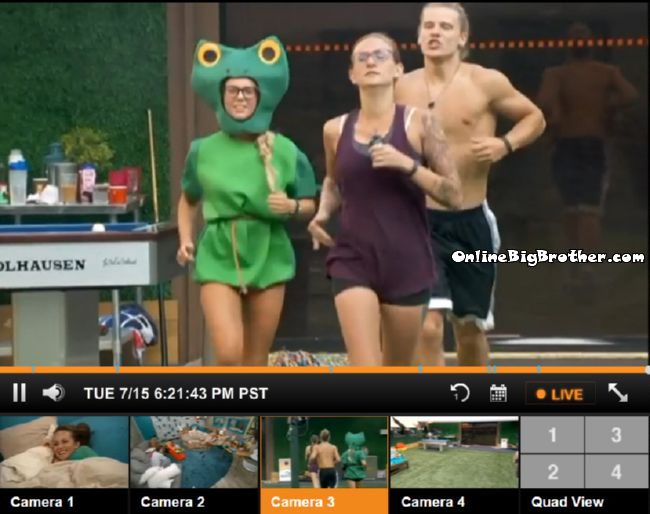 6:26pm Backyard
"Running with the frog and Christine Running with the frog and Christine.. YA" – Hayden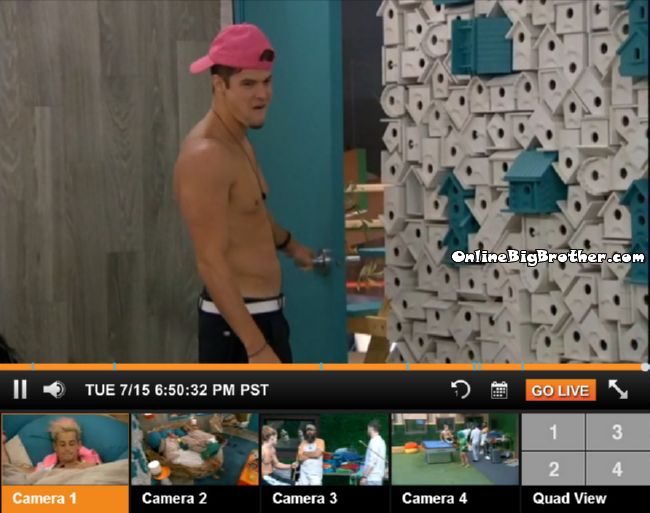 6:43pm HOH Frankie, Zach and Brittany
Brittany tells them Devin was turning this into the Devin and Brit show because every time she went into the Diary room they were asking questions about Devin. THey agree Devin is really bad at playing the game.
Frankie says if he won HOH he would go back to the philosophy get out the weakest players he really doesn't have a beef with anyone. .
Zach would put up Victoria and Jocasta
Brittany says Victoria would go home, The guys agree. Frankie mentions how it would be awful to have to put Jocasta up.
Frankie asks Brittany who would she would put up.
Brittany's nominees would be Victoria and another person she's doesn't know who yet. Zach brings up Victoria being the most useless player. Brittany mentions that Victoria needs 45 minutes before a Diary room session. Zach wonder what they even talk about in the Diary because she doesn't do anything.
Amber comes up, Frankie asks her who Devin is not campaigning to at the moment. Amber says his with Donny by the washroom. .
Zach says he's going to go up to Devin and say "Devin man all you need is two more dude"
Amber are you guys voting for him
Zach and Frankie _"NOOOOOOO"
Brittany – NOOOO
Frankie – "Please stop asking that.. you are spreading the rumor the wrong way"
Amber – Everyone is talking about it
Frankie – everyone is talking about how horrible he is
Brittany mentions Zach is going around telling Devin he has three votes (LOL OMG that is hilarious)
Brittany wonders if Caleb is worried.
Frankei – "No way"
Brittany says he's been sleeping a lot more.
Frankie "BECAUSE HE"S FASTING" Caleb is fasting until THursday because he's beast mode cowboy.
Try It Free! Get 24/7 access to the house PLUS more for 48hrs before you decide!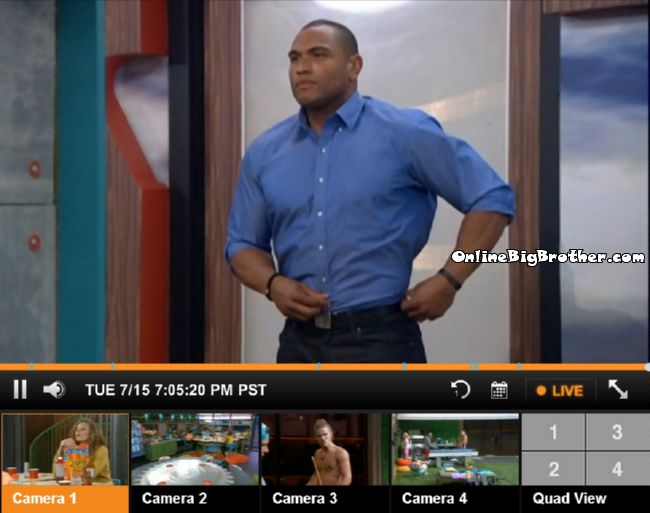 7:05pm Devin has his eviction outfit picked out

Who is going home?
100% Devin going home
Alliances (Some of these only a few of the members actually think the alliance is real the bombsquad is done but some people still think it's real)
Zankie = Frankie/Zach
Bomb squad = Caleb, Amber, Frankie, Derrick, Cody, Christine, Zach, Hayden
Team America = Donny, Derrick, Frankie
Nicotine = Christine/Nicole
Not a showmance= Hayden/Nicole
Los Tres Amigos = Derrick, Cody, Zach
Feed watchers = Derrick/Nicole
We hate Devin = Christine and Zach
Outsiders = Brittany, Victoria, Jocasta, Donny
Old timers = Jocasta/Donny
Stalker = Caleb/Amber
Quad Kings = Derrick, Zach, Cody and hayden (still being built)
Trilogy = Nicole, Christine & Hayden
Try It Free! Subscribe now to the official BB16 Live Feeds
[polldaddy poll=8185492]
[polldaddy poll=8179403]