| | | | |
| --- | --- | --- | --- |
| POV: | Tyler | Next POV: | July 14th |
| POV Used | yes | POV Ceremony | July 16th |
| HOH: | Kaitlyn | Next HOH: | July 12th |
| Noms: | Winston, Scottie Swagz | Have Nots | JC, Fessy, Haleigh, Rockstar |
Big Brother Spoilers – Swaggy is still going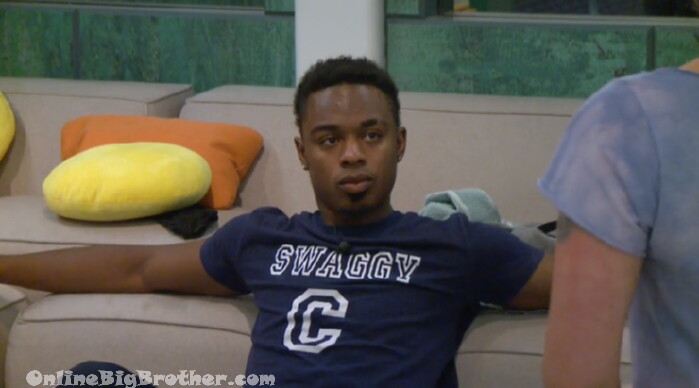 12:25pm Swaggy and Sam
Swaggy asks her what he can do for her for her vote
Sam – I don't know I never thought of it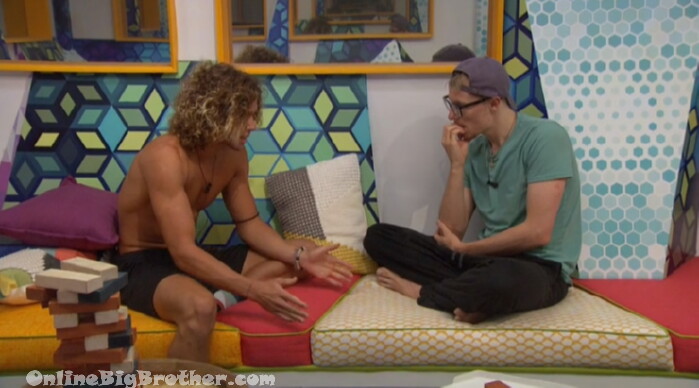 12:27pm Tyler and Scottie
Scottie wants to keep Swaggy, "heres why"
If he's gone a big target is out of teh house
If Winston is gone Brett loses his shield
Swaggy is exposed right now if Winston goes both Brett and Swaggy are exposed.
Scottie says Winston and Brett will go up together and Brett will stay 100% and get a free week.
Scottie – in a perfect world those two are on the block together and they have to play it out and explode"
Scottie – Winston is a buffer I don't want here..
Scottie says Winston is not making the best decisions, "so if we get him on the future they will blow up, Brett is very condescending to people"
S – it'll get the heat off of you
T – where I am right now is Kaitlyn has done all this she has the whole other side thinking this will be a thing and if me and you go back this whole thing will show that we're involved
T – like it was me, you and her that planned this whole thing out
Tyler points out that Kaitlyn was HOH, Scottie was the pawn and Tyler won the Veto so everyone on the other side is going to think this was planned.
T – every single one of them is one me, you and her
Scottie – either way we're pissing people off
T – it's about how many people we're pissing off
Neither of them are sure where Haleigh's vote it.
Scottie – in my head he's (swags) is a much bigger target than you or I are
T – Kaitlyn is a big target to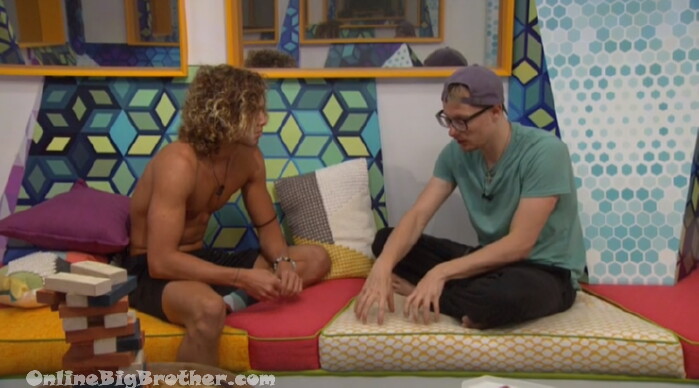 Scottie – I don't think Winston is a target he's a shield not a target. Brett is the target were Winston is his buffer..
Scottie says Winston is like josh from last year he was Paul's buffer. (damn I hated that season)
Tyler – that's more later down the road.. if we are the wrong side of this shit they are coming for me, I've won comps. I'll get b@ckdoored I won't even have a chance
Scottie now suggesting they blame each other for flipping then try to mitigate teh damage on both side..
Tyler – I need to talk to Haleigh and see how many people are voting over there.
Tyler – I need to look out for Kaitlyn, this whole thing will fall back on Kaitlyn
Tyler now saying that the other side think it's the three of them that planned the sh1t
Scottie – do they say they feel like it?
Scottie goes on to explain when he talks to the bros they say things like "these are the facts, these are my opinions"
Scottie – if they are expressing opinions that tells me they are hiding something they are probably lieing..
S – I've talked a solid hour of game with those two.. and every single time they always end with these are just the facts
S – if they are talking to you and expressing opinions that means they are being inconsistent
S – when they talk to me they literally list the events that happen and go we're just expressing opinions do the math yourself.
Scottie – which is super condescending to begin with
T – the facts are you were up there I used the veto and pulled you off Kaitlyn was HOH
T – the facts are Kaitlyn told like a couple people on that side that this was the plan the whole time.. she told more people then she should have told
T – that wasn't supposed to get out..
Tyler again tells him Kaitlyn told too many people that is why if this falls through they are all going to target Tyler, Scottie and KAitlyn.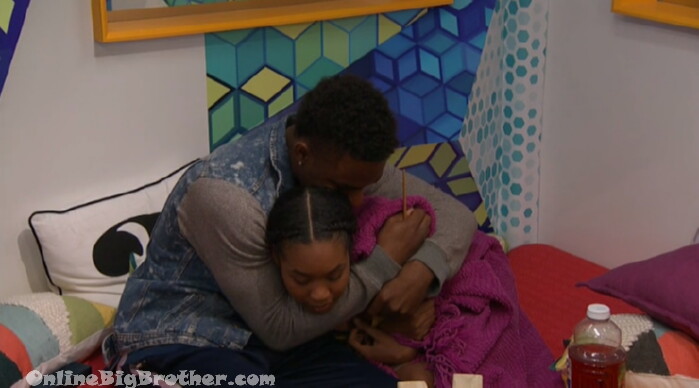 12:54pm Bayeligh and Swagz
Swagz – Tyler says the same sh1t if the votes are there he'll vote for me.. he said if Haleigh votes for me he'll keep me..
Bayleigh – she literally just told me she's wearing a swaggy tshirt..
Bayleigh says he needs to have a meeting with Tyler and Haleigh
Swagz wants to pull the entire allaince together up in the HOH
Bayleigh is certain the votes are there.
Swagz says so far their side has won every competition.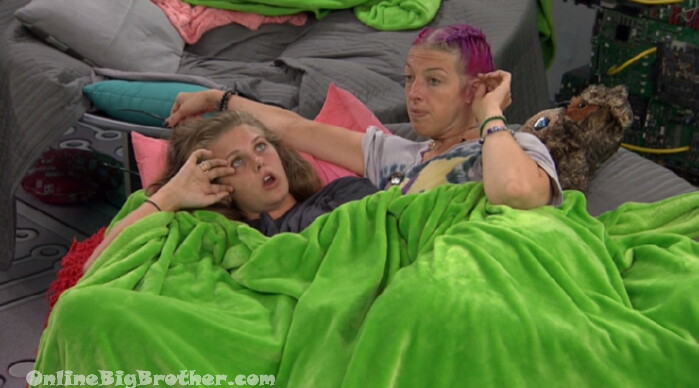 1:10pm Rockstar, Hayleigh
RS says she could see JC or Rachel flipping for their personal games.
Haleigh – Rachel's not.. She's not going to do a big move like that she's a little b1tch
RS – she's the most expendable in their group
Haleigh – she doesn't understand that.. she thins she's in with them.
Fes joins them
RS – I went to talk to Kaitlyn this morning
RS – I feel it is a disservice to the game to send someone that loves this game home before they get to jury
RS – he loves this game..
Rachel joins them Rockstar and Haleigh tell her how much they love her pants..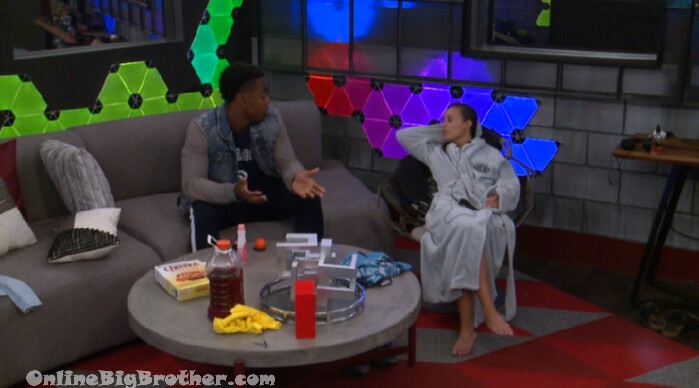 1:11pm Swagz and Kaitlyn
Swagz says the other side can't keep her safe because it's his side that has won all the competitions.
Swaggy about Tyler – he's telling me downstairs he wants to vote for me he wants to talk to everybody but he wants to vote for me and it's on you and when I talk to you ..
Kaitlyn – we haven't spoken yet
Swaggy says everyone on his side is close to him they won't flip.
Swagz says everyone in his group all want to keep him here he's got 5 solid votes they are all wearing SwaggyC shirts on elimination.
Swaggy goes on about missing Bayleigh if he gets evicted.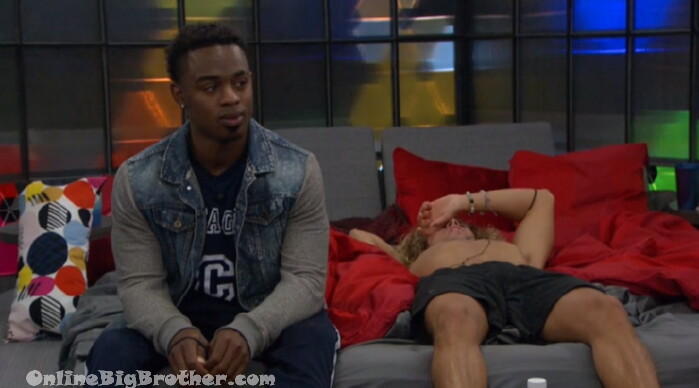 They pull Tyler in
Kailtyn – do you think it will come down to a tie
Swags – yes .. I don't need to pull JC or Sam inside if he votes it's a tie (Tyler)
Swagz – I have Scottie, Fes, Haleigh, Bayleigh and Rockstar all I need is one more to break the tie
Swaggy goes on about how he's going after the other side, if he doesn't win HOH it'll be Fes or Bayleigh or ROCKSTAR will win the HOH
Swaggy – they don't have the mental capacity to sit on a balance beam and win
Swaggy says the other side just lays around works out and tans
Swags – it's us playing the game..
Kailtyn – if you are a super fan did you want Paul to win
Swagz – I do feel like Paul should have won (ugh, stop talking about that horrible season)
Swaggy says he's going to call Angela "a sort of names" in his speech tomorrow.
Swaggy says if Tyler votes for him all they need is Sam or JC and Kaitlyn won't have to break the tie.
Tyler – I think you need to work JC a little more
Swaggy – I do believe 100% on god and my dad if you tell JC or Sam you want to keep me safe they will do it
Swaggy – JC wants to do what the house wants..
Swaggy leaves..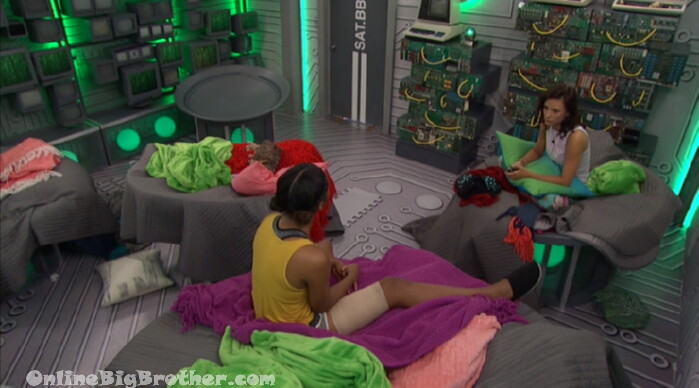 1:32pm Rachel and Bayleigh
Bayleigh – what needs to be done for a possibility for you vote to stay.. i'm not coming after you he's not coming after you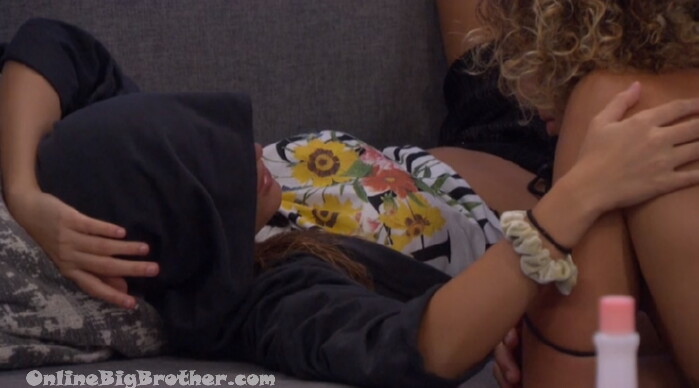 1:51pm Tyler and Kaitlyn
Tyler – hey there sweet potato.. how are you feeling
Kaitlyn – I don't trust Scottie he made sh1t up..
Tyler – Brett and Winston told you.. I feel like Scottie is making shit up
K – why do you trust him
T – because I used the Veto on him and he feels like he can trust me
K – Your not voting Swaggy to stay I know you're not there's nothing I can say to change your mind.. It would be pretty dope
Kaitlyn says Sam will vote to keep Swaggy.
Kailtyn – he's not wrong with the statistics.. and if I get put in a situation where we can somehow get JC and Sam to vote. You can say you are and if you don't then you can say like What the F***
K – then again I know JC and Sam can go back to them and say she told me to like either way it's not going to work. .
K – he's so deserving..
Kaitlyn believes that swaggy will keep her safe, "and he's right he is the best competitor, Winston and Brett aren't going to keep me safe because they aren't going to f***ing win
Tyler – Brett has played in one competition
Tyler – you know you are good with Haleigh you know you are good with Fes
K – I don't know… haleigh yeah I'm not convinced with Fes
T – Fes loves you.. Fes won't jump ship on you.. you are fes number one.
Tyelr says if they go back on it now the whole other side is after them .
Kaitlyn says he won't have to
Tyler – I'm a vote.. I don't feel like I can sway JC
Kaitlyn – I hope it's not a tie
Tyler- even if it's not a tie and Swaggy stays taht whole side is coming after me and you
Kaitlyn – you have to stop Swaggy keeps telling me it's on me ..
Hayleigh comes up eating a slop meatball. tyler says he wants to talk to Kaitlyn some more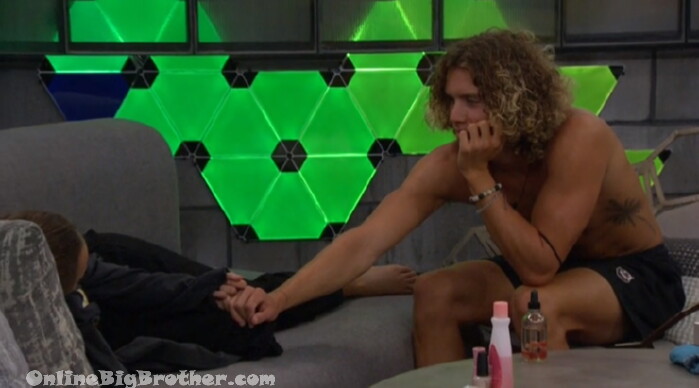 Kaitlyn is saying that Swaggy is under this impression that she can tell Tyler what to do and he's thinking Tyler is voting for him.
Kaitlyn – you're not even allowing the thought.. that is what pisses me off
Tyler – I know facts, Swaggy doesn't know the facts..
T – BRett, Winston, Anglea, Kaycee,
K – that's it
T – who knows.
Tyler says she's good with many more people if Swaggy leaves.
Tyler says Swaggy's group will come after him
Kailtyn says they will all owe her a favor for keeping swaggy safe
T – by putting him on the block
T – Rockstar, Haleigh, Fes and Bayleigh are coming after me regardless.. if it's them plus the other side.. and … that's were I am at.
Tyler saying that Swaggy is deserving to be in the house and deserves to win (lol it's week 2)
Tyler – I'm trying to look out for you in every way possible
Kaitlyn- I need to talk to other people..
Tyler – are we on the same page.. do you think we are
K – slightly
Tyler – are we on the same page.. do you think we are
Kaitlyn – slightly #BB20 @DawgsBigBrother pic.twitter.com/yp76Tvpkxe

— OnlineBigBrother.com (@bigbspoilers) July 11, 2018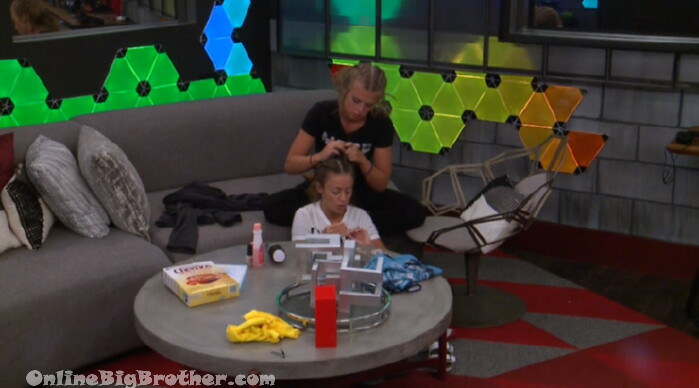 2:22pm Haleigh and Kaitlyn HOH
Kaitlyn going on… "it's pulling on my heart strings.. I don't know what to do"
Haleigh says that Tyler told Swaggy that he would vote for Swaggy if he had the numbers and that swaggy didn't have the number because of Haleigh
haleigh – I don't know if I want Tyler involved in my game talk
K – who told you
Swagy this morning..
K – but when we just sat here Swaggy went over the numbers and he said that .. I can't believe that why would Tyler do that why does that benefit him
H – there's a rumour going around that the bros voted to keep steve..
K – I think Scottie is the root of a lot of issues..
Haleigh says that Swaggy thinks she is wanting to say now..
K – no I'm not.. he's pulling on my heart strings
Kaitlyn – Tyler is not going to vote to keep Swaggy.. we fought over it ..
Haleigh says apparently Kaycee is talking about keeping Swags
K – no Kaycee wants Swaggy gone..
Kaitlyn – swaggy did this to himself.. he played way too hard as a super fan I would think he would have known better as a super fan you shouldn't be talking shit about someone in your alliance..
Kailtyn – I love Tyler but you over Tyler any day of teh week.
Haleigh brings up tyler telling Swags that he doesn't have Haleigh's vote.
Kaitlyn – Kaycee, JC, Sam, Angela, Rachel, Brett, Tyler all those people are voting to evict Swaggy he's going home so if you want to vote to keep him do so.
Kailtyn – that'a another reason why swaggy needs to go now because he's starting shit..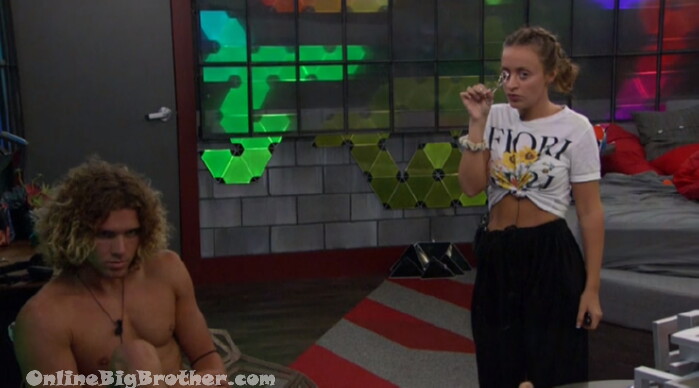 They pull Tyler in
Haleigh tells them there's a conversation around that he told Swaggy he didn't have the vote because Haleigh's not voting for him
Tyler – I didn't have that conversation with him
K – you swear
T – I swear on my life..
K – do you swear on my life
T – I swear ion your life
Haleigh says later today she's telling Swags he doesn't have the votes. She's not wearing a SwaggyC T-Shirt tomorrow.
Kaitlyn talks about Swaggy making excuses and saying to her now he can't move to LA and has to move back home.
Kaitlyn says Swaggy doesn't have the votes anyways so if she wants to vote to keep him she can.
For all you folks that need a VPN I use this one
Rank the houseguests!
Easiest way to Rank the house guests use link below