| | | | |
| --- | --- | --- | --- |
| POV: | Tyler | Next POV: | July 14th |
| POV Used | yes | POV Ceremony | July 16th |
| HOH: | Kaitlyn | Next HOH: | July 12th |
| Noms: | Winston, Scottie Swagz | Have Nots | JC, Fessy, Haleigh, Rockstar |
Big Brother Spoilers – Swagz is still going home Rockstar still makes my head hurt.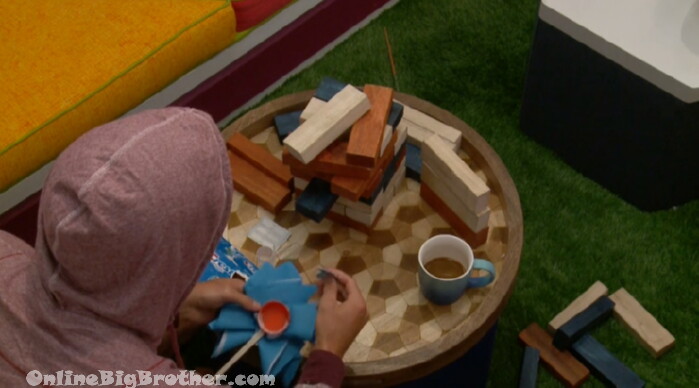 9:48am Arts and crafts with Winston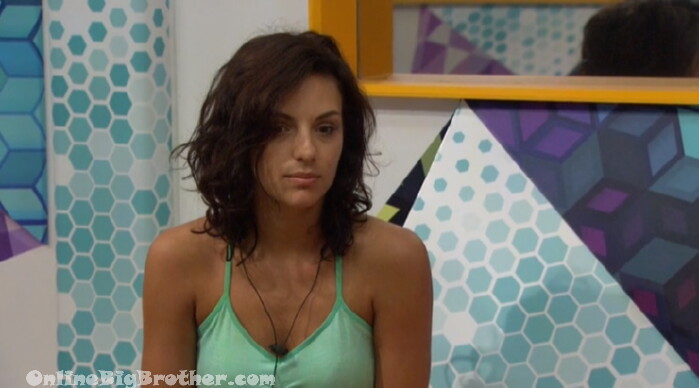 9:50am Rachel and Winston
Rachel says she appreciates Swaggz trying to get her votes but at this point it's a lost cause for her.
Rachel says Swagz thought he would have a chance getting her votes. She adds that she doesn't talk much game with Winston and them because she's doing that for her own game.
Rachel – he said to me like.. you know you aren't completely with them just a little bit
Winston – that's perfect
Rachel – we've talked before about us being good for each other .. he was like I can deflect the other side brings yup your name a lot
Rachel – they said they want you out before Jury. He woldn't give me names .. he said HIS side.. meaning Rockstar, Bayleigh, Haleigh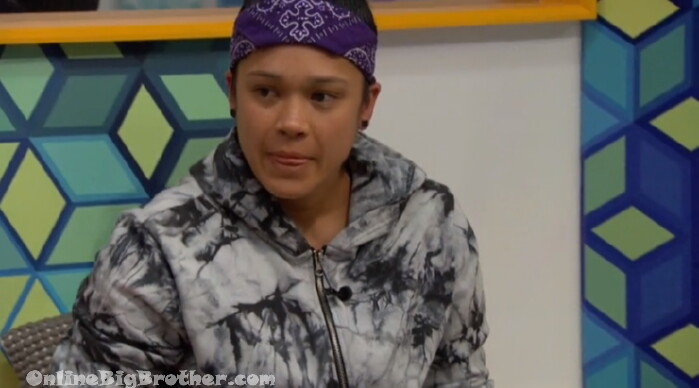 Kaycee joins them.
They agree Swaggy has no idea what is going on in the house right now.
Rachel says that Swaggy was telling her he's going after the people in his alliance that wronged him but not Kaitlyn, fes, Tyler or Bayleigh
Rachel – that leaves Haleigh and Scottie..
Winston – he's lying he's definitely coming for us
Rachel definitely
Rachel – I know he ran up to the HOh and said my name
Winston asks them what is a easy target for them to get out next week.
Winston says once Haleigh leaves, Scottie?
Winston says that Kailtyn let Bayleigh and Swagz have s$x in the HOH yesterday .
Winston – they did she told us last night .. she said she didn't want it in her bed.
Winston – all I am saying is once Swaggy leaves Bayleigh is here all alone and she'll probably be upset.
Rachel – which is good we can be there for her
Winston – yes
Rachel says she wants Scottie gone.
Winston – yes he's the main target but to put up
Rachel – if I win Rockstar.. veto wins I would put up Fes
Winston – I'm going after Scottie I can't trust anything out of his mouth
Rachel says her targets in order are Scottie then Angie
Winston agrees
Kaycee brings up Swaggy talking to her.. it was virtually the first time in 22 days, "hey nice to meet you" they laugh
Kaycees says Swaggy said she's a floater and the other side is targeting those he can keep her safe..
(Sounds like Scottie, Fes, Rockstar in some sorta combination are these threes targets)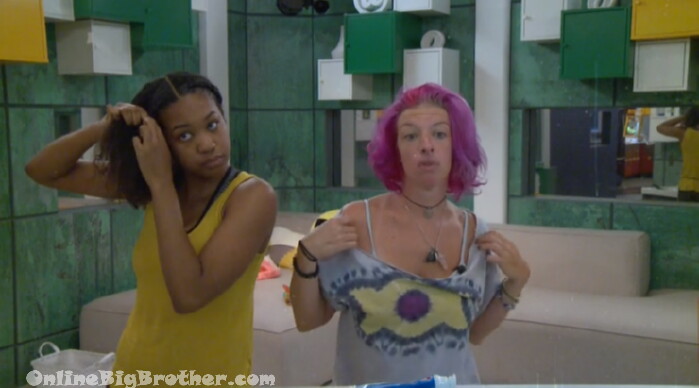 10:30am Bayleigh and ROCKSTAR
Bayleigh – they had a meeting this morning..
Rock – who
Bay – all of them
Bay – Winston, Angela, Kaycee and Rachel.. they were all in the geometry room before the thing went off (wake up)
Rock – we've decided we're all going to wear swaggyc shirt on elimination
Bay – love it
Rock – fan girls
Rock – it's so stupid.. it's disrespectful to the game (swags going home)
Bay – it is disrespectful of the game
Rock – if you are going to b@ckdoor the kid you bacjkdoor them after jury
Bay – or you backdoor him because he's n actually a threat to you not because he pissed you off
Rock – he loves this game so much.. he's a student of this game don't get rid of that kid week 2 and he's a physical competitor .. it's ignorant the whole thing is ignorant and stupid
Rock – I'm just going to keep to myself and read the bible
Rock – he was like maybe you should go talk and I was like maybe it's best for you that I don't
Rock – it's best I stay in the have nots and read the bible
Fez gets the first cuddles from KAitlyn ..
Faysal gets the first morning cuddles from Crazy #BB20 @DawgsBigBrother pic.twitter.com/lbvG9VISzk

— OnlineBigBrother.com (@bigbspoilers) July 11, 2018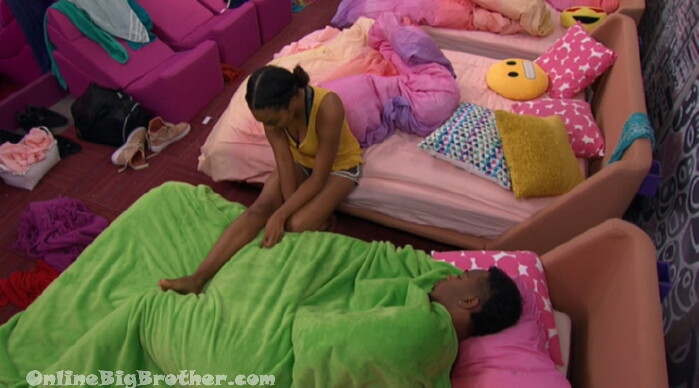 11:27am
Bay – I think today is the day we need to find Winston's glasses. HIde them..
Swagz – so
Bay – he can snap at everybody to find out where they are
Swagz – ohh wow ok
Bay – he's going to yell at JC and piss JC off and JC is going to give you his vote.
bayeleigh tells him if Kaitlyn says she wants to keep you everyone will change their vote.
Swagz – who is everybody
Bay – JC, Tyler would.. (LOL)
Bay – Sam would (maybe)
Swagz says he's going to shower than talk to Kaitlyn
Bayleigh –
Swagz and Bayleigh saying how they can't relate to any of these people..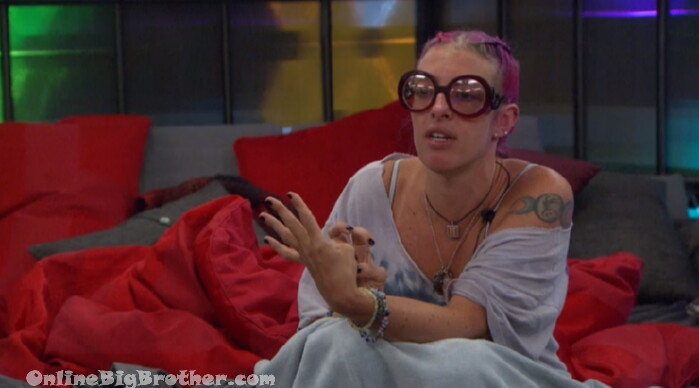 11:34am Kaitlyn and ROCKSTAR
Kaitlyn – SwaggyC is not going back to the streets.. swaggy C isn't done.. SwaggyC has created a name and a character.
RS doesn't believe that. she says players that go out week 1 and 2 don't get talked about anymore..
RS – as a fellow superfan of the show as a fellow person that has studied the show it's sad to see him go so early.. (F Rockstar is the worst)
K – maybe he just got really excited when he came in and played really hard.. he did do that and that is not my fault..
K – I wish it was Winston that said I was Shady.. I'm supposed to be in an alliance with me
RS says Wisnton hasn't even seen the show
RS going on how they had a ticket to final 6 with their group
RS – I'm coming at you as a fan if I was watching from home I would be like yyou don't backdoor the kid.. he should at least me in Jury
K – why should someone be in jury that is supposed to be in an alliance with me called me shady and doesn't trust me ..
RS – for swaggy words are words and actions are action..
K – how can I make that risk when I'm not guaranteed this position again
RS – there's no reason to get rid of you over the four people
K – how am I supposed to know that when for the last days all I hear is he's talking about me
RS brings up Matt from bb12 says that Enzo masterminded everything that season not matt..
RS says what is happening to Swagz is the same as matt from that season (No)
K – there's no alliance on that side and I believe it
Kaitlyn says she tlked to Brett and he sore that there's no larger alliance on the other side that excludes her.
RS asks id Brett and Winston have a final 2 did they bring that up?
Kaitlyn says she doesn't care about final 2 at this stage she's more interested in larger groups. Brett and Winston having a final 2 doesn't scare her Winston is going home next week.
K – realistically I think I am going to win the power… because of everything that happened to me this week.. I was a have nots, everyone talked shit about me, I won HOH and backdoored swaggy..
K – I'm not with them.. I 'm not with that side..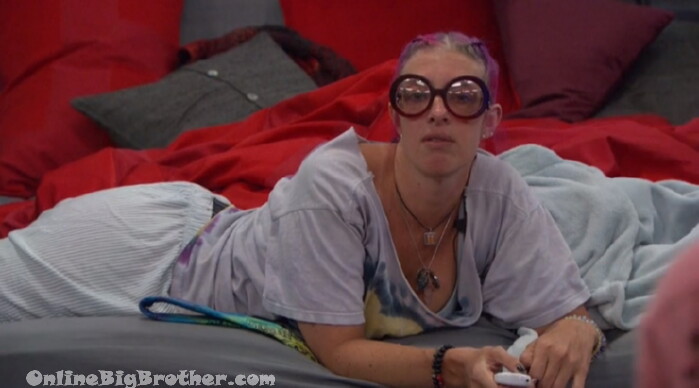 Kaitlyn – what I would do in a tie I really don't know.. that's why I want to speak to everyone individually.
RS says Angela, Winston, Brett and Winston were in the Geometry talking game this morning
Kaitlyn – they were talking game
RS – yeah
K – how do you tell
RS – you can tell
Kaitlyn says they were probably going over numbers
Rockstar talks about her 6 month old Issac and how she wants to win HOH to see a picture of him, "babies change so much week by week"
RS now saying that Swaggy won't put Kaitlyn on the block if he wins, "I really believe him.. I really really believe him"
Rs going on about how Swaggy is a fan of the show and should be left until Jury./
Rs says if they get rid of Winston, Angela, Rachel now then they are all in jury with "Cool people"
Kaitlyn sdays Swag has made a deal with everyone in the house how can he keep everyone in the house safe..
Rs – you don't have to keep your word unless they flip. not everyone will flip their vote.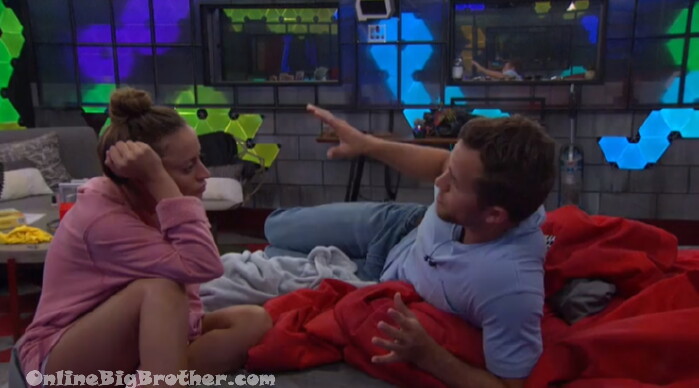 12:07am Winston and Kaitlyn HOH
Winston – Scottie is a big target right now.. if I were to win there's zero question I want him out..
Winsotn says he doesn't even know he's going to be here on Thursday now that swaggy might have a power. "I got you back if I stay:
K – you promise
W – Kaitlyn, I just told you who my target would be.. you got the votes to stay even if someone gets angry at you you got teh votes to stay
Winston says he didn't like going up as a pawn but he was cool about it it made the most sense to what Kaitlyn was trying to pull that off.
K – Scottie says you guys tell him everything
Winston laughs… "we need a 5 or 10 minutes pow wow about him.. "
Winston runs to get Brett so they can clear this up.
K explains to them that Scottie said to her last week or a few days ago.. whatever..
rememebr that conversation we had in the Have not and I said scottie was going up the next morning he came up to me and he said that you two tolsd him I would put him up
Brett – that little f**er dude
Winston – that's a genuine rat..
Brett – I honestly didn't have that conservation
Winston – IU didn't either
Winston – why would we.. especially being have nots..
Winston – if I win HOH zero down Scottie is going home
Kaitlyn says all along she was under teh impresion that Scottie as on her side..
Winston – he's playing a very good game
K – that scares me because Tyler really trusts him.. I need to talk to Tyler..
Winston – Scottie is a snake
Winston tells them if Swaggy has a power tomorrow he's walking out the door.
Kaitlyn says she wants to make sure everyone votes out Swaggy
Winsont mentions how he doesn't want her to stick her neck out again.
Kaitlyn says it doesn't matter she's done so much already.
Kaitlyn – can we just go over my game right now..
She now goes over her game for the tenth time today.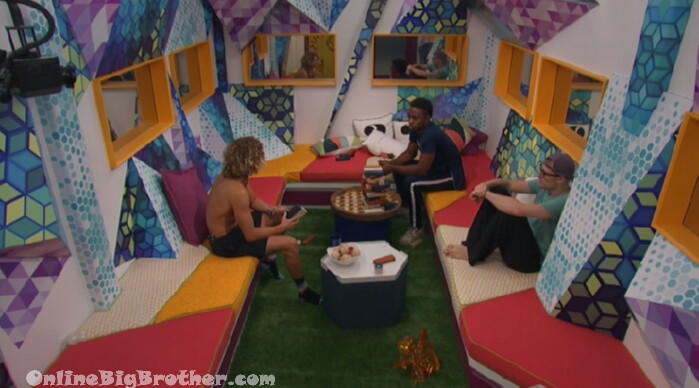 12:16am Swaggy and Tyler
Swaggy down to saying he wants to be here more than Winston. Scottie joins them..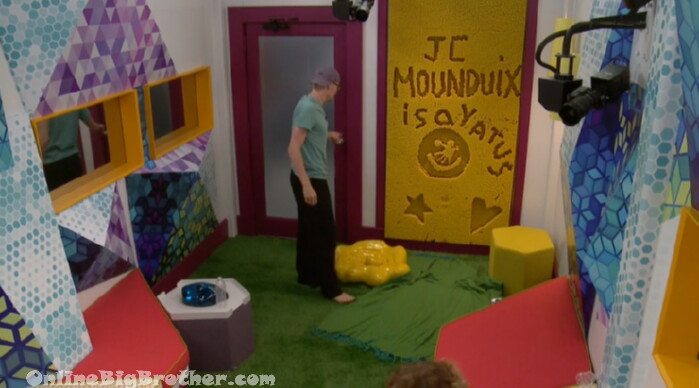 LOL@ the pin wall

For all you folks that need a VPN I use this one
Rank the houseguests!
Easiest way to Rank the house guests use link below