Check out our BB19 Ranking Grid. . rank your houseguests here
It's been slow…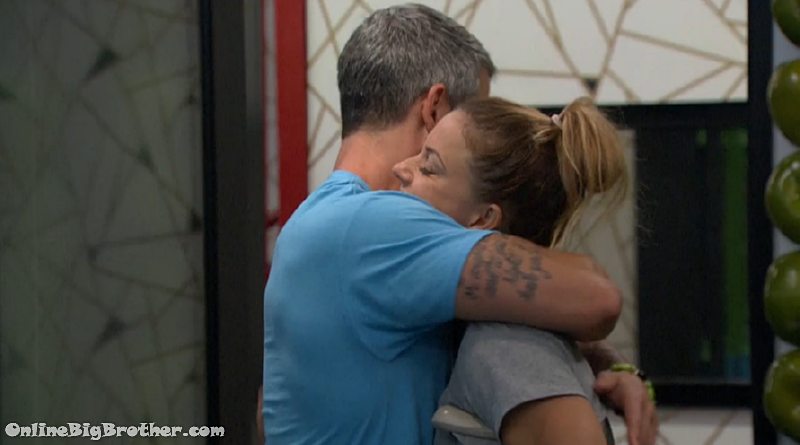 4:29pm Christmas and Matt
Matt – they're's a marked difference in Josh, Good work
Xmas – He's going to be a good asset, they have no idea
Matt – no creepy comments, helping with the dishes, good work
Xmas – thanks you
Matt – you don't have to compete to be important.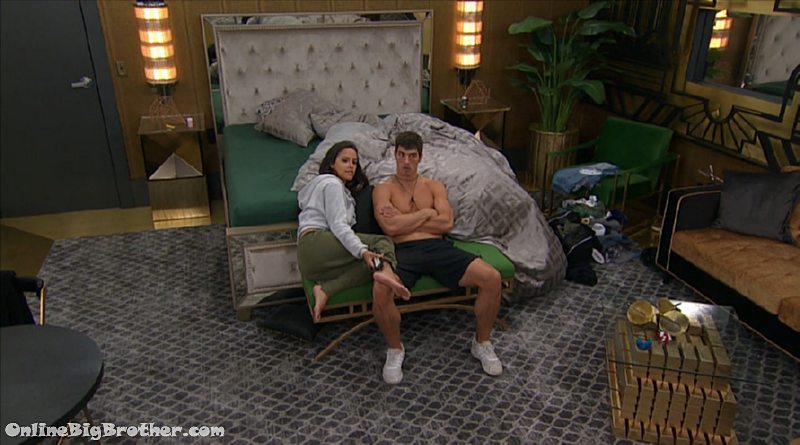 5:00pm Jessica and Cody
Jessica says Elena and Raven are christmas' little minions.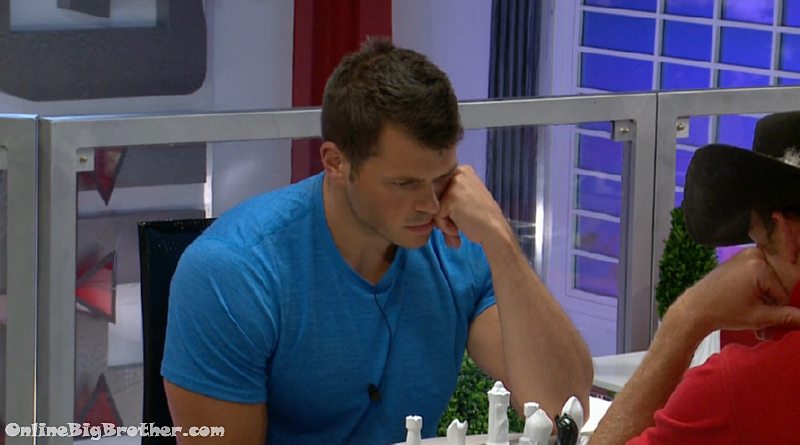 5:01pm Mark and Jason
Mark tells him to keep cool with everybody especially paul because Paul trusts him.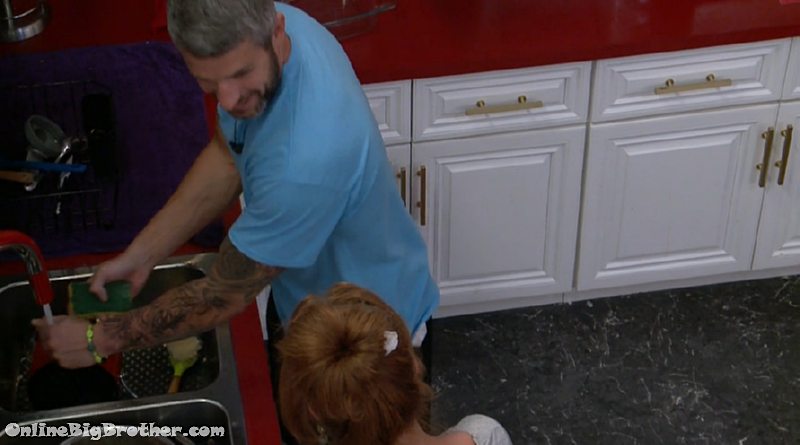 5:46pm Matt and Raven
Tells her that Ramses has the curse meaning he has to go up on the block once in the next 3 weeks
Raven – yes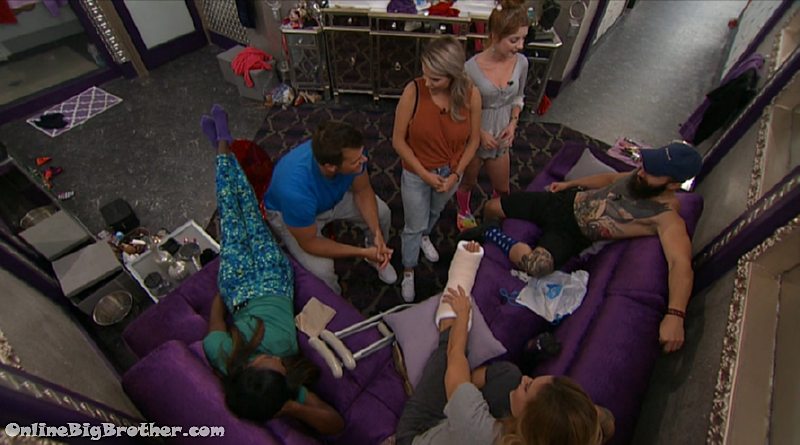 6:01pm Paul, Christmas, Mark, Elena, Raven, Dom
Xmas – yes my foots broken, but I still have a lot to contribute
Xmas – I know that I'm limited but I still can contribute a lot, I would love to continue with the plan.
Xmas – I'll help you guys get to jury, you guys get me to jury and I'm going being the first one out so you guys can play as hard as you can.
Elena says they can worry about getting the rest of the people out first.
Mark says he talked to Jason and Jason wants to throw the HOH to Paul to show him his trust.
Paul – I'll make him a deal "You're golden baby throw it to me"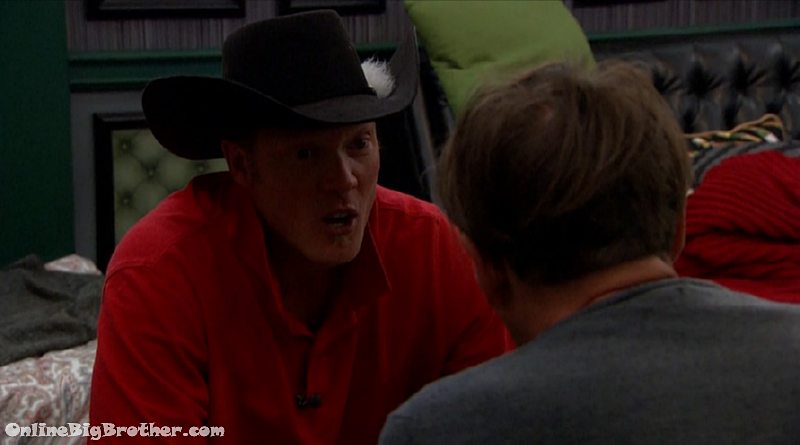 6:04pm Kevin and Jason
Kevin explaining how they are going to get rid of Cody. Put up Matt and Mark if POV is played get out Cody. Kevin thinks Cody is going to win out and they'll never get him out.
Jason says that Cody is on their side.
Jason – it'll be f***g chaos when Christmas leaves
Kevin – Elena says she's going to win.. She has trouble walking to the kitchen
Jason – Paul is going to go nuts he thinks Christmas is going to stay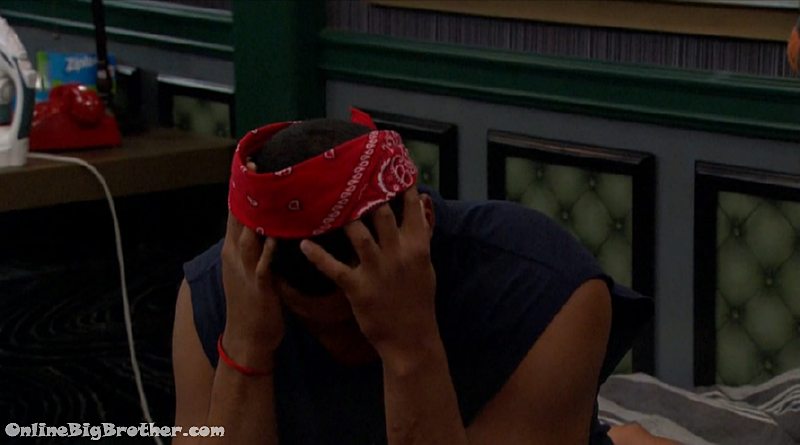 Josh joins them.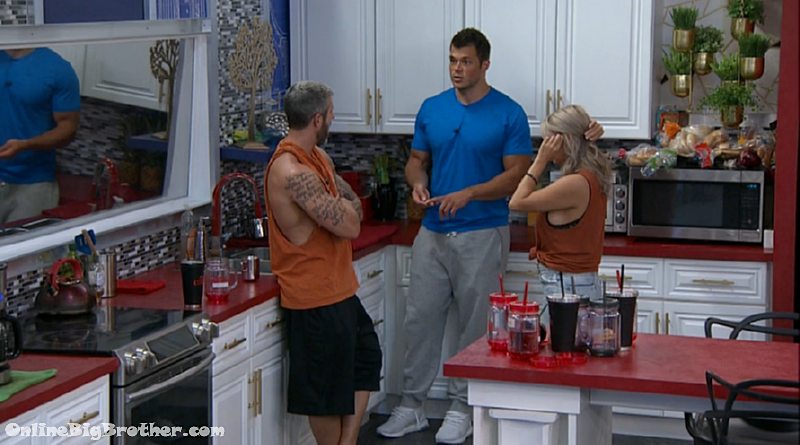 6:21pm Kitchen Elena, Matt and Mark
Mark – crazy how fast the Big Brother house can turn
Mark – it was Alex, Jason, Josh, Ramses, Jillian (Their old boot order?)
Adds that now it's the reverse Jillian, Ramses. Josh, Jason and Alex. (their new boot order)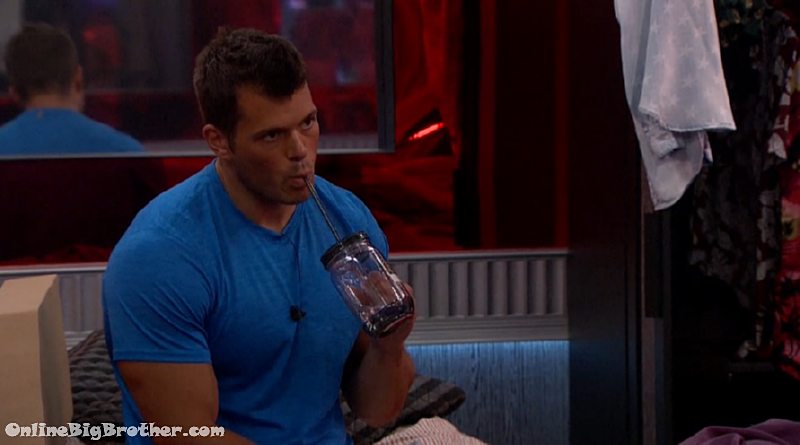 6:28pm Matt, Mark and Raven
Mark is pissed that Josh calls him Meatball
Matt says they have Josh reeled in now.
Matt asks if Cody has apologized to them.
Mark – no, he hasn't talked to anyone.
Matt goes on about how dumb Cody is for putting Paul and then Christmas without knowing he had the votes.
Mark says he wants to pick Ramses up and throw him.
Matt – it would be at least first down
Matt asks if Cody is just smarter than them or stupid.
Mark – "no he's F****g Stupid"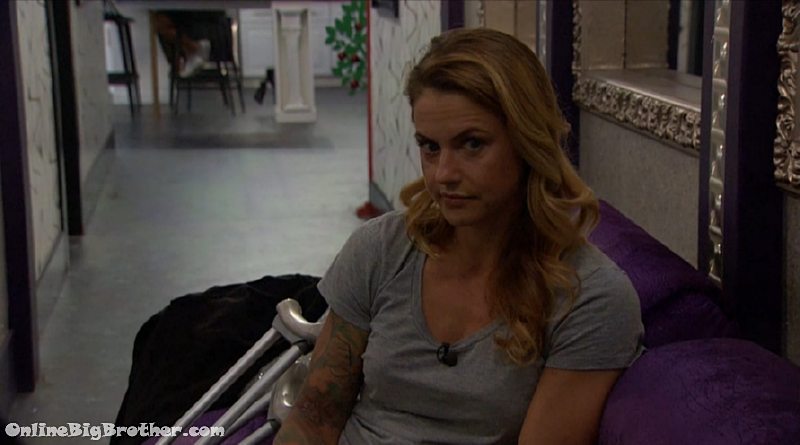 6:35pm Christmas and Dom
Christmas says she's really disappointed that both the veterans this year were total Failures.
Dom doesn't think Jessica is going to be as well received as she thinks. The fans she does get won't be the highest of quality.
Christmas – they're going to want T and A and not care what she says.. I already have a fanbase and a established Brand I don't need this to build a fan base.
Christmas is worried that Paul has withdrawn from her these last few days.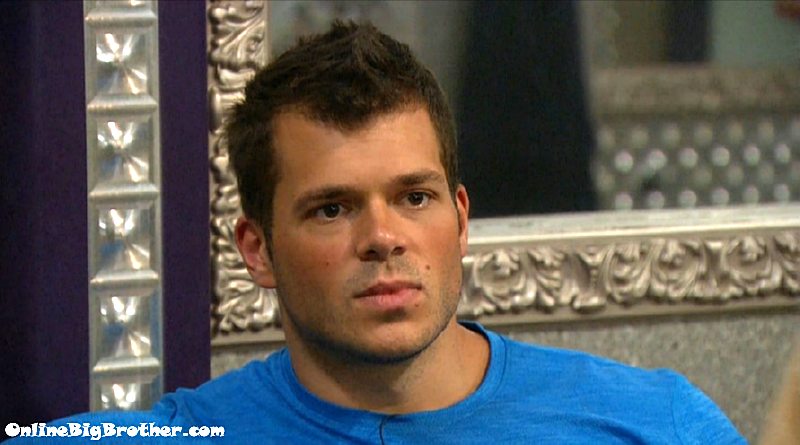 7:05pm Mark, Dom and Christmas
At first he wanted to still protect Cody because Cody is "my boy" but after what happened yesterday he wants Cody out as soon as possible.
Mark – I'm also a f***g nightmare if I don't like you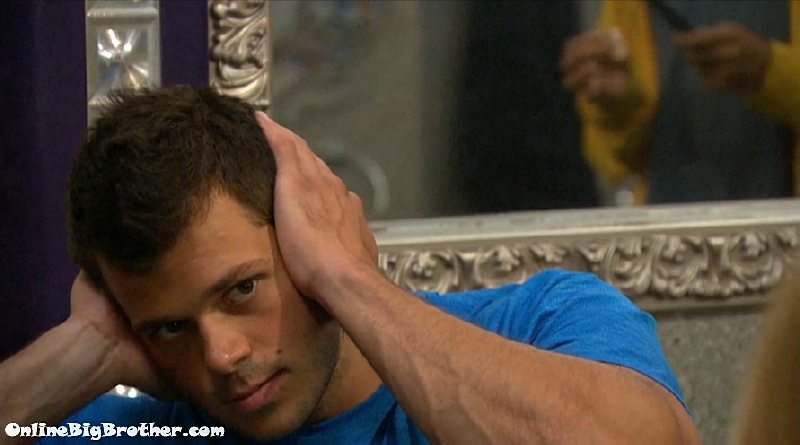 Mark tells her nothing changes after hearing her foot is broken. Says she's still an asset.
Ramses starts walking in Mark whispers "give me a crutch i'll shuv it up is @$$"
Mark doesn't want to hear Christmas' poop / pain med story.
Christmas says production is going to make an announcement before every competition to tell them it hasn't been modified. Mark thinks they modified the team one they did and doesn't think production liked it. Feeds flip… (Mark messed up his finger during the first comp)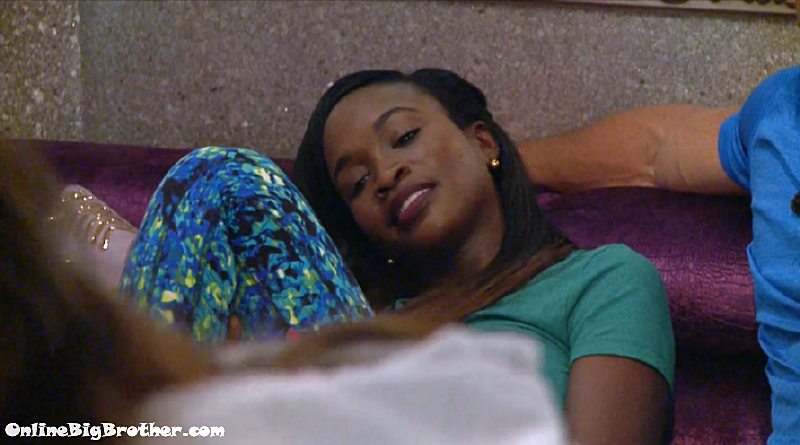 7:24pm Mark and Dom
Dom – I won't come after your girlfriend
Mark – not until we're closer to Jury
Mark says Elena is very close with Matt and Raven.
Mark – when I walked in they were whispering and they completely stopped.
dom – that's interesting
Mark wants to show Paul his strengths and his trust. He wants him and Paul to be the only two standing during the HOH and he'll throw it to Paul.
Dom – that;'s a very good idea
Mark – that's step one.. then hopefully I can play for Veto. if not make sure I get the next HOH
Dom points out that Paul hasn't disclosed what his plan is.
Mark – you think he would get rid of me or someone in the group.
Dom – I hope not, I haven't got that vibe yet
Dom says she's a nuclear engineer, she works on unmanned systems in Washington DC.
Mark isn't that shocked because she use to talk about med school.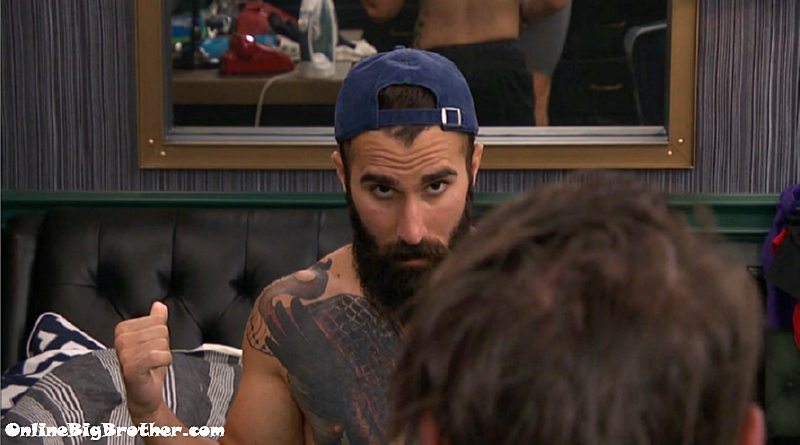 7:25pm Kevin and Paul
Kevin- I'll never turn on you, other people I may but I'll never turn on you
Paul – you don't have to tell me that I've already figured that out
Paul – You're voting Jillian out
Kevin – yes
Paul – you'll get cut on the other end… Kevi.. even if don't, doesn't matter because..
Paul – Meatball.. (Josh)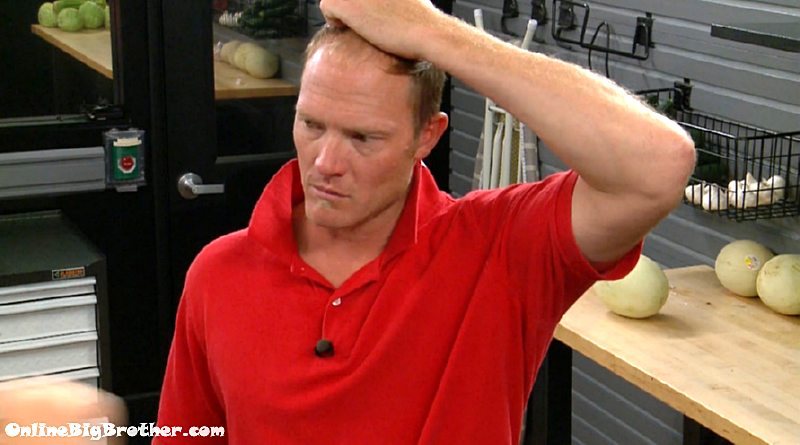 7:27pm Jason and Paul
Paul says Ramses and Cody made up that thing about the banner plane
Paul says everyone is throwing the HOH to him, I'm not using you or Alex as pawns.
Paul – nether you or Alex are going anywhere near that block next week
Jason – Well good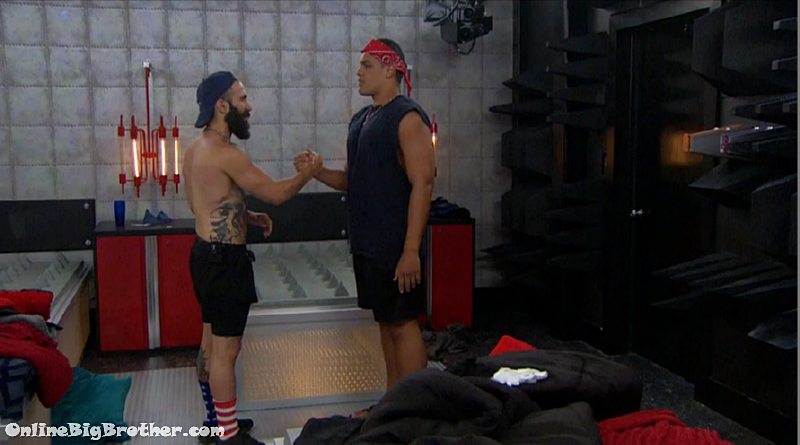 7:42pm Josh and Paul
Josh – I only trust you and Christmas
Paul – I'll never put you up unless it's a pawn game move
Paul says next week Josh won't see the block he's after Jessica and Cody.
Josh _ they think I'm voting for Jillian
Paul – but you're voting to keep Christmas
Josh – yes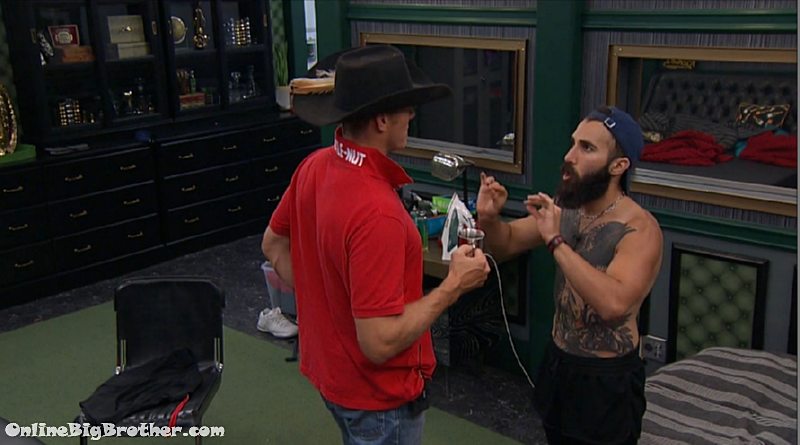 7:44pm Jason and Paul
Paul is saying everyone is on the same page for tomorrow. Warns that "they" are going to try some last minute shit tomorrow morning so get ready.
Paul – you and Alex are no more on people's agenda right now all we want to do is get Cody and Jessica out.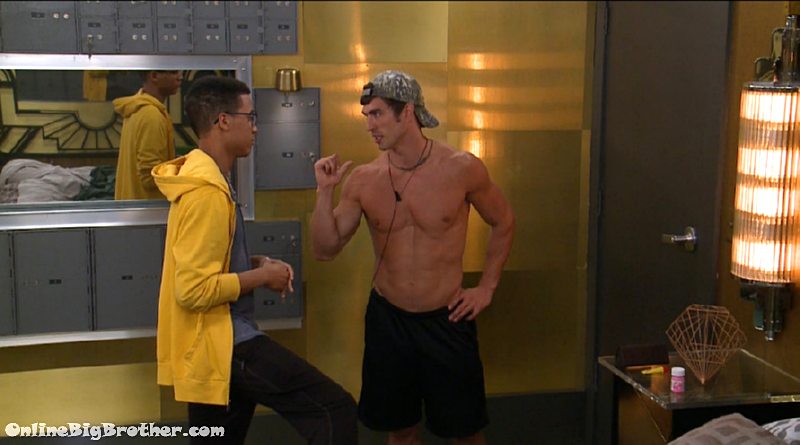 7:55pm COdy and Ramses
Ramses tells him his curse doesn't take his vote away.
Cody – good because your our side now
Cody goes on about his old group used him for his HOH to get Alex up and once she won Veto they wanted Jason up.
7:56pm WHO GAVE COWBOY COFFEE!!
8:05pm Josh, Dom and Mark
Josh swear allegiance to them.
For the Jessica Fans. if there are any 😉 #BB19 @DawgsBigBrother pic.twitter.com/PwsuEW0mik

— OnlineBigBrother.com (@bigbspoilers) July 6, 2017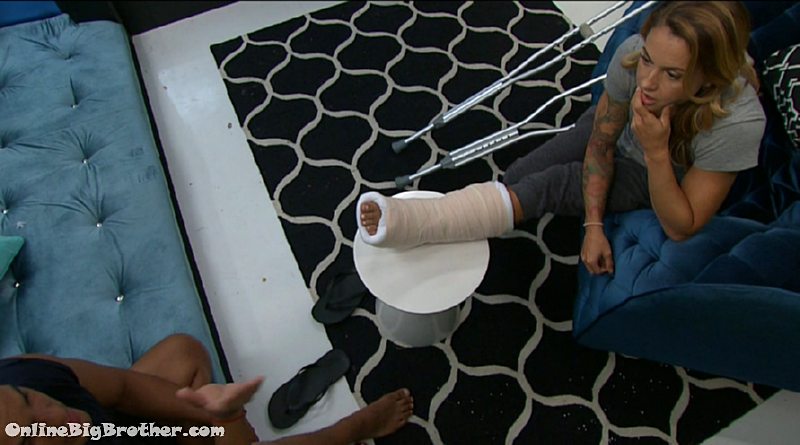 8:23pm JOsh and Christmas
Josh says Jessica and Cody never talked game with them before they look at him like they are disgusted in him. He told them he's voting to keep Jillian but he's not.
Josh – I want to work with you, Paul and Dom.
Josh asks what happened to their final 8.
Christmas explains that Cody wanted to make a "big BB move" and "take out one of the greatest players of all time" (LOL WOW ) Jessica wanted Christmas evicted because she's insecure and the type of personality Christmas has threatens girls like that.
Another injury in the #BB19 house @DawgsBigBrother pic.twitter.com/iqMavxJq9I

— OnlineBigBrother.com (@bigbspoilers) July 6, 2017
Links to the ranking system
Rank your house guests here
For those of you that like Statistics here are some expanded reports.