Check out our BB19 Ranking Grid. . rank your houseguests here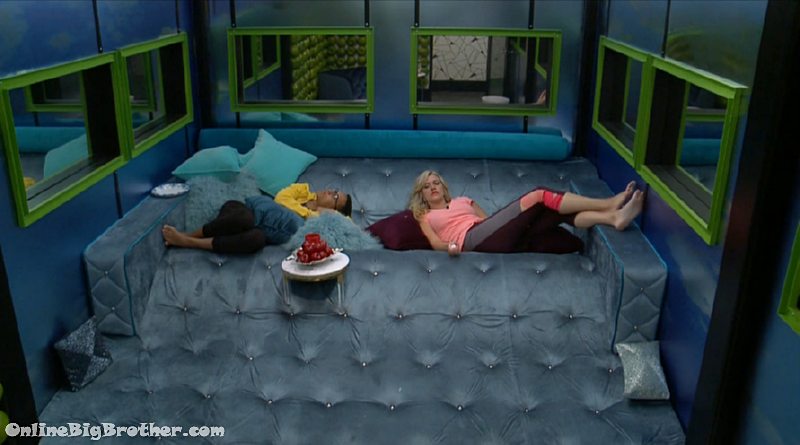 1:05pm Jillian and Ramses
The rules on Ramses' curse
requires the HouseGuests to have to volunteer themselves as one of the nominees in the next 3 weeks.
Jillian suggesting he gets nominated this coming week because right now they have the numbers to keep him safe.
Jillian – Cody and Jessica will probably vote with us
Rames – I can't win HOH..
Ramses explains if he won HOH he would have to put 2 people up make enemies then the following week he would have to nominate himself.
Jillian says she goes in the "Torture room" and sleeps nobody notices..
feeds cut.. (LOL)
Jillian says Matt is afraid of Alex, "Cody told us last night"
Ramses – just be careful what you tell Cody.. he's a liability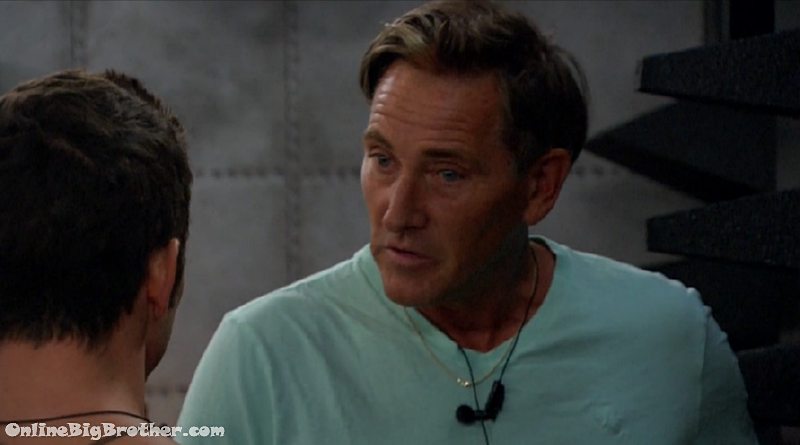 1:06pm Cody and Kevin
Cody – I almost hope it's a tie so I can be the one that kicks Christmas out
Kevin – they're coming after ya
Cody knows
Kevin – I'll go with you guys this time
Kevin says Jillian deserves a chance she's been on the block 3 week
Kevin – my word is my bond, you'll see
They shake
Kevin – Tomorrow night when I go in they're I'll say I vote for Christmas and leave that's my word.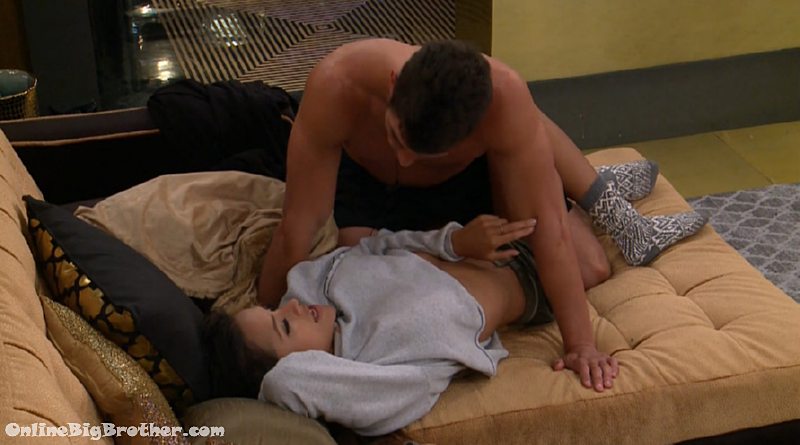 1:18pm Cody and Jessica
Cody says Kevin's vote is a lock.
They think the vote is 6-6, 6-7 with Mark
Cody says Elena will be so scared she'll jump into mark's arms "save me"
Cody says Matt is making a lot of digs at Cody when he was explaining past seasons.
Cody – ok MotherF**** i'm not a idiot Matt I see what you're doing.
Cody – If Matt wins and tries to put me up next week, i'll make him look like a idiot I won' hold back.. I'll call him a coward and a Pu$$y
Jessica says now that they have the votes locked to Evict Paul they have to focuis on Matt not winning the HOH.
Cody – and Paul.. Matt and Paul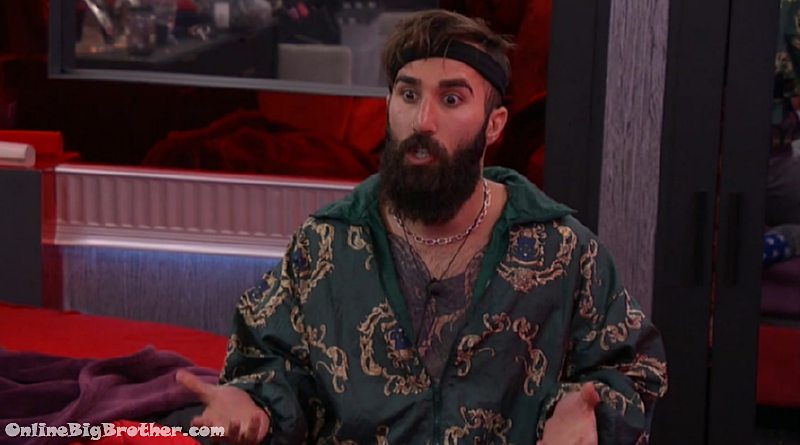 1:27pm Paul, Mark and Elena
Paul says Cody has made a side deal with Alex and Jason saying "My people are pissed at me I want to now work you guys to get them out"
Elena figured that out.
Paul leaves..
Mark and Elena start talking about shoes and jeans. She tells him she has a "good pair" of jeans that looks so good on her she "gets a b*ner"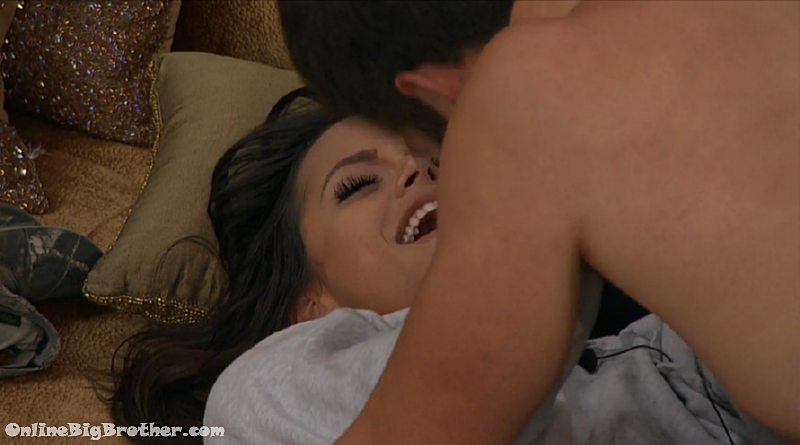 1:31pm Jessica and Cody
Talking about Cody's daughter and how he almost slipped up downstairs in one of his conversations.
Jessica – Hi Paisley
Cody – Hi Paisley
Jessica can tell Raven and Elena have had conversations.
Cody – what are you going to do when they crawl back
Cody doesn't want Christmas to be out of the game due to her foot he wants to have a vote.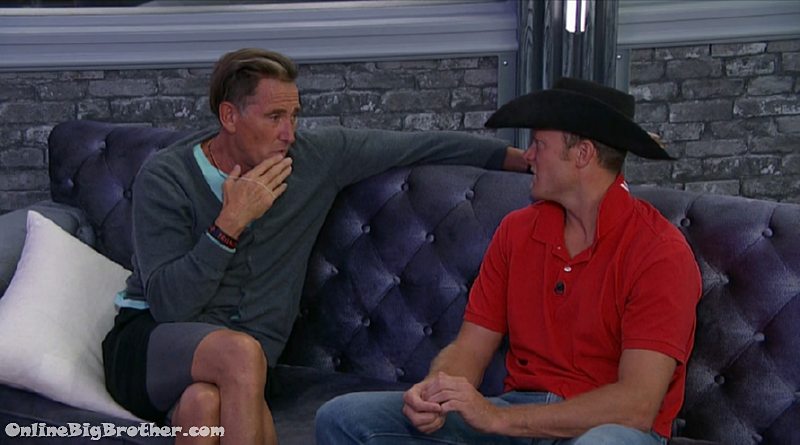 1:58pm Kevin and Jason
Kevin says he told Cody he's got his back.
Kevin points out they were going to vote Christmas out anyways not because Cody influenced them. But if they can benefit from Cody thinking that why not.
Jason – It's me, you, Alex, Josh, Ramses, Jillian, Cody and Jessica
Kevin – that 8
Kevin – I say we head hunt them all..
Kevin mentions the "makeup girls"
Kevin – some girls think the show is just for them
Jason- Think we can trust Ramses to vote for Jillian (to stay)
Kevin- I will twist him up like a fu***ing pretzel.. Just kidding, America
Kevin says eventually Ramses is going to snap he's only 21. Eventually he'll go "Coo COo for coco puffs like Josh"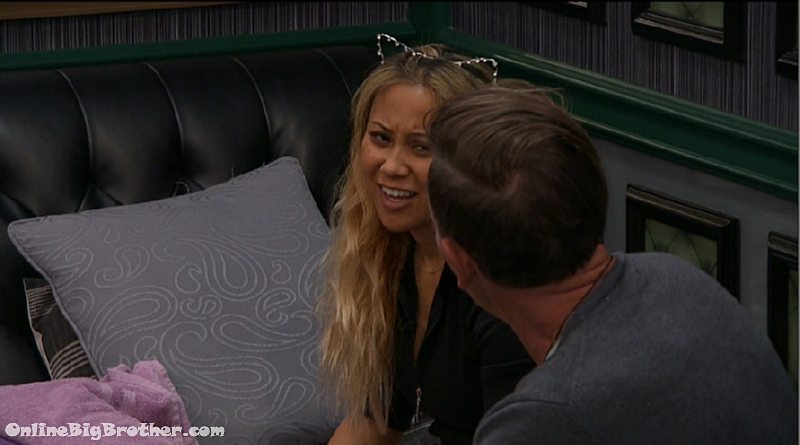 They head over to talk to Alex
Kevin tells them Paul is telling him it's 9-4
Jason – bullshit
Alex – he's been working Ramses hard
Kevin leaves.
Alex says she doesn't trust Jessica
Jason and Alex agree to get rid of Jessica within the next 2 weeks.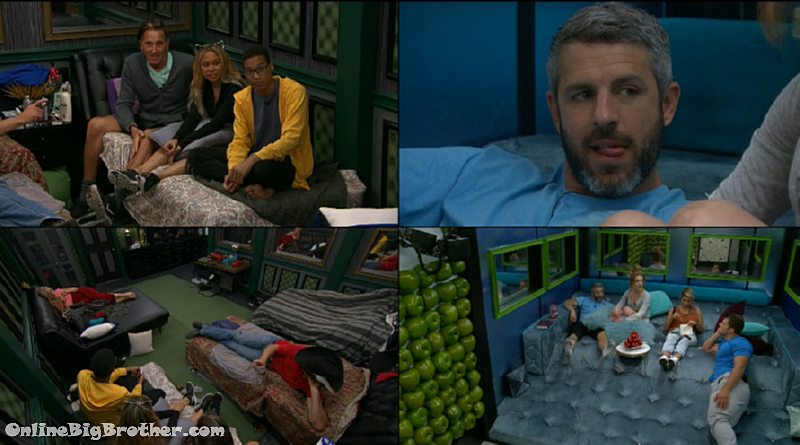 Kevin comes back says they are the geek squad..
Jason wants something better
Kevin – the goon platoon (LMFGO)
Kevin – the bullshiters
Ramses and Jillian join them.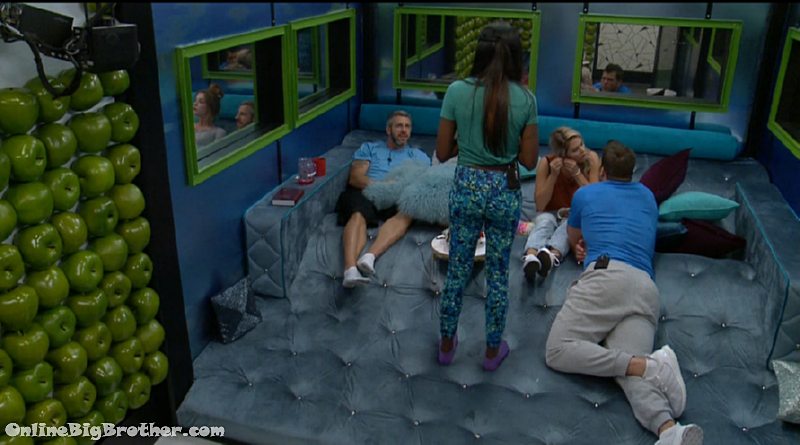 2:12pm Dom, Mark, Elena, Raven, Matt
They want to get Cody, Jessica and Ramses out before Jury. They talk about how the house will be shocked when the votes come out and Christmas stays.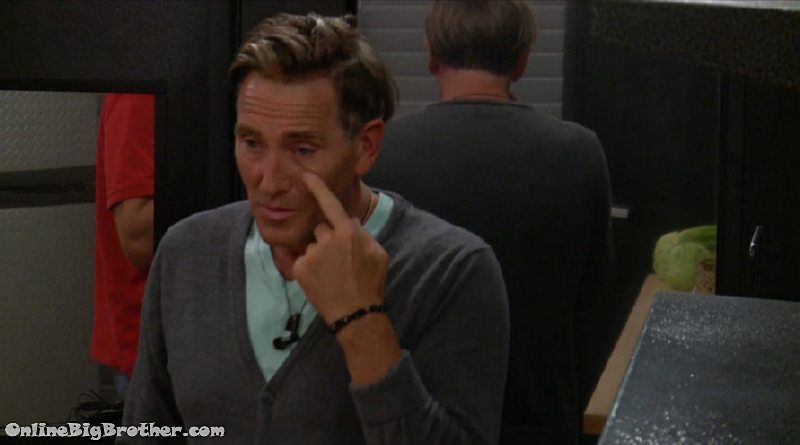 2:47pm Jason and Kevin
Complaining about the girls putting makeup on. "you doing a modelling shoot today"
Says it takes them 3 hours to put makeup on just to sit around for 5 hours to take the makeup off to go to bed, "whats the point"
Kevin – some of these girls, they think they're playing the game properly.. I don't see them doing nothing, playing grab a$$… don't know if you can call what they are doing playing a game..
Kevin says it's crazy to him that all these girls are leeching onto guys.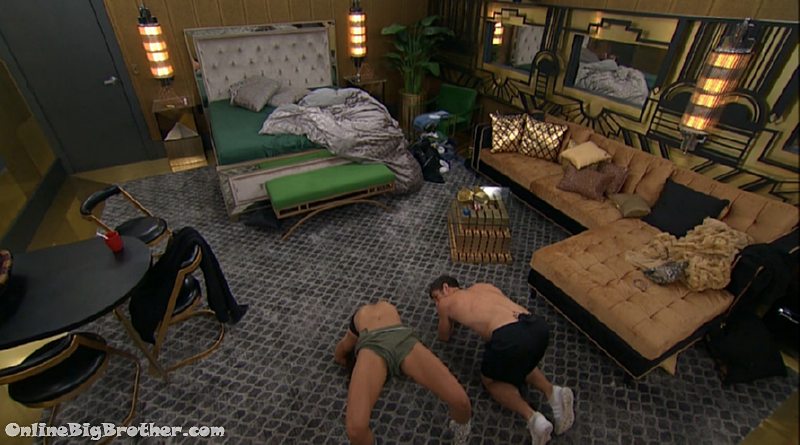 2:57pm Jessica and Cody doing some Yoga
Jessica – Is it out? My boobs not out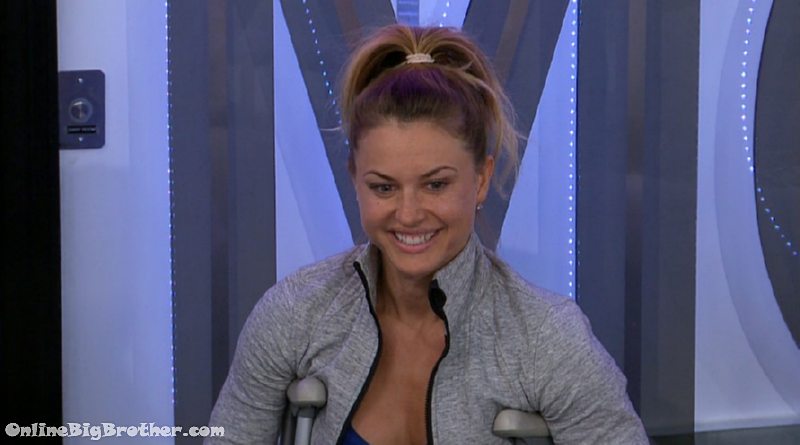 3:24pm Christmas is back
She says it has to be cast.
Christmas – It's broken
Christmas – nothing changes
She doesn't get a handicap in competitions. A doctor will decide which Competitions she can compete in.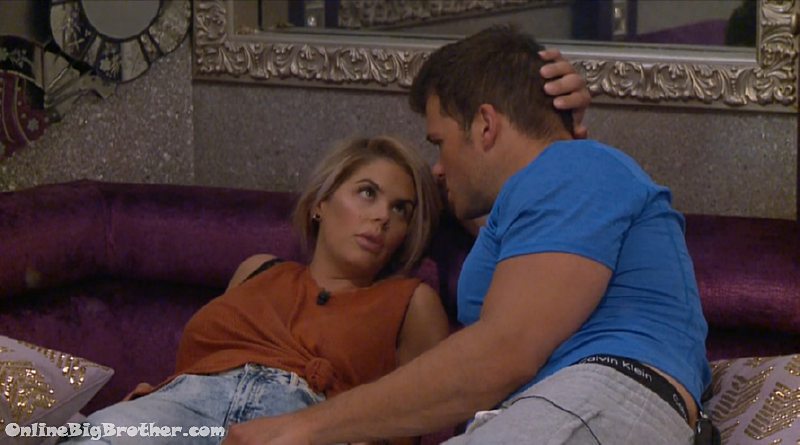 3:42pm Mark and Elena
Mark says on a game level he wants to get Ramses out before Jury but on a personal level he wouldn't mind Ramses in the Jury. With Josh it's the other way around He doesn't want him in the Jury house but on a game level who cares.
Raven stops by says she hopes Paul wins the HOH.
mark says one of them will.
Elena – I won't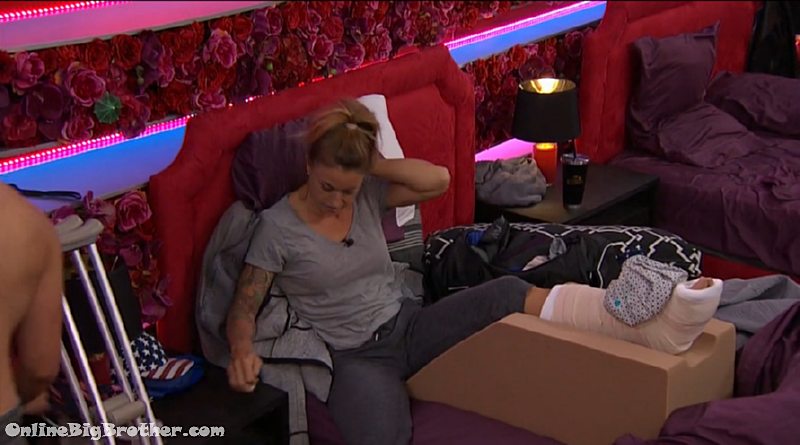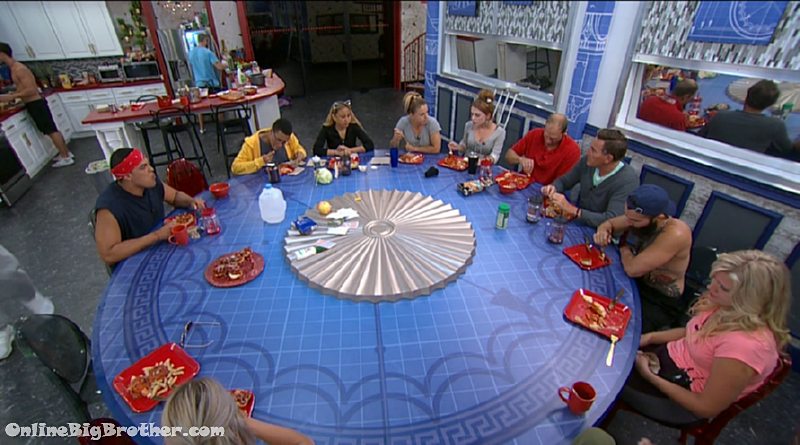 4:06pm Josh and Raven made dinner for everyone.
Links to the ranking system
Rank your house guests here
For those of you that like Statistics here are some expanded reports.