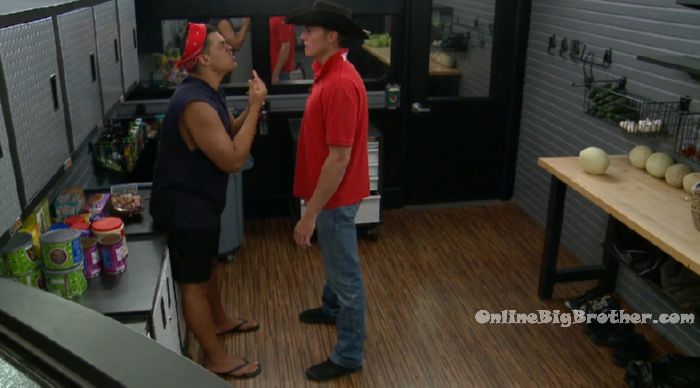 9:10pm Storage room – Josh and Jason.
Josh – nobody in this house is realizing how close we are which is good. Don't let anybody f**king know. People are realizing that you and Alex are really close. But let me tell you something… Alex is a f**king beast! I.. in mental comps can beat these fools and I know that you're a beast. Us three stick together. They're playing their and they think we're going to play their game. Us three stick together. I trust Kevin but Kevin needs to control his mouth. Jason – he's fine. That guy is solid. You just f**king make sure that you focus on exactly what we talked about. Christmas leaving. I don't care what they say to you .. you better stick to the pact or your a$$ is f**king grass. We can keep you for a few more weeks. Josh – if I win HOH, I pick who I want. Jason – right now Cody is on our side. We can get that son of a b***h out later. Do not f**k up on the vote. Just make sure you vote to evict Christmas. I love that f**king girl but that's just the way it is. Jason – you, me or Alex have got to win HOH. No matter what they say put your trust in us. Jason leaves the storage room. Josh says f**k F**k to himself.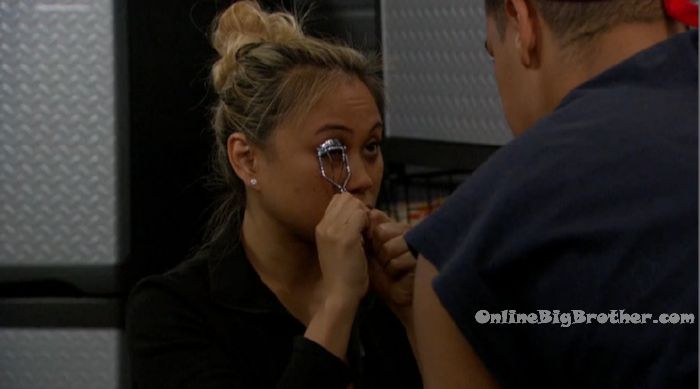 Check out our BB19 Ranking Grid. . rank your houseguests here

9:15pm Storage room. Josh & Alex.
Josh – everybody in this f**king house is threatened by you because you're a f**king bada$$! You need to trust me because I know that you don't. But you need to trust me. I am with you, Jason and Kevin. Alex – alright. Josh – You have to trust me. Alex – I trust you. They're playing their game. (points to the bedroom) And they're playing their game. (points to the HOH room) They're going to pick us off one by one. You get me? The only we're going to get far in this game is me, you and Kevin can trust each other. They're going to try and pull us .. or this is only going to continue. Alex – I don't understand their… I would totally be on with Paul but he wants to keep Christmas. Like it doesn't make sense and I don't trust her. Josh – but don't say that. I know that with my actions, you'll trust me. I can't preach to you. We can pray all we want. Josh – you are the baddest f**king girl mentally, puzzle-wise and physically… so know that sh*t.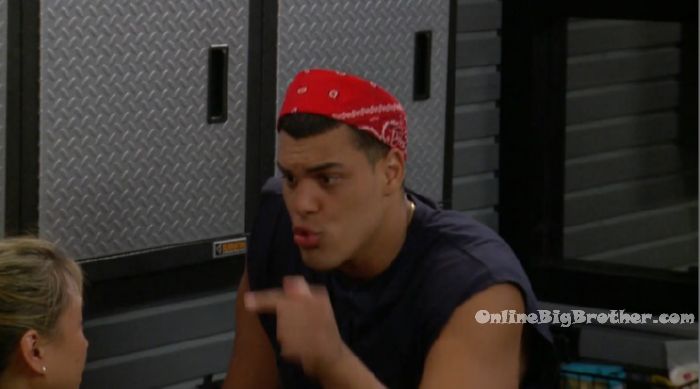 9:45pm Bedroom – Christmas, Elena, Dom
Christmas tells Elena and Dom that he (Ramses) has to put himself up as a nominee any time in the next 3 weeks. Dom – well hopefully he doesn't do that. Christmas – if he puts himself up this week, we have a bigger target. If he puts himself up next week, we still have a bigger target. If he puts himself up the third week.. Elena – so maybe and this would be a really big di*k move of me I can go talk to him and be like look I'm starting to hear your name more and more and people are starting to feel like your snooping. Dom – its true. Its true. You are hearing his name more and more. Elena – I am and I was hearing it before I just wasn't telling him because I was trying to stay more loyal to the rest of ya'll. I didn't want to mess up any plans ya'll had. But I could start letting him know that he was a part of the rumor about the banner. And that people are starting to talk more about him winning the $25,000. Dom – its true. Elena – and that maybe he should just wait a couple more weeks or as long as possible. I don't know if that would even works because he might put himself up this week because he knows Cody is a bigger target. Christmas – I think we should play the opposite. Maybe we should be a little nicer and make him wait. Dom – yeah we should do that.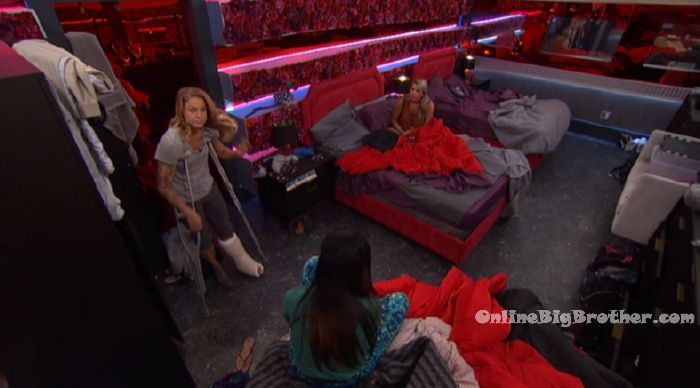 10pm HOH room – Cody & Jessica.
Cody – man we would have been such a dud season if we had just f**king safety'd our way through. I wonder if Mark is working a deal for us. Jessica – like what? Cody – hedging the bet with Paul. That's what I would do to help Mark. Is there any way that Cody and Jess could be safe is you get it. Jessica – I don't expect anything. Cody – I feel ya. Do you think after Christmas is voted out there will be a release in tension? Jessica – yeah. I think we'll have to deal with Raven and Elena being emotional. I can see both of them crying already. Cody – do you think they would cry for you? Jessica – I don't know and I don't want anyone crying for me. Maybe you would cry for me? You cried for Alex, so I hope you would cry for me. Cody – hahahaha. Jessica – twice. Cody – you're so dumb.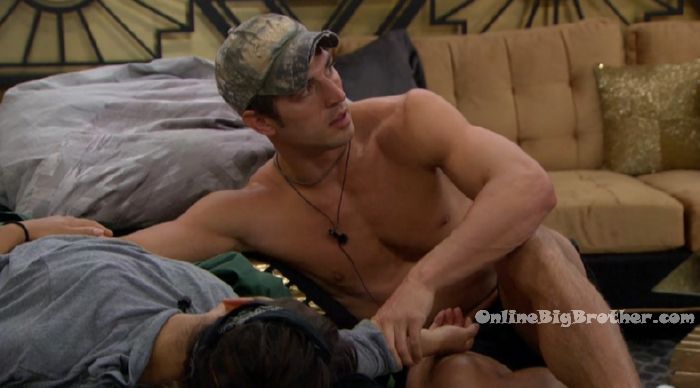 10:03pm – 10:30pm Lounge room – Kevin and Dominique "the dominator" do another episode of their shows. Christmas is the first guest. Dom asks her about her thoughts moving into the house / audience questions, etc. Jillian is the next guest. She talks about "letting her freak flag fly".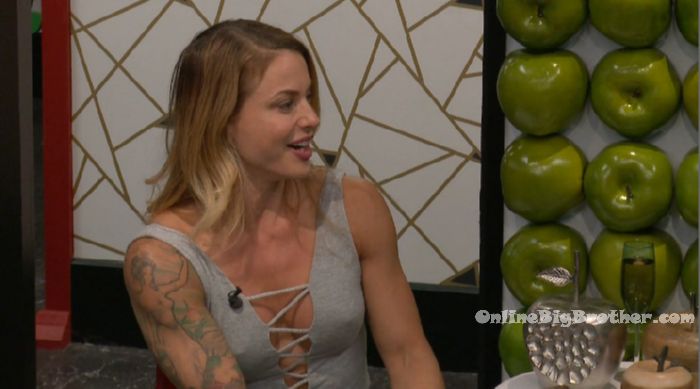 11:10pm Mark & Elena.
Elena – all they said was that they think you talked to Cody and he thinks he has the votes. Mark – Crazy. I can't want to see the votes tomorrow. Elena – wait you told him you're voting for Christmas or Jillian? Mark – he thinks I'm voting for Christmas too. Elena – to go? He does? Mark – yeah. Elena – you never told me that? Mark – I told you that when you were with Paul. I told he and Jess that if they get enough votes I would be the swing vote to get rid of her. I told them that the day the veto happened. I only said that so that they would think it was okay. They think its going to be all the outsiders. Jess, Ramses, Alex, Jason, Josh.. they even think Kevin. They think its going to be 7 – 5. He's delusional. They're not going to make a scene before the vote. They're waiting till after. They think they've got this. When they hear 10 – 2 they're going to freak out.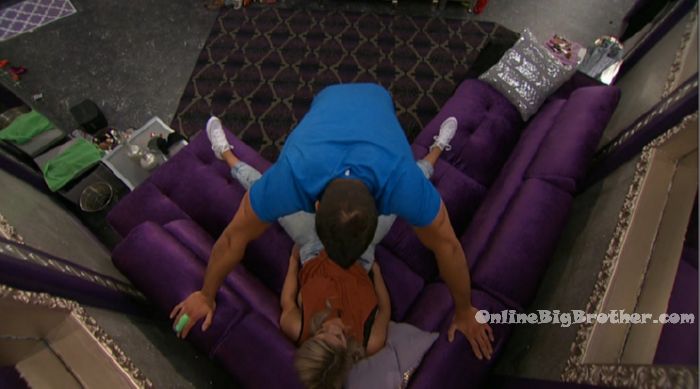 11:20pm – 11:30pm Josh, Kevin, Ramses, Jillian and Jason.
Josh – the only chance we will have in this f**king game is if we stay together. If not, we're handing that cheque to somebody else. We came here to f**king play.
11:40pm Alex hides in the storage room and scares Mark. He says he's playing chess and needed his full mental capacity and she just f**ked it up. He tells her he got him good and that he'll get her back.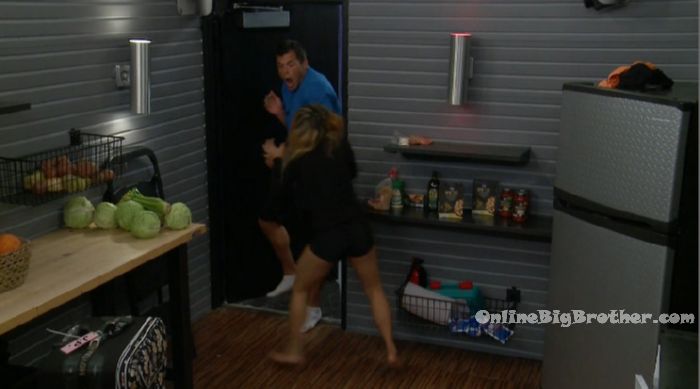 Alex scares Mark

Mark – "AHHH SH*T! F**K!! @bigbspoilers #BB19 pic.twitter.com/2lKD11bEIv

— Dawg (@DawgsBigBrother) July 6, 2017

See what they can't show you on TV Try the live feeds for FREE!
12:10am Kevin, Josh, Alex and Jillian.
Josh – I want that bed, I want a letter, I want a shower, I want to be in f**king power! Alex – that was a good intro. Kevin – what alcohol did you order? Josh – Merlot, chardonnay and beer. Kevin – I just hope its something.. and share with so the other people don't. Josh puts up his middle finger. Kevin – if you want to just tell people I reserve the right to just be up here and shower by myself. Have you showered up there? Josh – no. I asked to use the bathroom one time and he (Cody) said why don't you use the bathroom downstairs. Alex – what?! Jillian – no way!! Josh – I swear to god on my momma. someone was using the bathroom downstairs and he (Cody) was in the backyard so I asked him if I could use it and he said can you wait till the person downstairs gets out? Jillian – wow! That's f**ked up. Josh – Kevin – guess whos seeing that? Josh – America. Kevin – but guess who is really seeing that? Josh – my family. Josh – since the beginning people have been slandering my name, dogging me, dragging my name through this sh*t hole. They can manipulate everything they want to. Kevin – I want to be around people I want to be around not people that are making out. Josh – Paul said it best, this isn't a dating show this is big brother.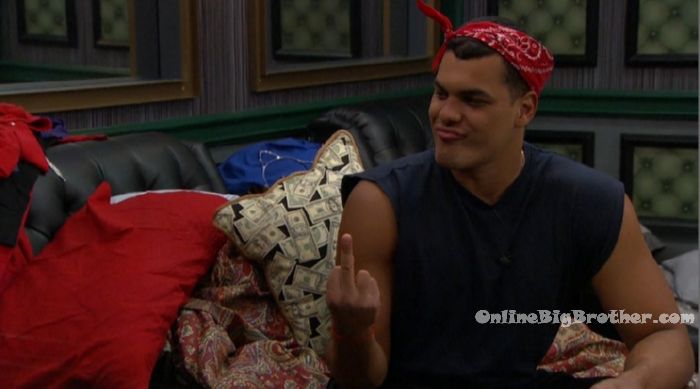 12:45am Outside the HOH room – Mark and ELena making out.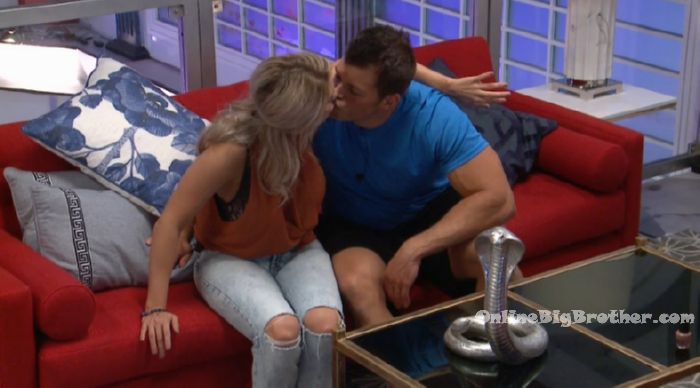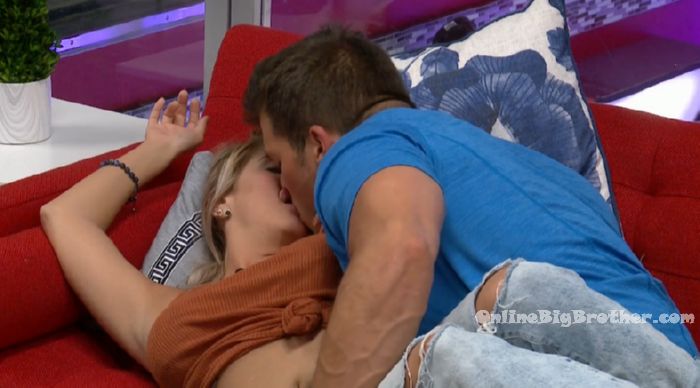 1:10am In the bedroom – Kevin, Alex, Ramses, Jillian, Paul, Christmas and Jason.
Jason tells a story about how he was "banging" a girl in the barn when she said it was too dry. She said spit on it. Jason said he wasn't going to do that, so he grabbed his Carmex and put it on it. He says he blew 3 nuts without going flaccid. Jason – 3 consecutive times .. mind you that was all in 7 minutes. Kevin – best f**king 7 minutes of his life.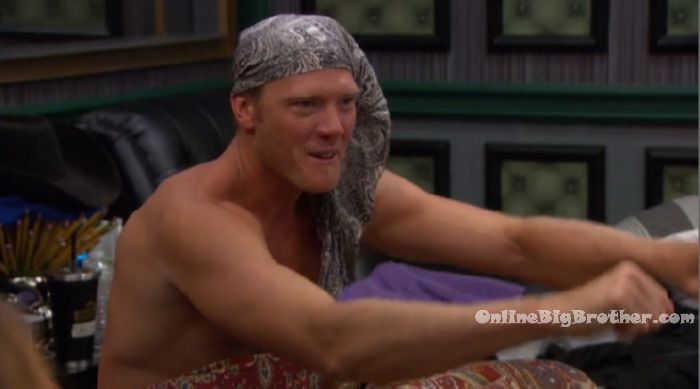 1:40am Josh talking to himself alone in the havenot room.
Josh – I am an outsider, I am alone but I am a vote and the vote that counts tomorrow. And its taking a tole on me because do I keep Jillian who I can have as an ally and continue to play this game with and she's not a threat to my game or do I keep Christmas that is going after Cody but is a strong player even with a broken leg. She is a strong number for the strong alliance. But has trusted me but is not willing to break her back like I am willing to do for Paul. I am really torn because I am not sure what to do. I gave people my word but looking at the bigger picture I don't think its best for my game so this is really hard. I've gone through BB hell. I've had to fight for my safety since day 1! I have a strong 5 out there, with me its 6. This is an underdogs game. This isn't a high school game, this isn't a popularity contest. I trust Dom, I trust Paul but I do not trust those two showmances .. Mark, I don't trust Elena, I don't trust Matt. And I love Raven but I don't trust her gamewise. I fu*ked up in the beginning. I think Matt is a very intelligent person. I don't like how he throws out
Try the Live Feeds FREE for 7 DAYS!
Click here for your: Big Brother 19 FREE Trial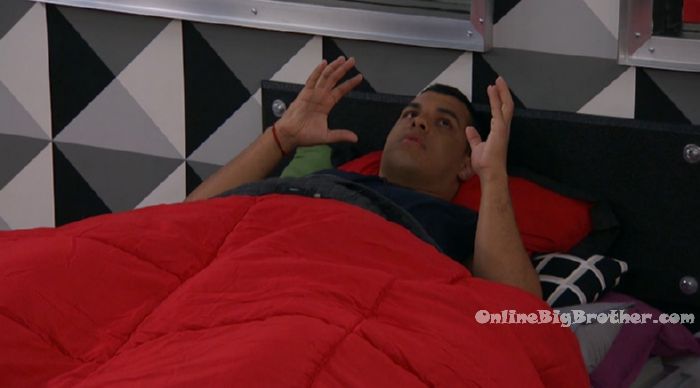 2:10am – 2:30am Havenot room – Jillian, Josh and Alex.
Josh – we need to stick together. We have something. Jillian – we were worried about you. We saw them cornering you. Josh – they try to sway everybody but I know where I stand. I was in the outs, I would have been out that door this week if I didn't have the apple. I would have gone home and none of them would have cared. They would have continued to jury but I threw a wrench in their plans and their plans blew up and their alliance blew up. So guess what I will never forget where I was on day 14. I was in the havenot room with you guys. Thirty days from now, I'm going to remember that. They tried to play me week one and get me out. They've been slandering my name and making sh*t up about me. My family is watching that. So guess what I am going for that HOH tomorrow and I'm not leaving my fate or my game in no ones hands and I'm going to make sure we're all safe. I'm going to start throwing shots and this house is going to blow up. Alex – with Cody and Jessica being such a$$holes it takes the heat off of you. Josh – I'm just going to be like you guys never spoke game with me. Alex – I don't want Jess to go to jury. She won't be good for anyone. Jillian – I think we should put up Matt and Raven. Mark and Elena are fine. Really we just need to break up that group. They don't even talk to Jessica and Cody. Josh – I don't think we go after Cody and Jessica ..we don't need to do their dirty work. They had a 9 person alliance and we weren't going to jury now we have the numbers and we're going to take control of this game.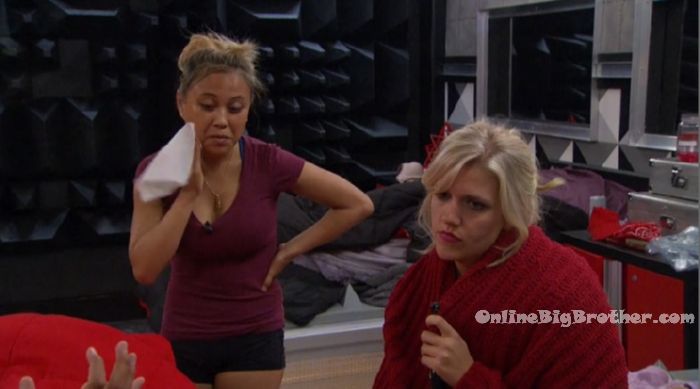 Alex and Jillian.
Alex – Kevin is worried about you because you keep asking about the vote. Stop asking about the vote. Jillian – I can't release control of my fate. I need to take control. You guys tell me I'm okay. Alex – when I tell you, you're okay.. you're okay. Jillian – my work and my life everything is in my control. I'm trying to keep calm and relaxed. Alex – if you go home this week that means there's a rat in our group and that someone else has turned. Jillian – they won't. Alex – Jessica has to vote with us and if Mark does too that's sweet. We need it to be a 6 -6 or 7 – 5. If its 6 – 6, Cody will vote with us.
3:45am All the house guests are sleeping.
4:15am Mark and Matt are up in the kitchen. Big Brother turns the lights on and Mark heads to bed.
4:30am All the house guests are back in bed.

Links to the ranking system
Rank your house guests here
For those of you that like Statistics here are some expanded reports.