POV Holder:
Danielle
Next POV:
Aug 11 (Saturday)
POV Used
YES
POV Ceremony
Aug 6 (Monday)
HOH Winner:
Danielle
Next HOH:
Aug 9 (Thursday)
Original Nominations:
Wil and Frank
Current Nominations:
Janelle AND Frank
Have Nots
No Have-Nots for the Week
Last Evicted Houseguest
9:33pm Cam 3-4 Storage Room Ashley and Wil
Ashley: "we're not really floaters.. but I guess we kinda are" 
Ashley: "are we going to tells Janelle on wednesday we are not voting for her"
Wil thinks maybe they shouldn't bother and they skip all the drama. 
ashley mentions that Britney is asking her if Wil is upset about being on the block. Ashley adds that she was asking her the same question and said she was surprised Ashley wasn't more made because her Trixie Pixie was nominated. Ashley: "do you think She's fishing for information? " Wil: "I think she's trying to find out if you are willing to work with them" 
Ashley isn't going to be working with Britney. 
Wil is pissed because Joe used up all the chicken. "He uses all the food" 
9:36pm Cam 1-2 Britney and Frank Bathroom
Frank relaying his conversation with Wil to Britney. They are thinking that Wil is going to put up Shane. Britney says they are good with Votes as long as he puts up Joe and Jenn against Shane. Frank says that Wil has offered him safety.
10:07pm Cam 3-4 Danielle and Shane playing Badminton while Britney, Wil, Boogie, Frank and AShley talk about how much food JOe makes. Wil is thinking it's time for them all to make their own food because too much is getting wasted.
10:17pm Cam 3-4 Danielle and Britney Watch with FlashBack FREE TRIAL!
Danielle tells her about Janelle's lies, "The good news is she has no idea any of us Talk.. she told me that it was Boogie that didn't want to work with her and she was willing to do whatever"
Britney: "OMG she was downstairs telling me that you wanted her to stay and you were going to convince Shane to vote for her"
Danielle says Janelle would toss in some digs with her as soon as she sensed she had the upper hand with her.
Danielle: "Janelle told me that you promised her your vote"
Britney: "I never promised her anything.. I told her I would let her know"
Danielle: "Janelle's gotta go if she comes up here again and tries to Bully me or guilt trip me.. I'm going to scream"
Danielle: "'Ohh and she starts making up that she was the only person that was sticking up to Danielle during when Boogie and Frank wanting her out"
Britney: "Oh MY God"
Britney: "She told me that you are going to get Shane to vote for her"
Danielle: "I am going to blow up on her.. She came up here crying trying to guilt trip me.. once she started getting comfortable with me she turned back into being a complete B!tch"
Danielle: "I cannot believe she's still lying so much.. She offered me her stupid dresses until finale night"
Britney: "Oh my Gosh what a nightmare.. she keeps asking me for information"
Britney starts to bring up that if it's 2 girls in the finals they have a better chance of winning, "There has never been a girl that has won against a guy in the final 2.. I know you are close with Shane, I know you are close with Dan.. I just want you to think about sitting in the final 2 with them"
Danielle says "Shane is like my boyfriend, Dan is like my Dana and Britney is my Best Friend.. and you know what they say in the Sorority"
Britney smiles says they need to be aware of the guys but for now they're group is perfect.
Danielle: "Janelle's gotta get the hell up out of here.. Before she spreads more lies"
Danielle: "AS soon as she sensed that I was a bit sorry she started built tripping me… trying to break me down"
(Danielle is 100% saw through all of Janelle's Bullshit.. However Danielle did exaggerate a bit)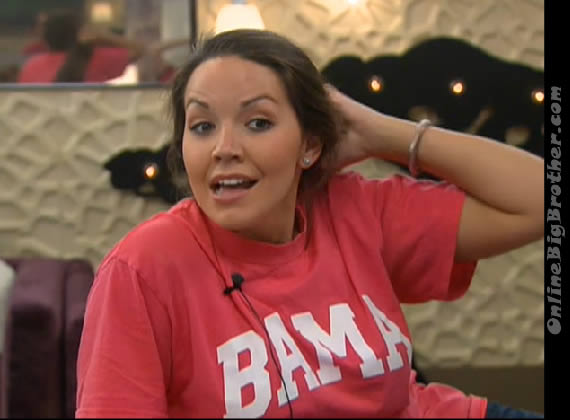 Dan joins them. Danielle fills him in a bit about the conversation with Janelle. She says that Dan promised her his vote and Shane is coming after Dan.
Danielle says she tried to guilt trip her and as soon as she thought Danielle was feeling a bit bad and sorry she started with the snide remarks.
Britney: "I was the biggest Janelle fan ever"
Dan :"I never remember her playing like this before"
Dan has trouble believing that Danielle won't verify what was said.
Dan: "One thing that is underrated in this game it's how you treat people.. If she treated AShley well she would of had her vote"
Britney: "If she had been like she is now since Day one I wouldn't vote her out"
Dan asks Britney when they should tell Janelle. Britney will tell her on Thursday because at that points Ashley would have told her.
Dan explains that they shouldn't feel bad about Janelle going home she gets to see her husband and child. he points out that Janelle is wealthy she's going back to a good life.
They wonder why Janelle thinks she's not the target when Danielle used the POV to put her on the block. Britney: 'Does she thinks you just wanted to use it because it was shinny"
10:56pm Ian joins them says he brings a joe story for them to enjoy.
Britney: "ya this is like christmas"
Ian mentions that Joe cornered him in the Storage room about an alliance. Ian laughing says he proposed Ian, Ashley, Joe and Jenn. The alliance will be called the Outsiders. Ian: "Joe kept saying Nobody will expect it.. nobody will expect it"
Danielle really pissed at Janelle for trying to guilt trip her: "Janelle you are going to be saying a goodbye speech"
Danielle says Janelle claims she has everyone's vote.
Ian: "I don't even think she has Ashley and Wil's vote anymore.. I overheard them talking about it"
Danielle is still upset about her talk with Janelle she just keeps talking about it.
Ian: "She's gone.. Personally I liked her but her game has really been off.. Classic Too fast too soon"
Danielle: "She told me the only reason I am still in the game when JOJO was up was because of her convincing.. She made me feel like I have a obligation to save her because she saved me week 2"
Ian: "that is totally false.. JOJO was the last remnant of Willie she had to go"
Ian tells him that after the POV Ceremony Boogie put his arm around him told him to fasten his seatbelt cause he's cruising with Chilltown now.
Ian says the good thing about Frank is he doesn't shit stir unlike Joe. Ian wants Joe gone before Jury because he's so much trouble. Ian asks Dan who he would put up. Dan: "Joe all day"
Ian says that Boogie has no idea where Ian is in the game. Dan is glad says this way Boogie will tell Ian about a preemptive strike against their group. Dan suspects Ian will be the one he wants to do it.
11:28pm HOH Janelle, Britney and Janelle Watch with FlashBack FREE TRIAL!
11:54pm Ian taking a bath, Britney and Danielle are in the room. talking about Joe being the target next week.
11:56pm HOH Boogie, Danielle and Britney
Danielle is telling Boogie about her conversation and the lies about Boogie asking her to team up with him.
Boogie comments how he doesn't know why her game is so different this year.. Janelle is making things up that are not even believable. Boogie mentions he was just talking to Dan about this it's weird.
Danielle brings up Janelle saying "I thought you were my friend you stabbed me in the back and I didn't even have any makeup on"
Boogie: "No I stabbed you in the front and you were too comfortable and cocky to put makeup on"
Britney goes on and on about Janelle..
Boogie: "She's just Grasping for straws.. it's so pathetic…"
Britney goes downstairs to grab some food when she comes back she comments on Janelle's mood.
Danielle says that Janelle is always trying to beat her down with these her her little comments. Britney: "It's those undercutting comments that are sly… She's even told me a couple time".
Britney: "she told me how you want to take people that you can totally beat to the final 2
and in the same breath told me she wanted to take me"
Danielle brings ups Janelle saying Danielle did have a chance in the HOH competition if it was endurance. Boogie says this is how he wanted to see Janelle at least once without her fake baby voice and being nice to everyone.
Danielle tells Boogie about when Janelle told her JOJO was saying I was a fat ass a heifer and my legs look like cottage cheese.  Janelle was trying to get Danielle to go start a fight with JOJO. 
12:20pm Backyard Wil, Ashley and Boogie Wil saying he's sick and tired of his name getting thrown out there by Janelle and Britney. Somehow last night he convinced Danielle to put up Janelle. Boogie says he hasn't had a problem with Britney but he's been privy to a lot of Janelle's lies. Boogie brings up the entire Janelle story about her telling people that he went up to her to form an Alliance when it was really the other way around.

Share it YO!!
Tweet