POV Holder:
Danielle
Next POV:
Aug 11 (Saturday)
POV Used
YES
POV Ceremony
Aug 6 (Monday)
HOH Winner:
Danielle
Next HOH:
Aug 9 (Thursday)
Original Nominations:
Wil and Frank
Current Nominations:
Janelle AND Frank
Have Nots
No Have-Nots for the Week
Last Evicted Houseguest
12:30am Up in the HOH room are Shane, Ian and Britney. Ian tells them that at first he didn't know who to nominate if he won the head of household competition next week, but says now he knows he would nominate Joe. Ian says that no one would care if Joe left. Britney and Shane agree. Shane then says that he would even be a pawn against Joe to make it less suspicious. Ian says that it would probably not be best to nominate Shane before the power of veto because Joe's chances would go from a 1 in 7 chance to a 1 in 6 chance of winning the veto because Shane automatically plays for the veto due to the veto ticket. Ian leaves the HOH room. Britney tells Shane to never ever again say you will go up as a pawn because they will vote you out. Shane says that he was just trying to make it easier for the others in their alliance. Britney tell him that she knows he meant well but Shane is too big a target in the game and that Frank and Boogie could vote him out.
Watch it ALL on FlashBack: Big Brother 14 Live Feeds – FREE 3 Day Trial!
Frank joins Shane and Danielle up in the HOH room. They talk with Danielle for a bit about random stuff and they Danielle heads downstairs. Frank talks about how Janelle was hotter back in season 7. Shane comments on how Britney has a rocking body. Frank agrees. Shane tells Frank that Britney had told him before she came into the game that he could not trust Boogie even if he trusted Frank because Boogie would do things like changing his vote at the last minute. Shane says that from what Frank told him, it seems like Boogie changed his game as a coach from how he was in his season, although he might be more aggressive as a player. Frank says that Boogie would not do anything super wild and crazy because Frank would not do anything like that. Shane tells Frank that Danielle is a sweet girl and that he likes her. Shane says that Danielle is also young, emotional and he says that it is tough to tell her but he does not want to have a showmance.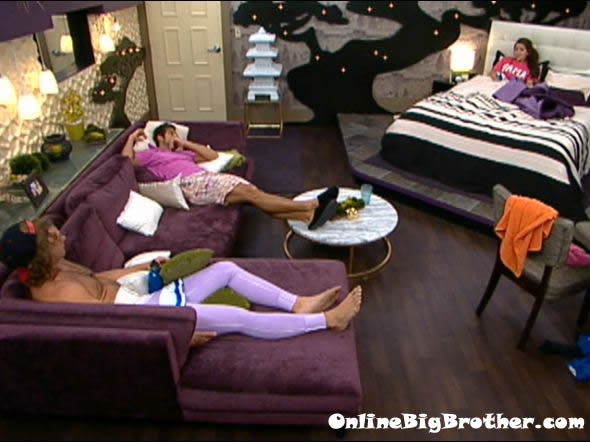 2:20am Frank, Ashley and Wil are in the stereo room talking about Janelle. Wil and Ashley talk about how much Janelle has lied. Wil tells Frank that Janelle has made you out to be a bigger target than you really are. Ashley says that she has seen through Janelle since day one. She would back stab us in a heartbeat. She throws us under the bus all the time and she tells lies that we get associated with. Wil says that Joe was so happy when he and Frank were nominated. Wil and Ashley talk about how when Shane used the veto on her, Janelle had wanted him to use it to save Joe and not her.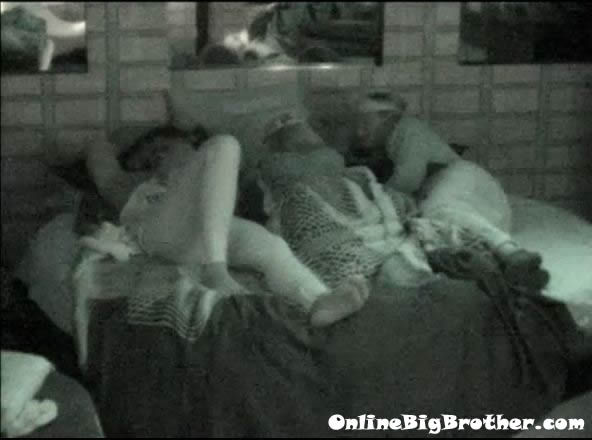 2:40am – 3:10am Janelle and Joe are alone in the backyard talking. Janelle tells Joe that she told Ashley she doesn't trust Wil anymore. Janelle says that she thinks she might have gotten put up to save Wil but with the votes for her to stay. Joe pissed at Wil and says that in the last two weeks Wil has destroyed his team. Joe says that last week Wil threw me under the bus and now he's throwing Janelle under the bus. Joe says that he might even want Wil out over Frank even though he doesn't like Frank. Joe says that he doesn't know if Ashley trusts Wil or not. Joe talks about how he can't read Ashley. Joe says that he will keep quiet and pretend he is good with Wil to try to keep Janelle safe. Joe tells Janelle that he thinks she might want to just expose Wil's lies. Joe talks about how he thinks there is some bigger plan in action. Joe tells Janelle that Frank is talking like he is going to be here next week for sure. They talk about how they don't trust Wil and how in week one that he didn't come to make friends. Joe says that he never thought Wil would be this bad to his allies. Janelle and Joe head to bed.

Watch what happens, AS it happens: Big Brother 14 Live Feeds!
Subscribe today for your FREE 3 DAY TRIAL!


3:20am – 4am Danielle and Dan are up in the HOH room talking. Danielle tells Dan that she is way closer to him than Shane and Britney. Danielle tells Dan that Britney would pick her over Shane. Dan says that Britney demeaned her players as a coach. Dan says Shane isn't incompetent and to let him voice his thoughts. Danielle says that she would take Dan over Shane because Dan never left her side and Shane voted to evict her. Dan asks Danielle how close she thinks Ian and Britney are? Danielle says that she doesn't think anywhere near as close as us. Dan says that Ian, not Shane. Danielle says that Britney says Ian reminds her a lot of her little brother. Danielle asks if that scares him? Dan says no, just in case he is on the block with Britney. Danielle says that personally Ian likes Dan more than Britney. Danielle says that she doesn't question Ian when it comes to Dan and says that he has a lot of respect for him. Dan says that Ian has gotten a lot better at this game but that he just needed someone who had confidence in him. Dan tells Danielle that a lot of the game is luck and how you react to situations that influence the outcome. Dan then talks about being the coach of Danielle, Kara and Jodi. He then talks about how weird it was to see the episodes of the show after his season was over. Dan and Danielle then decide to go to bed.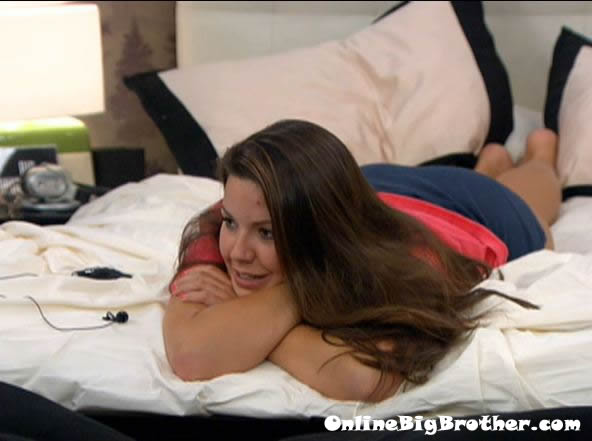 5:40am All the house guests are still sleeping..

Share it YO!!
Tweet