POV Holder:
Elissa
Next POV
July 27th
POV Used
?
POV Ceremony
July 22
HOH Winner:
JUDD
Next HOH:
July 25
MVP:
?
Original Nominations:
Aaryn, Kaitlin, ELISSA (MVP – America)
Current Nominations:
Last Evicted Houseguest
David, Nick, Jeremy
Have Nots
Jessie, Candice, Andy, Spencer
3:05pm Amanda talking to JUDD
JUDD is still in the solitary confinement. Amanda tells him they are planning a party when JUDD gets out. JUDD mentions how the penalty Helen got was worse than his. He was able to tune out the buzzer and sleep through it.
Amanda asks him if he heard the drama from last night. JUDD heard a bit but didn't know what it was about. Says GM mentioned something to him.
Amanda saying that Elissa was being malicious saying all these nasty things, Amanda kept blowing it off but eventually she couldn't take it anymore..
Amanda says that they spoke about it today and Elissa had turned it around to make her look like the victim. Amanda found herself apologizing to Elissa when it was Elissa that made her cry.
Amanda: "She said I feel betrayed by you"
Kailtin in the bathroom "SHE SAID THAT TO YOU"
JUDD: "Is she still acting as weird as she was before"
Amanda: "I don't know I Haven't spoken to her that much… We just had that one conversation and somehow I ended up apologizing to her and I don't know how"
Kailtin: "Are you serious you apologized"
AamndaL: "She's been b!tchy"
JUDD: "B1tchy like she's trying to start stuff"
Amanda: "it bothers me how she Antagonizes Aaryn.. I see the way she looks at her.. I know obviously no one is innocent here and Aaryn's done her share of being b!tchy "
Amanda says that Aaryn never talks about Elissa "for weeks now". Amanda adds that Elissa can't leave Aaryn alone she always brings her name up.
Amanda: "It's like Who's the villain now"
JUDD: 'Ya"
JUDD: "She's switching sides.. Aaryn doesn't even talk about Elissa"
JUDD: "Is she taking herself off the block"
Amanda: "Yeah I assume so"
Amanda brings up how she told Helen not to use the veto because they have the numbers and somehow that got back to Elissa. Amanda tried to explain to Elissa if She was taken off the block and another one of them got put up they may not have the numbers to keep that person safe.
Amanda says everyone in the house wanted to have fun last night but all they got from Elissa was comment after comment. People are saying she was getting pissed because she wasn't the centre of attention.
Amanda: 'She was obviously wasted last night.. she got drunk.. she was cursing at production.. Said F*** you.. she listed off all the people from production and told them f**k you "
JUDD: "I heard them production tell her to shut it down"
Kaitlin: "And she listed their wife's" (Productions wives)
JUDD: "Their wives what the hell"
Amanda says that this morning Candice turned it all around and victimized ELissa
JUDD: "REALLY"
Kaitlin: "I can't believe you apologized"
Amanda: "I have to I'm afraid she has a power. "
3:12 Hammock Spencer and McCrae
McCrea apologizes for lying about the MVP last week. Spencer is fine with it. McCrea says that Elissa screwed them over she did what she wanted and McCrae took the heat for it.
MC: "you know.. I really do like you I think you deserve to be in the game.. you know"
Spencer says he knows that McCrae and Amanda say they have something going with him and Howard but they are not the only ones AManda McCrea have made that deal to. Spencer believes McCrea and Amanda have a bunch of final 4 deals with groups in the house. McCrae admits that they do.
MC: 'To be honest I do like use four I really do. (Howie, MCcrea, Amanda and Specner) MC says that they need a strong group to take out Elissa. Hell pull the trigger.
Spencer: 'Just keep me in the know and don't put me in a bad position.. I'm not going to scumbag you dude"
Spencer: "Dude you know i'm down.. it's all good man"
S: "be straight with me.. you have a deal with Elissa and helen"
MC: 'Not really"
S continues "It's going to sour because Amanda and Elissa are hard headed"
MC: "We had that 7 deal then a deal without howard and you"
MC: "Who the f*** knows now because Elissa is going crazy.. we want out of that group"
Spencer knew there would come a point when Elissa would feel comfortable in the house and start to show her true colours.
MC agrees.
MC swear he has no idea who the MVP is, he thinks it might be Elissa, Howard or Aaryn.
McCrae tells him the only person that really talks about Spencer being nominated is Elissa and right now she's more focussed on Aaryn.
Spencer: 'Dude I can strike two of those off based on what I know" (Howard and Aaryn)
Spencer: 'Elissa has an odd amount of Influence in the house that I don't understand"
Spencer says if Elissa did nominated herself as the MVP it's a sneaky plan but it could mean she wants to take someone out that will not suspect it.
Spencer says McCrea lying to him about the MVP last week would have prevented him from telling McCrea if he had it but he feels that after this conversation he would tell McCrea again.
Spencer: "Helen hasn't been able to look me in the eyes for the past 3 days you can tell when someone doesn't feel comfortable with their shit"
Spencer and McCrae both feel that it's Elissa, Spencer thinks it could be Helen.
McCrae thinks that Elissa may have the coup d'etat that is why she took the no veto pass for next week during the competition yesterday.
Spencer: "I don't mind going home big brother style I just don't want something coming out of left field f***ing me in the a$$"
Spencer: "Anything out there that is America's vote she is going to get it"
Spencer says they need to get Aaryn out this week then Kaitlin the following. After those two girls are gone they should take out Elissa.
Spencer: 'GM is loyal as f** and that's not bad"
Mc: "I would rather keep her in the house than anyone else"
They both agree that GM's fierce loyalty is a huge reason to keep her in the house.
Spencer: 'She doesn't have a bad social game.. she talks to everyone."
They agree to not F*** each other over in the game and to talk with the intention of reaching a common goal.
Spencer says he doesn't hold anything against McCrea for turning on the Moving Company.. "Dude I had the same thoughts"
You can re-watch ever second on the feeds using their flashback feature.. It's super easy to use click this link for a free trial —> Subscribe to the Big Brother Live Feeds
3:27pm Bathroom Gina and Aaryn
GM says that Amanda is such a f***ing loser.. she gets made fun of and cries and she's the one apologizing. GM laughs. GM: "I'm sorry I don't kiss a$$"
Aaryn says that Elissa was talking about GM, She said if GM took the college thing the wrong way than it's GM's fault.
Aaryn mentions that for the first three weeks she was saying how mean Elissa was and no one believed her but now that Elissa's turning on other people they are seeing it. (Really it's Amanda and McCrae)
GM says everyone knew Elissa was crazy.
Aaryn: "She hates us both by the way"
GM: 'WHATEVER.. I'm over it Aaryn I don't even want to hear it"
GM: "She hates us… she hates me what do you want to do.. I'm sorry i'm heated i'm a nice person if people hate me it's their own f**** fault I never do nothing to nobody"
GM: 'She hates me OH OK PUT ME UP THEN"
GM: "I'm so over it.. She hates me thanks.. I'm happy"
Aaryn: "You talking sh!t to me right now"
GM: "No i'm just saying alright I don't care"
GM: "Thanks for telling me someone hates me I'm happy about it"
Aaryn: 'If you are really going to take it that way"
GM starts getting heated saying she never did anything to Elissa she's a good person. Aaryn tells her to go tell Elissa because she already knows it (she says it a bit snappy)
GM: "DON'T SNAP AT ME"
Aaryn: 'you are the one snapping at me"
GM: "Do you want me to go outside right now and say Aaryn told me you hate me"
Aaryn: "You are out of line"
GM: "YOU ARE OUT OF LINE.. you say sh!t like.. like you tell people hate me"
Aaryn: 'I said us.. she hates us"
GM: 'OK she hates us then.. I'm such a hurtful person I do horrible things"
Aaryn says she should just go talk to Elissa about it because she's the person going around the house talking sh!t to GM. GM heads to the backyard to talk to Elissa.
Aaryn: "I don't think that is a good idea right now"
GM storms out "i think it's a great f****ing idea"
3:30pm Bedroom Elissa and GM
GM "I'm going to be straight up" she says they have both said some sh!t in the beginning and they have talked about it. GM adds they have both apologized for what was said and happened so she feels it's behind them.
GM says she likes Elissa she really does if she didn't like her she wouldn't talk to her. GM likes how Elissa does her hair like all that "Glamour Sh!t"
Elissa: "If you are going to be aggressive with me I don't think we should have a conversation"
GM says she's not mad at Elissa she's just mad at the things she hears
Elissa says she's done with the drama from the younger girls she has a family she isn't interested.
GM goes on about what she likes about Elissa. Elissa kindly asks her to not be so loud and excited. Elissa is tired and has trouble following GM.
Elissa: 'I'm not trying to be mean i'm just trying to have a normal conversation"
They chat through all the drama they've had the last couple weeks.. In the end they agree to talk more and to help each other out.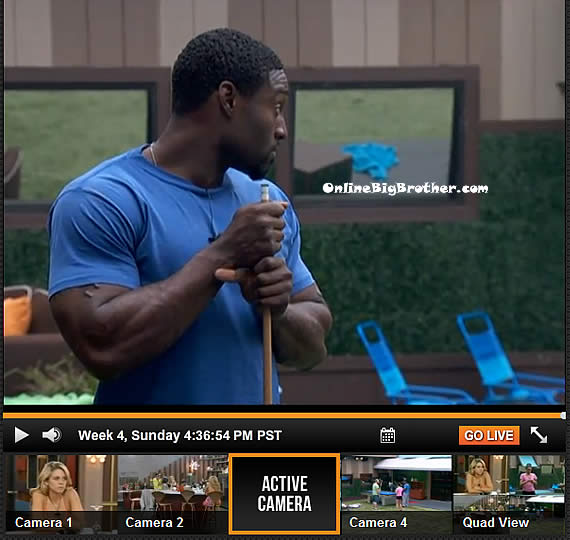 4:12pm Kailtin and Howard Pool Table
Kaitlin asking Howard why he threw her under the bus in front of everybody in the HOH last night.
She says that he was saying she's telling him that the house thinks he's a professional football player.
"Apparently I told you that Amanda is saying I'm not safe"
Kailtin says they had a private conversation in the room that was supposed to be between them.
Kailtin storms off.
Howard tells Spencer that the other day he talked to Kaitlin in the bedroom he wanted to see if he could trust her. When he was up in the HOH Amanda had asked him about the conversation. Howard now knows that Kaitlin tells Amanda everything, " I know what i'm doing I know they talk to each other". He wanted to try and catch Amanda in a lie in front of the house but it backfired. He'll Wait until Kaitlin calms down to talk to her.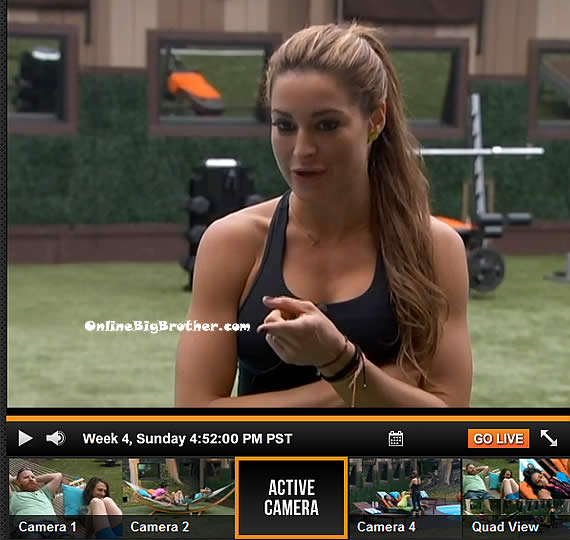 4:20pm Poolside Helen, Elissa and Candice.
They are telling Helen she lucked out last night missing the drama. Helen : "The key to winning this game is going to bed at 8pm"
they laugh
Elissa says obviously she doesn't want to be friends with Aaryn outside the house but she thought that inside the house Elissa could have sympathy for GM, 'She's a hot Mess"
Elissa says she went to talk to Aaryn and told her she might have problems when she gets out of the house by the haters so she should reach out to Rachel for advice.
Elissa: 'I told her I Don't even think about her.. so umm .. hmm.. umm. whatever"
Candice says she feels like she's in high school her pet peeve is she dislikes fakeness.
Candice says that Arayn treats her like dog sh!t. Candice points out that the only reason they talk to Elissa is because she's MVP.