POV Holder:
Elissa
Next POV
July 20th
POV Used
?
POV Ceremony
July 22
HOH Winner:
JUDD
Next HOH:
July 25
MVP:
?
Original Nominations:
Aaryn, Kaitlin, ELISSA (MVP – America)
Current Nominations:
Last Evicted Houseguest
David, Nick, Jeremy
Have Nots
Jessie, Candice, Andy, Spencer
Elissa Wins the Power of Veto Competition The third choice in the MVP poll will be the replacment
JUDD is in solitary confinement
McCrae took 5000
Elissa took the punishment to not compete in the next POV competition.
Helen has to go to bed at 8:00pm curfew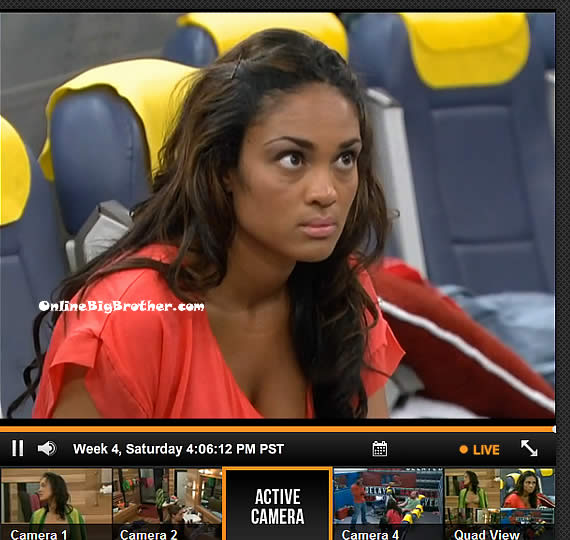 Howard: "If ELissa doesn't take herself off.. vote her out"
Candace: "Elissa is going to use it"
Sounds like they want to get Amanda out. Candace says that Spencer and herself are much closer to Andy they can talk to him to flip the vote. Candace mentions that Helen, Elissa, McCrea and Amanda are in a final 4 she'll use that angle on them.
Sounds like they have no idea what is going on with the MVP. Candace says that Amanda is the ringleader she flashes her T!tties to McCrea and he's under her spell.
Spencer: "She can flash her ti!@ties to Julie Chen on Thursday night
Spencer: "I want to f*** them up so bad"
Candace agrees. Howard tells them they have to stay tight with GM and Kaitlin. Candace says that Kaitlin is in Amanda's back pocket so they have to ease off the game with her. Candace says they have to pull Aaryn into their group and they already have GM. Howard thinks Spence and Candace should go talk to Andy soon. Candace disagrees she thinks they need to wait until after the POV Ceremony. Spencer is on board.
Howard says Candace and Spencer Worry about Andy and he'll deal with Kaitlin. Candace again telling him not to care about Kaitlin this week she doesn't have a vote the only people they need to F**** with are Jessie and Andy.
They start bashing Amanda. Candace: 'She's got horrible game" Spencer: "She thinks she's so f***** slick"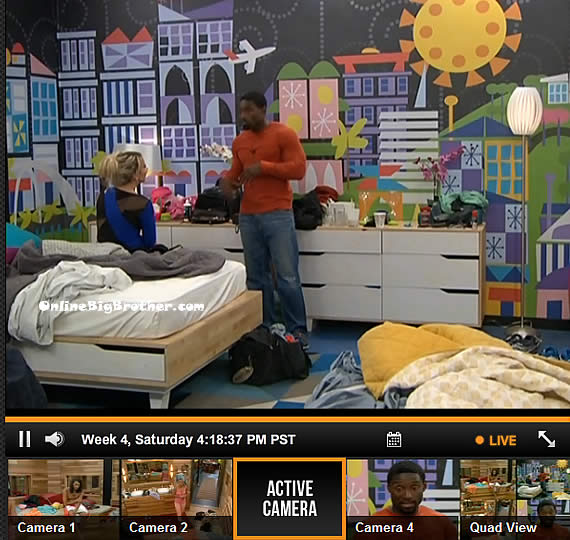 4:19pm Bedroom Howard and GM Howard talking like Elissa has the MVP this week she's going to put up Amanda so they can blame the MVP on Howard. GM isn't sure if that is what Elissa had planned questions why would she backdoor herself. Howard explains that Elissa, Helen, McCrae and Amanda are in a final 4 alliance. They have been running the game thus far trying to keep certain groups int he house battling it out.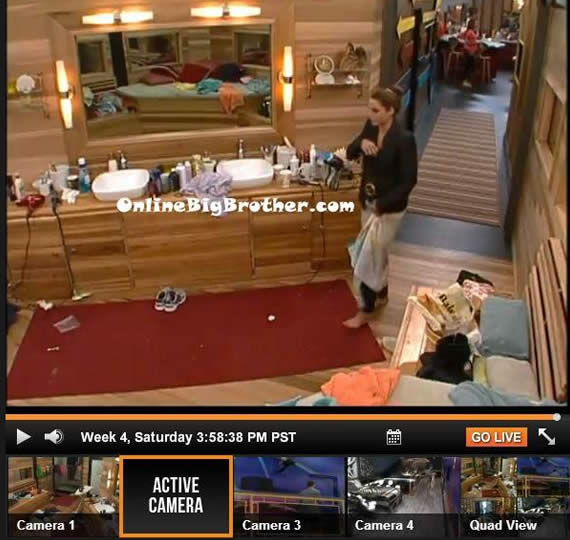 4:25pm HOH McCrea, Kaitlin, Amanda
McCrea is feeling bad for taking the 5000 dollars.
Amanda: 'MVP is really annoying.. If someone is targeting Elissa then the next person to go up will be Helen" (LOl yeah sucks doesn't it)
Elissa took the points to sit out of the next Veto. THey wonder if Elissa nominated herself to get a power.
Kaitlin asks them if Aaryn is the target this week. They all tell her YES. Amanda then asks if Howard goes on the block is he the target. Kaitlin: 'Maybe"
Amanda says that McCrae is really worried he's going to be put up because he took the money. She adds that McCrae is worried Amanda may go up.
They start to speculate who has the MVP. Seem that Kaitlin thinks Elissa has it .Amanda wonders if it's Aaryn. Andy says there is no way America would have voted Aaryn the MVP. Kaitlin mentions if Aaryn was MVP her nomination would have been strategic not personal.
Gina rolls in. Amanda asks her if her, McCrae, Helen or Andy get out up can they count on GM's vote. Amanda adds if GM is the 3rd nominee they will all vote to keep her. Gina says they can count on her.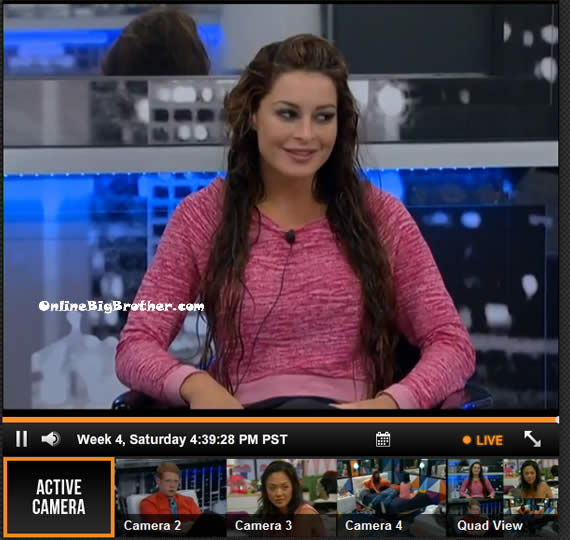 Elissa walks in they all say congratz! Andy asks her if she has an
Amanda asks Elissa who she thinks has the MVP.
Elissa thinks it's Spencer or Howard, "No way it was Kaitlin"
Amanda: 'Who isn't happy you won"
Elissa: "JUDD, Candace and Howard"
Amanda says they would know if JUDD got the MVP
Elissa points out that JUDD has been in the Diary room non stop today.
Andy starts saying that it really doesn't matter what the MVP is because as long as them and their friends stick to the plan to get out Aaryn they have the votes. Amanda jumps in says the House wants Aaryn gone.
4:49pm HOH Kaitlin, Andy, McCrae, Amanda
Amanda points out that Elissa is dropping a lot of names when trying to figure out who is MVP. She mentions that Elissa thinks if Howard doesn't go up they know he's the MVP. GM thinks that is all BS they have no idea who MVP is. Amanda finds it odd how Elissa is acting.
Amanda: 'I think Howard is going around trying to make alliance with people:"
Kaitlin and GM doesn't think so they think Howard is just going around covering his bases.
Amanda asks Kaitlin: "When he was in the room with you and Aaryn.. he didn't ask you for safety"
Kaitlin: "no"
Amanda: "Then what did he ask you"
Gm: "he says things metaphorically"
Kaitlin: "you never know what hes talking about "
GM: "he talks Spiritwise"
Kaitlin says that Howard told them after this week was done he wanted to work with them. Aaryn told Howard they'll have to see how the votes go on Thursday. Kaitlin says she didn't say anything back to Howard.
Kaitlin: "He came to me after the competition and told me someone is trying to frame him"
Kaitlin: "I asked him.. you swear you are not MVP.. he doesn't seem worried at all"
Amanda thinks Elissa won the MVP because she was acting so weird last night.
Andy: "My gut tells me she has it.. which makes her a scary player because it means she's lying to every"
Kaitlin: "She been doing that since the beginning"
Aaryn comes in tells them that Elissa is being super nice to her right now which is the very first time in weeks. She's a bit nervous because Elissa was nice to Jeremy before he was evicted.
Amanda mentions how Elissa stares at Aryun in a really weird way
Kaitlin thinks that maybe Elissa has coup d'etat and it lasts for 2 weeks that is why she took the pass on veto next week.
Amanda says that once Elissa found out Aaryn had not won the POV she has the most devious smile on her face.. Kaitlin agrees. Amanda adds that Elissa has been walking around all day with that smile.
Seems like Aaryn is convinced that Elissa has the MVP and she nominated herself
You can re-watch ever second on the feeds using their flashback feature.. It's super easy to use click this link for a free trial —> Subscribe to the Big Brother Live Feeds