POV Holder:
Elissa
Next POV
July 20th
POV Used
?
POV Ceremony
July 22
HOH Winner:
JUDD
Next HOH:
July 25
MVP:
?
Original Nominations:
Aaryn, Kaitlin, ELISSA (MVP – America)
Current Nominations:
Last Evicted Houseguest
David, Nick, Jeremy
Have Nots
Jessie, Candice, Andy, Spencer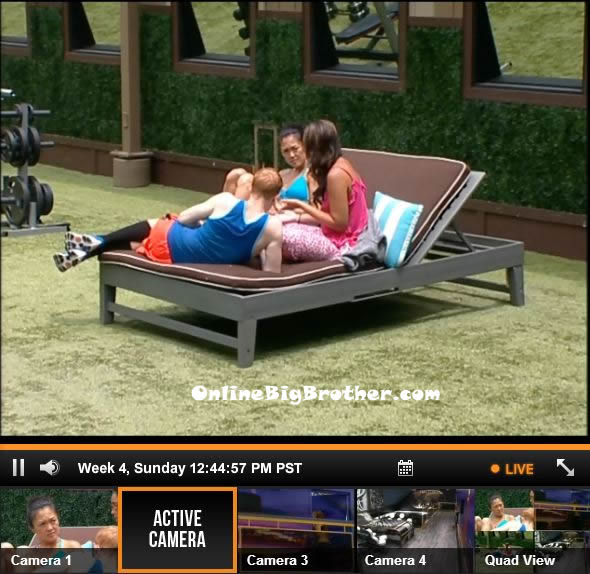 12:55pm Out on the backyard lounge chair – Helen and Candice continue to talk about Amanda and about how Aaryn has to go. Candice is worried about her or Howard being nominated as the replacement. Helen shows Candice that no matter what happens we have the votes. Candice says I know we are all strong players and we will eventually have to battle but just not right now. Not when there is someone up on the block that has said derogatory comments to Howie and I. Meanwhile up in the HOH room – Amanda and McCrae are waking up and making the HOH bed. Out in the backyard – Helen and Elissa are talking on the backyard couch. Helen is telling Elissa that she thinks she will be going up as the replacement. Elissa says that she thinks it's someone in the house that's MVP. Helen says we just need to send Aaryn home. Helen asks why Elissa thinks Howard is the MVP. Elissa says he never gets called to the diary room and yesterday he was called a lot. Helen agrees and says he didn't even play in the POV. They end their conversation and start to head inside. Andy rolls his ankle and sits down but then starts running soon after. Meanwhile in the living room – Aaryn tells Amanda that Elissa has been talking and asking everyone this morning about why you were upset with her. Amanda heads into the diary room.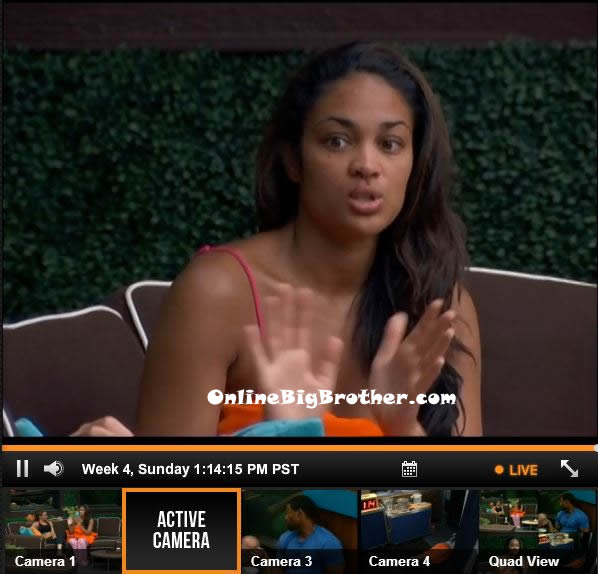 1:10pm Out in the backyard – Candice talks to Elissa about how Amanda was upset with her. Candice says that Amanda is self conscience about her body. Elissa says I wasn't saying anything about that I just didn't want to see all that. (The strip tease Amanda did for McCrae last night.) Candice brings up how last night Andy commented how he doesn't date black guys and Aaryn asks how he can say things like that but not her. Candice says Shut the FU*K UP! MUZZLE! Candice says that she needs to go, she hasn't changed! Elissa says that Aaryn is trying to victimize herself and say that Howard and Spencer attacked her. Candice talks about how Amanda was offended that she kept you safe and then you turned on her. Elissa says all I said was whip cream on her boobs would be gross. I am sorry if I am offended that you are dressing like a .. I have never been to a strip club in my life, I don't know what they wear. Amanda and Helen join them and Elissa heads inside. Amanda asks Candice what she said to Elissa and if she added her own thoughts or not. Candice says that she told Elissa that her and Amanda need to talk it over as friends. Candice says that when you were emotional in the bathroom the other girls particularly the one on the block took it as her opportunity to bash Elissa. Amanda says I was hoping we could all just wake up and forget about it. Candice leaves. Amanda tells Helen I have a feeling Candice didn't put it that way to Elissa because when I sat down Elissa got up and walked away. Helen asks McCrae what he wants to do for his birthday? McCrae says maybe a date with Amanda. The conversation turns to talking about who the replacement nominee will be and their theories about who the MVP is. Helen says everyone just needs to stay calm, we have the numbers to make it to jury. Everyone needs to just vote out Aaryn. Helen says that Howard and Spencer hate Aaryn – It would be against their moral code to keep her.
Tomorrow is your LAST CHANCE to SIGN-UP for the:
Live Feed SEASONS PASS for $26.99!
Starting Tuesday July 22, ONLY the Monthly Pass will be available for $9.99 per month.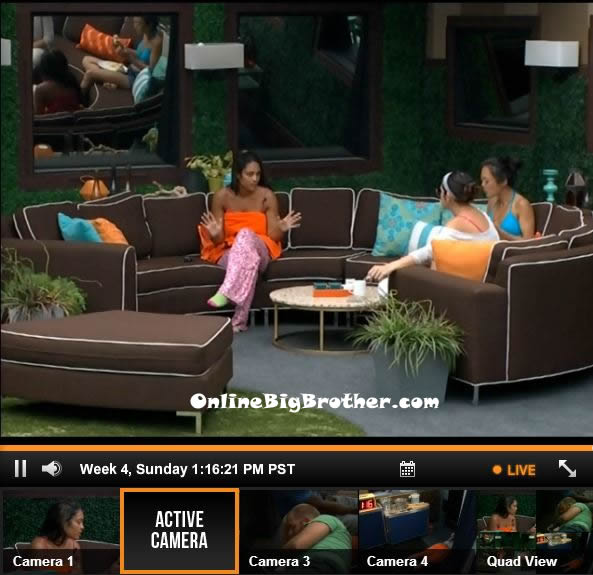 1:30pm Spencer is talking to Judd under the lounge room door. Spencer offers to make him a pizza so that it is ready when he gets out of solitary confinement.
1:35pm – 1:50pmElissa asks Amanda what's going on. I heard you were really upset with me last night. Amanda says that she just thinks it was a wine things. She says that a bunch of comments like the spearmint rhino (It's a strip club) hurt my feelings and I started to be self conscience about my body. I took you being grossed out about the whip cream thing too was that you thought I was gross but I get how that could look. Amanda apologizes to Elissa for getting up set and for being hyper emotional. Amanda thought the comments were about her body. Elissa says I have never even been to a strip club. I am sorry if I said anything that hurt you. I didn't mean anything malicious. Amanda tells Elissa that we are good and I really just wanted to wake up and forget about it. Elissa talks about her career aspects outside the house involve ministry stuff and I take it as slander when those girls say things about me because they don't know me, I don't even talk to them. Elissa says it's just not my style to be mean to you. I am just excited for Aaryn to go because I reached out to her and was nice to her yesterday. Elissa says that Aaryn has talked bad about Rachel and said derogatory things. Amanda asks Elissa if we can hug it out. Elissa says no. Amanda asks why not. Elissa says because I take offence to you turning on me. Amanda asks don't you think it was mean to call me a stripper? Elissa says you called yourself a dominatrix, don't you think that's way worse? Elissa says that she doesn't want to be involved with Aaryn and them. Amanda gets called to the diary room. Elissa says with us moving forward when you talk to them because they're maturity level is so low its non-existent – can you just not talk about me. Amanda and Elissa hug. Amanda heads inside.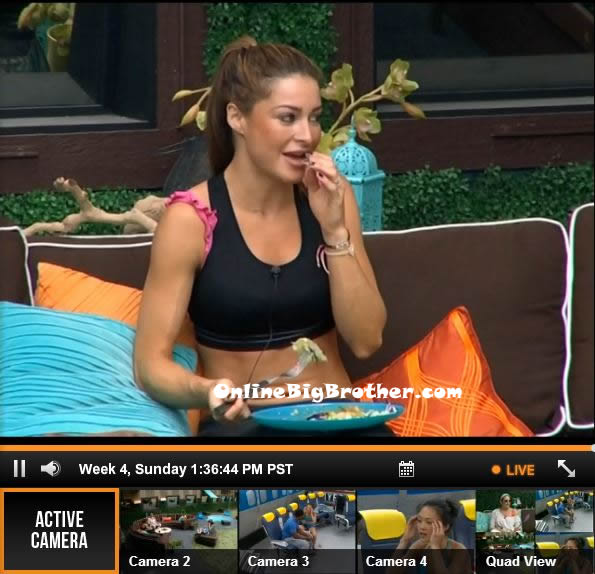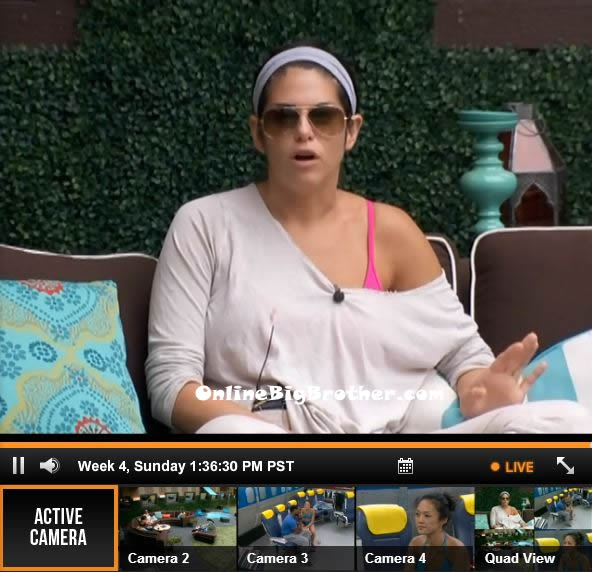 1:55pm – 2pm Elissa talks to McCrae about how Aaryn has zero character and no class. Elissa asks how does someone in the 21st century even see colour. McCrae says that she is in for a wake up call when she gets out. McCrae says that Amanda was in the bath tub last night upset and just really sad. He says it was just a combination of things. Elissa heads inside.
2pm – 2:10pm McCrae talks about how he feels like he is always going to be alone and never going to find someone that will love him enough to want to marry him. Aaryn says that Amanda is the coolest chick and she really likes you. McCrae says that he thinks he will just be alone watching the live feeds the rest of his life. Aaryn asks McCrae if anyone has broken his hearts. He says no. I guess I am just weird. Amanda joins them. Aaryn asks them about what their favourite competitions have been so far.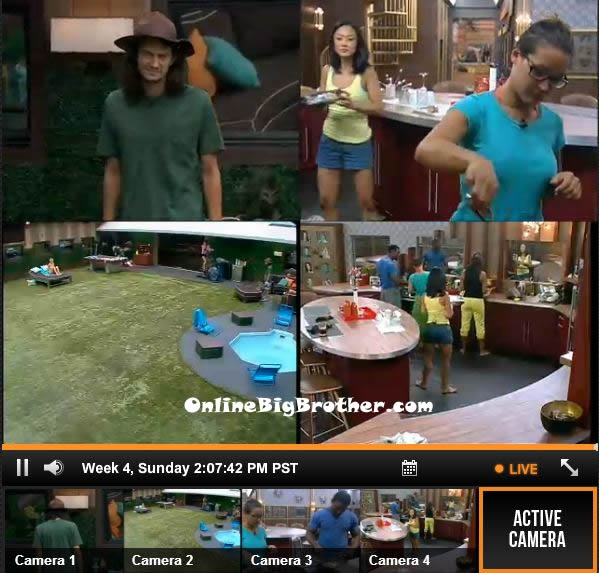 2:10pm – 2:20pm In the bathroom – Elissa talks to Spencer about Aaryn. Elissa says that Aaryn just says the most ignorant things. She is a hot mess. Spencer agrees. Elissa says I can't believe I felt bad for her. Elissa says she can't believe how last night Aaryn said in front of Candice that how come Andy can say racial things and get away with it. Elissa says that Judd hit the nail on the head – She's a Texas Tornado that twists words! Spencer says that it sickens him that there are groups of people out there that love to hate.
2:20pm Gina and McCrae talk to Judd under the door about his night in solitary. McCrae then leaves and Gina tells Judd about the events of last night. Gina tells Judd about how Elissa said last night that Amanda looked like a hoe and a stripper. Jessie walks up and smacks Gina's a$$. Gina didn't even flinch. Jessie heads out into the backyard and joins Helen and Elissa in the hot tub. They talk about being havenots. Helen says that Rachel should have told Elissa what to make with Slop. Elissa says that Rachel didn't really tell her much other than this will be fun. Helen asks what Brendon said. Elissa says he said I shouldn't do it.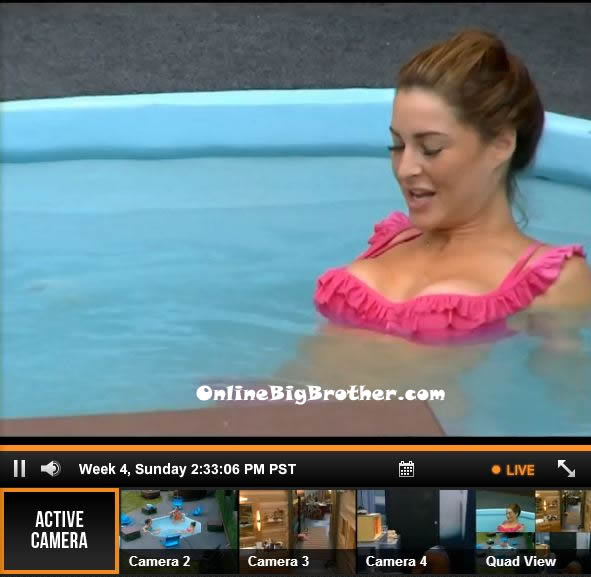 2:40pm Meanwhile in the havenot room – Howard tells McCrae that he got him something for his birthday. He says he wasn't really sure what to do but wanted to give him something. Howard tells McCrae to read a certain chapter from the bible. McCrae says oh this is awesome. Howard says he will give him 5 or 10 minutes to read it. McCrae finishes it and says he appreciates it. I get all warm tinglies inside. Howard says it's all about family. Your a good dude. McCare says you're gonna make me tear up! McCrae and Hoard hug. McCrae says thank you. Howard says start reading it, apply it!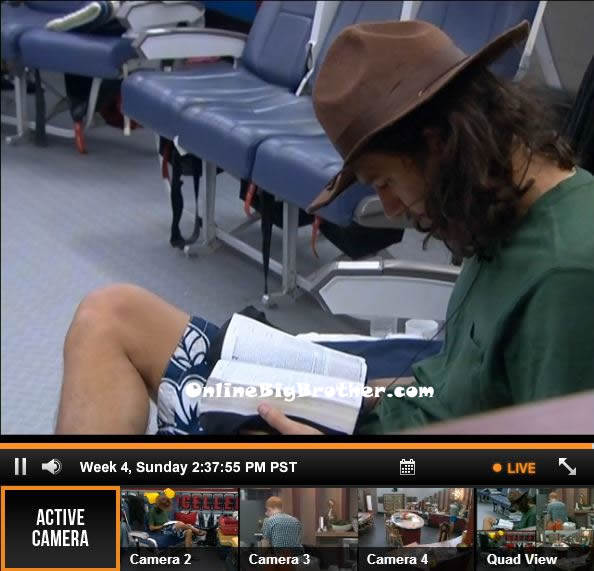 2:45pm – 3pm Out in the backyard around the hot tub. Helen, Elissa and Andy talk about making it on the show. They talk about sequester casting finals and Andy says he came home from it with $300 because he saved most of his food stipend money. Howard joins them. Andy says that he knew after seeing McCrae that he was getting on the show. Helen says that she knew Aaryn was going to be on the show. Big Brother tells them to "Shut it DOWN!" Candice says she loves that one!