POV Holder:
Donny
Next POV
?
POV Used
YES
POV Ceremony
June 29th
HOH Winner Team 1:
Frankie
HOH Winner Team 2:
Caleb (current HOH)
Battle of the Block Winner
Brittany, Victoria
Next HOH/ Next BOB
?
Original Nominations:
Caleb noms (Donny, Paola) Frankie noms (Brittany, Victoria)
Current Nominations:
Joey, Paola
Have Nots
Cody, Hayden, Joey, Brittany
POV Players
Donny, Paola, Cody, Zach, Caleb, Victoria (HOST = Jocasta)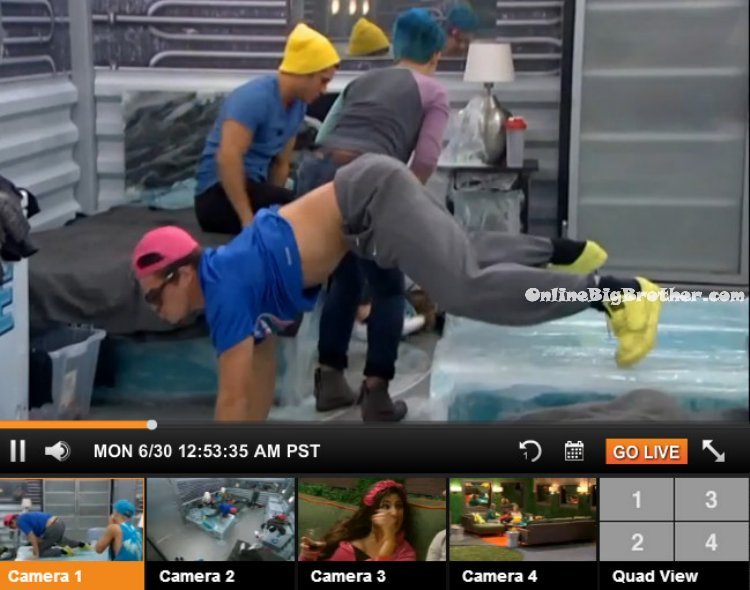 12:50am in the havenot room – Zach and Frankie start showing off their twerking skills. Zach says that JUstin Timberlake is his idol. He starts dancing like Justin Timberlake. Amber asks him if he can see him self. He says yeah I look good!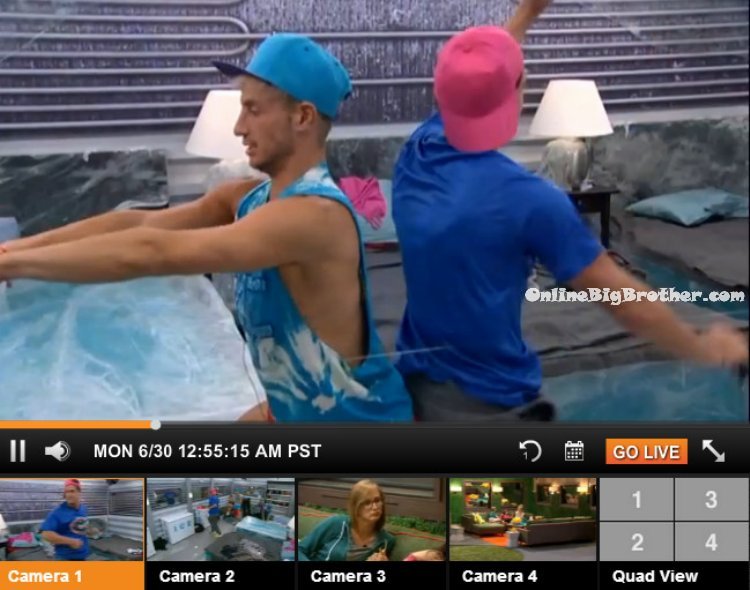 Zach heads out into the backyard and starts dancing for the girls. Christine and Nicole love it. Christine can't stop laughing and says she would do anything for music right now. They tell him he has to do that to the music tomorrow. Frankie tells him to try it again but be n@ked.

1:10am Cody comes out and start dancing like Zach. Then Frankie, Victoria and Nicole get up and they're all dancing in the backyard.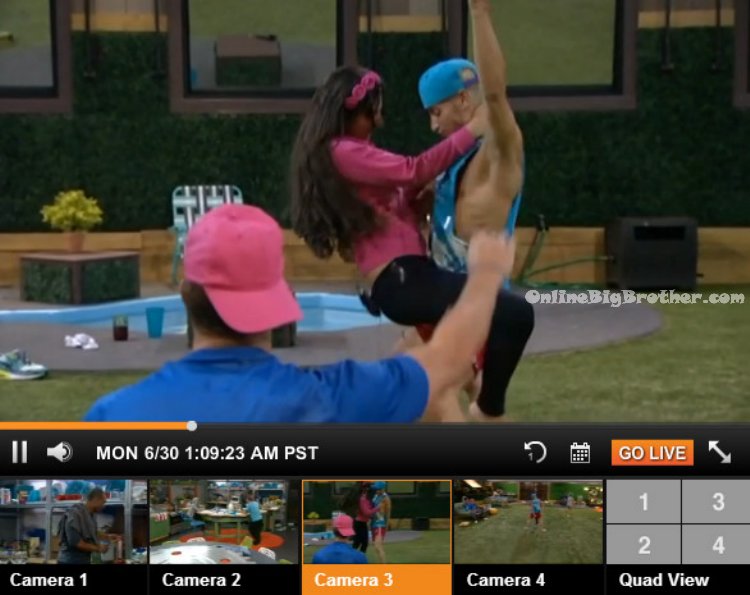 Cody and Nicole cuddle on the backyard lounger..
1:15am Inside the house – Brittany comes out of the diary room and tells them that the havenots aren't allowed to put their clothes or other padding on their havenot beds. She says they said if we want more padding we have to wear all our clothes. Caleb says I knew it. I knew that! Devin says they're doing that because they want to film you guys tonight all uncomfortable.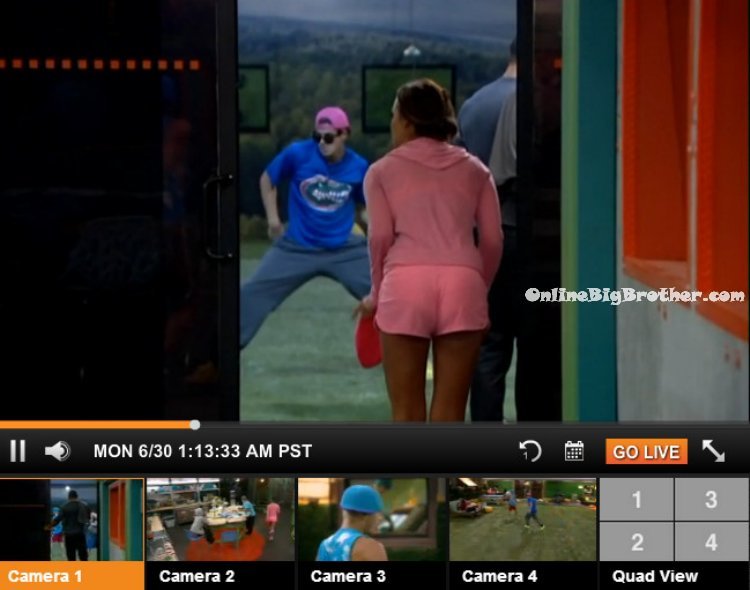 2am In the fire room – Devin talks to Paola that she has the next couple days to relax and sleep in. Devin tells her to let Joey freak out. Paola asks if Devin is protecting her? Devin says he's protecting her right now. You're not going home. Derrick comes into the room. He talks about how his daughter has an ear infection that needed surgery. He says that he almost didn't come into the house because of it. He says that production told him they would tell him that she is okay and if something went wrong he could obviously leave. He says that the surgery is tomorrow. Devin says he respects that and understands how hard it would be when its anything to do with your daughter.

2:10am Hayden talks to Christine while he shoots pool by himself. Hayden says the 8 of them did do it and get one out then its 7 against 8. Hayden says that he is trying to trust Caleb right now and because I think he will be HOH again. Hayden says I like Frankie but he's dangerous too. Christine says part of my wants to get out Devin too. But part of me wants to keep him too as a target. She says but this week I am just voting with the house. Neither of them (Paola or Joey) mean anything to me. He says that it would be dangerous if the 3 guys did try and run the house to the end. Christine says all the girls would be out. Hayden and Christine comment on how they really like Donny.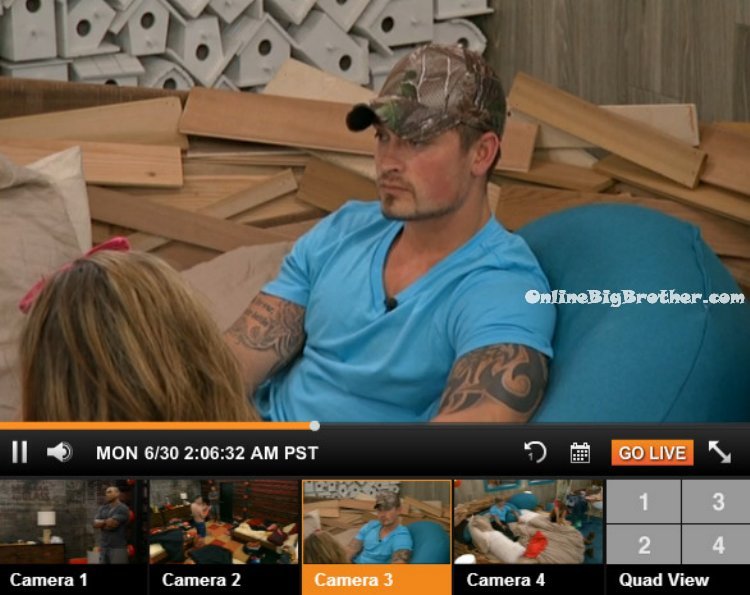 2:10am Up in the HOH room – Caleb is talking to Amber. He tells her that he is so attracted to her. Its more than just you being crazy attractive. Its you reading your bible. Caleb says theres a certain way you look at me throughout the day. Amber says I don't know that I look at you any certain way. Caleb says everyone sees it. Amber says this is news to me. Caleb says of course I found you attractive at the gym but its grown since I've gotten to know you. There's a lot about you that I'm attracted to you. Hopefully when this is all over, I can stay here for a bit and we can go out. We can go out to the movies or something. I want to get to know you. Caleb says I haven't given a speech like this in a long time. Amber asks a speech?! Caleb says I get vibes that when I walk in a room, you walk out of it just to not give people the vibe that we do like each other. Amber says I didn't know I was doing that. I'm sorry. Caleb asks what her thoughts are? Amber says well I'm here. I'm not looking for anything. I am just looking to get to know people. Caleb says okay. Amber says you're so awkward right now. Caleb says I don't know I feel like theres this chemistry there.. we're so much alike yet so different. I guess now you know that I like you to that extent. Caleb says I heard you mentioned a date? Amber says NOOooo! I never said that. Amber gets up and says and says ummm.. yeah but thank you for talking to me. Okay … She awkwardly smiles and leaves the room.
WATCH Caleb being shot down and put into the friend Zone – Live Feed FREE 2 day TRIAL!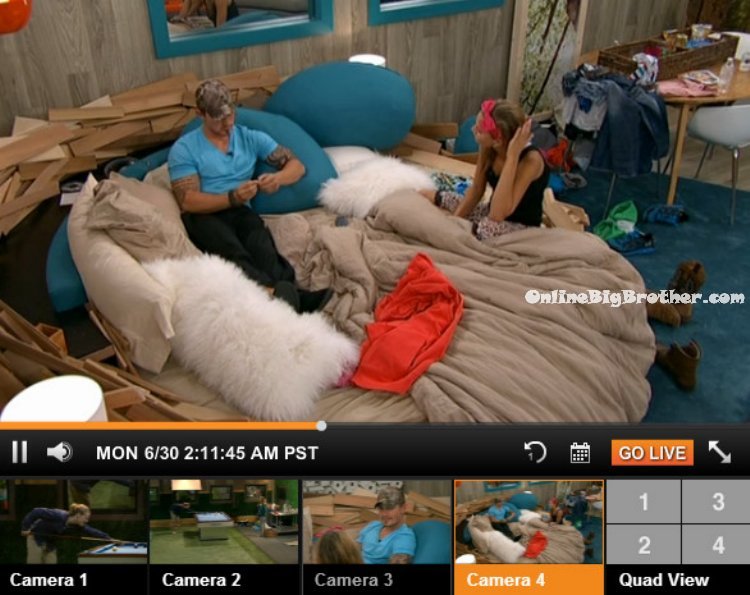 Amber is in the kitchen talking to Nicole, Jocasta and Victoria. Nicole comments on how Hayden gave her a massage but that it was too much. She says she just doesn't like him like that, he's not her type. Amber tells them how Caleb just confessed everything. It was so awkward. I just don't like him like that at all. She says he sees the way I look at him. Devin and Hayden join them and the conversation ends.