POV Holder:
Donny
Next POV
?
POV Used
YES
POV Ceremony
June 29th
HOH Winner Team 1:
Frankie
HOH Winner Team 2:
Caleb (current HOH)
Battle of the Block Winner
Brittany, Victoria
Next HOH/ Next BOB
?
Original Nominations:
Caleb noms (Donny, Paola) Frankie noms (Brittany, Victoria)
Current Nominations:
Joey, Paola
Have Nots
Cody, Hayden, Joey, Brittany
POV Players
Donny, Paola, Cody, Zach, Caleb, Victoria (HOST = Jocasta)
9:30am Big Brother wakes up the house guests. When the live feeds come back – In the kitchen Amber teaches Cody how she folds towels. She says she folds it like a hamburger, then like a taco, then like a burrito. Cody asks what Donny is making for breakfast? Donny says Froot Loops with chocolate milk.
Donny heads out to the backyard and sits by Cody. He tells Cody that if he was sitting at home watching this on tv he would be pulling for him and Nicole. Cody says that's nice of you. Cody says he's so glad he said Nicole too because she is a sweetheart. Cody tells Donny that he would be pulling for him too and not just because he said that. Cody asks what advice he would give him. Donny says just keep doing what you're doing. Donny tells Cody he thinks he could possibly be America's Favorite because you don't get upset about things and people like you. Cody comments that it must be tough for Donny being with some many young people. Donny says its not too bad because you guys try to include me in things. Donny says that the older person is picked on because in the beginning no one wants to put up their friends. Cody tells Donny he needs to stay up later. Donny tells Cody if he is sitting at the end with anyone else, I would vote for you. If Nicole was sitting there with anyone else I would vote for you. Cody tells Donny he would vote for him over anyone else too. Donny says there would have to be a miracle for me to get to the end. Donny tells Cody he is a good guy, very respectful.
WATCH the next 2 days for FREE – Big Brother 16 Live Feed TRIAL!
10am – 10:15am In the bathroom – Frankie, Victoria, Christine and Amber are hanging out. Frankie wonders if they were recording him when he was in the diary room last night crying. Amber asks you were crying? Big Brother cuts the feeds. When the feeds come back – Amber and Frankie talk about going back to bed. Frankie then heads to bed.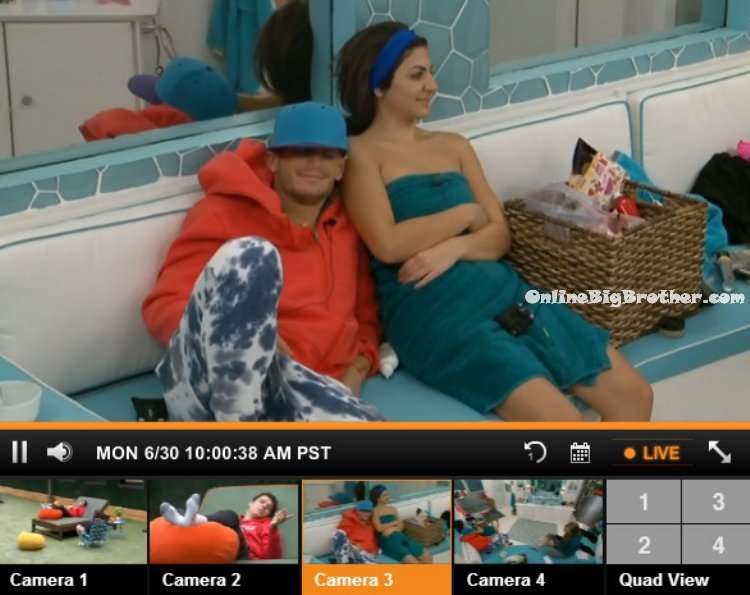 10:30am Cody drinking a protein shake in the kitchen. He talks to Victoria about how hard it is being a havenot and how it feels like forever. Cody picks up the mac & Cheese and says when I see this stuff I wanna chow DOWN! Cuz I love me some Mac & Cheese! Cody heads back to bed. All of the house guests but Christine, Victoria and Donny are back sleeping. Christine wants to sleep but decides not to because she has to keep blowing her nose and doesn't want to keep people awake. She heads to the hammock to read the bible.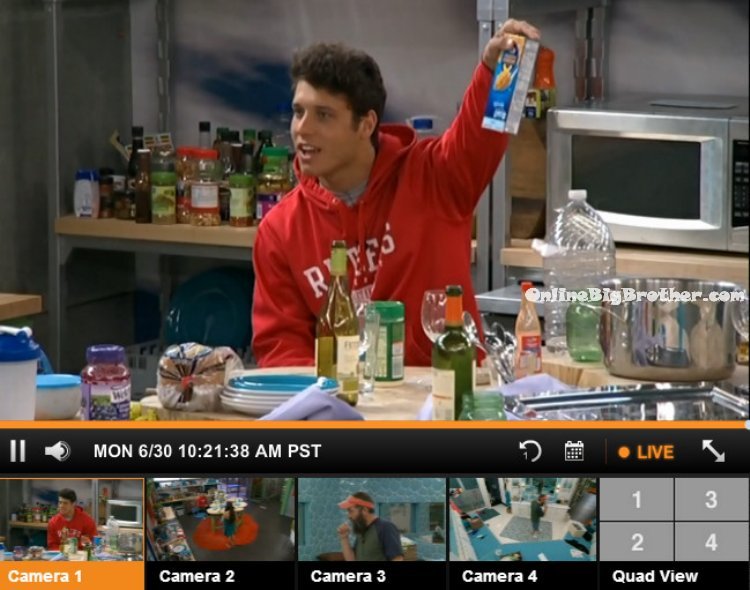 10:50am – 11am Victoria joins Chirstine in the hammock. Christine tells her about how she apologized to Devin the other night. Brittany comes out and joins them with her breakfast. Christine asks Victoria how it felt to not have any fear of being nominated as a replacement. Victoria says it felt amazing! Donny finishes working out on the elliptical and then starts lifting weights. Victoria heads back inside. She wishes Nicole a happy birthday. Victoria heads back to bed.
11:10am Over by the hammock – Christine and Brittany are talking about their families. Christine says that her Dad told her not to worry about doing anything bad in the house, if something happens we'll deal with it when you get home. They freak out when a Chinese beetle comes near them. They head inside. Nicole is awake and has a shower. Amber is back up and getting ready in the bathroom. Devin wakes up and
tells Derrick and Zack in the earth room that he was sleeping in the HOH room. He says that Frankie woke him up telling him he was snoring so loud. He tells them he didn't even know he snores. Devin heads to the storage room to change his batteries. He apologizes to Caleb for snoring. Caleb says no problem. In the kitchen Devin talks to Donny about reading the bible. Devin says some of it he doesn't understand and needs someone to break it down for him. Donny reads the warning label on the wine bottle stating that pregnant women shouldn't drink. Devin asks really?! (Shouuldn't you know this being a dad? / It being common knowledge.)

11:45am
Big Brother tells the house guests they have to go outside for a lock down.. All the house guests scramble to get ready for a lock down and head out into the backyard.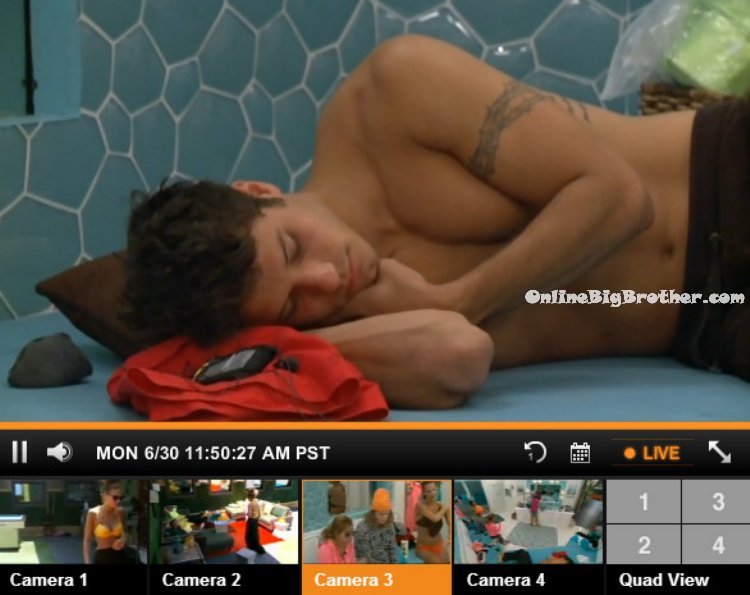 12pm – 12:15pm Cody and Christine are laying in the hammock talking game. Cody says I feel like we're in a good place where we don't need to win right now. Christine tells Cody as a man he needs to be careful about winning too much. She says but I don't feel like I need to worry about that. Cody says I want to win right now to protect the people that are closest to me: you, Frankie, Zach and Derrick. Cody tells Christine to be very careful of Frankie. He is playing really really hard right now. Everyone is showing him their cards right now because he's in with everyone. If he decides to flip we can pick him off. The five of us are important to stay together but if one of us turns… Big Brother switches the live feeds to the we'll be right back screen. When the feeds come back – Christine says she wants to win it (HOH) so bad. Cody says he does too but is worried about having to show our cards too soon. Cody says I wouldn't hesitate to use a veto on you or Derrick. I can't afford to lose you two. Cody tells Christine if he ever says anything that she doesn't agree with, please let me know. Christine tells him to do the same for her too. Cody says I would never talk down to you or belittle you. They talk about how they think a twist is coming soon. Cody thinks a double eviction is going to happen soon.
FREE 2 Day TRIAL – Use the FLASHBACK feature to watch everything you've missed!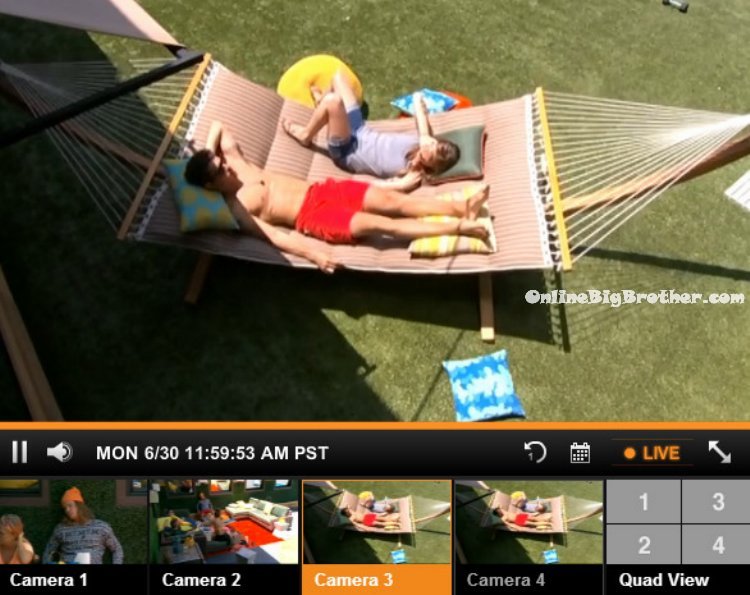 Alliances 
No Name – Zach, Cody, Derrick
Fragment A of bomb squad no name  = Christine, Frankie, Cody, Derrick Zach
Double Ds = Devin, Donny
Bomb Squad = Frankie, Caleb, Devin, Cody, Derrick, Zach, Amber, Christine
Bed buddies = Nicole, Christine
Final 2 Deal Zankie= Frankie, Zach
Old
TheCrazy8s = Frankie, Donny, Joey, Paola, Devin, Amber, Nicole, Cody
El Cuatro = Paola, Amber, Joey, Nicole
Where the vote is 
As of now Joey is going home.. (Still early)
[polldaddy poll=8154372]