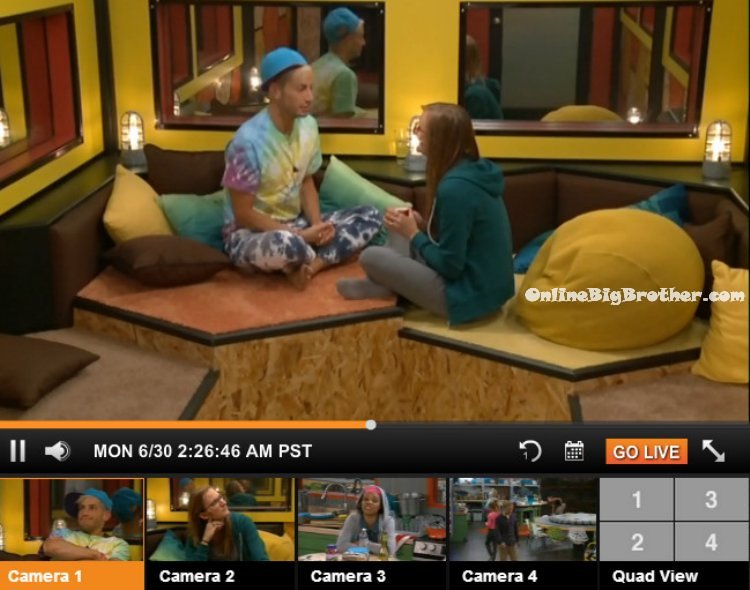 2:25am Frankie and Christine are talking in the hive room. Frankie tells Christine that Caleb has told him that he is taking Amber to the final 2 with him. He told me that! Christine laughs. Frankie says I love Caleb but he is a loose cannon. They agree that Devin will take himself out. Frankie laughs and says that Caleb also said this morning that he would rather put up a Bomb Squad member than put up Hayden. Frankie says I would love to go to the end with a strong woman. Frankie says its finding the order within the chaos avoiding the land mines. I've got the boys on lock. I have Caleb's alligence until the 8.
3am In the fire room – Jocasta, Amber and Victoria are talking. Amber says that Caleb is making things awkward. She says that Caleb asks why she leaves the room when he enters. She says that she doesn't want people to think the wrong thing. Amber says that Caleb said maybe its part of her game. Amber says I don't want a showmance. Jocasta says he is so interested in you. Amber says I honestly don't .. I am only interested in a friendship. I am not here for that. Amber says can I just play this game in peace. Amber says he just put me in the most awkward sistuation. Paola says she thinks he went around talking to other people because he couldn't get an answer from you. Jocasta thinks its good because maybe now it will end. Amber says I don't get where he is getting this vibe. Amber says just don't tell him that I mentioned it. I just don't want to embarrass him. Amber says that Caleb said I just haven't said anything like this to a girl before. Amber says he hadn't said it to anyone in 4 years. She says its just weird. Pow Pow climbs up on top of Jocasta and starts dry humping her. She says this is what I want to do to Cody.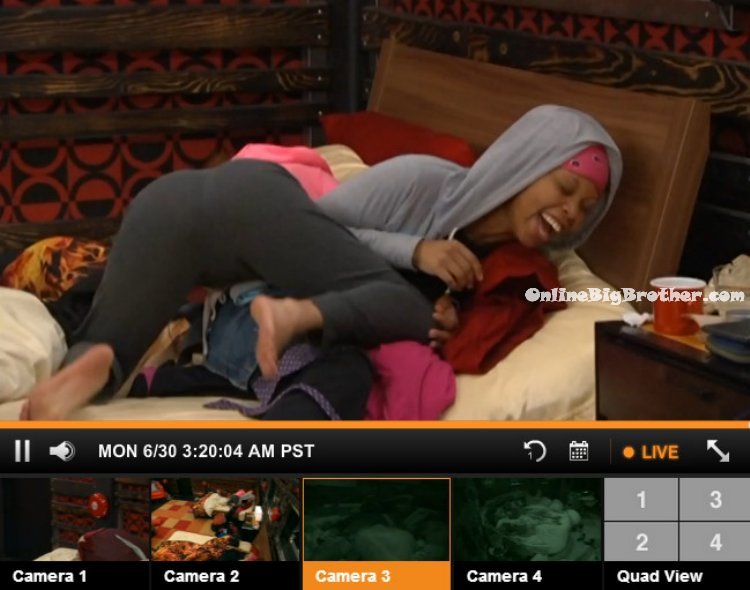 WATCH the next 48 hours for FREE – Big Brother 16 Live Feed TRIAL!
Amber then goes to grab Cody and brings him to the fire room. She tells him that Pow Pow wants to show him something. She says first of all the Pillow is you Cody! Paola says that she doesn't want to. Amber says you said you would if there were more people around. Paola says maybe tomorrow. Cody says you're too shy, you need to break out of your shell. He asks her how old she is. Then says just kidding.
Meanwhile up in the HOH room – Frankie and Caleb are in the HOH room bed. Devin joins them and asks if its okay for him to sleep in the bed too. He climbs in and takes off his badge.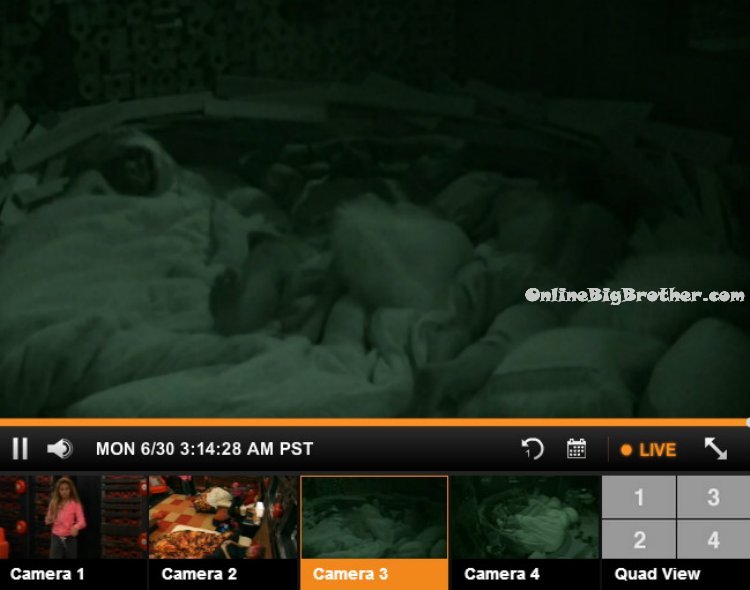 3:45am Nicole, Christine and Victoria are laying out in the hammock. Nicole says that at first she didn't think Cody was attractive but now she thinks he is attractive, a good cuddler and funny. She tells Victoira to get on that. Victoria says that she doesn't think he's that attractive. If you saw my ex-boyfirends you would understand. They are like stunning. Christine says okay I'll take one for the team. Victoria asks so if he asked to cuddle with him you wouldn't? Victoria says no I wouldn't I'm not like that and I don't want it shown on national tv. Cody seems like a child to me, not like a MAN! Nicole says Pow Pow is head over heels in love with him. Christine and Victoria agree. Hayden joins them. He pulls his boxers and asks them if they've seen the full moon tonight. Nicole says that's three days talking suspension. Hayden says Happy Birthday Nicole. It's like a present for you! Hayden heads inside and the girls follow soon after to go to bed. (If you miss the full moon tonight you can see it here.)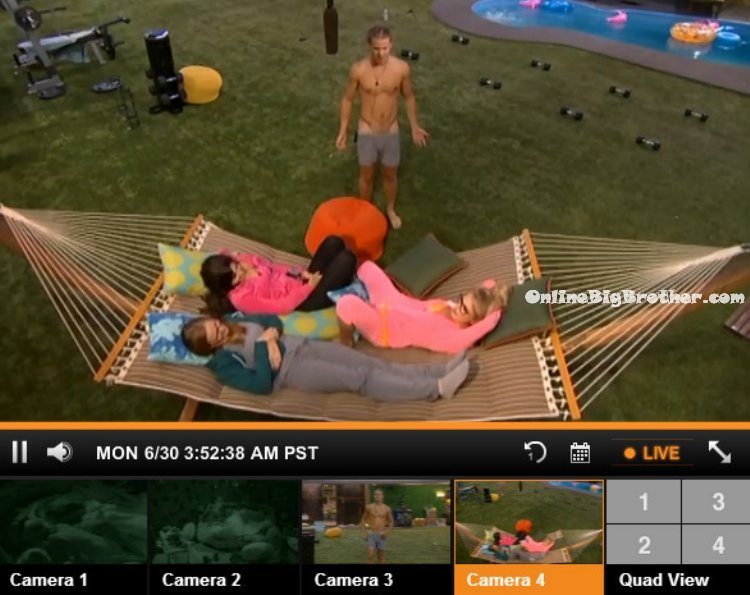 4am Nicole comes into the fire room and says that she isn't going to talk to Hayden for a few days. The others ask why and she says because he showed me his butt and I'm not trying to see that. I don't want to see that.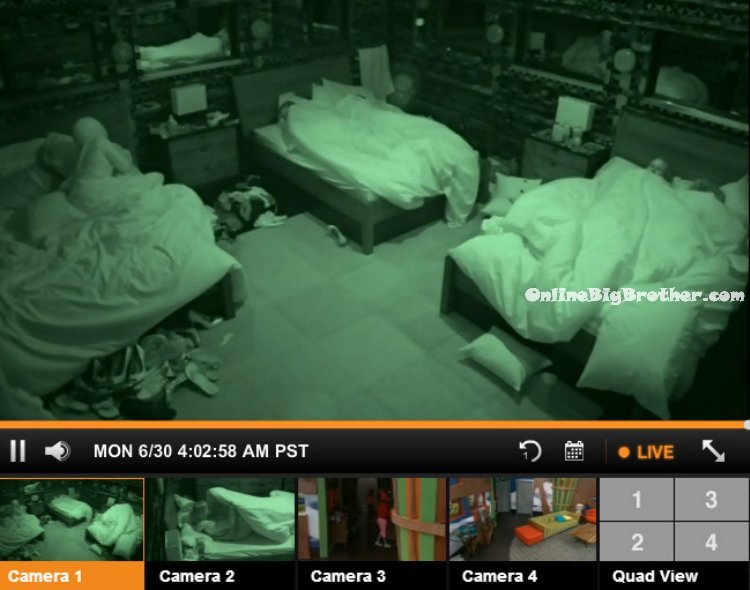 4am All the house guests are in bed sleeping…
9:30am – 9:45am Big Brother wakes up the house guests…
Alliances 
No Name – Zach, Cody, Derrick
Fragment A of bomb squad no name  = Christine, Frankie, Cody, Derrick Zach
Double Ds = Devin, Donny
Bomb Squad = Frankie, Caleb, Devin, Cody, Derrick, Zach, Amber, Christine
Bed buddies = Nicole, Christine
Final 2 Deal Zankie= Frankie, Zach
Old
TheCrazy8s = Frankie, Donny, Joey, Paola, Devin, Amber, Nicole, Cody
El Cuatro = Paola, Amber, Joey, Nicole
Where the vote is 
As of now Joey is going home.. (Still early)
[polldaddy poll=8154372]