POV Holder:
Donny
Next POV
?
POV Used
YES
POV Ceremony
June 29th
HOH Winner Team 1:
Frankie
HOH Winner Team 2:
Caleb (current HOH)
Battle of the Block Winner
Brittany, Victoria
Next HOH/ Next BOB
?
Original Nominations:
Caleb noms (Donny, Paola) Frankie noms (Brittany, Victoria)
Current Nominations:
Joey, Paola
Have Nots
Cody, Hayden, Joey, Brittany
POV Players
Donny, Paola, Cody, Zach, Caleb, Victoria (HOST = Jocasta)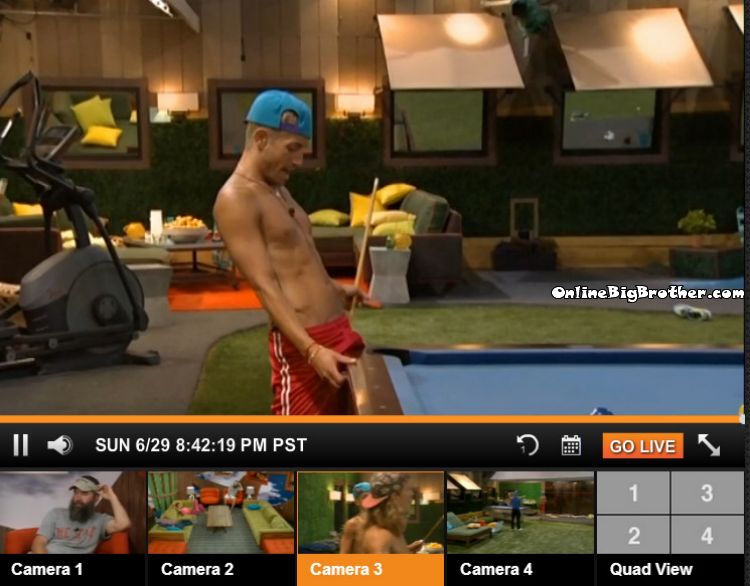 8:30pm Poll table Hayden, Caleb, Frankie and Cody
The guys are playing up how Amber is "into" Caleb.
Hayden starts talking about how awesome Nicole is but She's not the type of girl he's usually. He usually dates party girls or foreigners who are into freaking things.
hayden – "If she had similar goals as me I would go after her but she wants to get married and have kids.. I want to get married at 45 and have no kids"
Hayden says he would never lead her on because he doesn't want that in life, "She is the most adorable person I have ever met"
Cody says she's going to get snagged and be the best wife. (Frankie says he's resting his b@lls see iamge above)
8:47pm Poolside Devin, Frankie, Hayden, Cody
Frankie saying how the state of theatre isn't very good. there is no money in the profession. Frankie explains all the actors are now doing theatre and demanding huge salaries which means the chorus is left with nothing.
Hayden swings the pool cue like a baseball bat says Devin must have been a real beast in baseball. Devine says he was more of a double guy than a home run hitter, "A home run is one of the most amazing feeling I've had in my life.. when you connect with the ball and see it getting smaller and smaller
Hayden – "She is the most adorable person I have ever met" #BB16 pic.twitter.com/pbh8uNyt3S

— OnlineBigBrother.com (@bigbspoilers) June 30, 2014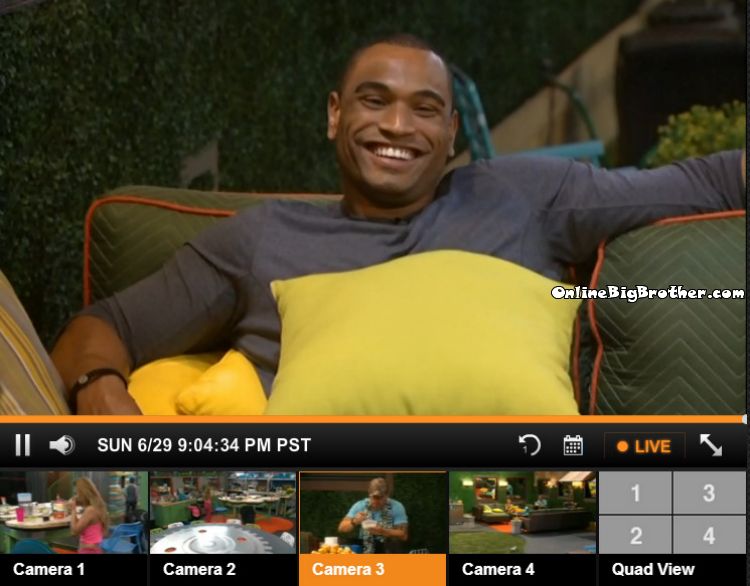 9:10pm Backyard Couch Caleb, Donny and Devin – Devin saying they took his tin of Copenhagen long cut he's waiting for them to give it back. Caleb thinks that is odd because they let Donny bring his chew. Devin jokes says it's because he's black.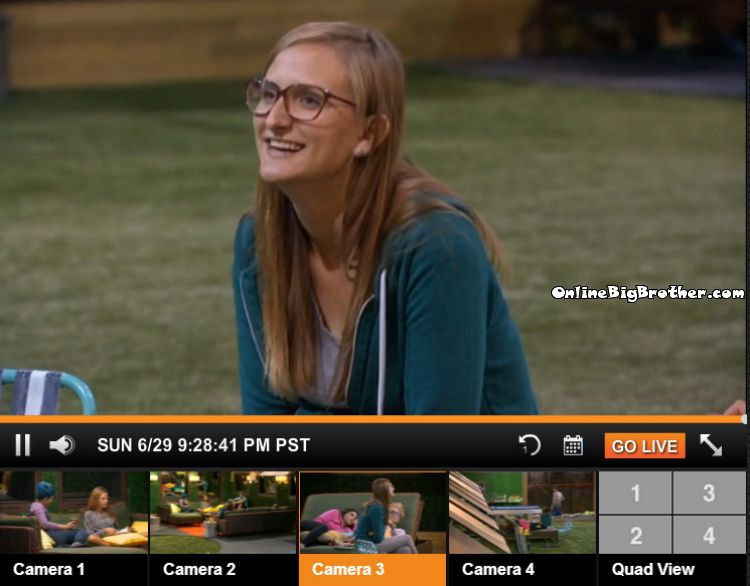 9:28pm Backyard Christine, Victoria and Nicole. 
Christine brings up how weird it is that some of their stuff in the house is from BB14 and BB15. They have blow driers from season 14. Christine – "there's a couple things from BB14 which is cooler that means britney used it.. I love britney" (gallery below Christine keeping her spon clean)
Big Brother 16 Live Feeds Subscriptions, Free 2 day trial. $26.99 for the season pass or $9.99 for the monthly pass Try It Free! Subscribe now to the official BB16 Live Feeds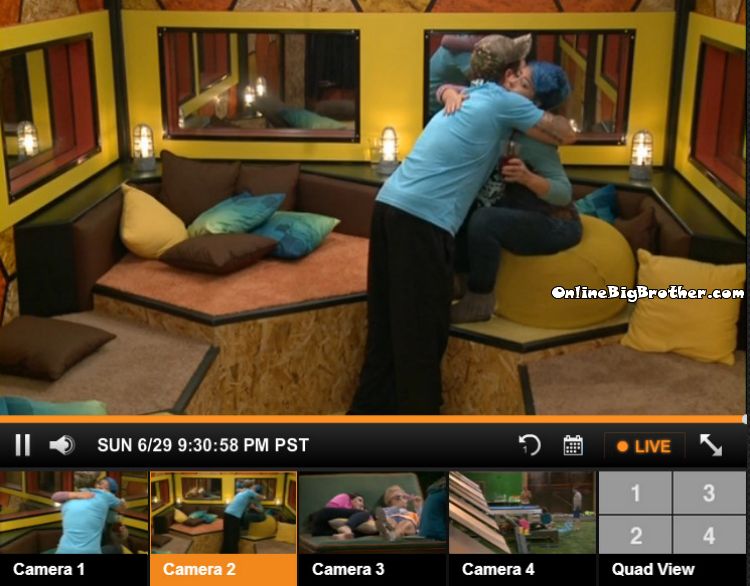 9:32pm Joey and Caleb 
Joey says she's so sorry for what she did to him. Caleb accepts her apology. Joey wants everything to be smooth, "So sorry for being so mean.. mean girls ARGH"  Caleb – "Girls are mean but it's OK". Caleb says he knows Joey doesn't understand the game. Joey agrees says she's made so many mistakes and doesn't have a clue what to do.repeats over and over she doesn't know the game. Caleb says he's a Army guy, everyone in his family is in the Army. He was deployed and when it was over he left, "They put me in here to see how long I will last.. the way I speak to people have changed the hearts and minds of people"
Caleb – "Amber is the same way.. Amber was telling Frankie I wasn't her type and Frankie was like what do you mean He's not your type.. Two and a half hour conversation with that girls completely changed her mind because she say the kind of person I am"
Caleb – No ones gone home yet and I feel like I've been here forever"
Joey thanks him for accepting her apology calls him a sweetheart. Joey points out that Caleb is wearing Amber's dress as a scarf.
Caleb – "Ya I've been wearing it all day as a scarf"
Caleb says she's "Just next Door" from his home town. He doesn't want to have a showmance with her he wants to get to know her outside. He explains that a showmance means it's just on the show he's more into a romance.
Caleb says he's been single for a long time. Last girlfriend he was in was his high school sweet but they broke up and she married a guy with lots of money.
"I've been single Feb 16 2010 I've haven't really found the one that .. you know.. " He explains he meets a lot of girls but a lot of times they are not religious and it doesn't work out, "I'm very picky very very picky I can't bring anyone home to mommy she's got to be a angel"
Caleb – "I will take her to my momma after the show" (Amber)
Caleb – "When I see her reading her bible and reading the scripture.. man this girl is getting more attractive" Caleb explains how beauty is only skin deep but Amber is more than just beauty he's gotten to know her.
Caleb – "I've dated some hot girls in my day but they were dumb as a block"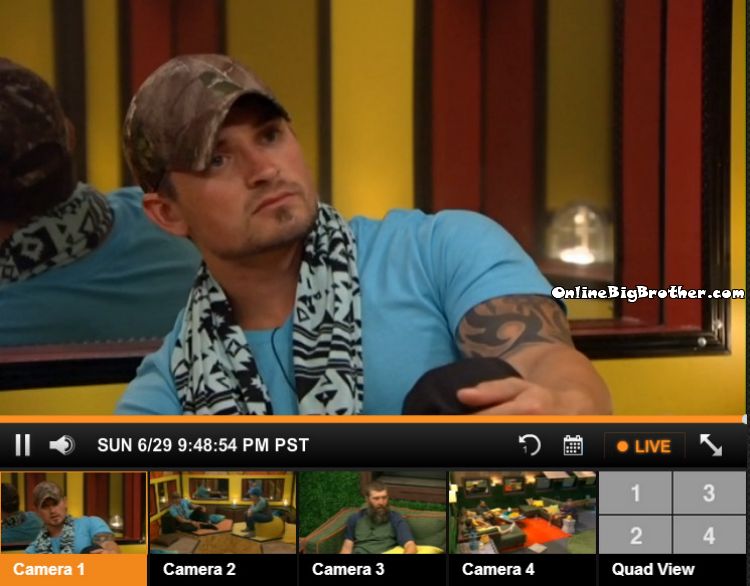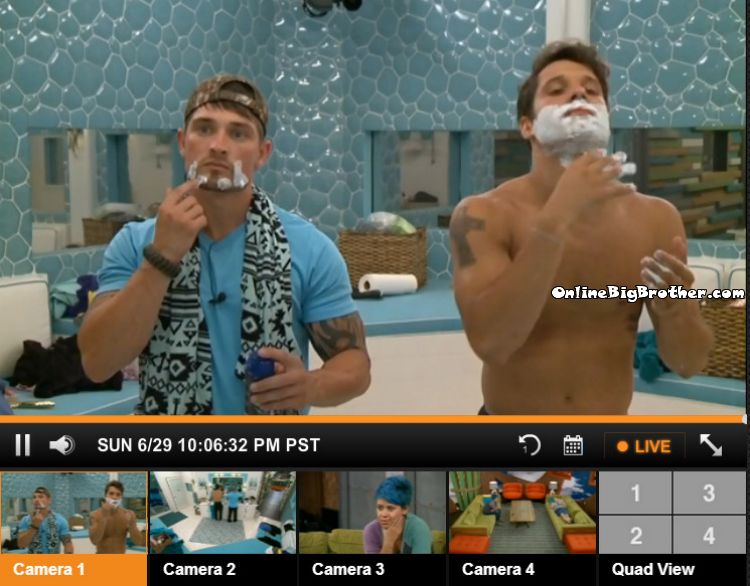 10:08pm Joey is doing some light campaigning with Derrick in the living while Cody and Caleb shave. Zach comes out of the Diary room Derrick asks him what he was doing in there because he wasn't called. Zach says he was talking game. Derrick tried to do that but they told him to come back later. Zach – "I'm trying to get on the show son.. I had to wait 15 minutes"
10:17pm Living Room Devin and Joey She is going to lose her job at nordstrom she was a manager of a makeup line. Devin is surprised they won;'t hold her position for her.