Check out our BB19 Ranking Grid. . rank your houseguests here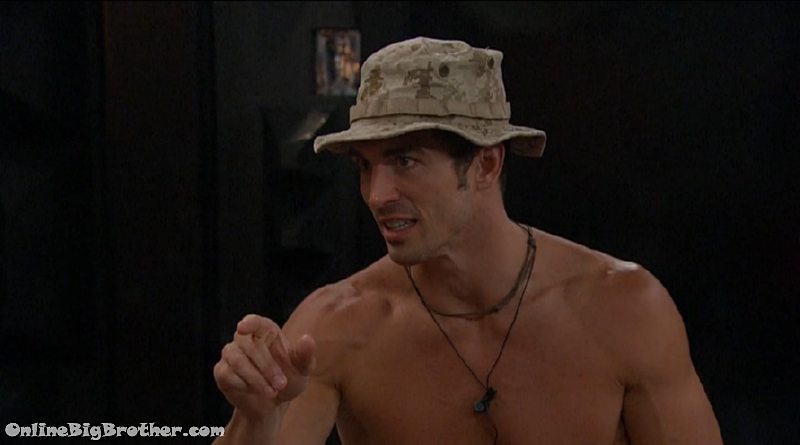 6:14pm Alex and Cody
Alex says there was something written in the sky about Mark.
Cody – what did is say
Alex – I don't know what it said.. There was a shit ton of people out there..
Cody says his loyalty with Mark is Solid.
Cody says Xmas is "a broke d1ck" and she's emotional. Alex doesn't understand why people want to keep her because she's hurt.
Alex – everyone is campaigning really hard for christmas to stay
Cody – that's only going to work against them
Alex mentions how Chritmas never talked to any of them.
Alex says a lot of people that were with Cody and Jessica are Salty at them for what they did.
Cody – I need you or Jason to win it (HOH) Life on the line sh1t
Cody – the crazy thing is I made the deal to protect some of them..
Cody mentions how Paul lied about having the pendant yet everyone still trusts him.
Cody – Matt told me 'Ya I trust him'
Cody – this guy is playing with 3 weeks god mode, unfettered game play, Not only is he guaranteed safety he gets to play in HOH.
Cody – he had a fanbase that was going to give him that first temptation
Alex – I know
Cody – they knew he was going to get that sh1t , it's unfair to every single one of us
Cody calls Christmas the poison in the group.
Alex – my loyalty is with Jillian and Jason.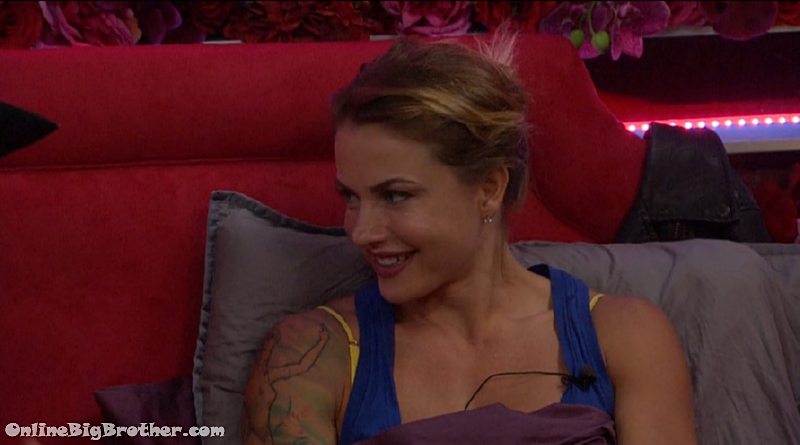 6:28pm Christmas and Jason
Christmas – are we cool
Jason – we're cool christmas, I know you are worried about my vote.
Christmas – Jessica is lying about me
Jessica – I don't trust that b1tc as far as I can throw her
Jason tells her Alex is close to him.
Jason – I'm not a fan of Jillian.. Alex likes her and I wanted to do her a solid.
Christmas – that's the best answer I've heard from you yet.
Jason – You think I would rather Jillian over you.. You're f***g crazy.. What should I do
Jason says Jillian isn't the same caliber of version compared to Christmas (LOL)
Jason brings up feeling bad for breaking her vote and not giving her his vote.
Christmas jokes that he should take that into consideration
Christmas tells him the house is not in Jessica's favour.
6:30pm Alex and Jessica
Jessica asks her for safety next week if she votes out Christmas.
Alex says yes.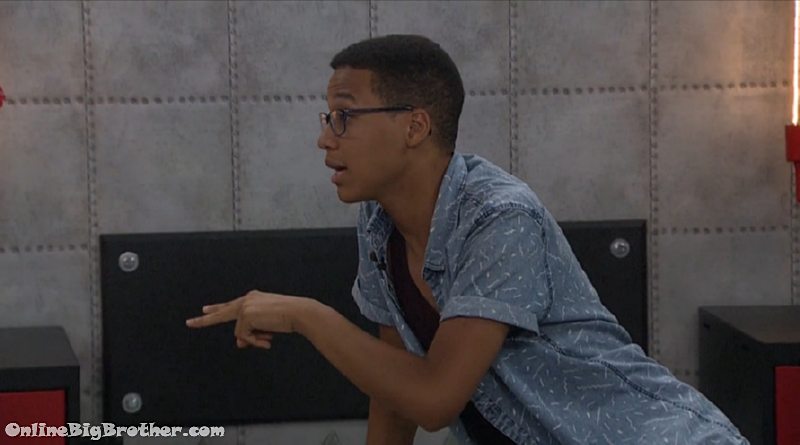 6:48pm Ramses, Alex and Jillian
Alex warns that Dom and Mark are in some kind of alliance.
Ramses tells them they have to lockdown Kevin.
Talking about Jessica and Cody and the Deal they are proposing.
Jillian said Jessica is all about Deals. Mentioned what happened the first day she was on the block.
Jillian – she's trying to mulse you that's what she did to me
Jillian says she must have a lot of TV time lately because she's always on the block. She thinks that's good that means a lot of people will vote for her.
Jillian – I'm in there like swimwear.. I hope America voted for me to get the temptation
Jillian – If I get it I'll tell you
Ramses really wants to get Paul out "he sucks"
7:00pm Jillian back to saying she thinks she has a good chance to win the Temptation. Mentions how sh'es cried a couple times in the Diary room.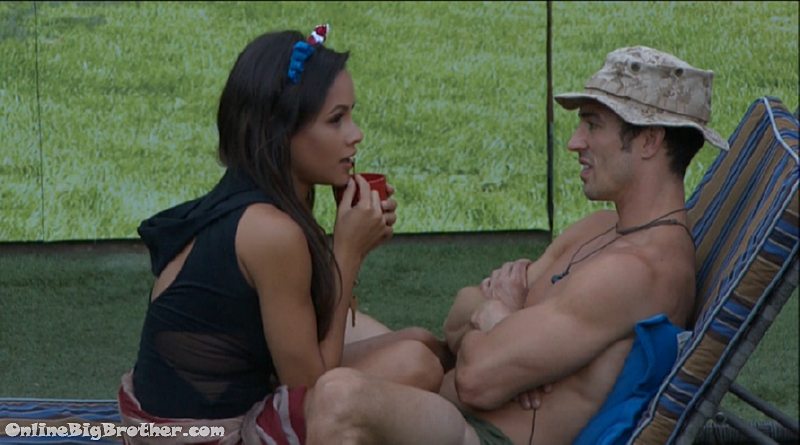 7:05pm Mark, Cody and Jessica (apparently there was a banner plane said something about mark, Dom, Elena.. not really sure)
Jessica – that's crazy
Cody – these fans man
Mark – that's just crazy
Jess – are you flattered
mark – a little bit
Mark – but no, also what the f***
Jessica – somebody doesn't like that relationship
Mark – yeah, means somebody doesn't like me
Cody – puts in perspective how many people watch this show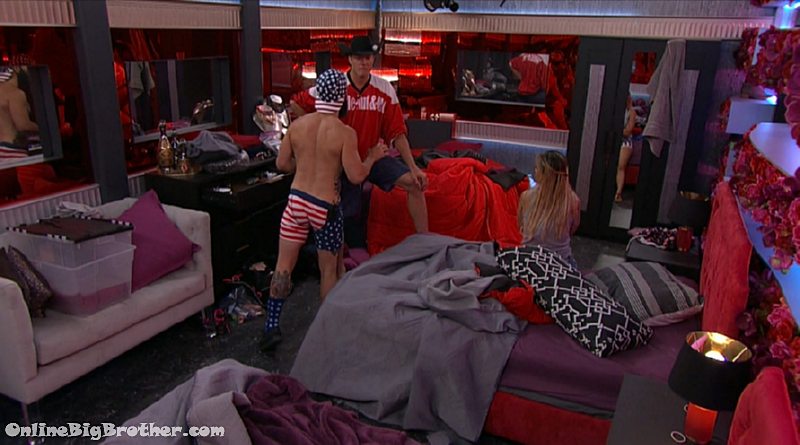 7:09pm Paul, Alex and Jason
Paul fighting to keep Christmas.
Paul says Jillian is selling information to Cody and Jessica. Paul says he say her saw Jason when talking to Cody.
Paul says Jillian and Cody/Jessica made a side deal.
Jason mentions Jillian and Ramses are very close.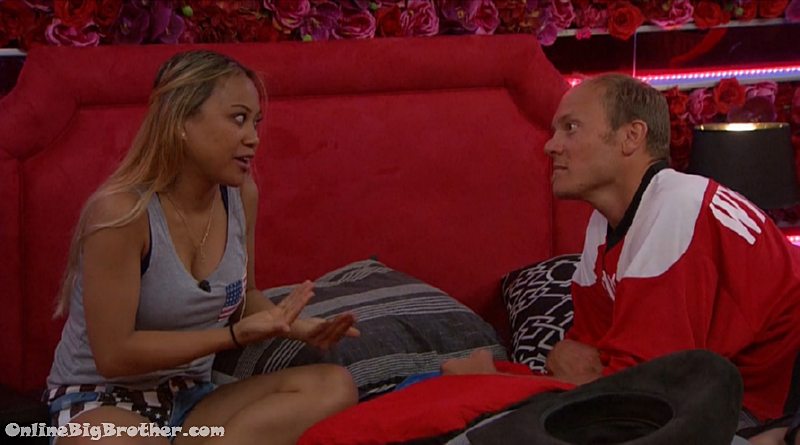 7:10pm Jason and Alex
Alex about Paul – He's lying, you know Jillian's not telling them that sh1t
Alex – he just lied to our faces.. she's literally shitting about the vote
Jason – they're f***g liars man
Alex – I think he has a side deal wot keep Christmas that's why he's fighting so hard.
Jason – I'm going to talk to Mark
Alex – NO NO NO
Alex – Cody came to talk to me, he's not sure about Mark
Jason – if it's 6 to 8 we're going to have to win the HOH. (They vote to evict Xmas and Jillian goes)
Alex says Paul's always talking about a power move maybe he plans to throw Jason and her on the block.
Alex counts the votes to evict xmas: Alex, Jason, Ramses.
7:33pm Feeds are on cats..
8:25pm Feeds on cats

Links to the ranking system
Rank your house guests here
For those of you that like Statistics here are some expanded reports.