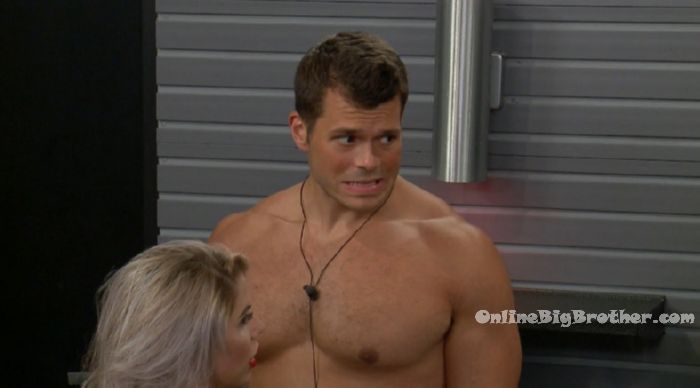 Check out our BB19 Ranking Grid. . rank your houseguests here

9pm The live feeds return. In the bedroom – Josh, Jason, Alex, Kevin, Christmas, Jillian and Ramses. They're all sitting around chatting about random things.

In the storage room – Paul, Elena, Mark.
Paul – he said who the f**k told you that and he said Christmas but it wasn't Christmas. It was f**king Jillian. Elena – did you tell him that? Paul – yeah and he was like that B***h! Paul starts singing Wanna go against me, I'm going to get you out because I don't play this sh*t! You chose to f**k me and I'm going to f**k you right back. Its as simple as that. Whatever weird agenda he has about him and I .. NO the game isn't about you and I. He took a shot. He chose to f**k me and I'm going to f**k him right back. You guys can do whatever you want, I'm just going to take a little vacation. I have no other reason to be upset right now .. because I found out he is the only one that tried to f**k me. He f**ked me and I'm going to f**k him. Elena – and then we have another agenda after him, right? Paul – yes, Jessica. Big style. Elena – okay 2 weeks we handle that. I feel a lot safer. Mark – and we have to get the f**king snake out of the house. Paul – who? Mark – Ramses. Paul – but guess who has the curse. Elena – Ramses. Dom joins them. Mark tells her about the plane that had the banner that said Dom and Marl. Elena – we're all gathering that the plane was false. Paul – I figured its Jillian and Ramses gathering information and going up there. They are sneaky as f**k and I f**king told you guys. Elena leaves the room. I'm on to it. Ramses is a f**king snake. I have a good understanding of the house and I know everybody wants Jessica and Cody out. Lets keep Christmas in and concentrate on this HOH. Paul leaves the room. Mark tells Dom – Cody is trying to blow up our games. Dom – not Cody, Jessica is.
9:25pm Lounge room – Alex, Jillian and Cody.
Cody – if you guys get it all I care about are Jess and Mark at this point. Alex – we are going week by week. And this week will dictate how the next week goes. We'll see who is really in for what. Cody – actions speak louder that words. Jillian – if you guys trust Paul and keep Christmas, I'm going to kill you. Alex – I don't know why they're trying to keep her. It literally doesn't make sense.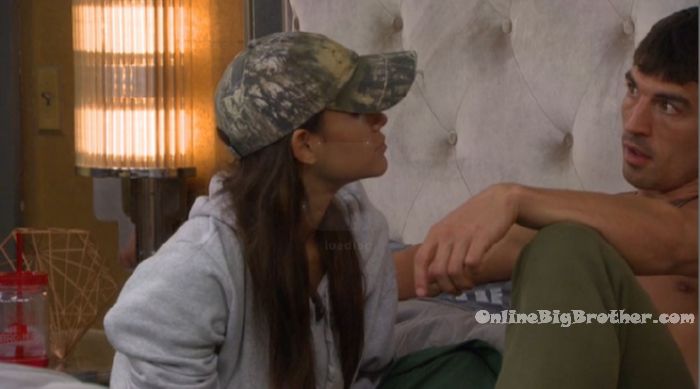 9:40pm HOH room – Cody & Jessica.
Jessica – the house is weird tonight, like really weird. Cody – I was comfortable. Jessica – it was not because I saw some side glances from people especially Christmas. Cody – oh Alex was like Ahhh everyone is pretty much gunning for ya. And I was like who? And she said she can't name names. So basically everyone on our side minus Mark. Jessica – I have no idea who I would even put up. Cody – I would have no problem putting up Matt and someone else. There are so many targets right now. Cody – as far as I'm concerned Matt is gunning for me. So if he wants we can Alpha it out. Damn traitors. Jessica – yup. Cody – I don't even think once they get out and see everything I've done for them .. they would probably still say that was such a dumb move. For me you're either with me or against me. Cody – everyone is fair game except Jess and Mark. We're at the bottom… rise to the top.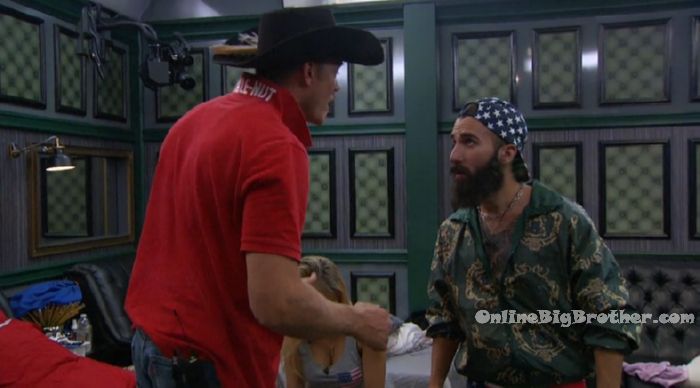 Try the Live Feeds FREE for 7 DAYS! ]
Click here for your: Big Brother 19 FREE Trial

9:45pm – 10:10pm Jason, Alex, Paul.
Jason – I feel like Jillian and Christmas are on the same side now so why does it f**king matter. Paul – because Jillian is working with f**king Cody. She is the one that went to Cody and said she wants to bash Jessica's face into a sink. She went behind your back and said that. Does that not strike you in any weird way? Jason – so everyone is just planning on exiling them? Paul – literally, literally. Jason – so they get those two (Cody & Jessica) out and then what? Paul – then you can do whatever the f**k you want. Jason – where is Matt at? Paul – what he tells me is that he's abandoned shit with Cody & Jess. Paul – next week Cody knows he can't compete and we're going to come around and cut his d**k off. And he is going to come after you… if that don't make sense to you then you are dumber than the f**king dark buddy. Jason – that makes sense. Paul tells Jason and Alex – if you f**k me then I am going to f**k the both of you. Jason – we're not going to f**k you. There is no absolute way Jillian is stay. Jason – I am voting Jillian off. Paul – Jillian has been getting information and using to to sell you out. That's not a good teammate. She is f**king you. I am trying to help you. Paul leaves. Jason – we've been bested at our own game. Alex – he is lying. Paul is lying. Jason – what do you want to do. Alex we need to get on that side. How hard is he selling Christmas. Alex – Cody could have f**ked us 3 times and he didn't. Paul is playing a shady game. He is pushing way too hard. You can't say any more. You say too much to him. Paul comes back – Jillian and Ramses are snakes. Paul – when I get power you will find out what my plan is and it involves another couple. Jason – I hope its the same couple I'm thinking about. Alex slaps him and says stop telling people sh*t. Paul – it probably is.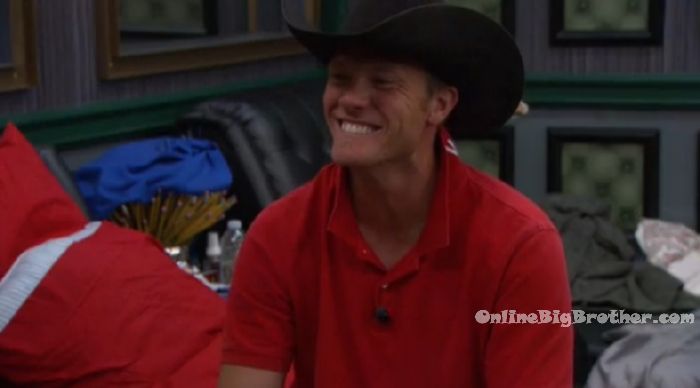 10:30pm Mark and Elena.
Mark – I hope when we get out of this house and there aren't cameras anymore I can keep showing you how much I do like you. And you will see its not an act. Elena – I don't think its an act. I think its genuine. Elena gets up and starts to leave she tells him to come too. He says he needs a minute and then rolls over onto his stomach. She starts laughing.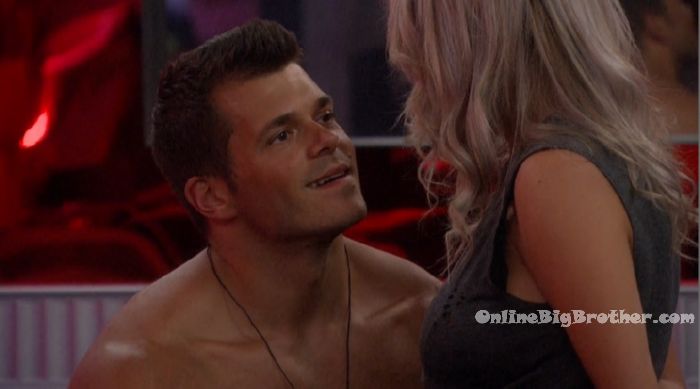 10:35pm Mark & Dom.
Mark – the only person that knows about me and you is Cody… and Matt. Dom – about me, you, Cody and Matt. Not me and you. You get me. So, I don't know I could be reading into it too much. So I'm just going to chill out. Mark – I feel bad. Dom – Why? They're coming at both of us. Why would you feel bad. Mark – yeah but you're being grouped with me because I'm an emotional basket case and I keep coming to you for help. Dom – no, no. I wouldn't be concerned about that. They can say whatever they want about that. I've got your back. I don't know if you see and understand or just see but I am going to play it out and confirm what I know. She is sharing information with Ramses or Ramses is planting seeds in her brain. I find it strange that Marlena getting it on it the storage room. I don't know why he would do that. Why would it benefit him.
10:50pm HOH room – Cody & Jessica.
Alex was down there and she said she wants to talk to Jess. Jess – she wants to talk to me? What does she need to talk to me about? Cody – I don't know. I don't know why these people can't chill out till Thursday. Jess – should I go down there? Cody – I don't know. Go down there.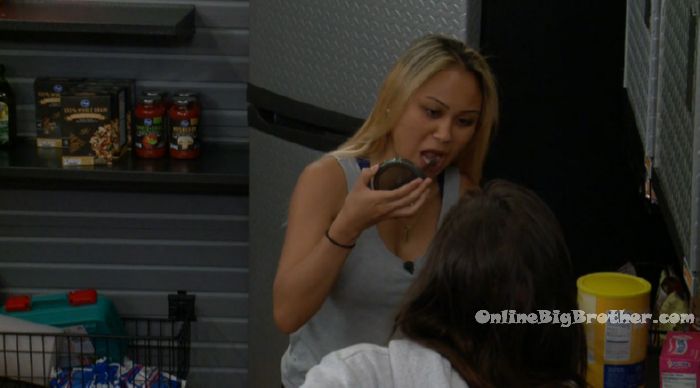 10:55pm Storage room – Alex & Jessica
Alex – I need to ask you something and it will depend on the deal we made because I know the truth. Who told you what Jason said today? Jess – about what? Alex – someone said that he was joking about you today or he made a comment. Jess – the only think I talked about with Jason was in the HOH and he said you better not be telling me that you're voting to keep Jillian to put us in a compromising situation and make us look bad to the rest of the house and show our cards. I let him know, I am not playing that kind of game with him. Alex – there was nothing said .. something about a toilet? Jess – I swear to christ I have no idea what you're talking about but I want to know now. Alex – na, I just want to make sure people are telling things that aren't true. Jess – I don't know what you're talking about. Alex – that's fine, that all I need to know. Jess heads back up to the HOH room and tells Cody about Alex's question. Cody – On Thursday I want to be like Christmas there's the door. And I'm only going to do it because Matt is such a f**king pu##y about it and I'm going to give the most blunt Christmas get the hell out of here. BOOM! its one thing if she wants to be nice and gun for me but she's gunning for Jess now… BYE!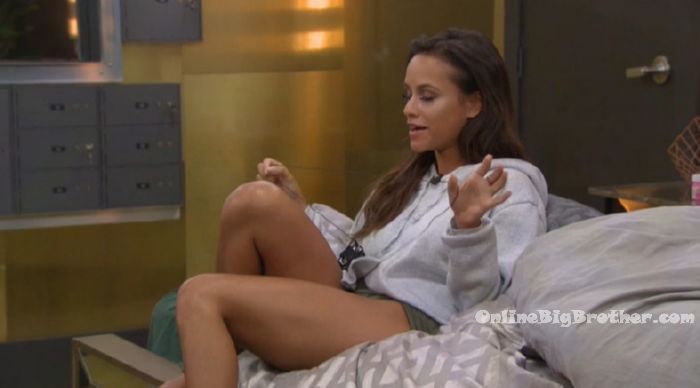 Jason comes up to the HOH room. Jason – I can't do this. Cody – everyone just needs to relax. Jason – I don't know what the f**k is going on. People look at me and I'm like what the f**k are you looking at me for. Jess – what's up with the toilet thing? Jason – me and Kevin were just f**king joking and I just said it… Jess – said what? Jason – Lets just put Jessica's head in the toilet and slam the lid down on it. And then we all laughed. Jess – I didn't know that. Jason – well then how did you know. Someone came up and told me that Kevin came up and told you that I said that. I wasn't worried about it. I did say it. It wasn't derogatory. Cody – Christmas is just trying to spin it to make you look bad to Jessica. Jason – I think, they think if you, me and Alex team up they couldn't beat us.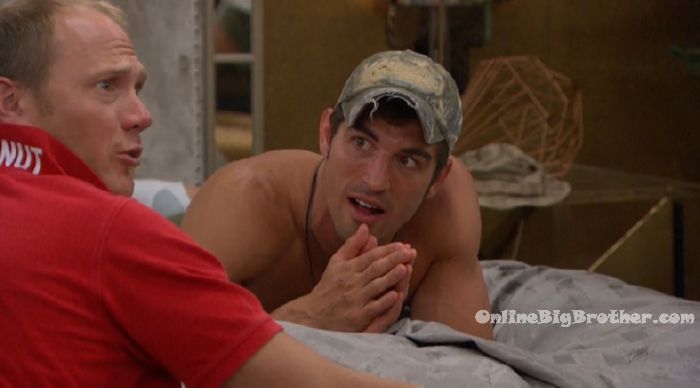 11:50pm – 12am HOH room – Jess, Cody and Josh.
Jess – do you have any idea how you are voting? Josh – Voting Jillian out. When you pulled what you pulled I had no idea what was going on. Cody – if you vote for Christmas what is going to happen is they will try and pick you and the other side of the house off. Cody – you're powerful til week because you're the swing vote. Josh – I am going to do this but am I safe with you guys. Cody – you're not a target.

Josh heads back down to the bedroom. Alex, Josh and Kevin ask him where he was. He says I was upstairs in the HOH with Cody and Jessica. The first time they talked to me. I'm the chosen one. God is good. They're going to pick us off. They want the swing vote.
12:50am Storage room – Josh & Paul
Josh – Jess pulled me upstairs and she said we think you should side with us. We're keeping Jillian …like nobody f**king came to me. Paul – everybody hates them. Josh – they're going to pick you off one by one. We're with the outsiders. And yeah we're going to need you as competitors. Paul & Josh laugh and high five. Josh – I only trust you (Paul) and Christmas. Josh – they said I was the swing vote. You guys haven't spoken to me all week and now you want to work with me … F**K YOU!!! Paul – now you're playing the game bro! Now you're f**king playing the game!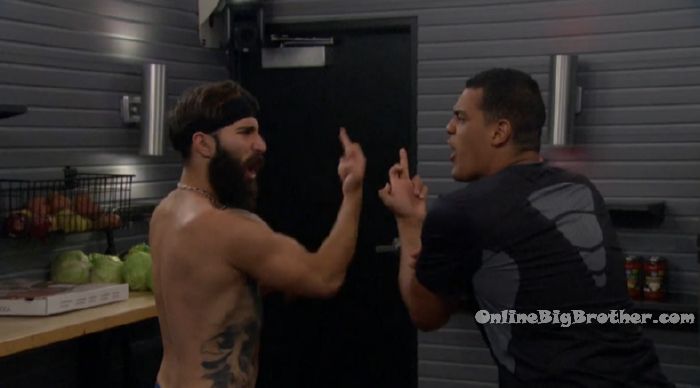 1:35am All the house guests are sleeping..
Links to the ranking system
Rank your house guests here
For those of you that like Statistics here are some expanded reports.