POV Holder:
Spencer
Next POV
July 27th
POV Used
?
POV Ceremony
July 29
HOH Winner:
Aaryn
Next HOH:
Aug 1
MVP:
AMERICA
Original Nominations:
Spencer, Howard, AMANDA (MVP = America)
Current Nominations:
Last Evicted Houseguest
David, Nick, Jeremy, Kaitlin
Have Nots
Judd, Amanda, Candice, GinaMarie
10:27pm Cockpit McCrae and Amanda
MC says once Candice gets nominated he's going to start throwing Candice under the bus she just needs to keep cool. Amanda thinks it would be a good idea to Howard.
McCrae says there is no way people are going to switch from voting out Howard to voting out Amanda.
Amanda says she's never felt like a bad competitor in her life. McCrae thinks it benefits her because nobody in the house thinks she's strong in comps but she really is.
10:50pm Bedroom Howard and McCrae
Howard: "I just want you to know I'm not the MVP and if I was I wouldn't put her pu"
mcCrea: Ya"
Howard: "In the event i'm making it out of this i'm still being loyal to you"
MC: 'ya"
Howard : "I believed in you even before the with the moving company"
MC: 'Ya"
Howard: "We're playing separate games candice and I"
MC: 'Ya"
H: "You, me and Spencer are three in the same.. nothing has changed"
MC: 'Ya.. there is still a lot of time until Thursday.. sh!t is always changing"
Amanda joins them..
H: "I don't have the energy to to the politicking.. I don't have the energy "
MC: "YA"
H: "I'm not going to argue with you (Amanda)"
MC: ya"
Amanda:" "If I campaign it's for me to stay not you to go"
H: 'i respect the game.. and all that.. I don't hate on anybody's game"
MC: "YA"
Howard: 'If I get out.. i'll have to get my 500K another way"
Mc: "YA"
Howard: "I'm kinda excited about Thursday to see what happens"
MC: "Ya"
(Every time Howard said something McCrae said YA. Howard so freaking hard to understand)
The CBS feeds are a HUGE improvement over the super pass feeds and they are 30% cheaper with no subscription to cancel. You pay a flat fee for the season.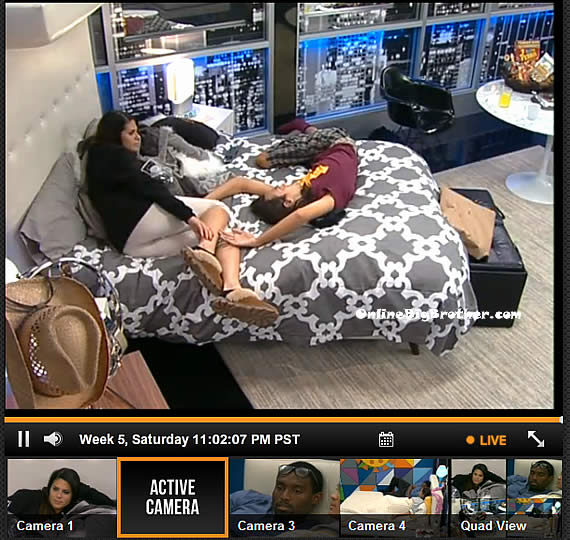 10:58pm HOH Amanda and McCrae
Chatting about the conversation they had with Howard. McCrea doesn't think Howard has any power but he's a bit worried when Howard says he's "Excited" about Thursday. Amanda says they're plan was to knock out Beiber fever and they did. MC: "Except for Aaryn"
Amanda: "our alliance is so good"
MC: "I wish someone would f**** admit that they have the MVP … FU***"
11:01pm Candice and Howard Bedroom
There's a dark side to spencer he hasn't told us yet.. there's more to that rehab story he's not sharing with us.. Feed switch to Aaryn and JUDD in the bedroom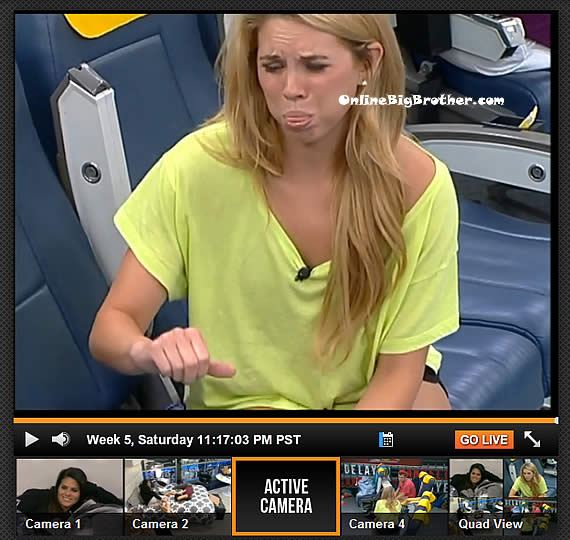 11:03pm Aaryn and JUDD havenots
Aaryn says Howard told her if he stays he's not going to to put her up, "He's after Amanda and McCrae"
JUDD: 'He'll tell you anything"
Aaryn believes that Howard will not put her up
Aaryn: "Spencer is the biggest vag!na in the world.. he's probably going to do the most b!tch move in the world about put up Me and Ginamarie" (the image above show you her face after she makes that statement)
A: "Like what a loser"
Aaryn mentions how Elissa has promised her safety for next week so she's kinda hoping ELissa wins it so she can put up Spencer and Candice.
JUDD: 'The thing with her is she doesn't appreciate anything people have done for her in the game"
Aaryn says her and Elissa have been friendly to each other for these past couple days then earlier today "They" were making fun of Aaryn's who voted out David speech.
A: "That speech was fully warranted.. what the hell would you expect.." Aaryn explains that Elissa was saying 'I would have done that if I Was 16 and Big Brother was the only cool thing I have ever done."
J: "I risked my entire f*** game to make sure she stays because I knew at that Time Nick was a big threat to me personally" JUDD adds he didn't know there was a secret alliance but he knew people were acting weird as f***
J: "She was gone until we flipped the vote and she doesn't appreciate it one bit.. she says she does everything for us and we do nothing for her"
JUDD adds Ellissa is used to getting everything she wants back home
J says he want Elissa gone before Jury for sure. Aaryn agrees.
A doesn't want Candice or Elissa in Jury because they will vote personally. JUDD says that Spencer is alright to put in Jury because he won't vote on a personal level his vote will be based on gameplay.
Aaryn brings up their final 7 She wonders where Helen sites in it. JUDD says she's been really wishy washy lately.
A: "Helen is so confident about this game.. she thinks she's going to win and that scares me"
J brings up how Helen was screaming f*** you jeremy f*** you to the camera.
11:15pm JEJU in the Have nots
JUDD mentions final 2 with her.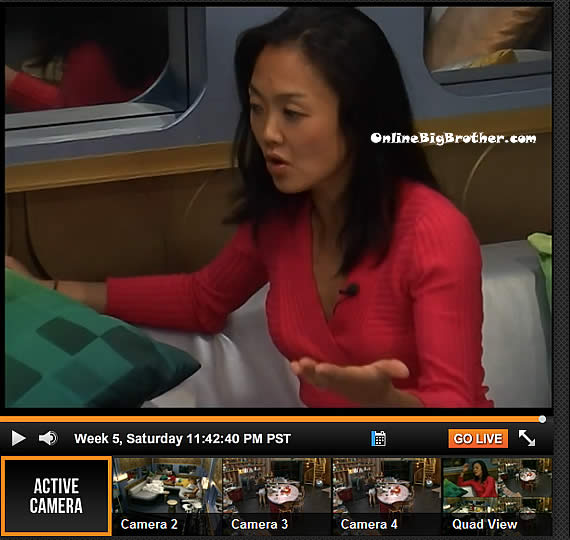 11:35pm Cockpit Helen, Elissa and Candice
Candice is asking them to safe Howard this week. Helen doesn't think they have the votes says it will be very tough.
C: "I don't think it will be all that tough"
H: "It's going to be really tough… they all want him out bad.. Jessie does to.. I'll try i'll try"
Helen says that Howard has done wrong to everyone in this house. C: "So has McCrae he was in the moving company alliance as well"
Helen explain to her that McCrae came to her first to expose the alliance and only after Howard couldn't hide it anymore did he come clean.
C: 'All last week everyone said they wanted Amanda out and now she's on the block"
Helen says she's a little bit loyal to McCrae but not Amanda. C: "I thought you had loyalty to me I haven't done anything to you in this game"
Helen: "I do I love you I asked Aaryn not to put you up"
Helen tells her not to make a big stir this week because Her and Elissa will never vote her out but Helen can't say the same for Andy, Jessie and JUDD.
H: "Jessie is going to do whatever JUDD does.. She's not going to do what I tell her to do that's what worries me"
H: "i could tell Jessie we're going to flip the house sure.. what will happen is JUDD will get in her ear"
H: "you should see how she kisses Aaryn's butt"
Elissa comes in say there is wine sits beside Candice.
H: "I will try lets see what I can offer"
Elissa is asking Candice a question so Candice is looking at Elissa this pissed Helen off
H: "I will try .. LOOK at me if you want to talk to me about this"
Helen: "I'll try but it's going to be tough.. we don't have you to vote"
Candice: 'It only takes 5 people you have 3 right here with spencer..
Jessie doesn't have a brain"
Elissa says if Jessie would flip her vote there is a chance.
H: "Then you would need JUDD or Andy"
She says there's no way Andy will flip his vote he hates Howard.
Candice: "I just talked to Andy he never said he hated him.. Howie never did anything to him"
Helen: "The moving company and the alliance with Kaitlin"
Candice: "It is what it is.. this is a game of deals and Clearly you have made a lot of deals in the past couple weeks between you, Elissa and McCrae, Amanda"
Candice mentions that Helen also has deals with Aaryn, "Clearly you all are running stuff"
Helen: 'No we're not.. She came to me"
C: I'm your ally and i'm coming to you with a deal.. i'm your ally more than Amanda"
Helen storms out pissed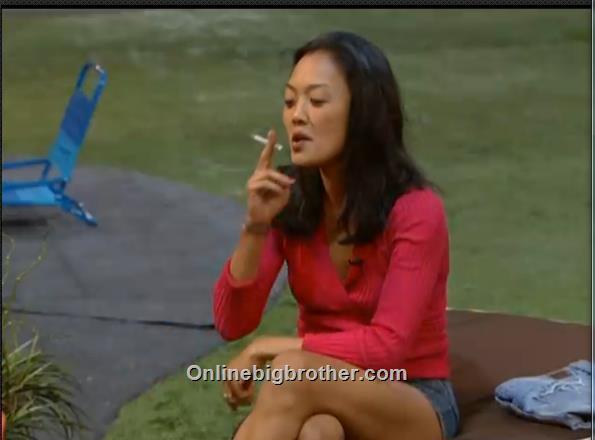 11:44pm Helen and Jessie Hammock
They are trying to hide them smoking.. Helen tells her she wants Elissa, Jessie and her self final 3.
Helen: 'This is not the week to get Amanda out"
Jessie and Helen get trouble by production for smoking around the hammock they are only allowed to smoke on the patio.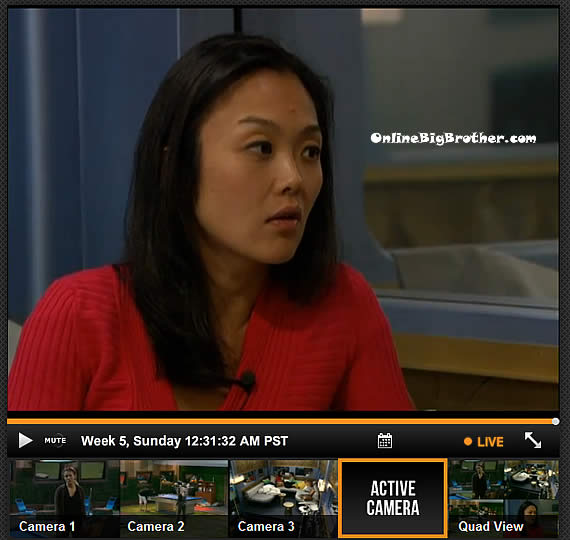 12:02AM Cockpit Jessie and Helen
Helen brings up the conversation she had with Candice, She watns Jessie that she told Candice she's going to try to save Hwoard but it was a lie. Helen tells her she wants Howard gone this week and Aaryn gone next. She explains why they cannot let Aaryn, Amanda and McCrea make it to Jury as a block. Helen thinks Candice cannot look past her obsession with Howard. Jessie thinks Candice is thinking with her vag!na and not her brain.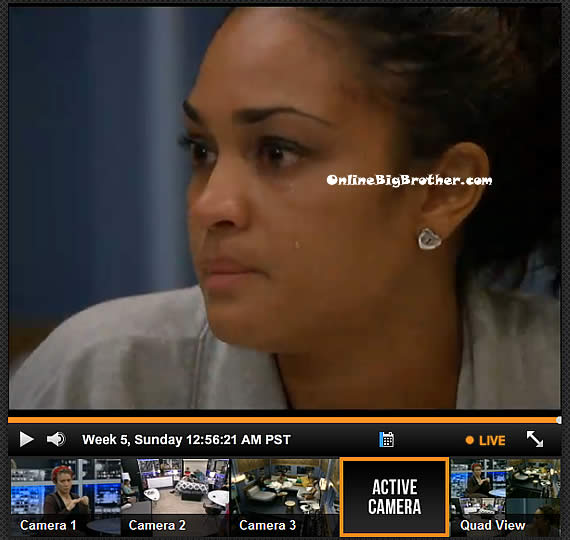 12:44AM Candice and Elissa
Candice tries to explains to Elissa that Howard is not the type of person everyone is portraying him as.
Candice says she's been loyal to Helen from the beginning and to now find out that she's siding with Aaryn and Amanda. Candice mentions all the derogatory comments that were made and for Helen to now side with her is a slap in the face.
Candice brings up how last week there was deals to be made to save Aaryn there has to be deals to be made to save howard, "He never disrespected anyone.. If this was you I was fighting for I would do the same thing"
Candice about Howard: "When I know a good person that deserves to be here I know a good person that deserves to be here.."
Candice starts to cry and says there is a person that has been kept here for two weeks that has been rude, disrespectful and has said derogatory comments.
Candice about Helen: "Helen is my closest ally and you made a deal with her and you won't help me and I've been loyal thats crazy.. to me it looks like you are with Amanda and McCrae and if you are with Amanda and McCrae be with them and just leave me alone.. thats it .. it's war time"
Elissa: 'Don't you think that she's.. working everyone obviously"
Candice says Helen was sitting with them on the Hammock just the other day saying that they need to get Amanda out and now that she's on the block it seems like she's not the target anymore.
Candice says nothing is lining up and she's not a stupid girl she'll figure it out.
Elissa: 'I know Aaryn is not a nice person"
Candice: "Aaryn is not a nice person and it's a slap in the face for her to work with her"
Candice: 'That's f** up"
Elisas: "i could have told you that last week one of us is going up"
Candice: 'It's hurtful coming from Helen because she's the closest to me.. it's hurtful.. I know it's game and she wants to win.. but don't fill my head with bullshit don't say that Andy hates him it's not true"
Elissa: "I don't know I really don't know what to believe "
Candice says that Howard is nothing like they say
Elissa says that is all the other girls do is is spread lies about them.
12:56AM Elissa says she came into this game with disadvantages no advantages she never was able to use the MVP the way she wanted to
You can re-watch ever second on the feeds using their flashback feature.. It's just like a DVR and is super easy to use. click this link for a Free Trial —> Subscribe to the Big Brother Live Feeds