POV Holder:
Spencer
Next POV
July 27th
POV Used
?
POV Ceremony
July 29
HOH Winner:
Aaryn
Next HOH:
Aug 1
MVP:
AMERICA
Original Nominations:
Spencer, Howard, AMANDA (MVP = America)
Current Nominations:
Last Evicted Houseguest
David, Nick, Jeremy, Kaitlin
Have Nots
Judd, Amanda, Candice, GinaMarie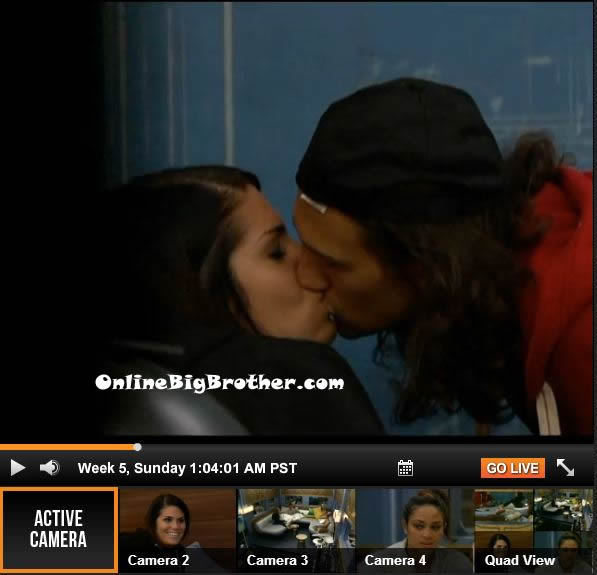 1am McCrae and Amanda are in the bedroom talking. Amanda says that Candice is in the lounge room threatening Elissa right now and she threatened Jessie as well. Amanda says that whole spiel that Howard just said to us was bullsh*t because he's just getting her to do it for him. McCrae says that's exactly what Judd said. Amanda says she can campaign against me if she wants to, I don't really understand why because she is going up on the block, but I think what she is trying to do is spread the votes around so that she gets some votes on her but we all need to be on the same page and vote the same person out. And we all know it's Howard. Amanda says they're all just talking sh*t against her upstairs but I was saying stuff like they're all good people and stuff. Amanda says you would be so proud of me. Amanda says ah yes Candice go crazy! She isn't even on the block and she's going bat sh*t crazy. McCrae asks what do you think our best plan of attack is, sit back? Amanda says yeah. Amanda says hopefully if she got into power she would put me up against Elissa or Helen. McCrae says that he talked to Judd and he said he doesn't respect Candice campaigning for Howard. McCrae says that Judd said he would always vote for Amanda to stay unless it was me and you on the block. Amanda says that Helen said Candice wants to her to flip Andy, Judd, Jessie and Elissa. McCrae asks Amanda do I even need to campaign to them? Or just keep up to date with them? Amanda says yeah just always be like we got you! Amanda says let's try to get to Spencer with that too. McCrae says that it will be a landslide for Howard to go home. He says and what Candice is doing will make it worse for her next week. Amanda asks who would flip? No one, maybe Helen, Elissa, Spencer. Which isn't even enough they need 4 people.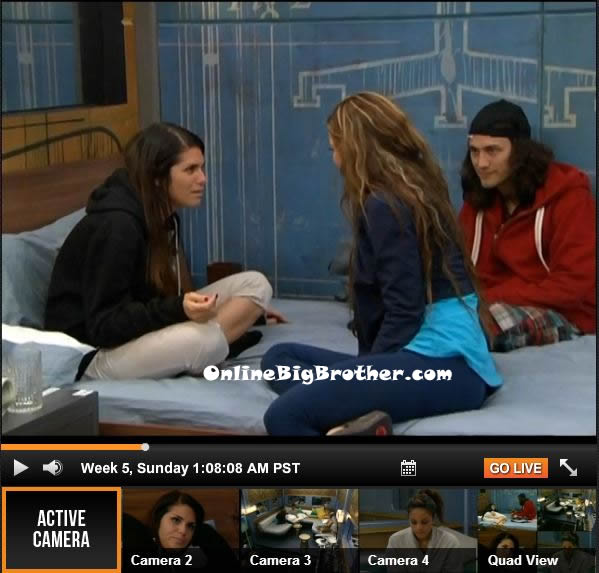 1:10am Elissa joins them and Amanda asks what I don't get is why is she (Candice) campaigning for Howard, when she is going up on the block. Elissa says I don't even get it. I don't understand it, if she is crying or upset he just peace's out. It's so weird. Amanda says its all about loyalty, like with you and we have a whole army on our side. Amanda says I am not going to campaign against them, I am just going to campaign for myself. Amanda says that Candice was threatening people, she threatened Jessie and Helen. Elissa says he's going home. Elissa brings up how Candice was balling her eyes out and Howard just got up and left. My husband when we were dating would go to the ends of the earth for me. Elissa says that she would never flip. I have never even had a conversation with Howard. Elissa says that she fell for her because of the racial thing, I felt bad for her and I couldn't even talk to Aaryn because of what she said to you. Judd comes by and points to his hat and says I wish we could get this campaign on the road! They all laugh.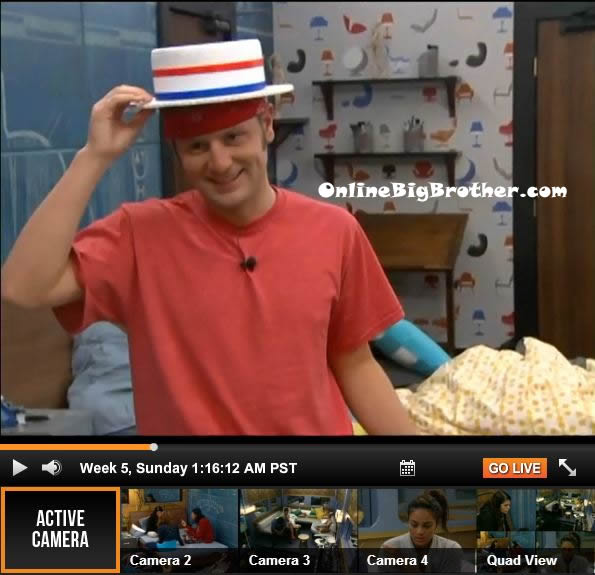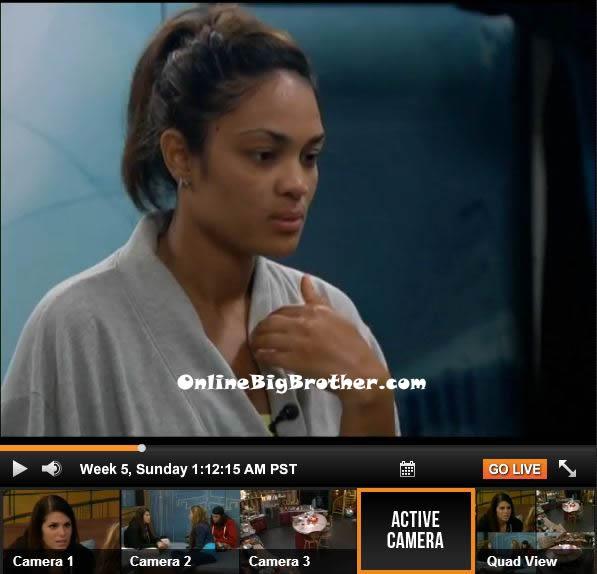 1:10am Candice asks Howard why he would do that to her? I was defending you and crying and you walked out of the room. Howard says because he didn't want to hear Elissa lying. Howard says I wasn't walking out on you. Candice says don't you see how that looked when I was defending you. Howard says that makes you upset with me? I didn't know that was a show for her, I thought we were talking. Candice asks wouldn't you want to change her way of thinking and Helen's? I was setting you up for a conversation. Howard says he didn't know she was doing that. What am I to do but keep my temper down, pray and talk to people one on one. Howard says I am the one going home. Candice says well I am on the block as well. Howard asks you are? Part of me walking out is so that I don't set you up to look bad to go. Candice says it looked like you were setting my up to self-combust and look crazy. Candice says I was talking to someone that would vote for me over you and I am telling her to keep both of us and you walked out. Howard says I will just go apologize to her. Candice says it's done now, there's no apologizing. You don't understand. Howard says that he was frustrated and had to walk out. Am I not able to have emotion too. Elissa comes in and Howard explains that he walked out because I care about her and wanted to get my emotions together. Howard says my feelings for her have been growing for a while now and when I hear lies and stuff that I can't defend against. I just had to walk out to collect myself. Elissa says yeah it was just weird, I haven't had conversations with you. If I was crying my husband would be dying for me. Howard says I have been there for Candice every other time when she has broken down and no one else was there for her. Elissa leaves. Howard says thank you to Candice for defending me, I feel bad for walking out on you. Howard says he was frustrated that the deal didn't work. Candice says that the game isn't over Helen said she would think about the deal. I just don't understand why you would walk out when we are trying to make deal. Candice says that Helen is running the house. Candice says that Helen doesn't believe that she has control over Jessie and Andy. Candice says that she thinks Helen got rid of Kailtin because she couldn't mindf**k her, and kept Aaryn because they knew they could control her.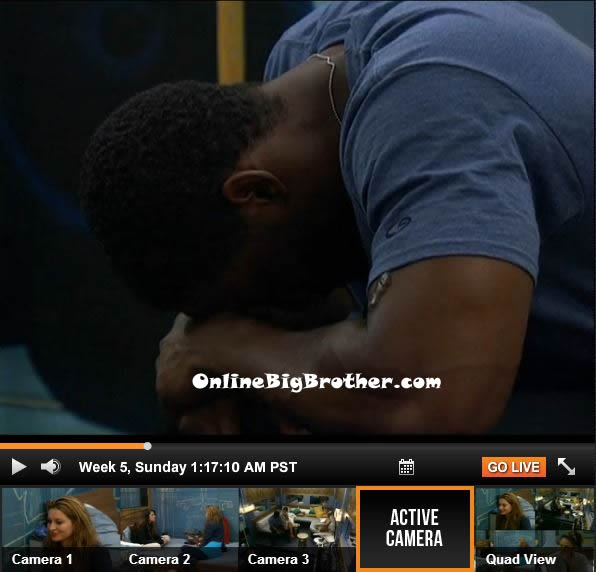 1:25am – 1:35am Out in the backyard – McCrae, Judd, Jessie are out on the backyard couch. McCrae says that is the worst strategy you can have being on the block. Jessie says to be on the block being a bully. Helen says she honestly doesn't think she (Candice) is thinking. Andy joins them. Helen says I have come to you, Judd, Andy and Jessie to try and keep Howard. Andy jokingly says and it worked I am going to vote to keep him. McCrae says stop saying that. Andy says I am joking. McCrae I honestly feel like I am on the block too. I will take all the blood on my hands as long as Amanda stays. It will be Popsicle stick part 2 on Thursday I will not let go. Helen explains her conversation with Candice from earlier. They agree that Candice has to go next week. Helen says she is too much trouble she is threatening to bring down Elissa and I if we don't help her. That's not the way you get people to do things.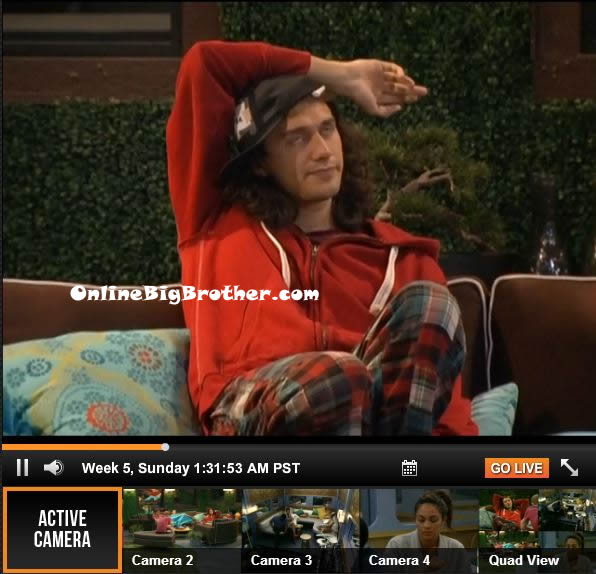 2am Helen and Elissa are lying in bed in the dark talking. Helen is talking about how Candice threatened her and said, she had to campaign to save Howard for her or else she must have a deal with Amanda. Helen says that Candice was bullying her so she walked out. Elissa tells Helen that she doesn't get why Candice thinks she knows Howard so well. She doesn't get why Candice wont believe them when they tell her about all his deals. Helen says it would make no sense to get Amanda out and work with Howard and Spencer because they've never worked with them the whole game. Elissa says she has never talked game with Howard and Spencer, not even once. So, why would I want to work with them. Helen says that even if it comes out that we are working with Amanda and McCrae it doesn't matter, because everyone already knows except for Spencer. Helen says that McCrae is willing to get blood on his hands for them. Helen says that's a good thing. Helen says now isn't the time to go after Amanda because if we did, we would have half the house after us. They agree that Howard has to go. And that Candice is going to flip her lid when it happens.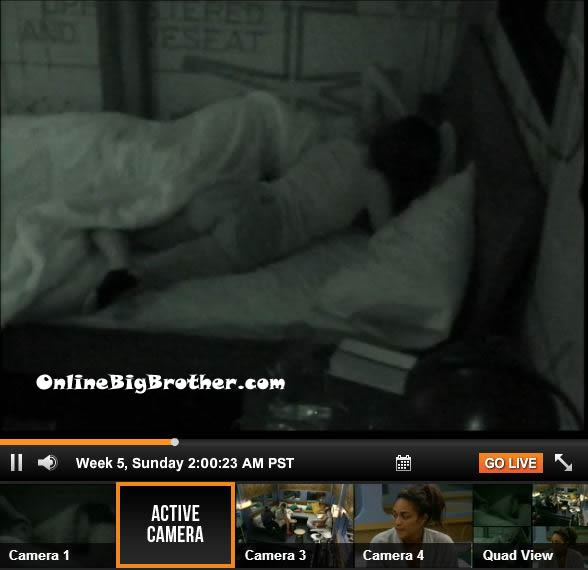 2:25am Out in the backyard hammock – Spencer is talking to McCrae about getting rid of Candice and keeping Howard. McCrae says that he was worried that Spencer would throw the veto to Howard so that Howard would win it and take himself off. McCrae says that he thinks Howard is the MVP. Spencer asks if Aaryn and Gina are going home next week. McCrae says yes. Spencer says Howard feels like he is on the outs and doesn't have anyone to talk game with. Spencer says that he keeps telling Howard to trust McCrae. Spencer says that keeping Howard would be keeping an ally and getting rid of an enemy (Candice). Spencer says I promise Howard would be loyal. Spencer says that Candice is already sinking her own ship. McCrae says that he can push for Howard, but says I am only one vote. Spencer says Jessie and Helen got threatened, and with Gina that makes five votes. McCrae says Gina will do what Aaryn wants. McCrae says that everyone is pissed off at Candice tonight, and if this keeps happening, the vote could switch. McCrae says as of right now though – Amanda is staying and Howard is going. McCrae says that he and Amanda can use Spencer going forward more than any of the other girls. Andy joins them and the conversation ends.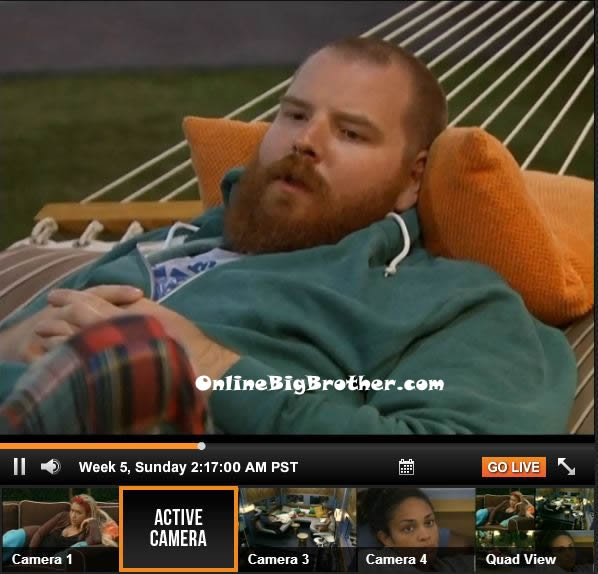 3:15am Out on the backyard couch – Amanda and Judd are talking. Amanda asks Judd if he is still freaking out? Judd says no not anymore. Judd tells Amanda that he is afraid of how he is being portrayed because of the way he has been acting. He thinks he is being portrayed as a douche bag. Judd tells Amanda how Aaryn told him about Helen, Candice, Elissa feeling bad about Howard and that is what set his craziness off. Judd says that he was pissed that Helen would talk about that without the entire alliance there. Meanwhile in the lounge room Howard and Spencer are talking. Spencer is trying to convince Howard to campaign. Howard says my plea to you is, and it's for you to decide, go to Helen with an idea of mending bridges and keeping him and Candice. Spencer tells Howard that Candice has already f**Ked that up for him and Spencer because she threatened Jessie and Helen. Spencer tells Howard that his only option is to mend things with McCrae & Amanda. Spencer tells Howard that his only option to stay is if Candice goes. Spencer says that Candice will sink her own ship because she wants Amanda out so bad and Amanda won't like that.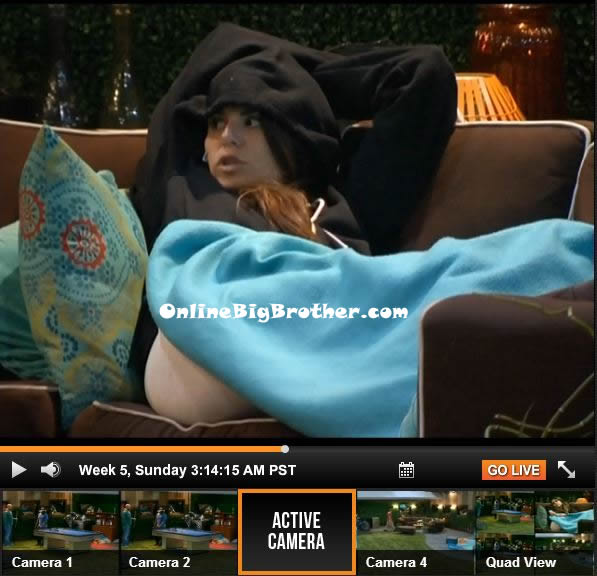 3:35am Amanda is talking to Judd and she asks him if he made up the story about Kaitlin saying she was after Helen. Judd smile and says he had to do it to keep them all safe. Judd says he wanted to keep Aaryn so he had to find a way to take the target off her so he made up the story about Kaitlin to make her the target. Amanda asks Judd if the grasshopper alliance was real. Judd says no it was fake. Amanda says that when Howard was nominated Jessie cried. Amanda says that Jessie has to go soon. McCrae joins them. Amanda tells them that he gut tells he Howard isn't the MVP. She says it could be America. Judd says that one of us three have to win HOH next week. He says that is the only way I will feel safe and Jessie. Amanda says that she isn't completely comfortable with Jessie because she is a floater. Amanda says that Jessie is good for a vote, but not for power. Judd says it's too early to get rid of Jessie but understands. McCrae starts talking about the conversation he had with Spencer in the hammock. Judd says that Candice needs to go she talks too much sh*t. Howard joins them and tells them that he is going to distance himself from Candice because she is hurting his game. Howard says that he doesn't want to be sent home because he is guilty by association and says that he isn't going to put out fires he didn't start. He says he wants to work with them instead of against them. Howard says that he's not campaigning against Candice or Amanda but that he wants to at least make it to jury. They talk about how they can't understand why Candice is doing the things she's doing. Amanda says it was a bad move for Candice to campaign for Howard when she is going up on the block. Howard says he just wanted to make peace with them and heads to bed. Judd also heads inside.

4:10am – 5am Howard and Judd head inside to go to bed. McCrae and Amanda talk about how Howards talk with them was good. McCrae says it was good but not good, he is going to be putting out fires. Amanda and McCrae head into the lounge room. They talking about how smart it was for Judd to make up the lie about Kaitlin. They agree he is super smart. They agree not to tell anyone anything about it. They talk about the grasshopper alliance being fake. McCrae says when he heard Judd made that up he knows Judd is planning his endgame. Amanda jokingly asks McCrae if he is going to go the final two with Judd. McCrae says that Judd is playing a better game than me. Amanda says that Jessie needs to go before Helen and Aaryn. Amanda and McCrae start making out really heavily under the covers. Amanda takes off her pants. They continue to make out and then she takes the ring off her one hand and puts it on the other hand. She then give his a h@nd j*b. They then head to bed.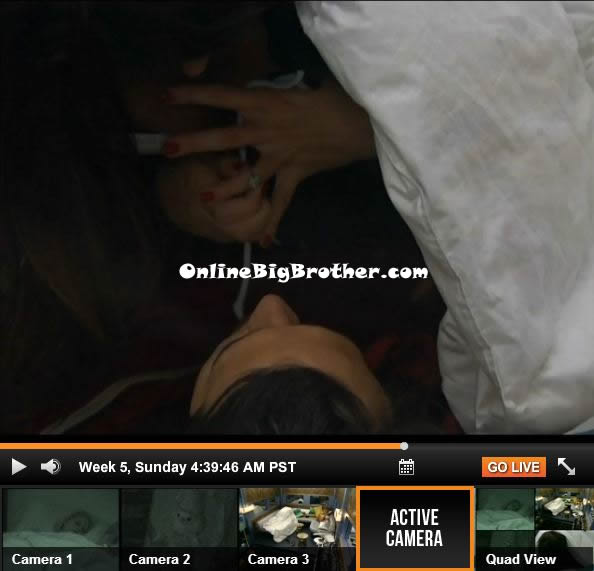 7:15am All the house guests are still sleeping..
Big Brother 15 FLASHBACK: BB15 N!p Sl!ps / N*des