POV Holder:
Spencer
Next POV
July 27th
POV Used
?
POV Ceremony
July 29
HOH Winner:
Aaryn
Next HOH:
Aug 1
MVP:
AMERICA
Original Nominations:
Spencer, Howard, AMANDA (MVP = America)
Current Nominations:
Last Evicted Houseguest
David, Nick, Jeremy, Kaitlin
Have Nots
Judd, Amanda, Candice, GinaMarie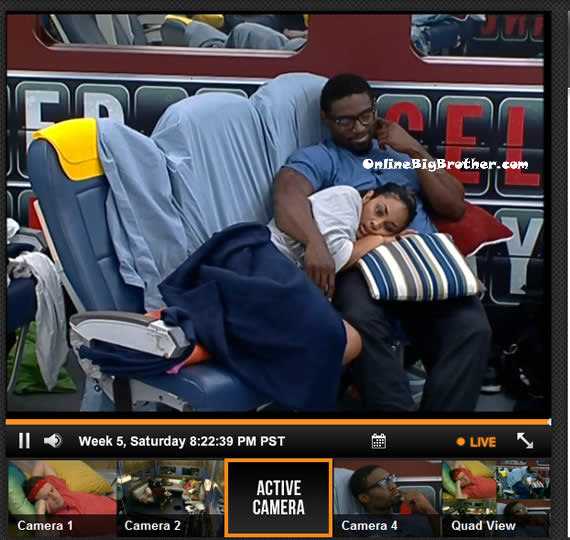 8:14pm have nots Howard and Candice
Candice says after Thursday either him or her are going to be trapped in this house with all the crazy people. Candice says that Helen knows this game and she came here to play. She thinks there is a good chance Helen will take this opportunity to take out a big player. Candice ads
Howard: "You know i'm excited about Thursday I want to see what everybody is going to do.. I'll have be speech prep.. I really don't think I'm going.. I'm do for a win at some point"
Howard says if they go home then it is what it is, They didn't side with the right people and they didn't win when they needed to
Candice is pissed at Jessie for turning her back on them. howard points out she's just a little girl coming into her own
Big Brother 15 Nip Slip Flash back time stamps HERE
8:26pm Cockpit JUDD and Amanda
Amanda if they were smart they would keep me until the end I'm not going to get any votes.
Amanda asks him if she's going to stay this week. JUDD says for sure she has nothing to worry about. JUDD: "trust me Helen needs to go soon.. she has side deals with too many people.. she has side deals and they are not secret"
McCrea joins them says that Spencer isn't pissed at him anymore. They start talking about twists and pandora's Boxes. Amanda thinks it's overpowered to throw twists into the game it hurts the players playing strategically.
Andy joins them
Amanda says nobody is rooting for Howard to win this game she thinks they are rooting for JUDD, Andy or McCrae.
Andy: "I think America is obsessed with the goof troop" JUDD says that America loves Howard. They start making fun of Howard's praying JUDD says that people are doing "The Howard" all over the place (Starts praying)
MC: 'look at the guy doing the Howard"
Amanda starts saying there is no way Howard has a power otherwise he wouldn't have done that speech last night. Andy says Candice has a better chance to win the next HOH he doubts Spencer will.
JUDD leaves to take a nap
Amanda says she's playing the game unlike people like Jessie that just stick around. Amanda says she's been playing the game hard and if she goes home because of a power then there's nothing she can do
They start talking about possible scenarios if McCrae goes up.
MC: "I'm going to yell at Elissa calling her a skunk and a Sk*nk wh*re so she votes against me and split the vote" He also plans to call out her family and religion do whatever it takes to get her to hate him.
Andy: 'Howard is going home and you get to sit there and smile as he goes"
Andy: "if anything begins to sway I will fix it"
Amanda: "The only people I'm worried about is Helen and Elissa"
She adds that Jessie might sway to , "She Cried when Howard was on the block"
Mc isn't worried about Jessie she's so grateful to be in their group she'll listen to them.
MC tells them this is perfect if Candice wins HOH she will target GM and Aaryn. MC: "And MVP will go to someone random" Andy adds that GM and Candice cannot stand each other they literally do not speak to each other.
Andy: 'I swear to god I will tell you if I get MVP"
MC: "I will to.. If any of the goof troop wins it we'll plot and destroy"
MC says that JUDD is playing long term very long term which is fine but not the best for the group.
Andy brings up how weird JUDD was this morning.
MC says he's worried to be around Elissa he's scared if he coughs the wrong way he'll be "insulting her religion"
McCrae brings up when he was talking Elissa the other day about Aaryn there was a 5 minute stretch were she didn't blink.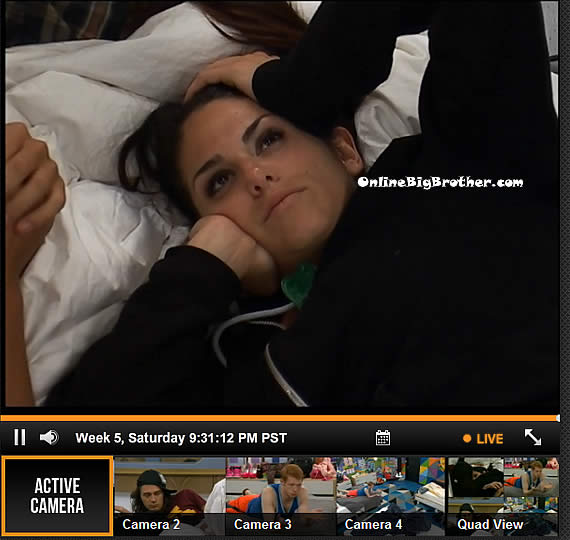 9:30pm Cockpit Amanda and McCrae
Amanda wonders if they will blindside her. McCrae doesn't think so because Andy and JUDD need her
MC: "If they fu** me over.. I'm still going to be here"
Amanda wonders if JUDD will make something up like he did to get Kaitlin out. McCrae says JUDD had 24 hours to think "he's schemer"
McCrae: 'You're coming with me to Jury so we can bang all the time"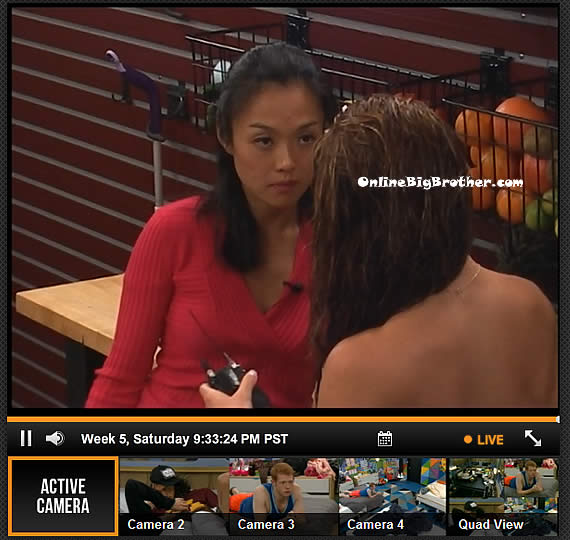 9:33pm Helen and Elissa storage room
Here is my thought the better move is to take out Amanda next week and Howard this week. Helen warns them that Amanda is getting really close to Aaryn. Helen mentions how Amanda now wants Aaryn to stay another week.
Helen says if they keep Howard for Candice she will be loyal to them to the end.
Elissa: "Nobody is going to vote Amanda out"
Helen: "People will do what we ask them to do.. we only need 5 votes"
Helen counts the votes Candice, Spencer, Elissa and Helen, "We will only need Andy, Jessie or JUDD. (She forgets that the Veto is going to be used)
Helen: "I just want to talk about all the options"
Helen thinks that Andy will go with them but she's not sure about Jessie .
Helen: 'Howard is too much of a gamble here to keep Howard and Spencer in the game that is why I'm leaning towards getting out Howard"
Helen thinks if Amanda goes up as MVP next week that is who they take out.
Elissa: "If we get rid of her this week McCrae will be gunning for us.. it will totally break every deal we've ever had"
Helen: 'I don't want to upset McCrae that is why I am keeping Amanda.. but we have to be on the same page that Amanda and Aaryn are getting close and they are going to try to take over the house with McCrae"
Helen: "I'm thinking that Amanda goes before Aaryn"
Helen: 'Howard is going out.. let me see what JEssie says.. McCrae will gun for us but if it's the house.. i dunno"
Helen: 'It will be Aaryn, McCrae and GM versus the house and McCrae is smart enough to comes with us"
Helen says if Howard leaves then maybe Amanda will never go up as the third nominee again. She worried that by losing howard the MVP vote will be lost. Helen: "I'm all for Howard going out of the game.. I feel bad for Candice.. Howard needs to go but if Howard goes how does Amanda go back on the block.. ever?"
Elissa: "One of us will get MVP and if Howard goes Candice will be out for revenged"
Helen: 'We have to be mindful that Aaryn and Amanda taking over the game.. I told McCrea Aaryn better not make jury"
Elissa says howard is a bigger physical threat but Amanda is a bigger strategic threat. Helen agrees
Helen tells her that Amanda is going to run the Jury house. Helen adds they don't have too much time before Jury if they can't get Amanda/Aaryn out next week they only have one more shot. She points out how strong Amanda and McCrae are as a couple so even if they take Aaryn out they are still dealing with a power couple.
Elissa thinks that Aaryn should go next week followed by Amanda. Helen: "you just watch Amanda will run this house to keep Aaryn safe.. you just watch" Elissa points out if it's either of them against Amanda in the final 2 Aaryn will be the swing vote.
Helen: 'Amanda is keeping her till jury.. you watch.. and she's going to use one of us to take her out and Amanda or McCrae will win the game"
Helen: 'How scared are we of McCrea.. " (She smirks)
Helen now saying she's fine with Amanda making it to Jury but isn't fine with Amanad and aaryn making it to Jury.
You can re-watch ever second on the feeds using their flashback feature.. It's just like a DVR and is super easy to use. click this link for a Free Trial —> Subscribe to the Big Brother Live Feeds