Check out our BB19 Ranking Grid. . rank your houseguests here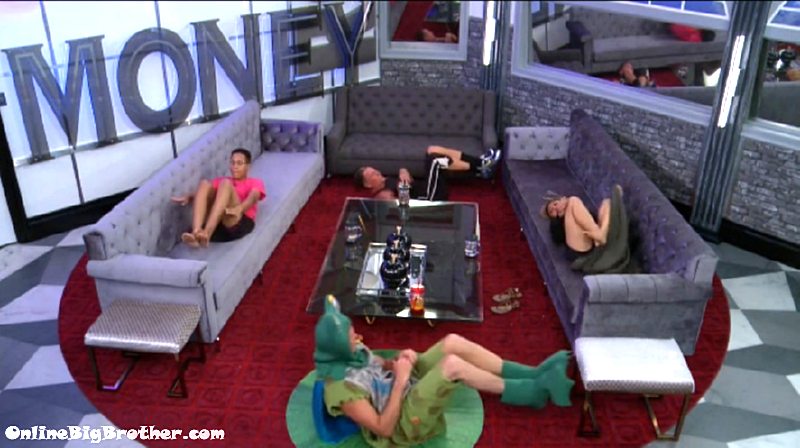 4:00pm Working out…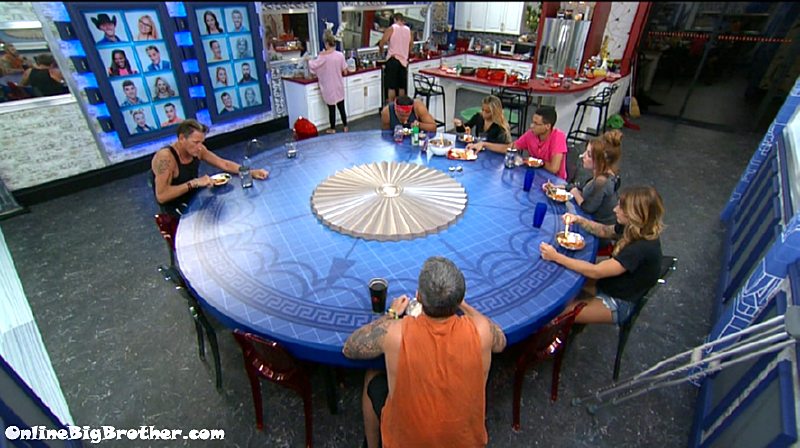 4:22pm Spaghetti and meatballs made by Josh and Raven.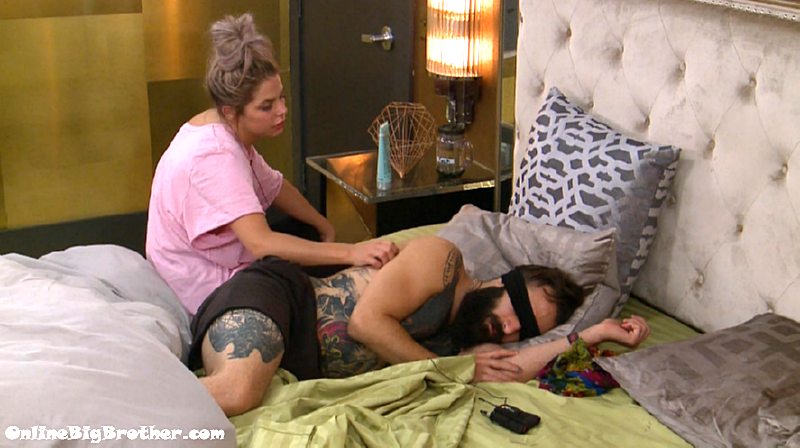 4:30pm One of Paul's slaves rubbing him down
Elena says there's a select few people she will want to go the farthest.
Paul says the next three weeks should be flawless.
Paul says next week they have their 2 targets to put up and if one of them comes down, "Cowboy"
Paul adds that after that they start cleaning out the floaters.
Paul – that's four weeks literally .. that's insane
As long as we keep the HOH between us..
Paul – who do you think will crack
Elena – I feel good about me and you,. And dom, and matt… Mark has gained a lot of understanding, Raven is a little bit emotional.
Paul – I don't know if anyone will take a shot at raven
Elena – she's going to win the game.. You've considered that right.. She needs ot more than anyone
Paul – true
Elena – but is that how BIg BRother works..
Elena gets up "I'm going to go vomit in your toilet"
Elena – Kinda not kinding by the way
Paul laughs
Elena – it's not a joke
Paul – how many meatballs did you eat
Elena – not that much.. I just think theres too much stuff happening.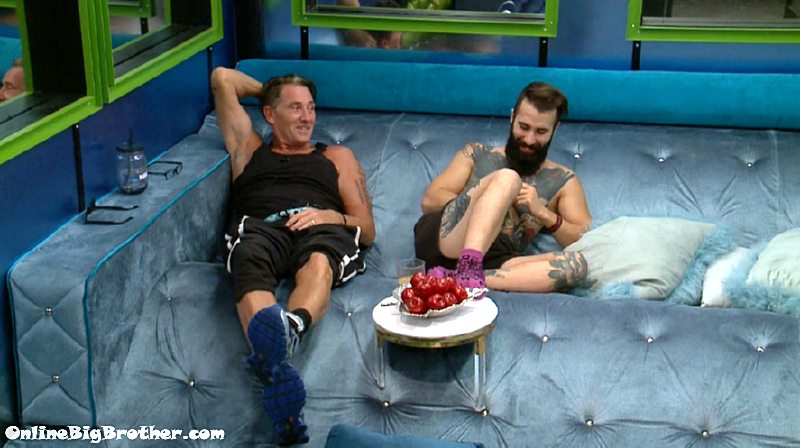 5:01pm Paul and Kevin
Paul says he's got a nice lady waiting for him on the outside.
Matt and Josh join them..
They talk about xmas having surgery tomorrow. Kevin says that she has a cast for 6 weeks. They are going to have the cast with screws, springs and bands to set the bone.
Paul questions if she's going to be comfortable in the house.
Kevin – after that she has to have more surgery in Raleigh in four months
Kevin – you can't leave the screws in there.
Feeds cut.. .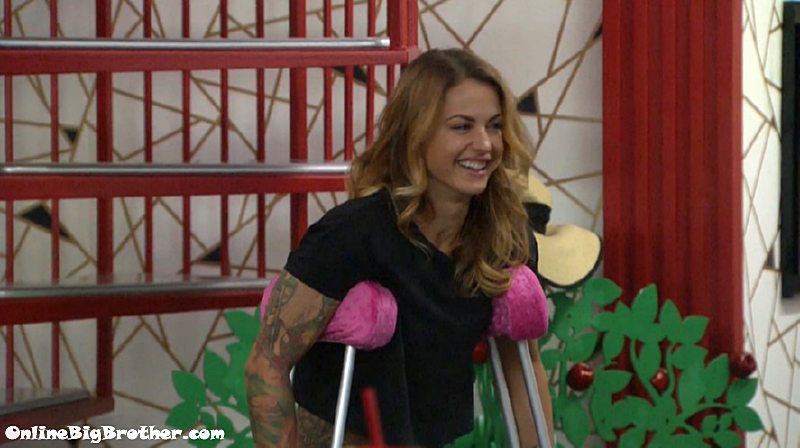 5:14pm Christmas gets some crutch pads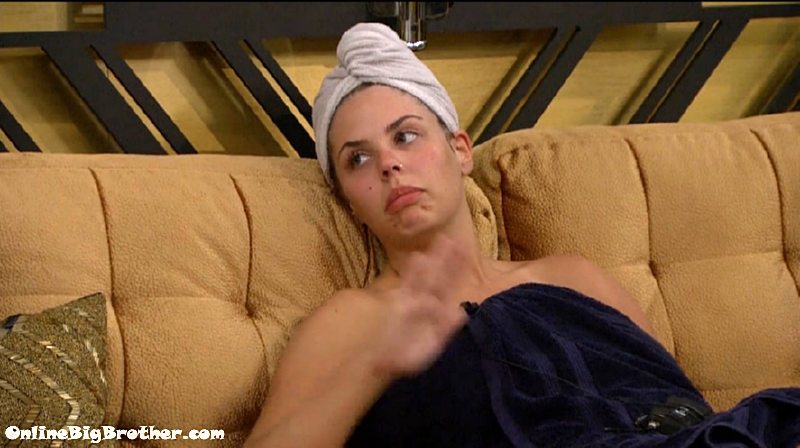 5:15pm HOH Dom, Elena and Ramses
Elena – I'm a child I make bad decisions
Ramses – AKA eating too much
Elena – eating bad things .. eating too much..
Ramses – that's what they say in Big Brother people eat too much
Ramses leaves.. Dom and Elena have a heart to heart where Elena talks about her insecurities about her self image etc etc…
5:43pm Dom and Elena
Dom – you are beautiful.. you are a child of god .. your worth is based solely on the fact that Jesus Christ is your lord and savior.
Watch the Houseguests 24/7 via the Live Feeds! Try CBS All Access FREE!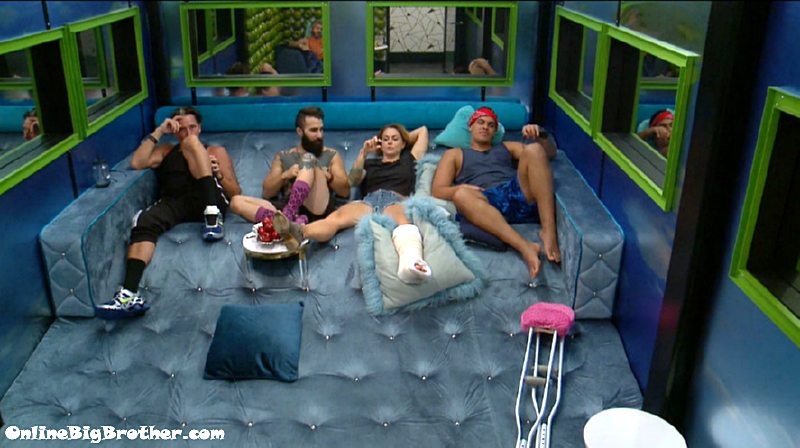 Christmas with the boys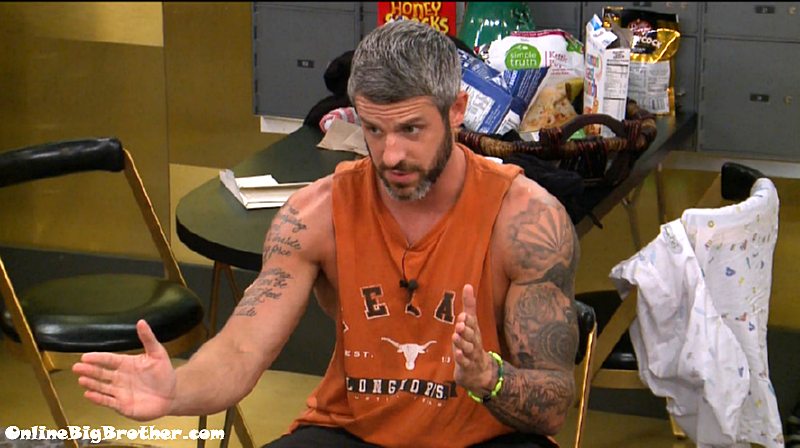 6:05pm HOH Matt, Elena, Mark, and Dom
Matt – we have nothing to do until Thursday..
Matt says as long as Jessica and Ramses don't win HOH the outcome will be the same for the next 2 weeks.
Mark says their group is close and once the other side gets power they might take a shot at them.
Matt – The only way they can get to Jury is either not lose a competition or work with us (Boyz II Men, ABC, BBD)
Matt – I'll get you to Jury not past that..
They can't decide who to get out first Ramses or Jessica.
Elena – I'm not here to play Jessica's game..
Mark wants Jessica out first.
Dom wants Ramses out first.
Mark says they should just put both of them up and see how the weeks go.
Matt is suggesting they put a pawn up so they only make 1 person mad.
Mark – I don't like Pawns when we have the numbers
Mark says Jason, Josh and Alex are not Pawns they're all potential targets.
They try to tell Mark why they don't want to piss 2 people off right now they want some of the outsiders to still work with them.
Elena says she's worried about Jason more than anyone else.
Matt – I like Jason as a dude but he doesn't nothing positive for me in this game.
Mark says he's tight with Josh right now.
Matt – for me he's 3rd on my list.. he's almost higher than Jessica
Mark says he's got doubts
Matt – it's not that I don't trust Jason I just don't think he's playing with a full deck dude.. after seing his interview with Dom I honestly don't think he's all there dude.. he's been kicked in the head by a bull
Matt – I don't want to play a game with a guy that sees a bug on the wall and says my name
Mark – OK I got it.. f*in bull rider
Matt says Raven has a really good chance to win the temptation this week.
Mark and Elena gone.
Dom – Elena really likes you
Mark – I know
Dom – don't play with her feelings and her heart..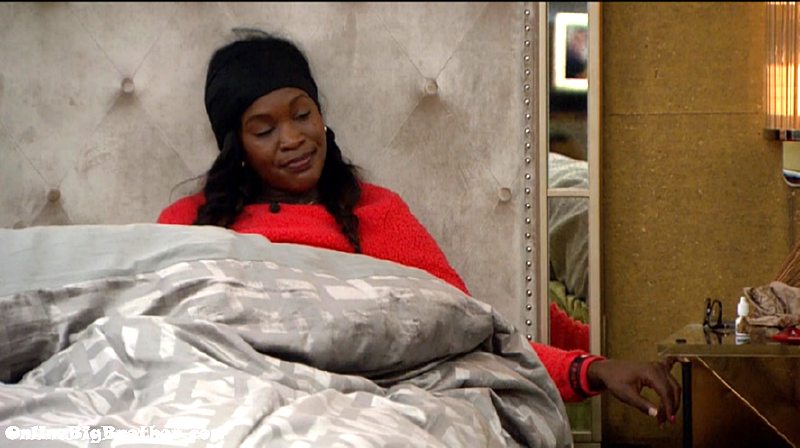 6:35pm Mark and Dom
Dom says Raven and Paul have a relationship..
Dom – and they just don't talk about p$nis and v@ginas they have real conversations
Mark agrees..
Marks asks her how he sees the 6 of them playing out in the end game.
Dom feels that she'll be the first target.
Mark – what if Paul wins HOH.. I don't think he's going after me.. I think he'll go after Matt and Raven.
Dom – he's not going after raven I've walked in on them twice having a conversation
Dom – the first time I walked in I was liek OK cool the second time which was yesterday seemed very weird.
Dom – I was like sorry did I interrupt something and they were like No I was just giving her some advice.. game advice.
Dom – if his motive is to get her to final 2 I have no problem with that, the reason I don't have a problem with that is I'm not 200K in debt, I don't have a terminal illness.
Links to the ranking system
Rank your house guests here
For those of you that like Statistics here are some expanded reports.