Check out our BB19 Ranking Grid. . rank your houseguests here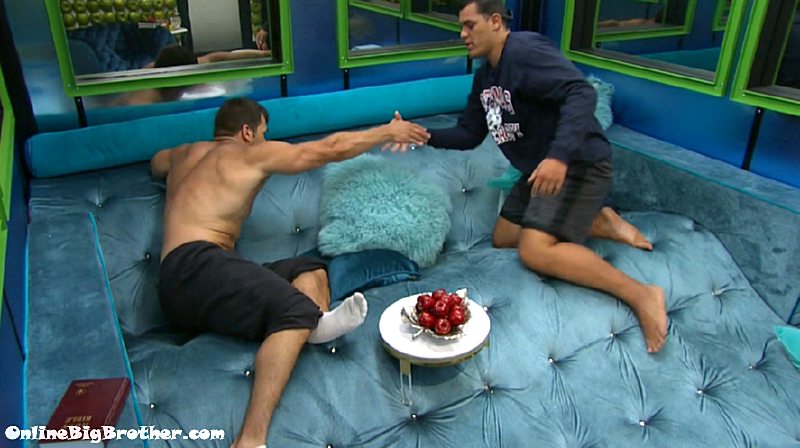 3:08pm Josh and Mark in the Austin powers room
Josh – Moving forward I'm all alone in this game
JOsh – I don't want to last 2/3 weeks..
Mark – i'm a very loyal person
Josh – same
Mark – I told you day one I wanted to work with you
Mark – Jess and Ramses after that I don't know.. (LOL you Josh)
Mark – your name has never come outta my mouth.. As long as you are honest with me about votes.. And remember our conversation stays between me and you
Mark says that is why he wants Ramses out because he's said he'll put up Mark
Josh – moving forward, all I can do is show you my actions how loyal and honest I am.. I love this experience I'm growing so much
Mark – Next 2 weeks theres 2 targets within those 2 weeks other people will show their true colours.
Mark says if Ramses or Jess win HOH he doesn't know who their targets will be and if they win the lines will be drawn.
Mark says he's got Josh's back..
Josh – solid..
They shake, they fist bump… they tight
Mark – I'm thinking long term and I'm thinking you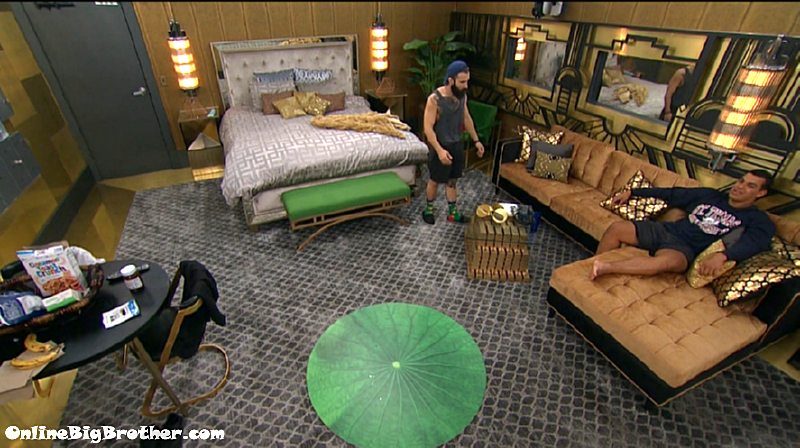 3:25pm Josh and Paul HOH
Paul – you're doing well bro.. You're not even a backup options..
Paul tells him everyone's telling him how much JOsh has improved. All josh needs to do is keep telling everyone how much he hates Ramses and jessica. If he wins HOH next week and puts them up they'll side will have "Mad Respect" for him.
Paul – make that move
Josh – I'll do it..
JOsh – you speak to me like that outside I'll rip your head off..
Paul orders him to go downstairs now before people start getting suspicious..
Josh – I really f*ing trust you in this game.
Paul – don't listen to Jessica, she's out next
Josh – I want to be the one that take her out
Paul – it'll feel so good
Josh says he lied to Jessica/Cody/Jason/Alex/Jillian and told them he was going to vote out Christmas.
Paul – you make it to Jury as long as you shut the f* up and play your part.
Josh – I want to be friends outside this house.. I will never f* you, put you up or do some shady sh1t..
Josh – don't worry bro we're solid
Josh – solid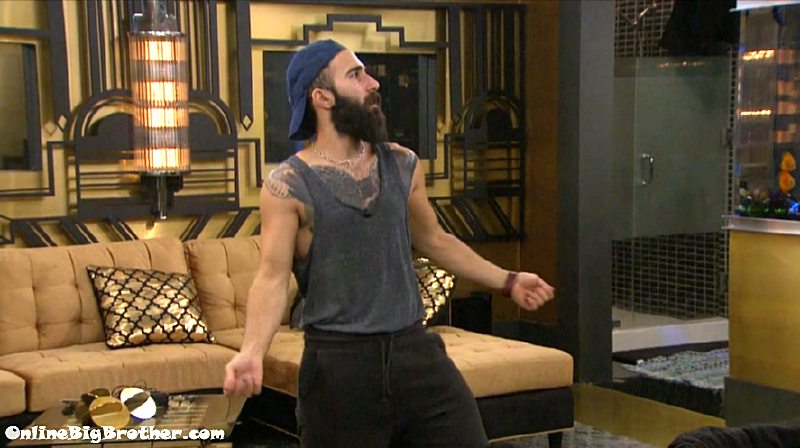 After Josh leaves.. Paul does a little dance..
Paul's feeling good about the state of things in the house. #BB19 @DawgsBigBrother pic.twitter.com/PPsXvdsDXz

— OnlineBigBrother.com (@bigbspoilers) July 10, 2017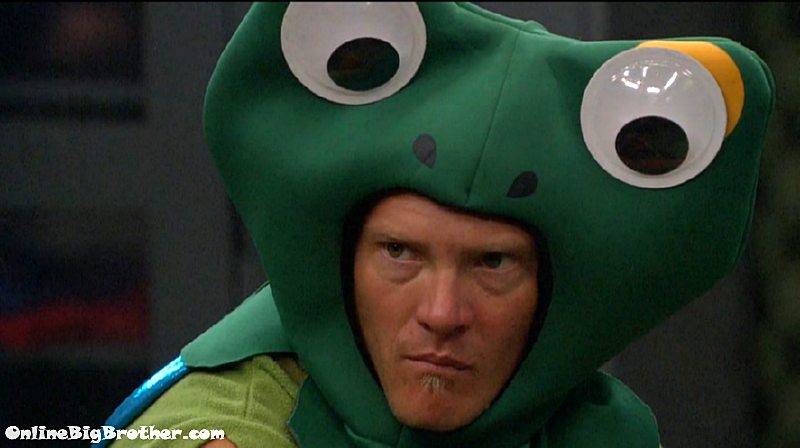 4:42pm Alex and Jason
Alex tells him to stop hanging out with Jessica and Cody.
Jason asks if they should try and win HOH to put Ramses/Jessica up.
Alex says they need to show their alliance.
Alex brings up Matt saying Jason is a loose cannon.
Alex says they have to be extremely nice to Christmas and then take her out.
Alex – she's s***g Paul D**k
Alex thinks Paul is keeping Christmas at an arm's length because he knows she's crazy. Xmas is worried she doesn't have a +1 everyone else does. Xmas wants Paul but Paul doesn't
Alex starts stresses they have to keep their heads down and try and get power.
Jason and Alex don't care if Kevin voted out Jillian that's in the past. They are worried about him they think the game may be getting to him. They are going to talk to kevin and let him know.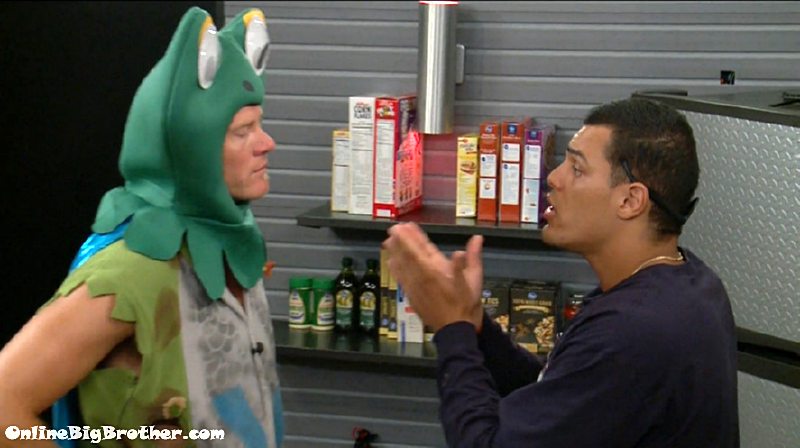 3:48pm Josh and Jason
Josh – you have to stay away from Cody.. in the game it doesn't look good.
Josh – everybody loves you, you're going to go far in this game
Josh – Don't take to them (Jess/Cody)in closed rooms and get caught.
Josh – I want us to go far you me and Alex
Josh – we are gunning for HOH and we're doing what the house wants…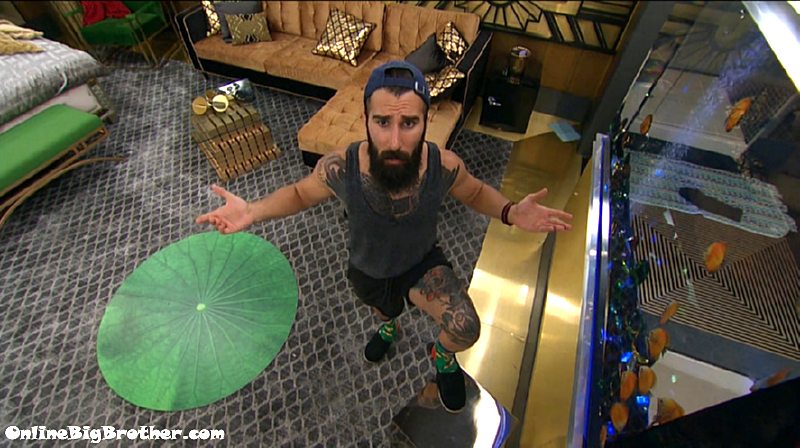 3:36pm Paul's friendship chat..
Paul says from day one he knew Cody was a hot head. Says he gave the friendship bracelet to Cody and Christmas because he wanted to see what their strengths were and Cody did by winning the HOH.
Paul says he threw the first HOH so Cody would win it get all the power and get blood on his hands.
Paul – it was beautiful
Paul – thank you for the pedant of protection, I would have probably finagled my way out of it
Paul says Cody threw the POV to Alex and made some kind of side deal with her. Paul called all this out and caused their side to question what Cody was doing. People started pointing fingers in his direction.
Paul says he played victim based on what Cody did.
Paul – I turned everybody against Cody and jessica.. And it worked"
Paul – nobody was mad I took the temptation, I cursed Ramses anyways.
Now Paul is going on about how he convinced the entire house to throw the HOH to him and it worked. Says there was a few people that were trying but they "sucked"
He goes on about how everything that has happened this season has been his master plan.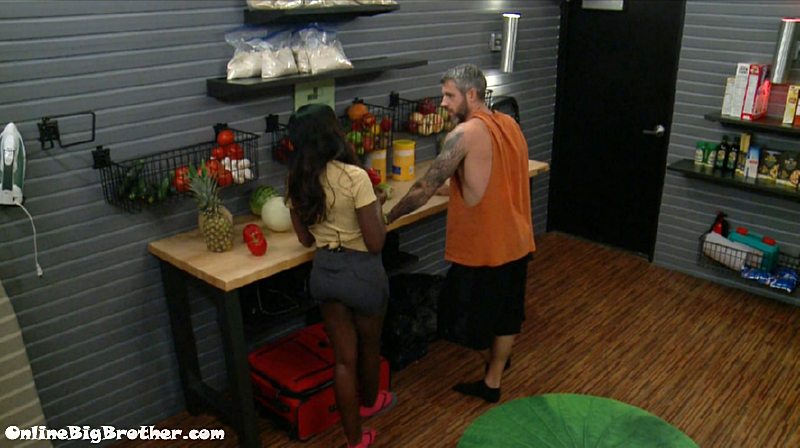 4:06pm Matt and Dom
Talking about how dangerous Ramses is.
Dom wants Ramses to be the first person to go.
Dom says Ramses lied right to her face. They agree nobody likes Ramses.
Dom points out that Jess has a sense of humour she might warm up with Jess.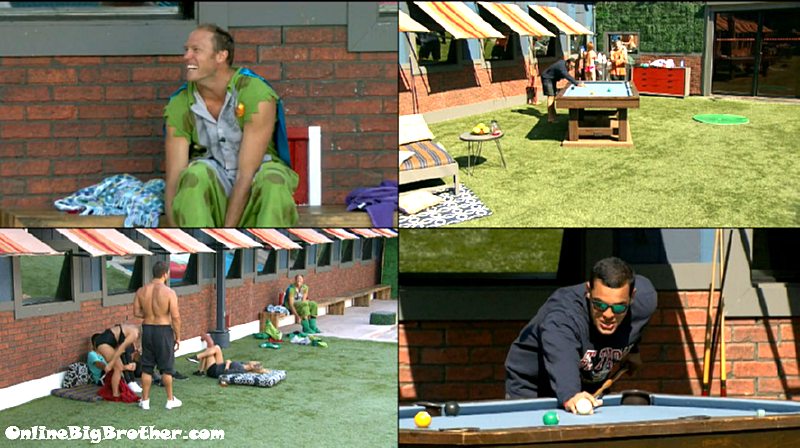 4:36pm Pool games and chit chat..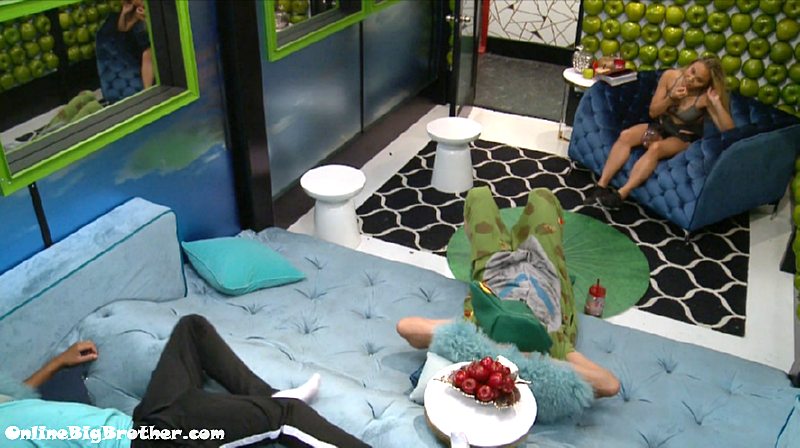 4:47pm Alex, Jason and Ramses
talking about First dates from hell.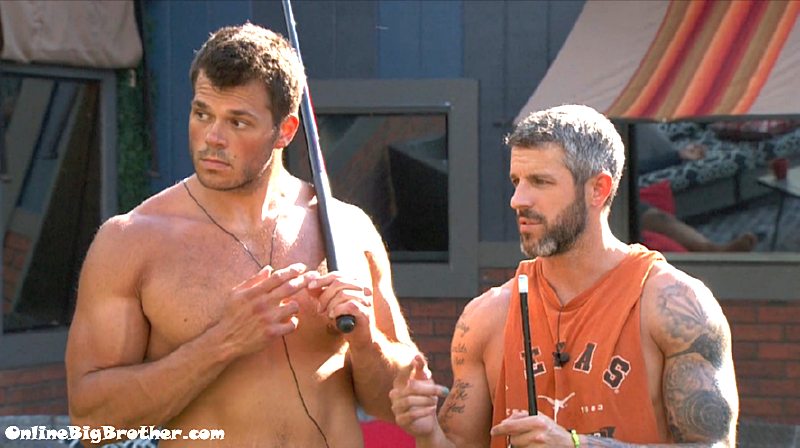 5:15pm Mark and Matt
They can't decide who is a bigger threat Jessica or Ramses. Matt says Ramses has lied and ruin his credibility in the house. There's not a person that will listen what he has to say.
Mark says he would rather Jessica goes out right after Cody.
Mark – and if there is a battle back having him compete against her will be fun TV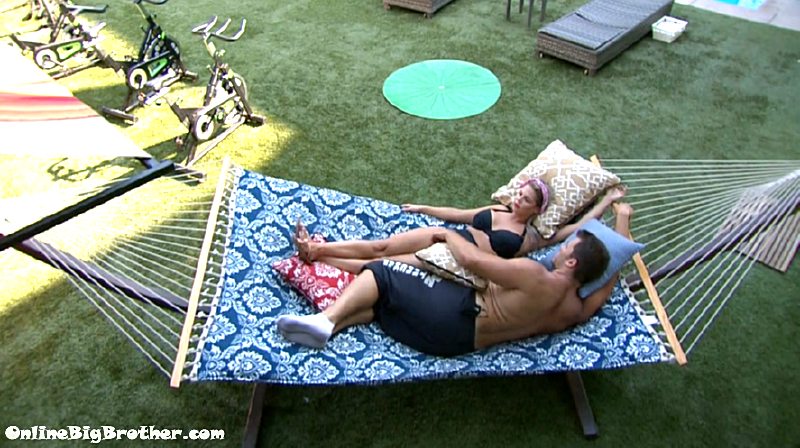 5:31pm Hammock Mark and Elena
Elena says her n1pples don't work because of the surgery..
Mark starts talking how funny it is that the other side thinks Kevin voted Christmas to stay.
5:47pm
Elena says she's hates that she can't get done up in the house. Like facials etc.
Mark says he gives facials, Knows a moisturizer that works wonders.
Links to the ranking system
Rank your house guests here
For those of you that like Statistics here are some expanded reports.