Check out our BB19 Ranking Grid. . rank your houseguests here
6:13pm Christmas is leaving for surgery until Thursday then will have a second surgery in 4 months. Before she heads out Jessica comes up to her and asks if they can talk.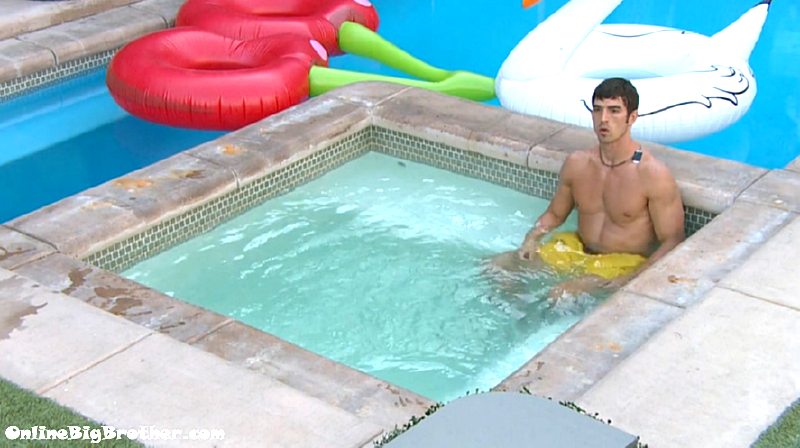 Cody stay in the hot tub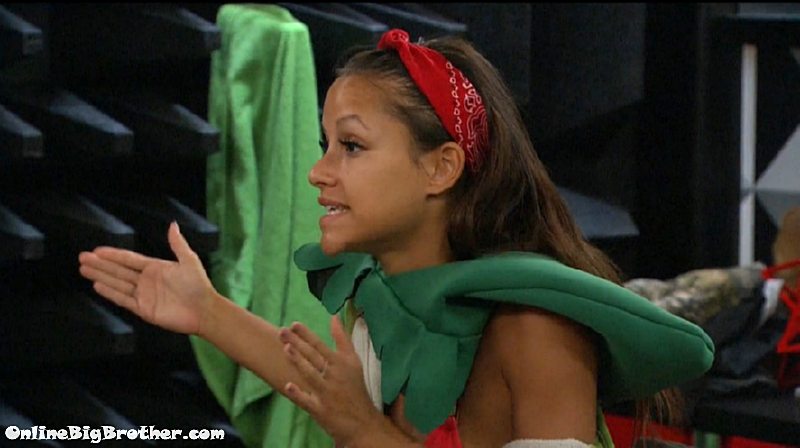 6:16pm Jessica and Christmas
Jessica – This conversation is hard for me because it's coming from a position of weakness..
Jessica says she had no idea christmas was going to be nominated. She did campaign against her.
Jessica says she wasn't playing both sides of the house she always said she was going to vote to evict Christmas.
Jess – I was surprised I am legitimately concerned about your foot.. You've been really mean to me you've made my life in his house harder.
Jess – I think you are a better person than playing the mean girl.. When you are in a room people feel like they can't talk to me because they are disrespecting you
Jess – what did I ever do you you .
Christmas believes Jessica had nothing to do with her getting nominated.
Christmas – I never said I was coming after you.. That never left my mouth and didn't leave my mouth until I felt personally attacked on my Character and the integrity of how I played this game.
Xmas – Hearing this lie, you telling people I was saying this stuff.
Xmas – pretty much forcing them to choose a side that night I asked you if I had your vote to stay and you said yes we had a wonderful hug.
Jessica – I said you gave me a lot to think about let me sleep on it.
Christmas we had a wonderful hug
Jessica – yes we did, I don't dislike you as a person
Christmas – you going to let me finish or are you going to keep interrupting. I let you finish
Jess – Christmas…
Christmas – I let you talk
Jess – I'm not trying to argue with you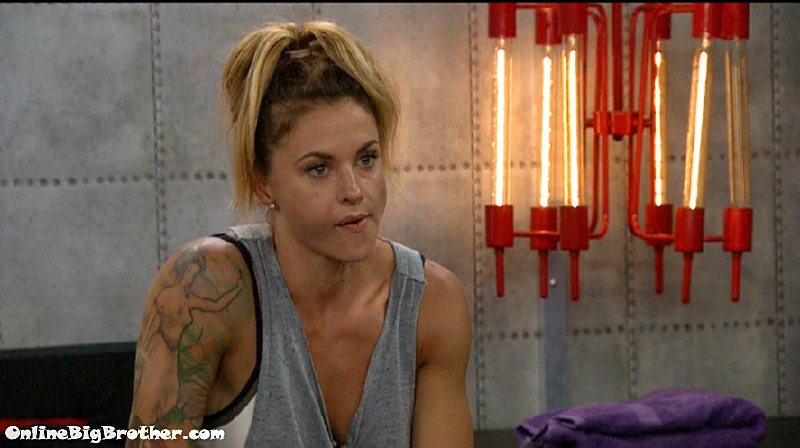 Xmas – Says she never advocated for Jessica to leave Cody. She only got mad at her when she found out about the lies jessica was spreading.
Christmas – it hurt me to get thrown under the bus by Cody
Jess – of course
Christmas brings up Jessica asking about her foot..
Jessica starts explaining that she asked about the foot to be helpful
Christmas says there was a discrepancy of truth "is that fair to say"
Jessica – yes
Christmas says when she she came back from the Doctors about her Jessica sat in the HOH and never came down. (It was Mark and Cody in the HOH)
Jessica – I was the first person that saw you Christmas… when you came out of the DR.. they even asked me about it.
Christmas – you helped open the door?
Jessica – I asked how are you doing
Xmas – and that was the only conversation we had
Xmas says after that she felt continually snubbed by her. Says either Jessica was spreading lies or people were making up lies about what jessica is staying.
Christmas says when she fell Cody told her in her ear "you can see the bone through the foot" Christmas says this was psychological warfare on his part. Adds that Jessica saying she help her outside is a bit of a stretch, jessica was just standing there.
Xmas – I don't mind if you campaign against me. I do have an issue if you start making lies
Christmas understands things are hard for Jessica right now. Cody is probably going home and that's the person she's closest too.
Xmas – you've had a really awful week.. I've had a real awful week..
Xmas mentions how her foot is really going to affect her life.
Christmas says they should just be normal with each other and enjoy their time here.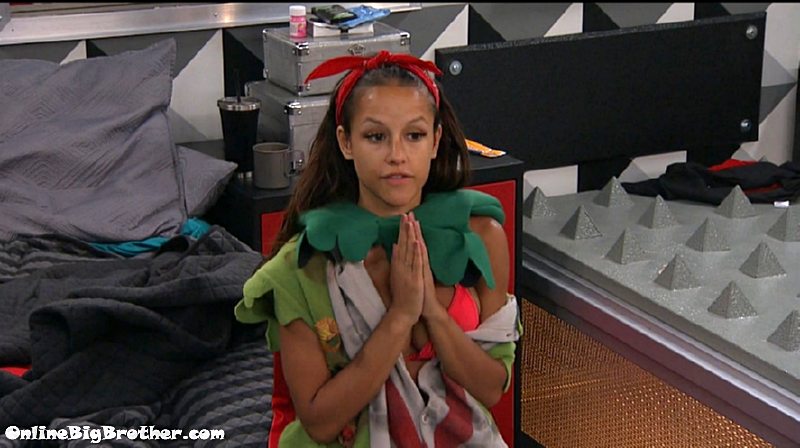 Jessica says she doesn't lie and that is going to make this game hard for her.
Xmas – did you tell people I'm coming after you
Jessica says she said xmas implied she was guilty by association. Jessica took that as she's being targeted.
Xmas explains how she doesn't buy this.
Jessica – I'm not trying to get catty with you I'm trying to live in the same house as you..
They agree to be neutral moving forward.
Xmas – I'm going to try and move past what happened but I can't guarantee. (you just agreed to be neutral with her?)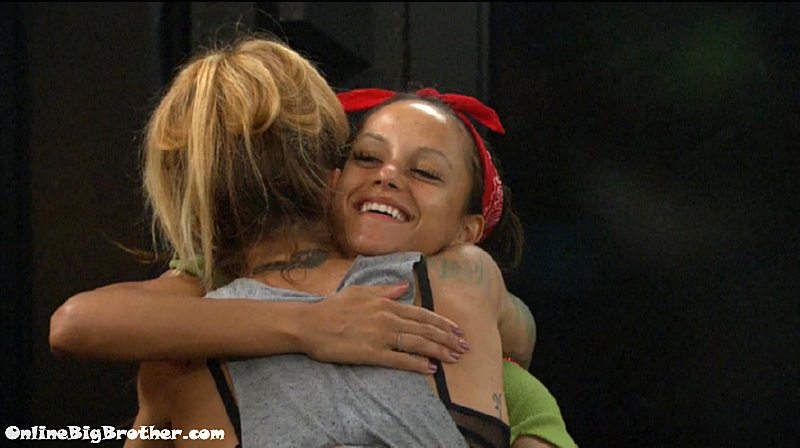 They hug it out.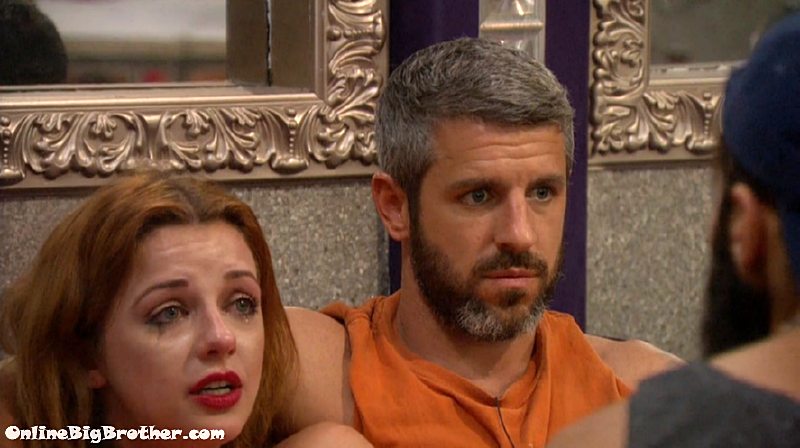 6:33pm Raven crying because Christmas has to go in for surgery. Says she died twice on the operating table.
6:55pm Jessica and Cody
7:27pm Dom, Alex and Elena
Talking about Ramses lying about the banner plane.
Alex says she always thought there was something up with Ramses. They talk about how Ramses always fakes sleeping.
Alex says it's the same thing as Meghan running around the house spreading too many lies.
Elena says everyone in the house is on the same page to get Ramses out except for Jessica and maybe Jason.
Alex – I swear to you he's (Jason) on board with this.
Alex says Jessica has said some cruel things to Alex.
Elena asks if Cody threw the Veto comp to her.
Alex says he didn't, she went to him to confirm and he said he wanted to win it to use it on her to prove a point.
DOm says she saw Meghan from day one.
Alex – Christmas told me she was bad news.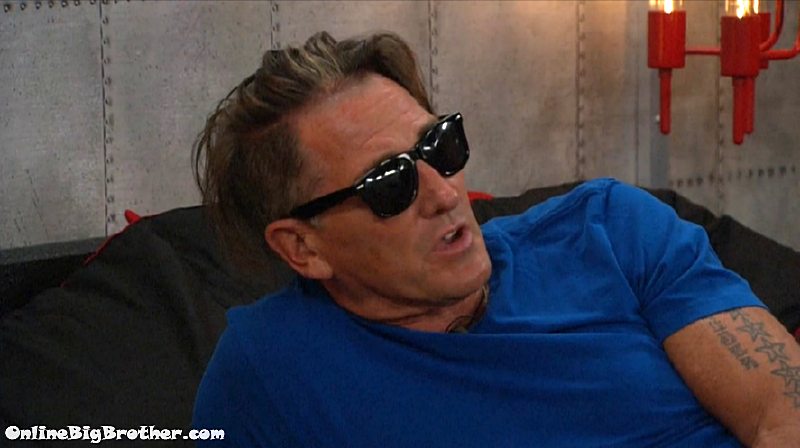 7:32pm Kevin and Jason..
Kevin says he'll do have nots next week.
They agree to keep their cool.
Kevin – you know what I'm going to do this week.. Paul.. Ramses up right now..
Kevin says it doesn't matter where they vote this week because Cody is going to get 8 votes against.
Kevin says Cody it everything going for him at the beginning of the game, Handsome, muscular, great teeth.. then we went ballistic instead of just chilling and he's paying it
Kevin says he would start eating Wednesday night if he was Cody.
Jason laughs.. agrees..
Kevin – he's like George Custer.. it's over.. sitting bull has got him good
Kevin says Jessica is going to go on a neurotic temper tantrum.
Kevin starts planning that next week Alex and him join Jason in the have nots.
Jason – ohh that would be awesome.
Kevin says the other side is going to head hunt for Ramses, "He's gone, than Jess is gone"
Jason – then we'll turn our f*ing game up
Kevin says he thought Josh would be a target but they are all getting tight with Josh.
Kevin and Jason talking about getting Paul on their side but they have to win an HOH first.
Jason – who do we put up
Kevin – I dunno man.. it's a tough call we'll have to think that one over.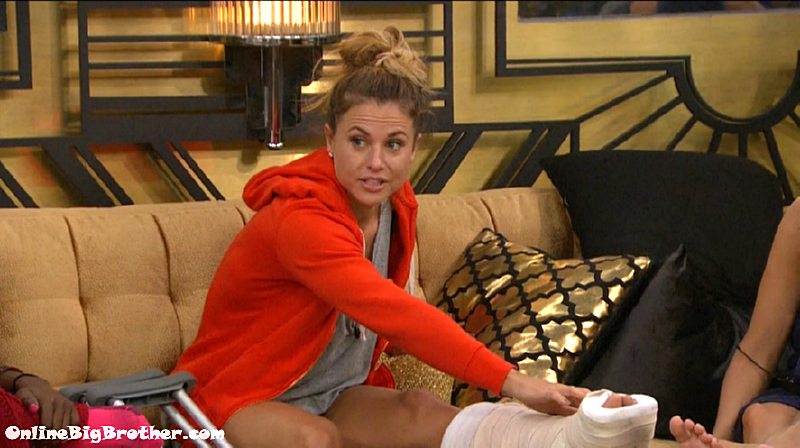 7:50pm Christmas and Paul join the girls in the HOH.
Christmas says she had her preop, blood work done and the doctor told her about the surgery.
xmas – 2nd and 3rd bone is broken and there's a ligament that's popped. They usually fuse but because I'm an athlete they're using screws and springs
xmas – they have to reconstruct the ligament … so it's a pretty big surgery
xmas – I'm in that at 3:30 out 7:30-9
xmas says the doctor told her the pain at first is really severe but is supposed to ease up fast.
feeds flip
When they comes back they are talking about Jessica and Christmas' conversation.
Says that Jessica says she "interrupted" what Christmas told her as her going after Jessica and Cody.
Christmas says Jessica interrupted a bunch of times when it was her chance to talk.
They start talking about how the Cody/Jessica relationship not lasting.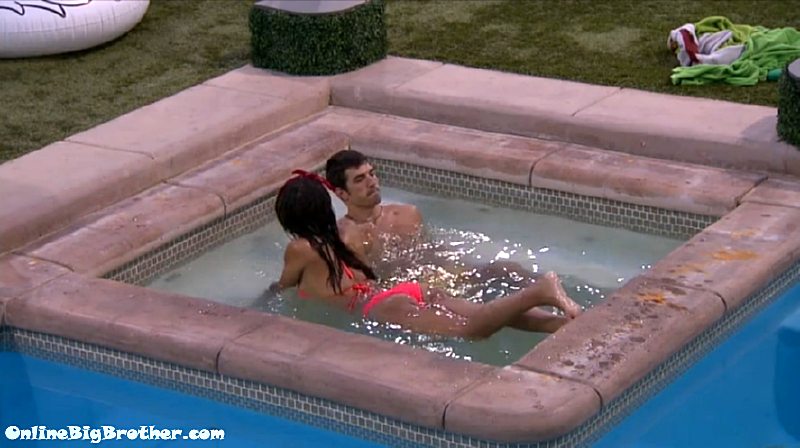 8:19pm Jessica and Cody
Jessica says there is probably going to be a battle back because it was so popular last year. She mentioned Victor being evicted 4 times and came back each time. Jessica really liked Victor says he was a fRiggin champion.
Jessica says she knows if she doesn't win the HOH she'll be on the block.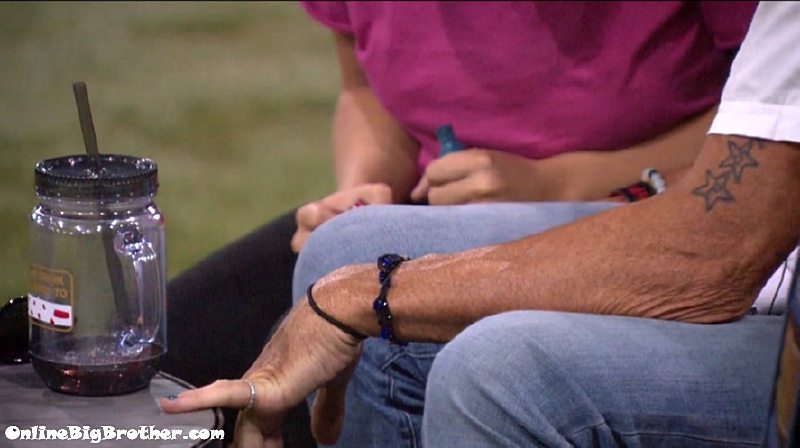 8:43pm Kevin getting his nails done..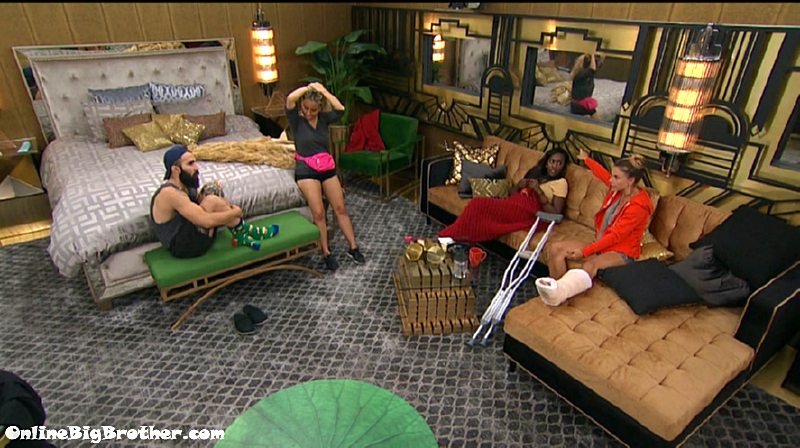 8:51pm Dom Christmas Alex Paul
Trashing on Jessica. Christmas says when Jessica was first telling them her type of guy it wasn't anything like Cody.
Christmas says Jessica's hate towards her started with the photo shoot because Christmas was getting more attention than Jessica.
Christmas says Jessica wants to be seen as a sex symbol on the show. Dom agrees. Paul doesn't think so.
Dom – YES
8:55pm Stuff they found in the storage room
Links to the ranking system
Rank your house guests here
For those of you that like Statistics here are some expanded reports.