POV Holder:
Elissa
Next POV
July 27th
POV Used
YES
POV Ceremony
July 29
HOH Winner:
JUDD
Next HOH:
July 25
MVP:
AMERICA
Original Nominations:
Aaryn, Kaitlin, ELISSA (MVP – America)
Current Nominations:
Aaryn, Kaitlin, GINAMARIE (MVP – America)
Last Evicted Houseguest
David, Nick, Jeremy
Have Nots
Jessie, Candice, Andy, Spencer
8:30pm HOH Bath tub Amanda and McCrae
McCrae tells her they need to play down the showmance. Amanda says she hardly wears the ring.
Amanda: "I am so relieved that my picture didn't come up on the screen"
They start speculating about the MVP sounds like they think it's Howard.
Amanda: 'Notice he's being an a$$hole again.. he's a d!ck to me to"
McCrae: "Ya.. it's the slop"
Amanda about Spencer talking about eating p*$$y "He's disgusting.. he's a sloth.. you smell your fat and you're ugly you're such a misogynist"
Amanda: 'Helen needs to go.. she's part of an alliance that we are not part of"
MC: 'It doesn't matter"
Amanda: "For someone who watches big brother and is kinda obsessed you're pretty f****ing stupid sometimes"
MC: "Thanks"
MC mentions how obsessed Elissa is about America voting her to be the 3rd nominee, "She's so self absorbed"
MCrae start to impersonate Elissa (see image) McCrae says that Elissa is super nice but there are those times when she's.
Amanda: 'F*** nasty"
MC: 'YEAH exactly"
Amanda: "She doesn't get it"
MC: "For her not to apologize to you ..(I miss about 3 words he said really hard to hear) thats F***ed up"
MC: 'That is the most f*** up thing i've ever heard.. thats something you would see in a fake life.. It;s so beyond me.. thats like OK red flags"
Amanda: "Do you think America is going to see it that way"
MC: 'I don't know.. I'm so afraid of.. there's no way they can edit to look like that"
MC: "That is why I told you to say sorry first because I knew that is how it was going to edit it out"
MC: "I'm just afraid to say anything bad about her.. especially if America votes
Amanda: "I am upset .. I can't fathom there is no concept of loyalty.. she just doesn't see it." (Talking about Elissa)
Amanda: "Why would she be so malicious and nasty say such mean things"
Amanda says they worked so hard to keep Elissa here the first couple weeks.
MC: "she projects her insecurities onto other people "
MC: 'She projects onto GM, Aaryn, Nick.."
MC: "When you hear talk to Aaryn imagine her talking to herself…. and up it that makes sense"
McCrae tells her no scheming for this week and into the following week. He knows what's she's like after the HOH she wants to Scheme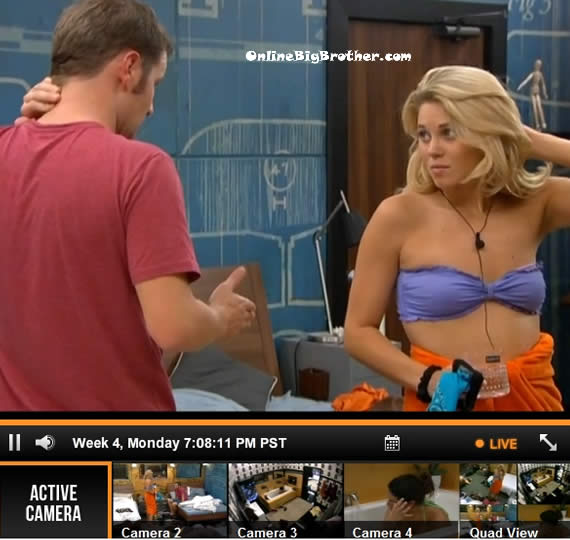 9:19pm Bedroom Aaryn and JUDD
She brings up her conversation with Spencer and Howard she told them to talk to JUDD didn't say much else.
Aaryn: "What have yoU been telling people when they ask.. because they told me you want me out "
JUDD: "I've been telling everybody beside Spencer and Howard to keep you here"
JUDD explains how he's doing it. He;s trying to tell them that Kaitlin gets along with everybody and Aaryn doesn't. Aaryn is all alone in the game and isn't as good at the competitions.
Aaryn says that Spencer and Howard are looking for people to work with so if he wants to move forward with them they will, 'They didn't say that about you but i'm, telling you that they probably would.. They don't have anybody"
JUDD says they have to wait to see who gets the next HOH They have to sit in a good spot.
(Really hard to hear what JUDD is saying.. it's too bad because it's important (?) this denotes lines i'm not 100% sure about)
Aaryn(?): "You think I should say no for the HOH ".
JUDD nodes
Aaryn: 'Say uit"
JUDD(?): "Don't say…. "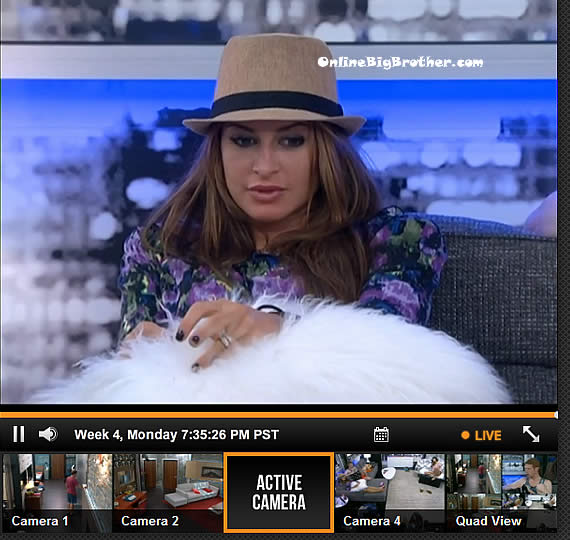 9:40pm HOH Amanda, Andy and McCrae
Amanda says that Elissa really wants Aaryn to stay. MC chimes ins says how hard it's going to be to get Elissa vote.
Andy brings up how much Howard is called into the Diary room says it's like Nick.
McCrea: "It's weirder than Nick because Howard doesn't say anything"
Andy is worried that Helen may be compromised or they are dealing with another moving company ..
They mention how Howard and Candice say the DR is acking a lot about their relationship.
Amanda doesn't think so: "If they are going to talk about a showmance they are going to talk about me and McCrea.. I Haven't even been talked about this yet" (Points at ring)
Elissa comes in
Andy asks them who would she think is targeting her next week
Elissa: "Kaitlin and Aaryn"
Andy asks about Howard
Elissa doesn't know for sure she's unsure Howard would be targeting her.
They point out to her about how many times Howard gets called into the diary room.
Amanda says they can't trust Kaitlin at least with Aaryn with know where her head is at.
Elissa: "DO YOU KNOW where Aaryn's head is at right now"
Elissa: "If Aaryn doesn't go this week we've lost Candice and thats going to start a battle"
Amanda says that KAitlin has a secret alliance and Aaryn doesn't.
Elissa: "I don't think Kaitlin has any secret alliance"
Amanda: "I can guarantee she does"
Andy says kaitlin use to come to him for weeks to talk game but now she doesn Andy thinks someone else is giving her information .
MC adds that Howard is trying to flip the house.
Amanda says that JUDD heard KAitlin saying to another girl that Helen goes next.
Elissa: "Who did she say that to"
Amanda doesn't know thinks it was Candice
Andy :'If Kaitlin is allied with Howard, Spencer and Candice that is super scary"
MC: "They are slowly getting numbers"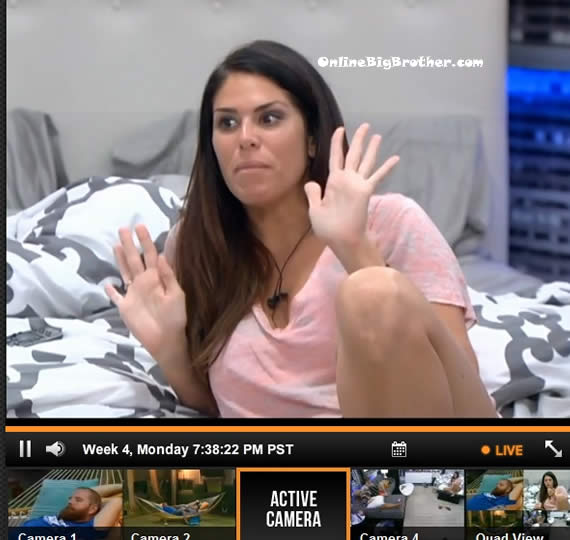 They start saying Spencer and Howard are making final 4 deals with everyone in the house. Andy says he has one, Amanda does to.
Elisa: "Spencer is trying to get in good with me now"
Amanda: "Howard says they want you out. "
Elissa: "REALLY"
Amanda: "Swear on my life"
Andy confirms that Howard said he wanted Elissa out.
Elissa: 'Ok maybe you are right.. you don't think Aaryn will work with them"
Helen joins them (SUPERFRIENDS)
They fill Helen in that Howard is targeting Elissa. Kaitlin is targeting Helen and Howard is trying to form a 4 person alliance with her and McCrea.
Helen: "Let me fill you in on something.. Aaryn is willing to throw the HOH or pick let us pick her nominations.. either one"
Amanda very excited: "Oh I KNOW SHE WOULD"
MC very excited: "Ya.. she will"
Elissa: 'I'm starting to think Kaitlin is more dangerous"
Amanda: 'I would bet my life "
ELissa: "I just feel like I cannot have a conversation with her because if I do she turns it around "
Ginamarie joins them.
They ask GM who they should keep Aaryn or Kaitlin. GM thinks there both strong competitors and theres pros/cons for each one. Sounds like GM would rather have Kailtin stay. They probe her to find out who Aaryn and Kaitlin would nominate if they won HOH. Gm doesn't know mentions how they girls are pissed at Howard for throwing competitions.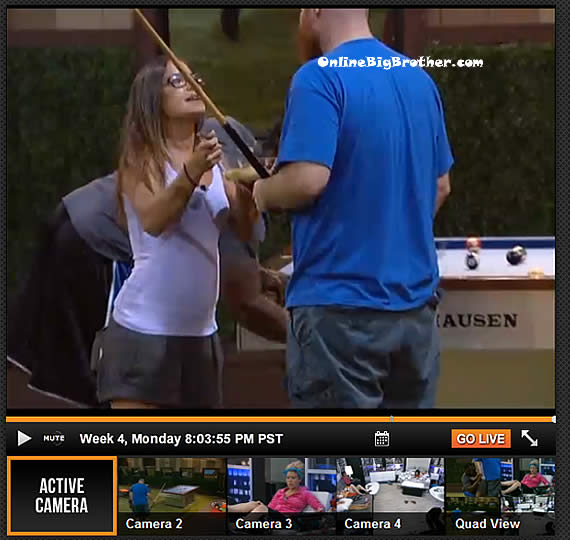 10:00pm Jessie brings the boys some mango icecream to try.. They tickle her she relishes the attentions.
[polldaddy poll=7268963]