POV Holder:
Elissa
Next POV
July 20th
POV Used
YES
POV Ceremony
July 22
HOH Winner:
JUDD
Next HOH:
July 25
MVP:
AMERICA
Original Nominations:
Aaryn, Kaitlin, ELISSA (MVP – America)
Current Nominations:
Aaryn, Kaitlin, GINAMARIE (MVP – America)
Last Evicted Houseguest
David, Nick, Jeremy
Have Nots
Jessie, Candice, Andy, Spencer
(FYI – the live feed time stamp is wrong. It is 2 hours 13 minutes behind.)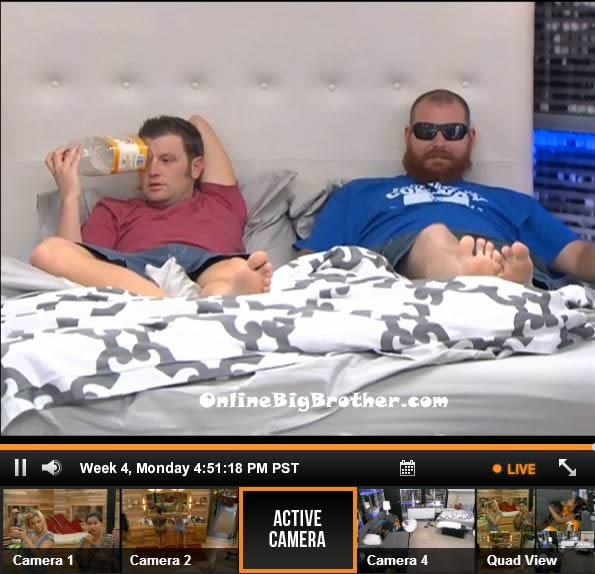 7pm Up in the HOH room – Judd, Candice, Howard, Andy and Spencer are hanging out talking about Ginamarie. They talk about how she said she got a friend and got filled in on what big brother was. Spencer says she has a 5 minute play book. Spencer says Gina goes from Pamela Anderson to Beatle Juice! They all crack up laughing. Judd says oh Spencer you're going to go to hell for that one! Judd says that when they first got into the house he thought she was the hottest of the girls. Spencer says that Jessie is FINE AS HELL! Judd says I called Gina a meatball and she didn't like that! Candice says well she used to be fat so she doesn't like jokes about that. Judd says I didn't know that meant fat. Andy asks who is just like who you thought they would be like when you first came in here. Candice says you, and Helen. No, actually Helen is more fun than I thought. Judd says Aaryn is definitely not what I thought she would be like, I thought she would be nice. Jeremy wasn't what they thought he would be like either. Judd says I thought Howard was going to be way over the top. Andy says yeah I thought Howard was going to be the house diva. Candice laughs. They talk about how McCrae say "ah I don't know" all the time when they talk to him. They say it is so annoying. Candice says ah I dunno know, I'm just a pizza boy. Andy says maybe I should do one of my verbal speech courses with everyone to help everyone with the public speeches. Judd comments on how he recognized Elissa from following Rachel's twitter. Spencer say Elissa is way hotter than Rachel. Judd says he thought we would have one way over the top guy. Spencer says we did. Judd says he never got in my face. Candice talks about how Jeremy was a great social player but that he paced a lot, got in your face and drank the wine. The conversation turns to talking about a double eviction. Judd says that he gets nervous just watching from home. Howard says that it's the worst how the first person that gets HOH doesn't have it very long. Andy explains to Candice how it works.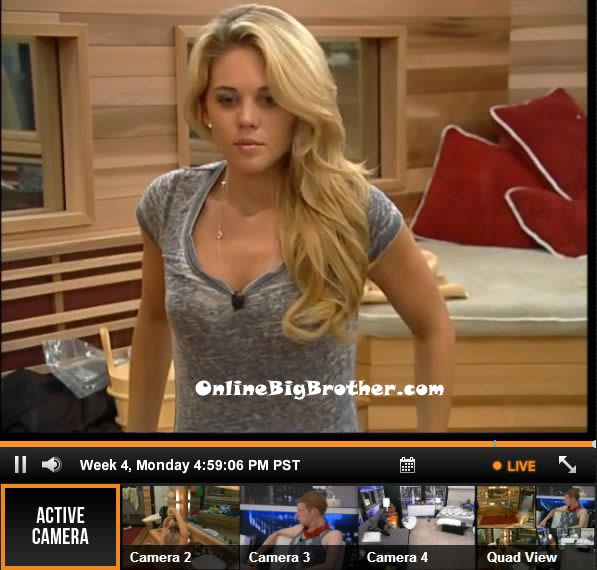 7:10pm – 7:25pm In the kitchen – Elissa and Helen are cooking. Meanwhile in the bathroom – Aaryn has been doing her hair and makeup. She comments to Kaitlin that she is trying to make herself look cute. Aaryn finishes up and heads out to the hot tub where Jessie is.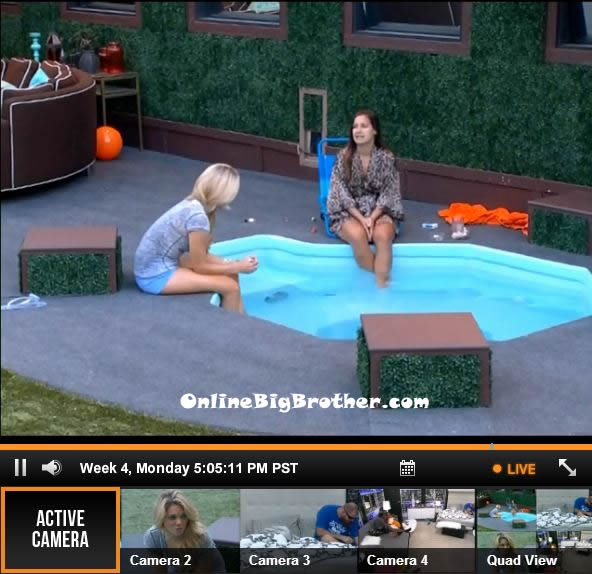 Jessie says I don't know but what you said earlier struck a cord with me. Like being nice you can be seen as a threat. Jessie says the same thing that can save you is the same thing that can put you up. Aaryn says I am trying to think of a way for Elissa to be cool with me. Jessie says you could tell her if you keep me I will throw HOH next week and when you see it I will earn your trust. That way someone on her side will for sure win HOH. Aaryn says I just think if I dont win HOH I will be going home. Jessie says if Amanda / McCrae win they will go after Howard. If Spencer or Howard win they will make a power move. If Elissa or Helen win they will probably come after you but not if you make a deal with them. Aaryn says I think that could be a genius idea. Aaryn says that she heading inside. Jessie says I don't think we should be seen hanging out too much. Aaryn agrees. Aaryn heads inside and talk to Helen about how she will throw the next HOH. Helen says it's a great idea but I think you should talk to Judd about it because he is HOH. Aaryn says okay.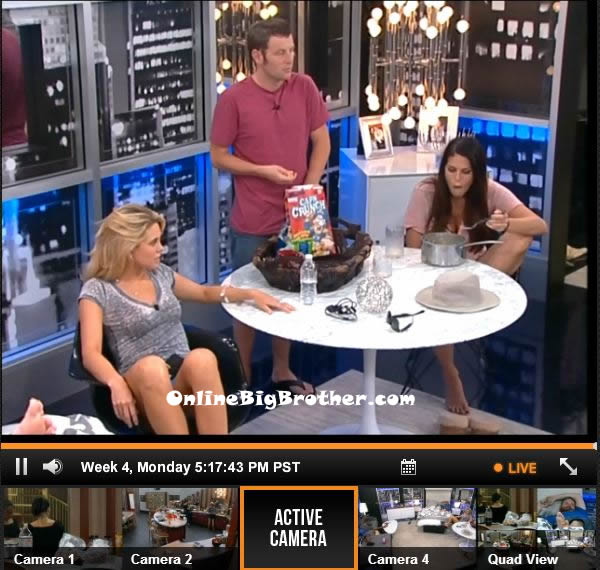 7:25pm -7:30pm Up in the HOH – Judd, Howard and Spencer talk about Aaryn. They discuss keeping her because she will always be a big target in the house. Spencer suggests that they tell Candice to tell Elissa that they have squashed it so that Elissa will be okay with her. Amanda joins them. They start talking about who the MVP could have been. Amanda says I think we just need to realize that we will never figure it out. Amanda brings up how apparently Ginamarie is upset at McCrae and I for our wedding. Judd tells Amanda about how last night after the Amanda/McCrae engagement Gina was in the backyard and said "Well lets see who had the best week ever? $5000, a birthday and wedding. He shows how Gina threw her hands up after. Amanda laughs and says she had no idea Gina was jealous. I guess I will try and include her in something to make her feel better.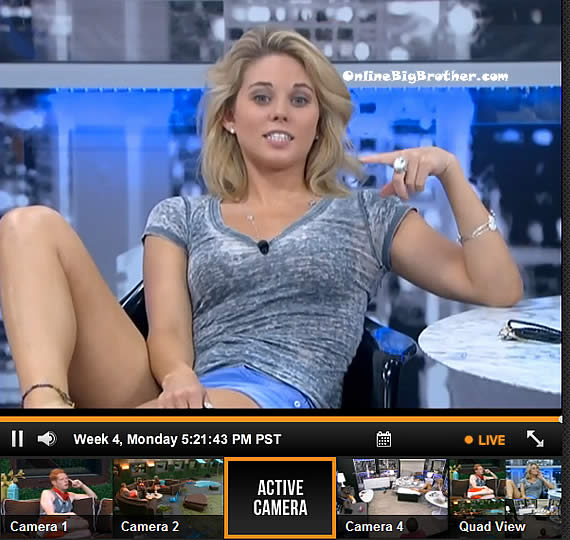 7:20pm HOH Amanda, Aaryn, JUDD, Spencer and Howard
Amanda says that McCrae doesn't have a pot to pi$$ in and if anyone has a problem with him taking the 5 grand during the POV competition they are disgusting.
Aaryn say the only person that is talking about it is Ginamarie. She mentions how GM is always focusing on the negative.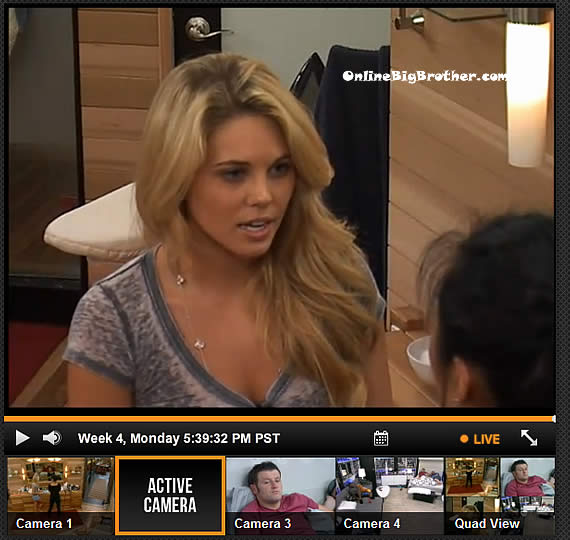 7:36pm bathroom Helen and Aaryn
Aaryn is telling Helen about a way she can gain Elissa trust and her vote. (By throwing the next HOH competition) Helen says for her to go see what JUDD thinks of that then come back.
Helen: "I think that would be a idea to throw to JUDD"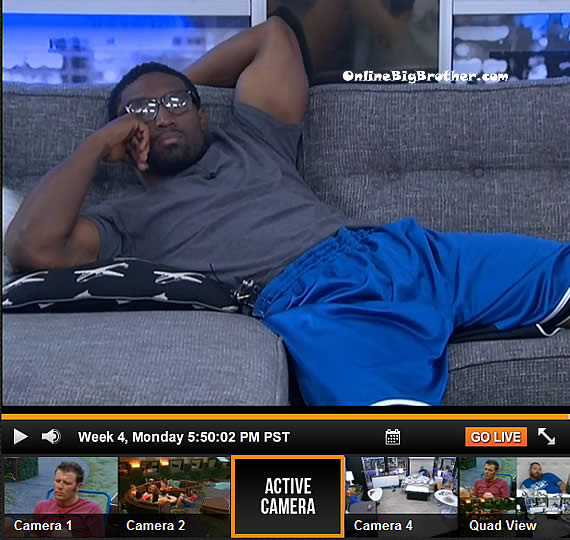 7:50pm HOH Aaryn, Howard and Specner 
Aaryn says she's not coming after them she really doesn't have any targets at this point. 
Howard suggests she just worry about staying in the game he doesn't like thinking too far ahead to next week. 
Howard: "I'm up for game talk with anybody" he says that all the information he gets is on the outskirts, during the day he kicks it with Spencer and JUDD and at night he naps with Candice. Tries to play down how much influence he has in the game.  
Aaryn doesn't know who is lying to her and who is telling the truth. She's been lied to a lot in this game. Aaryn: "Everyone is assuming that JUDD wants me out this week but that's not the vibe i'm getting from JUDD"
she asks them If the majority of the house is keeping her will they keep her. 
Howard: 'Ya"
Spencer: "hey I like you I have no problem with you staying I think there are people out there that are poisoning your well" 
A: "If I tell you guys this will you please keep it in her she's not supposed to campaign because people think she will bury her self.. " 
Aaryn says she thinks she has the numbers to stay because people in the house are getting worried about KAiltin. Her reason is Kaitlin is  so nice and and she's really strong. 
Aaryn: "If kailtin wins she will do whatever Helen and Elissa tells her to to there is something going on I don't know what it is.. There is a real good possibility I get the numbers"
She offers them a deal saying if she survives this week they can work together and come up with something. 
Aaryn: "I'm just afraid you are going to tell Candice"
Howard: "I'm not going to tell Candice nothing"
Spencer: 'We're walking around with the scarlet letter on.. everyone thinks we're shady because of that whole Moving Company thing" 
Howard says that "They" got mad at him for training Aaryn earlier in the week.. "I ain't no PUNK.. i'll train you the next day and again.. I'm not going to Ki$$ their a$$ because supposedly they have a power" 
As she leaves Spencer says they will talk to JUDD and if she has the numbers she's good in their book. 
Aaryn leaves 
Howard: "you know you should be a detective"
S: 'you think so"
S: "maybe I could be like Batman the dark knight detective"
H: "You got a swagger though.. you could be.. Robert Downey Jr.. Iron MAn"
S: 'Don't talk to candice about this" 
"Elissa and Helen are going to try and get me and you to go  get Amanda out of the house before Jury.. that's good it keeps Candice for Jury.. right now Jessie and Candice are low (not safe) "
H: "If its the final two I take you over Candice any day" 
H: "I promised you that day one"
S: 'I know.. I trust you" 
S: "we need to play pool tonight to do our thing"
Spencer adds that a couple days ago he told Aaryn to start playing up Kaitlin competition ability and that is exactly what she's doing now. He only told Aaryn this because at the time they didn't know they could trust Kaitlin for our group. Spencer mentions that Aaryn is going around telling people he's targeting Helen.  
Spencer: "I talked to Elissa and helen for 45 minutes dude we're so f**** good with them" 
[polldaddy poll=7268963]
Share it YO!!
Tweet