POV Holder:
Elissa
Next POV
July 27th
POV Used
YES
POV Ceremony
July 29
HOH Winner:
JUDD
Next HOH:
July 25
MVP:
AMERICA
Original Nominations:
Aaryn, Kaitlin, ELISSA (MVP – America)
Current Nominations:
Aaryn, Kaitlin, GINAMARIE (MVP – America)
Last Evicted Houseguest
David, Nick, Jeremy
Have Nots
Jessie, Candice, Andy, Spencer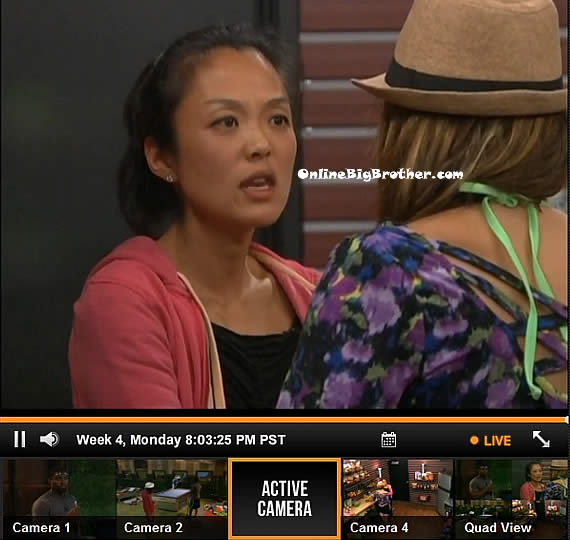 10:09pm Storage room
Helen counts the votes and say they have even to keep Aaryn. She adds that she will go to Aaryn and says they have 5 people that will be gunning for her . Elissa: 'Tell her I'm on board to"
Helen: 'Do we want her to throw HOH or let us pick the nominations"
Elissa: "Probably choose her nominations.." She adds they need the numbers playing in the HOH because they don't want Howard or Spencer to win
Helen: 'So we need her to play HOH"
Elissa: "Umm hmmumm ya.. but if it's down to me, you her and JUDD"
Helen: 'She has to throw it.. let me talk to JUDD to see which one he prefers"
Elissa isn't sure that Aaryn is really telling the truth that she is willing to throw the HOH. Helen thinks she is because she has no other choice.
Helen: "And if she doesn't.. she knows everyone is after her"
Elissa: "Ohh I want her gone so bad.. I think it's too risky to keep Kaitlin.. with Howard and Spencer"
Helen thinks Howard is MVP because he keeps going into the Diary room
Elissa: 'What a liar"
Helen: "he's been lying since the beginning.. if we get him out it brings Candice to us" (if you get Howie out Candice will cut you)
Helen: "I'm going to say to Judd you are up for keeping Aaryn"
Helen says they cannot let Candice know they are keeping Aaryn they'll tell her on Thursday before the vote it could get dicey with her. Elissa: "They Are going to flip their lid.. She'll come after us.. but they won't have the numbers"
Elissa: "we can't let Candice win the HOH either.. you have to stop encouraging her"
Helen: "if she wins next week she'll take out aaryn it's no big deal"
Elissa wondering if Amanda and McCrae are making up that Howard and Spencer are coming after them.
Helen doesn't think so because Andy and Aaryn have told her the same thing.
Helen adds that there are too many rumors about Howard for them them all to be false.
Elissa: "He probably won't get MVP again if he put me up do you think… ." (LOL )
Helen isn't sure what the MVP twist will bring next week but she seems convinced that it's Howard this week.
Helen says Aaryn won't go back on her deal with the HOH it would be suicide.
Helen says she never talks game with Howard she wonder if Elissa talks game to him. elissa brings up last night's conversation in the storage room where he swore he wasn't MVP and he's being called in the DR because of his showmance.
They start talking about these final four deals that Howard is making with Amanda and McCrae they are shocked by it.
Elissa: 'He hasn't even won anything.. or even playing the game"
Helen: "If Aaryn goes back on her deal she's going back on JUDD, Me, You, Amanda, McCrae, and Andy"
Elissa: "you don't think they would put me up next.. that's what i'm scared of"
Helen: "You and I are in control of Aaryn's nominations.. I'm going to tell her to throw it but if she were to win it I'm telling her Elissa, Helen and JUDD are in control of your nominations I'm going to tell JUDD that". (Superfriends)
Elissa: "Why don't we think about it for a night… it's only Tuesday"
Elissa: "I think we need to step away and see the big picture to get a clear idea of what is going on"
Elissa: "When you get comfortable with people you forget about their character"
Helen: "Spencer lied to us for 21 days of this game"
Elissa: 'He never lied to me"
Helen: 'He lied to my face.. and tried to get me against you"
Helen says that Candice came up to Aaryn and offered to work with her
Elissa: "REALLY no way"
Helen: "Candice wants to win this game like everybody else if she has to team up with Howard to do that she will"
She adds that Candice loves Helen, Jessie and her but Candice doesn't want them with McCrae and Amanda at all.
10:48pm hammock Howard and Candice
Candice says if she becomes HOH she's making Amanda, Kaitlin/Aaryn, McCrae and GinaMarie a Have Not.
Howard brings up how JUDD has some good points about keeping Aaryn. Candice: "Sorry Howie I just can't after what she said"
Howard tells her if you play this game personally you'll get your a$$ out.
Howard says both Kaitlin and Aaryn are in cahoots with Amanda and McCrae so they should take out the one that is strong in competitions.
Howard: "Them losing Kaitlin decreases their chances of winning HOH and increases our chances"
Howard: "You are more a historian of this game than me… you should know not to put personally feelings ahead of strategy"
Candace believes that Amanda, McCrea and Aaryn are stronger than Amanda, McCrea and Kaitlin. He points out that Amanda, McCrea and Aaryn hate them and McCrae can win some sh!t. Howard doesn't think McCrae is as big of a threat in the competitions points out that there was a lot of people that didn't want to win the first HOH.
Candice says that Kaitlin is not a "Gamer" Howard knows that but says Kaitlin can win the comps and have other people will control her HOH.
They are not sure who Andy would put up Howard says he knows Andy would not put up Amanda and McCrea.
Howard says the moving company was good if McCrae hadn't hooked up with Amanda it would have made it they could have controlled Jeremy.
11:04pm HOH Amanda and JUDD
Amanda lists off all the things Kaitlin is doing. (nothing new.. Kaitlin is in a secret alliance with Howard, She used to talk game with Andy and now she doesn't, Kaitlin is strong in comps, she's likable..)
JUDD thinks Kaitlin is scrambling trying to make deals.
Amanda: 'WHY.. SHE'S making deals with you"
JUDD say no no with other people
Amanda says Kaitlin thinks she still working with Helen but she's confiding in Howard not Andy.
JUDD: "Then why is she saying Helen is next"
Amanda: 'Because that is what Howard wants"
Amanda thinks Howard is MVP because he goes to the Diary room 14 times a day.
Talking about who Candice would put up if she won the HOH. Amanda thinks one nominee would be Aaryn,
JUDD: "Because she thinks she's so racist"
Amanda: "But that is Howard in her head.. that's why Howard wants Aaryn gone so bad.. "
Amanda says f*** Candice she can't win anything.
Amanda says that Spencer and Howard are trying to work the house they are splitting up. Howard is going getting extra "passionate" with Candice because Candice is close to Elissa, he's using Candice for information.
Amanda: "I'm tellin you if I win HOH next week i'm, putting up Howard and Spencer because I want one of them going home"
Amanda adds that Elissa was talking really good about Howard last week in her Diary room session so she thinks that is why he won MVP.
Amanda: 'If Howard won Veto I'm putting up Candice.. McCrae and Aaryn would do the same thing"
Amanda: 'I know from greater powers that there is something up with Howard"
Amanda: "Spencer is an A$$hole.. once he found out he wasn't the 3rd nominee it's back to d!ck head"
JUDD just kinda agrees adds the odd comment to make sure Amanda knows he's agreeing with her.
She asks him who is saying she is shady f*** she wonders if it was Jessie. JUDD says no it might have been Howard. Amanda now telling him that early last week Howard came up to Amanda and McCrae and swore on the bible for a final 4 deal with, Spencer, McCrae and Amanda. (actually it was the other way around Amanda woke Howard up in the middle of the night they they offered teh final 4 to him because they were scared he was going to win HOH)
JUDD mentions the fake alliance he has with Andy, JUDD, Spencer and Howard. Amanda says the "Goof troop" has eyes in ever corner of the house and nobody knows that.
JUDD: "Should I tell Spencer that we're keeping Aaryn"
Amanda: 'Too soon tell them the day before or the day of"
A: "If you tell them we're trying to get rid of Kaitlin they will do damage control.. wait until the day of"
(Amanda really goes off about getting Howard gone.. wasn't she suppose to lay low this week.. we'll she's not she's in full force and it's working the entire house is back to being against Howard)
Aaryn joins them
Asks them if she should throw the HOH. Amanda says no she should try and win it but she has to put up Howard and Spencer.
Aaryn: "Really"
Amanda: "I would do it"
Amanda: "You are ELissa to use this week.. if you work with us we'll let you stay here"
You can re-watch ever second on the feeds using their flashback feature.. It's super easy to use click this link for a free trial —> Subscribe to the Big Brother Live Feeds
Midnight HOH Elissa, Amanda, Andy, JUDD, McCrae
Amanda still on the Howard hate train she tells htem they have 6 votes locked to evict Kaitlin they have to keep it a secret from Spencer, Howard and Candice until moments before the vote this way Howard and Spencer cannot engage in any damage control.
Andy and Amanda share reasons why they want to take out Howard Even Elissa joins in.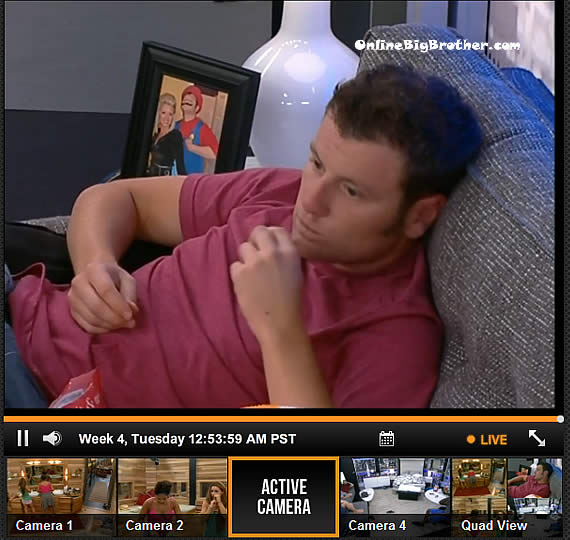 12:45Am HOH JUDD tells Spencer and Howard he wants them to vote out Kaitlin
Spencer says Aaryn mentioned making a deal with Amanda and McCrae that she would throw the next HOH
JUDD: "I heard that to"
Spencer: 'She told me she's making that deal but she's not going to throw it"
JUDD: 'She's going to throw sh!t.. there is no way Amanda would fall for that"
Howard: 'If AKiltin stays HOH who would she put up"
JUDD: "Helen, I trust her more than Aaryn but she's a stronger player"
Specner: "We've made deals with both"
Judd says so has he just in case both stay.. JUDD regrets the Nomination speech when he called Aaryn a Texas Tornado"
JUDD says that Kailtin doesn't know anything about the game but Aaryn knows the game.
JUDD: "But right now at this point it's smarter to get rid of Kaitlin.. what do you guys want"
They are down for whatever JUDD wants there's pros and cons for both.
JUDD: "Amanda is smart as sh!t"
Spencer agrees..
Jessie comes in
[polldaddy poll=7268963]