POV Holder:
?
Next POV
July 27th
POV Used
?
POV Ceremony
July 29
HOH Winner:
Aaryn
Next HOH:
Aug 1
MVP:
?
Original Nominations:
Spencer and Howard
Current Nominations:
Last Evicted Houseguest
David, Nick, Jeremy, Kaitlin
Have Nots
Judd, Amanda, Candice, GinaMarie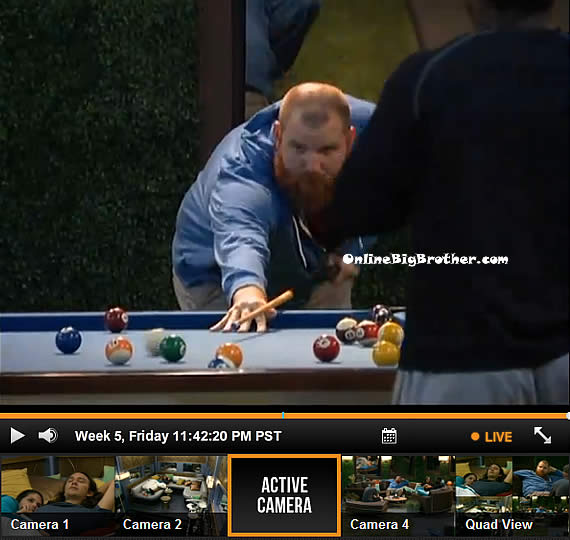 11:24pm Pool Table Spencer and Howard
Spencer: 'Feels weird everyone acts like we have lepers right now'
Spencer says if Elissa goes up as the MVP nom they are both in good shape but if it's Candice they are going to try to take out one of them.
Howard: "I think if it's candice she's definitely going if it's Elissa she's definitely going"
Howard: "I just need another week.. I'm talking about Social Social game"
Spencer: "ya"
Howard says he's gotta win something if he doesn't he's back on the block.
Howard: "Unless somebody drops their nuts"
Spencer: 'We can't expect that to happen.. we're the only motherf**** with the nuts to do anything"
Spencer: "And if I rolled a 36 instead if 34 me you would be having a whole different conversation right now in the HOH room"
Howard: 'Eh.. give me a minute.. you can come in" howard goes into the kitchen
11:28pm Kitchen Spencer calls the house delivers a speech
H: "He guys guys guys may I have your attention"
H: "Irregardless of what happens .. I know it's a game"
H: "A lot of it man is hard to muster.. When the game interferes with who you are personally".
H: "I haven't said one disparaging remark to any of you on a personal level"
H: 'I respect everybody to the full.. But what's worth more than winning this game to me is my witness"
He explains that people are saying he's done or said things that are not true. He blames the people doing this for taking it too personally.
H: "I respect the decisions me and Aaryn talked.. that's what people do" He tells them he won't "Politic" against Spencer or the third nominee.
He know Aaryn gave him a chance to play for POV and that is what he's going to do .
H: "I just ask two things"
1) If you hear something about him he would think they knew him well knew from their personal conversations to know that's not him, "Please don't believe it".
2) If somebody does say something and it doesn't hurt your game and you got a pair just say "That is not what I would do"
H: "nobody in here is going to hold my d!ck in their hands"
Mc: 'YA"
H: "At all nobody is going to tell me what to do either and that's just me.. at some point you gotta battle.. I know it's a strategy to a point but at teh same time I'm grown"
THey thank him
11:30pm Pool
Spencer you laid it down
Howard damn Right
Spencer: "they got to respect you dude"
H: "Even if it's me going home someone gots to shake the game up if something doesn't happen soon there will be four people winning this game and it will be easy for them"
S: "I think JUDD has the balls to act but he doesn't have the brain to know when to do it. "
S: "he was our mole the whole time. "
11:30pm Cockpit Amanda and McCrae
McCrae says he was so close to say something during Howard's speech, "Dude I was so f**** close". McCrae says he didn't say anything just incase Spencer won veto then he would be gunning for him.
Amanda says she wanted to laugh during Howard's speech.
McCrae rolling his eye a lot, Amanda: 'That sh!t isn't going to work on people right"
MC: "Don't say right like that it worries me"
They agree it makes Howard look more shady Amanda calls Spencer a weirdo because of how he was acting during the speech.
MC: 'They're so paranoid right now"
MC says they have to keep their cool until after the veto is played because they are the biggest targets in the house.
McCrea now regretting not saying "Who does have a secret alliance with Howard" during the speech "That would be the perfect time to do it"
They start counting votes in the event one of them goes up as the MVP nomination . MC tells her they need five votes, Jessie, JUDD, Andy, either Mc or Amanda and Helen or Jessie.
You can re-watch ever second on the feeds using their flashback feature.. It's just like a DVR and is super easy to use. click this link for a Free Trial —> Subscribe to the Big Brother Live Feeds
11:37 Jessie joins them laughing..
Jessie: "Did he tell Aaryn he was working with Kaitlin.. "
Amanda: "No"
Jessie: 'Than what the f*** if that's his strategy it's a really shitty strategy"
MC: 'What did he even say.. do you even remember what he said"
Jessie: "People need to grow a pair and nobody has him by the d**k"
J: 'To me it was completely out of left field.. and it's a little early to make statements like that you just got nominated " (LOL good point)
Jessie says he's got to go. Mc: 'He's getting desperate"
11:40pm HOH Aaryn and Jessie
Jessie says that Howard and Spencer have the shittest attitudes right now. Jessie say them on the couch tonight with Cadnice looking all "Sour puss" Jessie thinks there is such a cool happy vibe in the house and then you have the people on the block who are making it awkward.
Jessie: 'I know you are on the block and it sucks.. but suck it up everybody has been in that position"
Aaryn: "And also suck it up because they almost got me sent home"
Jessie: "Dude Spencer is a bad man"
Aaryn: "He is fully a bad man"
J: "THe more I am around him the more I realize he is a d!ck at home"
A: "Complete womanizer.. he probably treats his girlfriend like a$$hole"
Jessie says he hasn't bought his girlfriend a piece of jewelry in three years. (Oh my god)
Aaryn says he's the type of man that does not treat women right.
Jessie says he has a inner anger.
Aaryn tells her this is a good week for them because they are so tight, "I feel like you're my best friend in the house now again finally".
Aaryn says she's now off the radar of a lot of people. She adds it will help her out a lot which will help Jessie out a lot because she will never put Jessie up. The longer she is here the longer JEssie is here.
Jessie: "I want Me and you and JUDD to keep winning things"
Aaryn is hoping Amanda isn't upset with her for where she put her key during nominations, "I had to do that because if I put her key in the front everyone would say I knew that was Amanda's plan.. I don't want them to know we're working together"
Jessie tells McCrae the D**k comment was directed toward him. Aaryn says they are both afraid because they are nominated. McCrae calls Howard's speech the worst Speech ever. He tells them the reason Howard said it when he did was because he knew nobody would say anything because he still might win the veto.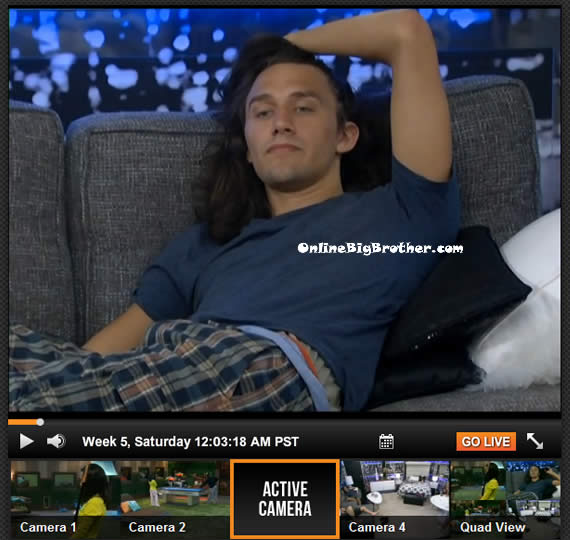 12:04am HOH Aaryn, Jessie JUDD and McCrae
She says if Spencer stays he's told her he's putting her up but if Howard stays he's not going to put her up. McCrae doesn't think Spencer would put her up his guess would be Elissa and GM.
Aaryn thinks it will be Amanda and herself.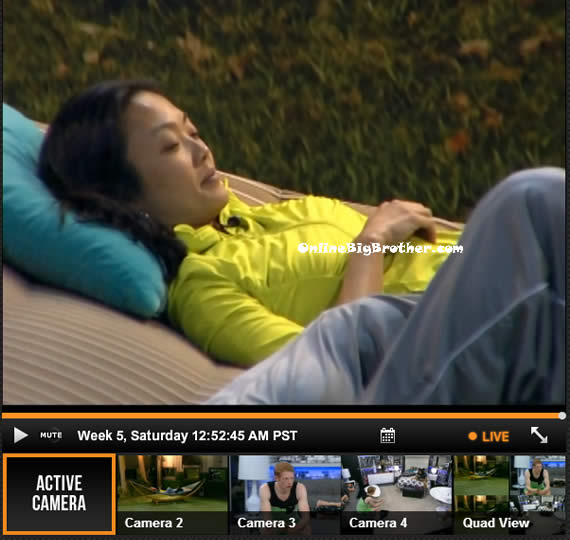 12:15AM Hammock Helen and Howard
Howard: "what do you got super mom"
Helen: "you go to win POV "
12:30AM Hammock Candice and Helen
Candice tells her that Howard is struggling financially and he really wants to make it to jury.
Candice is sad that Her Howie could be going home. Helen tells her to not be so down she will see him in 2 months. Candice says she's 30 years old she doesn't get Puppy love. "I've lost so mush love in my life.. it's not devastating to me life goes on"
Helen asks her if they've talked about seeing each other after the show. Candice says Howard mentioned it today that he wouldn't mind dating her after this. She told him she'll need to see his Diary room sessions first. Candice says she lost someone very close to her. After they broke up she couldn't get out for a year it was so upsetting.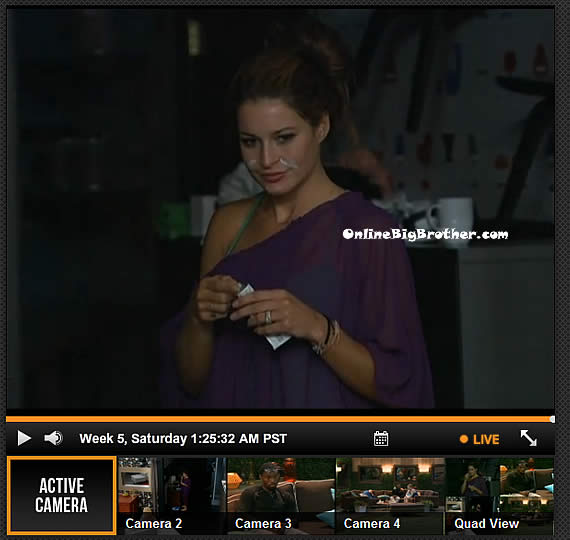 12:50AM Elissa and Aaryn Talking about not understanding what Howard said because he talks in circles and doesn't get to the point. ELissa wonders if it was strategy. Aaryn thinks it was. Elissa didn't understand what he was saying. Aaryn adds that the general feeling of the house is nobody understands what Howard's speech was all about. Helen joins them says she was talking to Howard in the hammock. Helen says he really didn't say he was targeting anybody he just said he was going to play the best game he can. Helen: "you know I felt kinda bad for him" Helen: 'I don't think if he stays the three of us are his targets"
Aaryn agrees tells them that Spencer told her he's coming after her if he stays, "He had a pretty bad attitude" .
Helen says that Amanda wants Howard out. Aaryn tells them about when Spencer said Jessie'e Pu$$y must tasted like butterscotch.
They chat about The POV being used. Helen says it has to be GM or Candice. If it's Candice she'll need to be forewarned.
| | |
| --- | --- |
| [polldaddy poll=7277508] | [polldaddy poll=7277150] |