POV Holder:
?
Next POV
July 27th
POV Used
?
POV Ceremony
July 29
HOH Winner:
Aaryn
Next HOH:
Aug 1
MVP:
?
Original Nominations:
Spencer and Howard
Current Nominations:
Last Evicted Houseguest
David, Nick, Jeremy, Kaitlin
Have Nots
Judd, Amanda, Candice, GinaMarie
9:10pm Cockpit Candice and Spencer
Candice: "Who you feeling Spence"
Spencer: "I dunno.. I want that third nominee to be.. you know.. "
Candice: "mmm hmmm.. I have a feeling it's going to be me"
Spencer: 'Do you think Elissa will put you up"
Candice doesn't think Elissa will put her but if it's anybody from the other side they will. The other side is pretty much the entire house so one of them is bound to win the MVP
Spencer: "I do not know.. I hate being up against Howard"
C: "Yeah it sucks because you're all buddies.." She hopes the person that goes up is a really big target"
Spencer asks her who she would put up if she got MVP. Candice says someone from the other side not Elissa.
C: "you know hopefully somebody random got it and can put up a really big target"
She tells him about this season being like Big Brother 13
Spencer agrees "Full of chicken sh!ts"
9:23pm Pool table Jessie and Helen
Jessie is talking about all the spare time she has on her hands. She Mentions how earlier today she was sitting down and thought she would start working on her self she thought to herself. "I'm going to try to think while I'm sitting here.. I was thinking the entire time I was sitting there.. "
Helen: 'On your accomplishments list how much do you have left" .. I didn't really care to continue listening I doubt helen is either.
9:26pm Spencer and McCrae
McCrae is saying he was trying to get Gm or Elissa put up but the girls wouldn't accept that. He has no idea what the F**** plan is this week. He thinks Howard is the target. Spencer asks about the MVP. McCrae thinks that it's boys three week girls three weeks, He Spencer wonders if the MVP is over.
Spencer asks if GM goes up can they save Howard, McCrea doesn't know says maybe. McCrae tells him to focus on killing the veto he thinks it's going to be a counting one.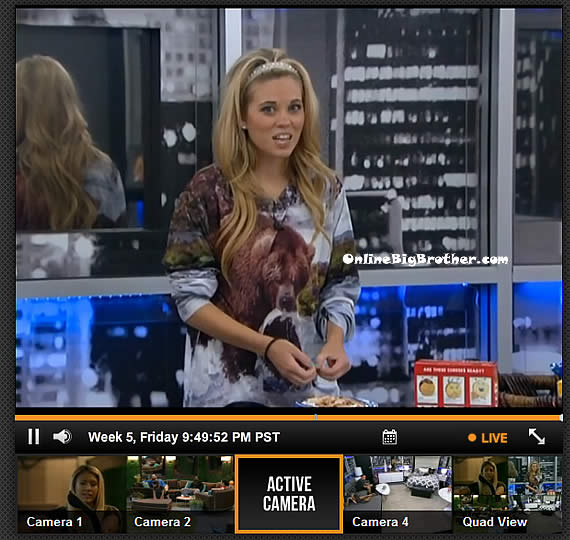 9:50pm HOH JUDD, Aaryn and Andy
Aaryn tells them that Howard got teary eyed and it cause Jessie to cry.
JUDD: 'Why he cry"
Aaryn: 'Umm because he was sad"
JUDD: "you are just a dream crusher ain't you"
Aaryn: "I really am"
She jokes that JUDD key was last because she wanted him to know how it feels to not have your key pulled until the very end. JUDD syas that is the second time his key was pulled last the first tiem was when McCrae was HOH.
Andy says Elissa thinks he's the MVP this week. He's going to joke around with her and pretend like he's safe. He'll tell her he's not nervous about MVP at all tomorrow.. he's feeling safe this week
McCrae asking them what the other side is saying to her when they are campaigning
Aaryn explains they keep telling her there's bigger fish to fry but they never name names.
McCrae wonders if they are targeting Amanda.
Aaryn says that Elissa tried to flip the house and now her and Candice are working both sides of the house.
McCrea says the other side is a sinking ship, "They don't have enough people.. even if they come after us"
Aaryn asks if America wins MVP who will go up?
McCrae says it will be Ginamarie
Aaryn wonders if it's Elissa again. McCrea doesn't think so he's sure it'll be someone from their side but he's not worried because it'll most likely be America again. If there is a MVP this week.
They are talking about when Elissa was getting made at McCrae and Andy for "Making fun of her religion" Aaryn says it's the same as someone calling you a racist. McCrae says after he talked to Elissa about what really happened she told him "I know you guys will never admit to making fun of my religion" McCrae and Andy groan MC: "I wanted to rip my face off"
Andy: "I know you would never admit it but in her mind we did it blatantly in front of her"
JUDD brings up if they were playing charades they will use ripping pages out of a bible and say it was Elissa.
Aaryn: "And I came in with a white jacket over my head with a cone hood"
Everyone howling… (the jokes going around the house is how Candice/Howard were accusing Aaryn to be a racist.)
JUDD asks Andy if he would be mad if he told her that.
Andy: 'YES"
Amanda and GM join the group They joke around with GM saying that Candice did better in the have nots than her. GM jokingly flips out says there is no way she did. GM goes on a mini rant about Candice saying she has a photographic memory. GM says you don;t have to be a "Blain Surgeon" to do we'll in that comp. Everyone laughs. GM adds that her head is pounding because of Candice's voice she's had to take 4 pills to stop the pain. JUDD thinks the sound of Candice is sweet.
Just more random Candice bashing and GM mispronouncing words.
10:45pm HOH GM and Andy
GM: "I thought I knew NICk I just don't know what the mother f****r was hiding.. I just don't want him to forget about me"
Andy asks her who she likes and dislikes. She says she likes everyone in the house except for Candice. She didn't like her since day one. She likes Elissa but didn't like her getting MVP every week in the beginning. GM also finds JUDD annoying at times but all in all really likes him. She LOVES Helen and everyone else..
Andy tells her she's Electric. GM says Aaryn is a sweet southern girl with some spunk in her but Cadnice, "Nothing special about her"
10:55pm Making slop balls.
| | |
| --- | --- |
| [polldaddy poll=7277508] | [polldaddy poll=7277150] |